Lightning vs. Bruins: The Atlantic Division Crown is On the Line
It's not how you start, but how you finish.
For most of the season, the Tampa Bay Lightning looked like they were going to run wire-to-wire with the Atlantic Division. But as the season wore on, the Boston Bruins caught fire and never really stopped.
Now, it's the B's in the catbird seat, with Tampa needing a win over the Bruins on Tuesday night to have a chance at winning the division and avoiding a first-round matchup with the dangerous Toronto Maple Leafs.
It's never a good time to slump, but the Lightning picked a really bad time to play their worst hockey of the season.
Can they turn it around?
---
Boston Bruins (+100) @ Tampa Bay Lightning (-120) | O/U: 6
7:30 p.m. ET, NBC Sports
Key Injuries:  Lightning fans held their breath Sunday night as Steven Stamkos limped off the ice in the second period. The Bolts have classified their captain's injury as a lower-body injury and consider him day-to-day.
The Bruins have a bunch of injury concerns, as Rick Nash and Brandon Carlo are out, while Riley Nash and Charlie McAvoy are questionable. Somehow, Brad Marchand will be allowed to play in this game despite cross-checking Philadelphia's Andrew MacDonald in the face Sunday. – Michael Leboff
Game States: The Bolts have been ahead on the scoreboard for 39% of their total time on ice this year. Tampa has spent 34% of the season tied and has been behind just 27% of the season. The Bruins have had a lead for 36% of the season, they've been tied for 37% of the time and have been behind for 27% of the season. – Michael Leboff
Expect A Good Matchup: The Bruins lead the NHL with 1.99 expected goals against (xGA/60) per 60 minutes at 5v5. The B's also are tops in the league with a +21.31 expected goals differential. Tampa Bay ranks fifth in the NHL with 2.11 xGA/60 and sixth with a +16.47 xG differential. – Michael Leboff
Best Line In Hockey: The Bruins' top line of Brad Marchand, Patrice Bergeron and David Pastrnak is the league's best trio. Marchand and Pastrnak rank fourth and fifth, respectively, in primary points (goals + first assists) per 60 minutes at 5v5 and have been the best line in terms of driving play this season. – Michael Leboff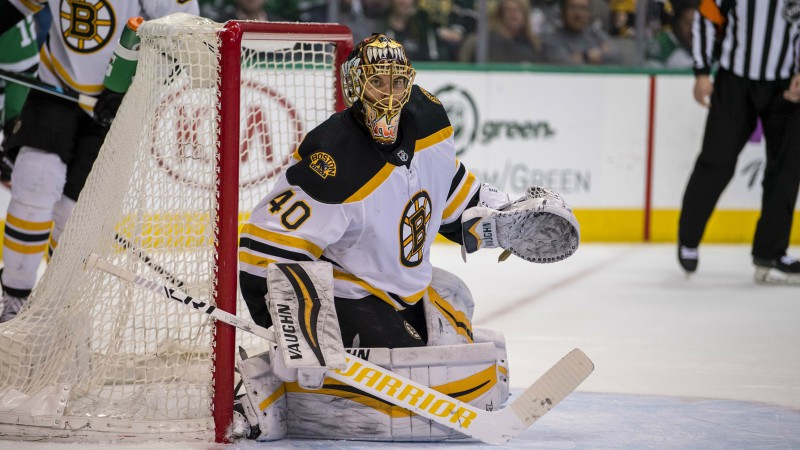 Voodoo: We're expecting Tuukka Rask to be in the pipes for Boston and Andrei Vasilevskiy in net for Tampa, and if that's the case, it's a solid matchup.
Rask has been steady as she goes for the B's this season with a 4.94 Goals Saved Above Average (the number of goals saved compared to a hypothetical league average goaltender, also known as GSAA) at 5v5. Rask also boasts a .928 even-strength save percentage. Vasilevskiy has been reliable for Tampa, posting a 2.94 5v5 GSAA and a .931 even-strength save percentage. – Michael Leboff
Clear Skies: Over the last three seasons, the Lightning have won 57.6% of their games. When they play Boston, though, it's a different tune. Tampa Bay has lost four straight against Boston and eight of its past nine overall. But the futility against Boston goes even further. On March 13, 2012, Tampa Bay beat Boston 6-1 at home. Since that date, the Lightning are 5-19 against Boston, and bettors would be down 14.2 units if they bet Tampa in each of those 24 contests. The next closest thorn in Tampa's side during that span has been the Penguins, who have cost Lightning bettors 7.4 units. – Evan Abrams
Tampa Turnaround: Good teams that have won 60% or more of their games and have lost four of their past five contests late in the season (March-April), like Tampa Bay, have gone 53-34 (61%) straight-up in their next game. – John Ewing
DFS Angles: With middling implied totals on each side, neither team is likely to be exorbitantly chalky on Tuesday. In a contrarian universe, attacking one of Tampa Bay's biggest weaknesses — its penalty kill — with Torey Krug and David Pastrnak could make some sense in stacks. Both players rank in the 99th percentile over the past month, leading all skaters in this game.
With Stamkos questionable, one player that could step into his role temporarily is Brayden Point. Priced at $5,400 on DraftKings, there's merit to considering Point in guaranteed prize pools paired with J.T. Miller (0.54 correlation coefficient) and Nikita Kucherov. Clearly, the matchup is terrible, but Point ranks in the 93rd percentile in shots over the past month and provides a 96% Bargain Rating on DraftKings. – Joe Holka
---
Photo:  Boston Bruins right wing David Pastrnak (88) fights with Tampa Bay Lightning defenseman Dan Girardi (5) during the third period of Boston's 4-2 win at TD Garden. 
Credit: Winslow Townson-USA TODAY Sports
Stats current as of 4/2 and courtesy of Corsica.Hockey, Natural Stat Trick
How would you rate this article?