The NHL Daily: Backing the Red Wings on Black Friday
Welcome to the NHL Daily. Go inside the NHL's card for Friday, Nov. 24, as we explore betting angles and try to find value in this volatile, cruel, good-for-nothing sport. 
It's another jammed night on the ice. The NHL gave all 31 teams the day off on Thursday, but it's back with a vengeance on Friday as we've got 14 games starting at 1 p.m. Let's get right to it.
Last night's action: Buffalo (+139) couldn't muster up enough offense to make up for allowing five goals in the first two periods against Minnesota, and Carolina (-146) didn't put up much of a fight against the Rangers at home. The Capitals (-137) and Islanders (-148) salvaged the night with wins over Ottawa and Philadelphia, respectively.
Tonight's slate: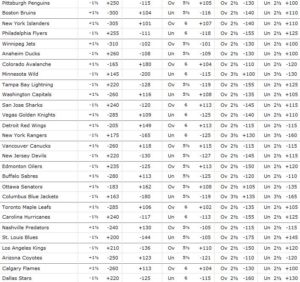 After going to overtime on Wednesday, the Islanders and Flyers finish up their home-and-home with an odd 4 p.m. matinee on Friday. On Wednesday, we backed the Isles at -148. They were home, but they are also a better, deeper team than Philadelphia. The wrong team is favored here, and the Isles make a fine play (please note the author of this column is a fan of the New York Islanders).
After sputtering a bit in the first quarter of the season, the Minnesota Wild should trend upward a bit as the season wears on. The Wild are a solid group but were bit by the injury bug in the early days. The opposite can be said of the Avalanche, who will probably fall toward the bottom of the conference over the next few months. Still, the Wild shouldn't be a 2-1 favorite here, and there is value on the Avalanche.
The Rangers are 8-2-0 in their last 10 games, erasing a bad start to the season, but they are a bottom-10 team in Corsi and are allowing more scoring chances than they are creating at 5-on-5, even though they do create a lot of opportunities. Detroit is a slightly better Corsi team than the Rangers and allows fewer scoring chances. The Rangers are the better team, but the Red Wings are a good price.
Picks: Islanders +101, Avalanche +180, Red Wings +149
Season to date: 57-63, +3.42u
Be part of the Action
Download the Sports Action app at the App Store or Google Play