Thursday NHL Betting Odds & Picks: Can the Kings Keep Up With the Golden Knights? (Jan. 9, 2020)
Credit:
Marc Sanchez/Icon Sportswire via Getty Images
The Vegas Golden Knights were never in real danger. Bad luck played a big part in Vegas' slow start, but everything under the hood indicated that the Knights would eventually start to put it together and climb the ladder.
That's exactly what's happened, as the Knights are 15-7-3 over their last 25 games and lead the NHL with a 55% expected goals rate. Vegas is now locked with Arizona atop the Pacific Division and I'd be thoroughly surprised if the Golden Knights don't nick it when all is said and done.
The Golden Knights host the Los Angeles Kings on Thursday night.
---
In New Jersey? Bet now at PointsBet for access to their NHL promotion, which stipulates that if your NHL bet ever gets a two-goal lead in a game, you win even if it ends up actually losing (promotion good for up to $100).

---
Kings at Golden Knights
Kings odds: +225
Golden Knights odds: -294
Over/Under: 6
Time: 10:30 p.m. ET
Coming into the season I would have labeled the Kings as an also-ran. Not only was Los Angeles expected to be bad, but the Kings had an aging roster that lacked any real pizzazz or an up-and-coming star. It was hard to blame anybody for largely ignoring the Kings.
Casual fans can keep ignoring Los Angeles, but if you're a bettor you should keep a keen eye on 'em.
Los Angeles has been at or near the bottom of the Western Conference for almost the entire season, but the Kings have actually been largely impressive when you take a deeper look. Los Angeles has the fifth-best (53%) expected goals rate this season and is trending in the right direction, improving to 54.8% over its last 13 games.
The Kings are driving play, but their lack of talent is still keeping them off the scoresheet. Over the last month the Kings are scoring just 1.87 goals on 2.59 expected goals per 60 minutes, so you'd think at some point they're going to find the back of the net.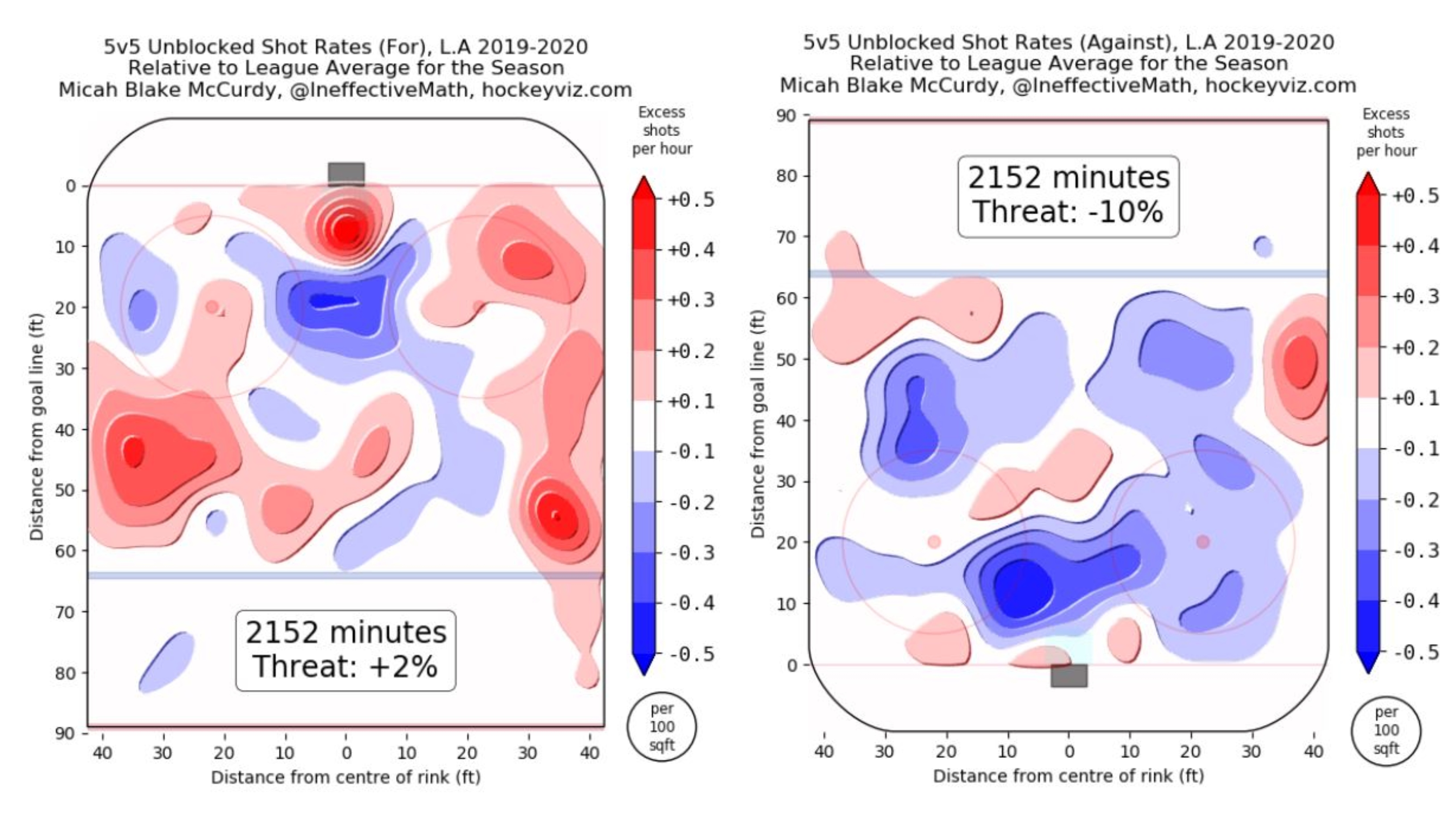 The listed odds suggest Los Angeles wins this game just 29.2% of the time and, even though the Kings are on the second night of a back-to-back, I think this price is too long for a team with such a strong statistical profile. It's a bet you lose more often than you win, but I think the Kings are a fine bet down to +210.
Around the League
I like betting on good defensive teams at big prices, so I'll take a stab on the Buffalo Sabres (+170) against the St. Louis Blues (-208). Buffalo's overall expected goals rate (48%) isn't impressive, but its defense is allowing just 2.24 expected goals against per 60 minutes at 5-on-5, so the Sabres can suffocate games.
St. Louis' underlying metrics have improved since the first quarter of the season, but the Blues don't generate a lot of scoring chances, which makes me believe that Buffalo can muddy up this game and level the playing field. That gives them decent value at a number like this.
The market disagrees with me on the Minnesota Wild (+135), who I backed at +125 against the Calgary Flames (-160). The Wild are exceptional at preventing scoring chances, so I think this a good number against a team I don't think is that much better than Minnesota.
Once again, I'm going to step in front of the meteoric Tampa Bay Lightning (-200). It's no fun to fade the league's most in-form team, but I think the number on the Arizona Coyotes (+170) is too high.
How would you rate this article?