NHL Betting Odds and Picks: Panthers vs. Flyers, Predators vs. Canucks, More (Monday, Feb. 10)
Credit:
Joe Sargent/NHLI via Getty Images. Pictured: Sascha Barkov
The Panthers are right about where most people believed they would be at this point in the season. Florida is chilling right on the playoff bubble, two points behind the Toronto Maple Leafs with a pair of games in hand.
The way Florida got here is a little strange, though.
Prior to the season, the Panthers looked like they'd be a team that would rely on a prolific top-six, a decent-enough defense and a world-beating goaltender to achieve results. Driving play wouldn't be a huge deal with this lot, as there is enough talent in Sunrise to cover up some flaws, but it is still surprising to see Florida this high up the standings despite the 23rd-best expected goals rate in the NHL this season.
When you see a team beating its metrics by that much, the natural thing to do is look at the goaltenders. But goaltending has actually been a sore spot for most of the season for the Panthers. Sergei Bobrovsky struggled through the first half of the season and his -14.6 Goals Saved Above Expectation (GSAx) is gasp-inducing considering he just signed a seven-year, $70 million contract this past summer.
It should be noted that No. 2 goaltender Chris Driedger played well in limited action, but on the whole the Panthers have succeeded despite their goaltending.
So if Florida wasn't winning games by controlling play and it wasn't winning thanks to hot goaltending, how on earth are the Panthers contending? And just how good are they?
The Panthers take on the Flyers in a huge game for playoff position on Monday night.
Monday NHL Odds & Picks
---
Odds via FanDuel, where Action Network users get a risk-free bet up to $500.
---
Florida Panthers at Philadelphia Flyers
Panthers odds: +120
Flyers odds: -140
Over/Under: 6.5
Time: 7 p.m. ET
The Philadelphia Flyers had themselves a weekend. On Friday night, the Flyers got their lunch handed to them by the lowly New Jersey Devils, losing 5-0. The next night, they blew out the first-place Washington Capitals, 7-2. If ever there was a two-game stretch to tell you everything you need to know about the Philadelphia Flyers, this was it.
Philadelphia has been swimming in the lake of mediocrity all season, sporting 50.3% expected goals rate on the season and a 50.1% expected goals rate over its last 25 games.
Philadelphia's record may suggest it is a little bit better than average, which is something I wouldn't disagree with, but I'd argue the Flyers are closer to the middle of the pack than the teams in the next tier. They do a lot of things well, but there's no area of the game where they blow your socks off.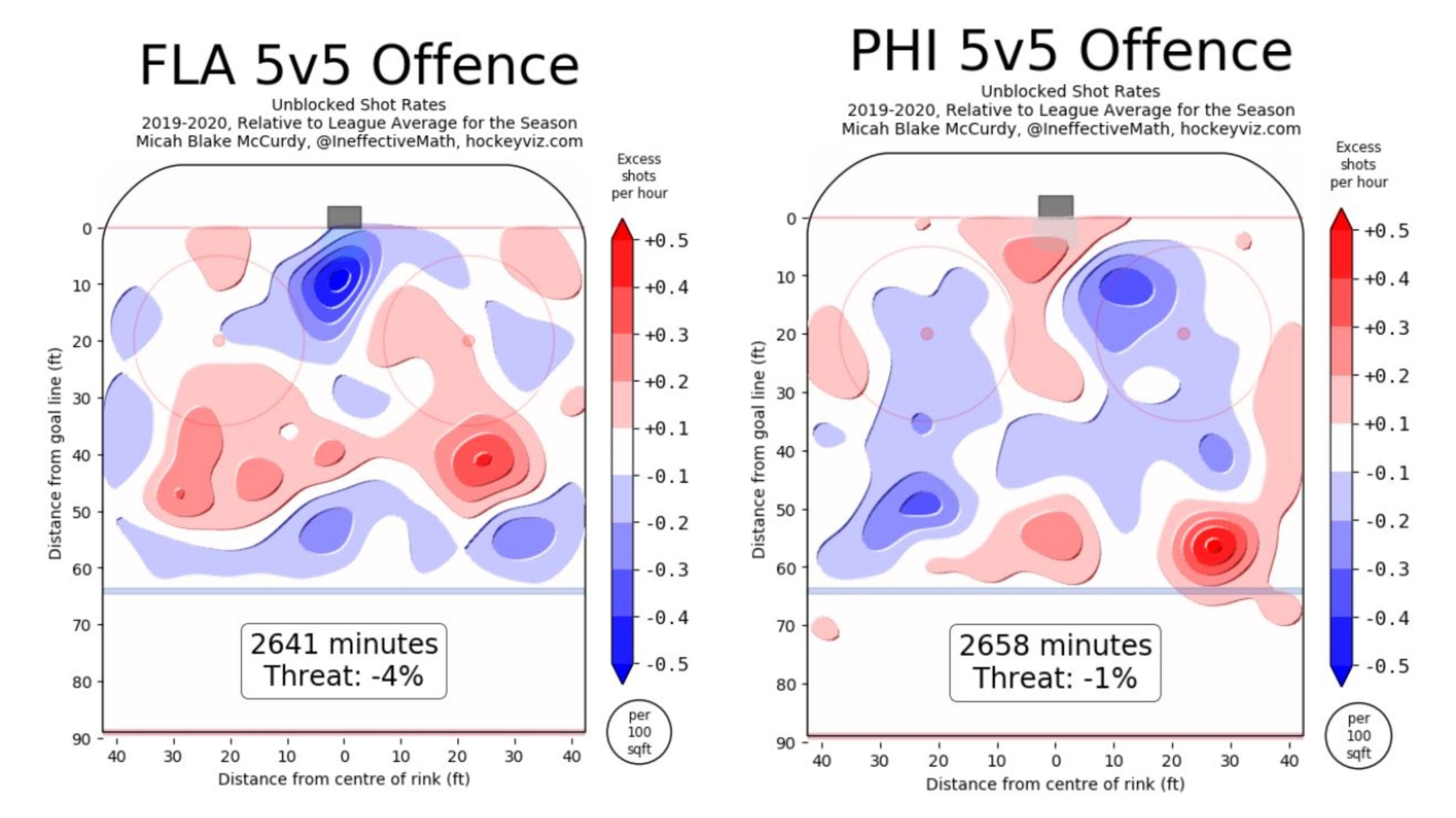 I'd put the Panthers in that same tier, though I think Florida's ceiling is a bit higher than Philadelphia's. The Panthers may not drive play as well as the Flyers, but I wouldn't expect the Flyers to cave them in at 5-on-5 and that should give Florida's talented forwards enough room to make a difference in this game.
The Flyers have taken the early money in this matchup, shortening their odds to -140 at most sportsbooks after opening around -125/-130 on Sunday night. I think the line movement has pushed Florida into range for a bet.
The listed odds suggest that Philadelphia wins this game 56.2% of the time which means the Flyers would be slight favorites over the Panthers in a vacuum. I think that should be flipped, despite Florida's poor play-driving metrics. I'd play this at +115 or better.
Around the League
The New York Islanders (+145) could end up being worth a bet against the Washington Capitals (-170), but I'm waiting to see if Ryan Pulock is going to play. With Adam Pelech already out, Pulock has become the Isles' most important defenseman and if he can't go against Washington, that would be bad news for the Islanders, who are a defense-first squad. If Pulock is in, I'd play the Islanders at +150 or better.
I'm interested to see where the line ends up between the Columbus Blue Jackets (+125) and Tampa Bay Lightning (-150). Columbus has been fantastic over the past two months, but the Jackets just announced that No. 1 defenseman Seth Jones is out indefinitely, which is a big deal for a team that relies on its defense and goaltending to do the heavy lifting. I doubt it gets there, but if Columbus hits +140, I'd take a shot on the Jackets.
I did play the Arizona Coyotes (+125) against the Montreal Canadiens (-145). Even though the Habs sport better 5-on-5 numbers and I think they are better than their record suggests, this number is too high as there isn't that much that separates these two teams.
How would you rate this article?