Oilers vs. Canucks NHL Odds & Pick: Bet Connor McDavid's Points Over (Tuesday, May 4)
Credit:
Mark Blinch/NHLI via Getty Images. Pictured: Connor McDavid
Betting on Connor McDavid > betting on the Oilers.
NHL analyst Matt Russell explains his strategy for Edmonton-Vancouver.
Find out how he's finding value on Tuesday night's game.
Oilers vs. Canucks Odds
Oilers Odds
-195
Canucks Odds
+165
Over/Under
6
Time
Tuesday, 10 p.m. ET
TV
SNP
Odds as of 10:30 a.m. ET on Tuesday and via DraftKings.
Connor McDavid's toughest opponent right now is history.
Unfortunately for him, the shortened season means that in order to truly appreciate what he's doing, you'll have to dig two or three layers deep into the type of math that many aren't comfortable with. As he aims for 100 points in 56 games, McDavid's season is one of the greatest in NHL history, but it requires the reader/watcher to wrap their head around points per game and adjusted for era — things that don't exactly slide off the tongue.
While his season appears headed for an interesting finish in this race for 100, it's hard to argue that he's going to try any harder than he does at any other point. That's not really how hockey works at the NHL level.
From a betting perspective, I wrote about the difference between betting on the Oilers vs. just betting on McDavid from a game-to-game perspective. Since then, both the Oilers' moneyline and McDavid's props have hit in games against the Flames and Canucks. However, in each case, the price to be paid was much cheaper for McDavid — and the wins were a lot easier on the heart.
Edmonton Oilers
The Oilers beat the Flames on Saturday, 4-1, but the score was more than a little deceiving as they scored twice into the empty-net late in a game that was 2-1 throughout much of the back half of the game. At -135 on the moneyline, it was appropriately close with each team tallying even-strength 6 High-Danger Chances and neither cracking 1.5 Expected Goals at 5-on-5.
Meanwhile, those first two goals came with an assist and then a goal for McDavid as he cashed over 1.5 points (-115) in the first half of the first period. Eastern time zone McDavid bettors could hit the hay early and paid 20 cents less in juice to do it.
On Monday night, the Oilers won a little more convincingly with just one empty-goal in a 5-3 win over the Canucks. McDavid hit the over 1.5 points early in the second period this time around, adding a pair of goals later for a 4-point night. The difference here was that the Oilers were a -210 moneyline favorite in a game that saw the Canucks pressing for a tying goal late. Meanwhile, McDavid bettors had no idea, as they were asleep by 11 p.m. ET, having already cashed McDavid's prop at -125.
The point here is to focus on the points.
As we discussed in the column cited above, a bet on the Oilers is implicitly a bet on McDavid anyway, so we might as well just bet on him and keep the rest of the team out of it. It's one thing when there's only a 20-cent price discrepancy, but you'll note that McDavid's prop went from -115 against Calgary to -125 against Vancouver — that's a slight price adjustment to reflect the season-long averages of McDavid having two or more points in just over half the games, but it's not reflecting the likelihood he has a multipoint game relative to the likelihood of an Oilers win. 
Just because the Canucks are bad doesn't mean that the Oilers' supporting cast is more likely to not need McDavid — it just means it will be easy for him to do damage, and more of it.
---
Expected goals (also known as xG) is a predictive statistic that gives an indication of whether results are based on sustainable factors like a steady creation of scoring chances, or whether it is down to aspects such as shooting luck or outstanding goaltending.
Simply put, an expected goals rate (xGF%) above 50% is considered good because it means a team is creating the majority of the scoring chances. Anything below 50% is usually a sign that a team is struggling to control play.
xG numbers and advanced stats cited from Evolving Hockey, MoneyPuck and Natural Stat Trick.
---
Vancouver Canucks
My "Let's Do That Hockey" model (as heard on THE WINDOW: Sports Betting Podcast) would never have recommended the Oilers -210 on Monday, and I won't be recommending Edmonton at a similar price on Tuesday. The Oilers improved to 3-1 over the Canucks in Vancouver, but in those four games the Oilers have only six more High-Danger Chances at even-strength.
Monday's win improved the Oilers to 13-8 in their last 21 games, but more importantly, Edmonton came into the game with a deficit of 163-133 in even-strength High-Danger Chances to opponents. And on average, the Oilers had given up 1.79 Expected Goals at 5-on-5 to their opponents' 1.61.
This is hardly a team that you would be wanting to pay two units to win back one.
However, the Canucks aren't a team to be trusted, either.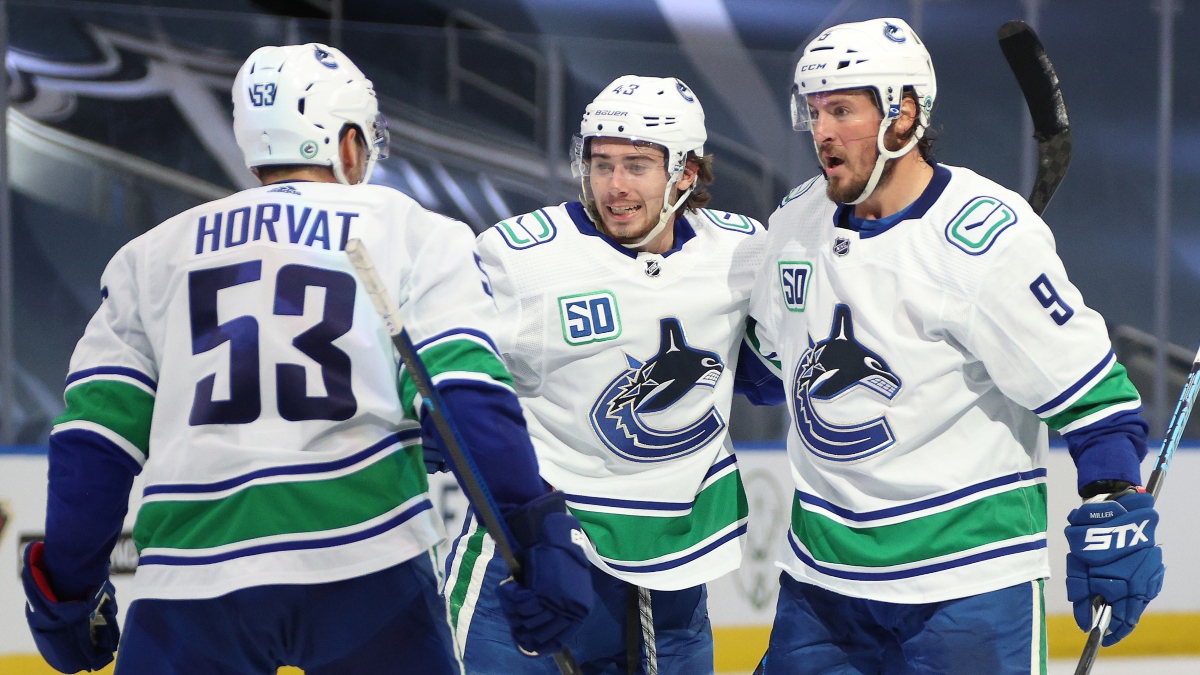 While the first two games back from their near-month-long COVID hiatus were inspiring as they shocked the Toronto Maple Leafs twice, the underlying metrics of the Canucks' return have been frankly hideous. Their season-long rating in my model has fallen to 11% below-average thanks to them playing 30% below-average at even-strength since coming back.
During 5-on-5 play, they've allowed 30 more High-Danger Chances and seven more Expected Goals to their opponents. The goaltending that stole them the two games against Toronto has dried up, and their one win over the Senators came on a night where the Canucks earned only one High-Danger Chance at even-strength that night.
---
Betting Analysis & Pick
The Canucks have three more games in a row with the Oilers this week, and unlike literally all the other teams in the NHL, there's no light at the end of the tunnel for a season that has gone so wrong in so many ways but still has so many games left on the schedule.
I would think they're going to win one of these games just by accident like, to a lesser extent, they did against the Senators.
The Oilers clinched a playoff spot on Monday night and appear to be comfortably in the 2-seed position in the North Division, so you'd think their motivation down the shorter stretch would be lower, but McDavid's chase for 100 points is going to keep him and his linemates hungry. We've seen that with their desire to score into the empty-net late with leads.
To me, both the narrative and the numbers add up to McDavid over 1.5 points being the much better bet than on either side on Tuesday night.
Pick: Connor McDavid Over 1.5 points (-125 or better)
How would you rate this article?
This site contains commercial content. We may be compensated for the links provided on this page. The content on this page is for informational purposes only. Action Network makes no representation or warranty as to the accuracy of the information given or the outcome of any game or event.