NHL Odds, Picks and Predictions: Lightning vs. Stars Stanley Cup Game 5 Preview (Saturday, Sept. 26)
Credit:
Andy Devlin/NHLI via Getty Images. Pictured: Jan Rutta, Jamie Benn
Stanley Cup Game 5: Lightning vs. Stars Odds
---
Odds updated as of Friday night and via DraftKings. Get up to a $1,000 sign-up bonus at DraftKings today or see more offers and reviews for the best online sportsbooks.
---
The Dallas Stars were 15-1 to win the Stanley Cup before entering The Bubble. After winning Game 1 of the Final against Tampa Bay, the Stars were listed at -106. Three games later, and the Stars are right back where they started, sitting at 15-1 to win the Cup.
In other words, the odds that the Stars beat the Lightning three times in a row are the same as they were for Dallas to win four best-of-7 series over the course of two months.
Has the time come to finally give up on the Stars?
The Stars Are Making It Too Easy
If the Dallas Stars wanted to put up a fight in this series, they needed a lot of things to break in their direction. Most importantly, the Stars needed Anton Khudobin to stand on his head in goal. Unfortunately, the affable netminder has started to wobble over the past two games and has a -1.85 Goals Saved Above Expectation (GSAx) in this series.
Dallas was likely asking too much of Khudobin,  but he's come back down to earth at the worst time.
The Stars also needed to play pretty close to perfect hockey and limit mistakes. Tampa can already beat you 100 different ways, so giving the Lightning extra opportunities on the power play or allowing goals right before a period end is going to make the job nearly impossible.
Even though the Stars are scoring more goals per 60 at 5-on-5, the Lightning have dominated the puck and are averaging 1.03 more expected goals per hour than Dallas through the first four games. So not only are the Stars down 3-1 in this series, but they're also overachieving according to their underlying metrics.
| 5-on-5 Stat | Lightning | Stars |
| --- | --- | --- |
| Goals per 60 | 2.66 | 2.88 |
| Expected Goals per 60 | 2.96 | 1.93 |
| Shot Attempts per 60 | 63.1 | 43.7 |
| High-Danger Chances per 60 | 11.5 | 9.6 |
---
Expected goals (also known as xG) is a predictive statistic that gives an indication of whether results are based on sustainable factors like a steady creation of scoring chances, or whether it is down to aspects such as shooting luck or outstanding goaltending.
Simply put, an expected goals rate (xGF%) above 50% is considered good because it means a team is creating the majority of the scoring chances. Anything below 50% is usually a sign that a team is struggling to control play.
xG numbers cited from Evolving Hockey.
---
The Stars will have a chance to win a game or two if they continue to score 2.88 goals per hour, but their 1.93 xGF/60 doesn't give me much confidence that they can keep producing like that. If they do go cold, the defense will need to get better in a hurry.
Dallas was one of the best defensive teams in the league over the regular season but the numbers are pretty ugly in this series. Playing Tampa Bay over and over will skew anybody's metrics, but the Stars were expected to be better at denying high-quality scoring opportunities. They did a good job in Game 1, but the Lightning have started to generate opportunities from the slot and right in front of goal.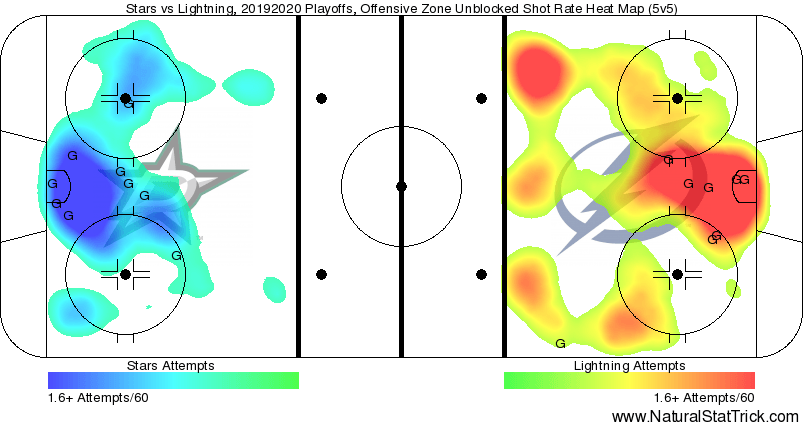 Series Betting History
I was a bit surprised the betting market held firm ahead of Game 4. The Stars did climb above +140 for a while on Friday, but they closed at basically the same price that they were listed at for the first three games of the best-of-7.
In theory, that makes sense. These are the same two teams playing over and over again, so the market should have been set ahead of Game 1, but oftentimes bettors and oddsmakers overreact to a previous game's results. That hasn't happened in this series.
| Odds | Lightning | Stars |
| --- | --- | --- |
| Game 1 | -157 | +135 |
| Game 2 | -159 | +135 |
| Game 3 | -157 | +135 |
| Game 4 | -155 | +133 |
| Game 5 | -162 | +140 |
I am tempted to believe that we will see this line stay around its current range. The Lightning have won three games in a row, they are a win away from winning the Stanley Cup and they will be playing on NBC in primetime.
There should be a lot of casual money flooding the market and I'd expect the Bolts to be the popular play, so I'm not too worried about this line crashing towards Dallas and never creeping back up.
Game 5 Betting Analysis
They say that insanity is doing the same over and over again and expecting a different result, so it's no wonder I'm beginning to feel a little loopy about betting the Dallas Stars again.
Even though the Lightning have clearly separated themselves in this series, I think the number on Dallas is good enough to have a bet. At +140 you need Dallas to win this game about 42% of the time to start seeing value. I think they meet that criteria, even if it doesn't look like it after the past week.
Looking at the big picture, the Stars rate out as a strong defensive team that is able to keep their opposition to the outside and away from slot. I'm betting on that team showing up on Saturday, because that team is really good at turning games into rock fights.
The Lightning are the better team and they're likely to win on Saturday night, but there's still a path to victory for the Stars. It just is an ugly one.
The Bet: Dallas Stars +140 or better
[Bet the Stars at DraftKings and get a $1,000 sign-up bonus.]
How would you rate this article?