How Do FanDuel's No-Sweat Bets Work?
Credit:
Photo Illustration by Pavlo Gonchar/SOPA Images/LightRocket via Getty Images
There's a lot of promotional lingo tossed around in sports betting.
Bonus bets. No-sweat bets. Deposit match. Odds boost.
We've already broken down each different sportsbook bonus, but we're going to dive deeper into FanDuel's no-sweat bet promotion below.
The $1,000 no-sweat first bet new user signup promotion is the big one, but FanDuel also offers smaller no-sweat bets to existing users throughout the year, like a $25 no-sweat same game parlay on Thursday Night Football.
FanDuel's No-Sweat First Bet, Explained
FanDuel moved away from the "risk-free bet" language because these promotions are not truly risk free. You can lose some or all of your initial deposit, if you're not careful.
At FanDuel, here's how the no-sweat first-bet signup offer works:
Sign-up with this link.
Deposit anywhere from $10 to $1,000.
Make your first bet with your full deposit amount (as much as $1,000, but it can be less).
If it wins, you keep the original cash you bet and the winnings.
If it loses, you get bonus bets back equal to the amount you bet.
The bonus bets expire in 14 days, so use them quick
That's why it's not truly risk-free — you're not getting cash back if you lose that first bet. You're getting back bonus bets, which cannot be withdrawn and must be wagered to turn into real cash.
Here's an example. Say I bet deposit $1,000 and bet it all on Chargersmoneyline against the Chiefs in Week 2 at +170.
If the Chargers win, I keep the original $1,000 and profit another $1,700 (because the line was +170).
If the Chargers lose, I get $1,000 back in bonus bets.
I won't recoup the initial $500 stake from the winning Panthers bet, but I do win $575.
So now on a $1,000 deposit, I have $575 to show for it in my account. That's a loss of $425.
Here's a very crude flowchart to help walk you through it.
The good thing is FanDuel lets you spread out bonus bets across any bets you want, so it's difficult to lose your entire deposit, even if you lose that initial bet.
What Happens if My First No Sweat Bet Pushes or Ties?
You only get bonus bets back if your first bet ends in a loss. If your no sweat bet ends in a push (which means it ends on the exact number you bet), you'll keep whatever money you wagered, but you won't get any bonus bets back. Here's an example.
Say your first bet at FanDuel is $300 on the Jaguars -3 against the Texans. The Jags end up winning 23-20, which results in a push. In this case, you'll keep the $300 cash you wagered, but you don't get another no sweat bet. The promo is effectively over.
Many sportsbooks only offer half-point lines for many markets (like 27.5 points instead of 27 or 28) because they don't want pushes, but NFL point spreads and totals will definitely still have whole numbers.
Because it nulls the promo essentially, I'd avoid making the no sweat bet on anything that could push.
So How Do Bonus Bets Work Exactly?
A bonus bet cannot be withdrawn for cash, but can be bet on just about anything. If your bonus bet wins, it becomes real cash in your account.
Bonus bets at FanDuel are better than at many other sportsbooks.
That's because you can wager any increment of the bonus bet and don't have to bet it all at once. If I have $100 in bonus bets, but only want to bet $5 on an NFL game, I can choose to just bet $5.
Just toggle the bonus bet switch on and enter your bet amount. It will deduct from your total.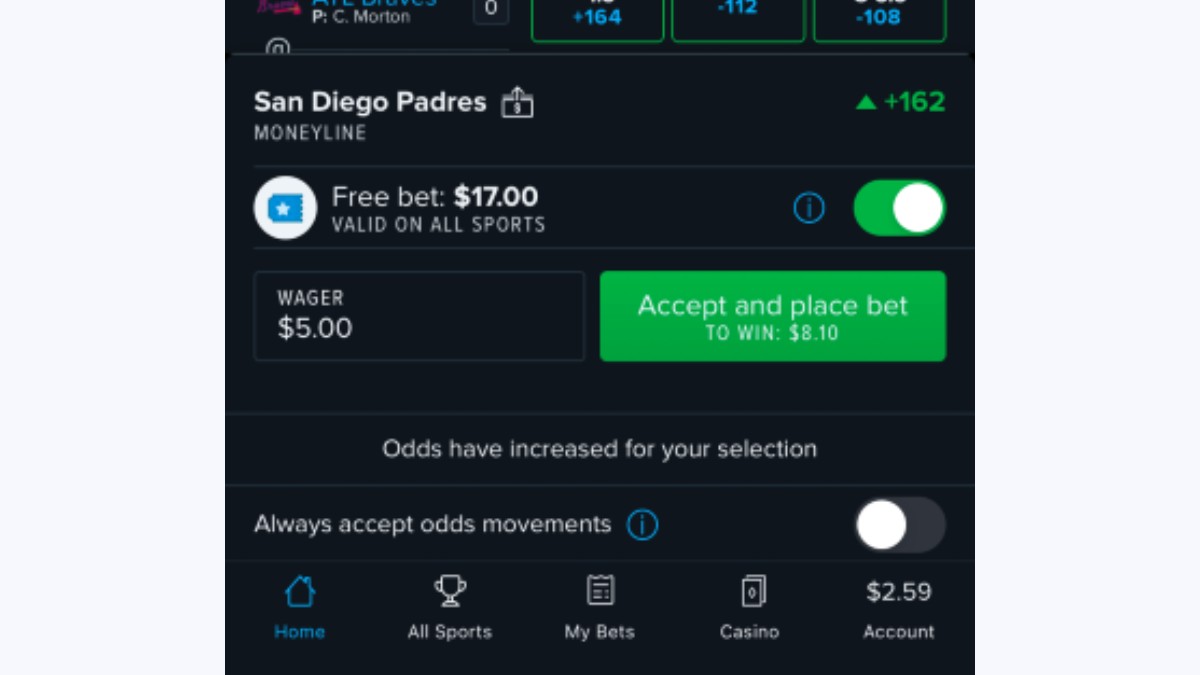 Here's an example.
I bet $25 on FanDuel's no-sweat bet in NFL Week 1 between the Broncos and Seahawks on Monday Night Football — Tyler Lockett to score a touchdown, +260.
Lockett didn't score, so I got $25 back in bonus bets. But I don't have to spend the entire $25 in one bonus bet — I bet $5 on a live MLB game, $5 on Florida State vs. Louisville and $15 on Chargers vs. Chiefs in Week 2.
How would you rate this article?
This site contains commercial content. We may be compensated for the links provided on this page. The content on this page is for informational purposes only. Action Network makes no representation or warranty as to the accuracy of the information given or the outcome of any game or event.