NBA Win Total Odds & Pick: Is Another Rebuild in Store for the Cleveland Cavaliers?
Credit:
David Liam Kyle/NBAE via Getty Images. Picture: Kevin Love #0, Jarrett Allen #31 and Darius Garland #10 of the Cleveland Cavaliers.
The Cleveland Cavaliers are not expected to improve much this season with an over/under of 26.5 wins.
Matt Moore analyzes the Cavaliers' win total odds below.
Cleveland Cavaliers Win Total Odds
The Case for the Over
The essential pieces remain. Collin Sexton and Darius Garland (AKA SexLand) are still the starting backcourt and generated 60 points and 15 assists combined per 100 possessions. That's a great starting point just for generating enough offense to win.
There's a lot of room for internal improvement. Isaac Okoro has the toolset to be a valuable defender and provide something on offense as a slasher.
Evan Mobley was considered the best player in the class by a fair amount of scouts and analysts I spoke with before the draft. He'll look much better in an organized environment instead of Summer League's chaos. Their frontcourt with Okoro, Mobley, and Jarrett Allen should be able to protect the rim.
They added Ricky Rubio, a floor-raiser, via trade. He will play competent defense, has become a better shooter as he's aged, and knows how to run an offense.
There's also the capacity for trade. The team pretty obviously is looking to deal Sexton, and if they get more pieces in return, their whole could be greater than the sum of their parts.
The number is low, the fourth-lowest of any total on the board. So the bar is rock-bottom.
There's also the simple unknowns. If we think we have all the known factors about the Cavaliers in place and they're all negative, there is likely an outlier positive improvement we won't see coming. Maybe it's Garland taking a significant step forward or Okoro adding to his on-ball skills.
Maybe it's Lauri Markkanen in a new environment next to Rubio, or just that Mobley is simply that impactful right out of the gate. It's unlikely that we know everything we need to know about Cleveland and that it's all negative.
That's it. That's all I've got.
The Case for the Under
The Cavs have gone under their win total in all three seasons since LeBron James left if you include their 19 wins at the suspension of play in 2020 vs. their line of 24.5. (I don't think they were getting six more wins by season's end.)
J.B. Bickerstaff's team has never gone over its season win total, between his three interim and two full seasons. I love Bickerstaff and want him to succeed, but facts are facts.
The Cavaliers had the second-highest differential between their actual win total and expected; they were four wins better than their expected mark. Most of those came in the first month and a half of the season when they were actually promisingly good defensively.
Then everyone got hurt.
They were even better than they should have been when they were tanking; from Feb. 15 on, they were still one win better than their actual mark. The Cavs won at an expected 22-wins-per-82 mark last season. What about their roster indicates a five-win jump?
There was nothing offensively this team was good at. Not a thing. The Cavs were 30th in half-court offense. Twenty-eighth in pick-and-roll, including passes, 30th on jump shots, 28th around the rim, 30th on catch-and-shoot.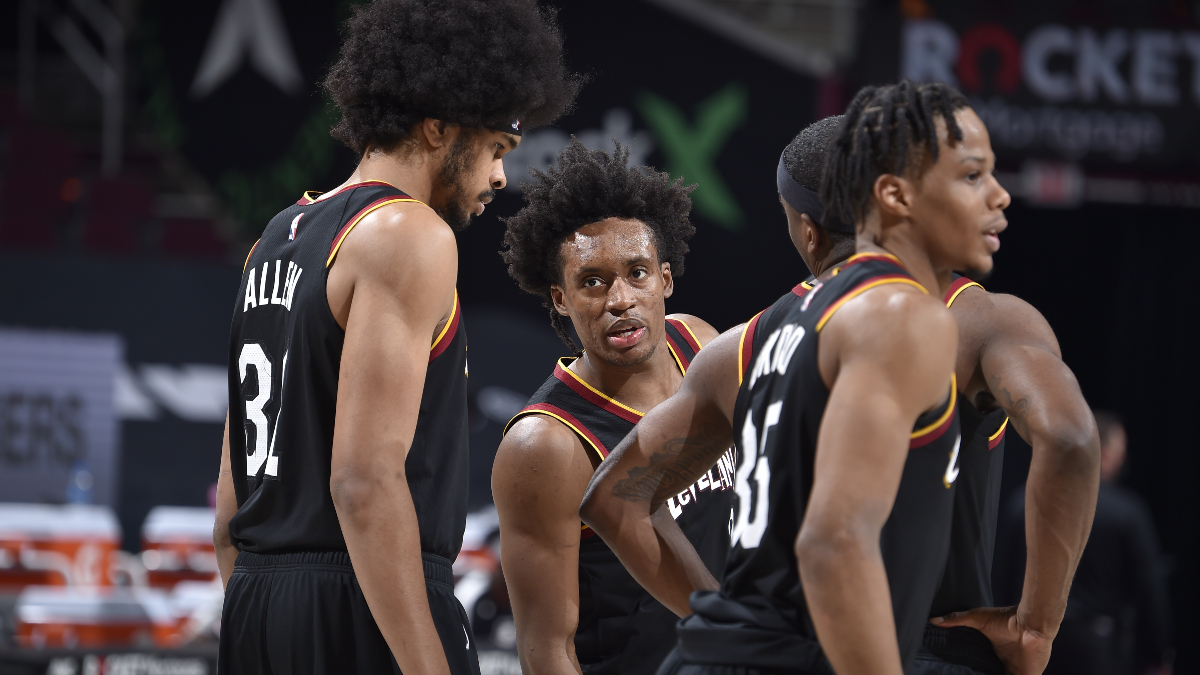 I tried to find something. There's literally nothing offensively to be optimistic about. If they deal Sexton, the odds of them getting an offensive improvement are low. If they trade for Ben Simmons, for example, they won't have enough shooting around him.
From an impact perspective, I believe Mobley might end up as one of the three-best players in the draft. However, counting on him to raise the floor this much in Year 1 is a steep ask.
Defensively, this team really started out well. Through the first 13 games of the season, the Cavaliers had the third-best defense in the league. But then it all fell apart. The key in all that was Larry Nance Jr.
The Cavs' defense was 7.4 points per 100 possessions better with Nance on the floor last season, with a solid defensive rating of 107. All in all, the Cavaliers went 13-22 with Nance (.371 winning percentage) and 9-28 without him (.243).
You will notice, of course, that Nance is no longer on the roster, having been dealt to Portland in the Markkanen deal. So the only redeemable thing about this roster, its defensive floor, has been compromised.
Cavaliers Win Total Bet
This feels obvious. More obvious than even Orlando, who I have at just 13 wins. I don't feel comfortable with something this obvious. But literally, the only reason this team was above 20 wins last season was their defensive start, and the biggest reasons for that success (Nance and Dante Exum, who they inexplicably traded) are gone.
The most plausible trade scenario for Sexton, who Cleveland does not want to sign to an extension, is Philadelphia for Simmons. I think Simmons' value is underrated, but he's a nightmarish fit with the Cavs' offense. Even if the defense improved, I can't see them getting to 27 wins.
To put this in perspective, the Minnesota Timberwolves played at an expected 26.2 rate last year. Will the Cavs be better than the Wolves were last season? Given that the most likely scenario is another tank job late in the year to try and secure another franchise player, if you're going to play this, the under is the only way.
I lean towards a pass, but the under is tempting, given they were a bad team that over-performed and got worse in the offseason.
How would you rate this article?
This site contains commercial content. We may be compensated for the links provided on this page. The content on this page is for informational purposes only. Action Network makes no representation or warranty as to the accuracy of the information given or the outcome of any game or event.