Even With LeBron James, the 2018 Lakers Have No Identity
Credit:
Pictured: LeBron James. Photo credit: Greg M. Cooper-USA TODAY Sports
After signing LeBron James, the Lakers added a group of mercurial veterans like Rajon Rondo, JaVale McGee and Lance Stephenson.
The group of enigmatic talents surrounding James and the Lakers young core could work out brilliantly or it could flame out.
Either way, it is important to acknowledge the Lakers and James are no sure thing in 2018-19.
The other day, I was watching Return of the Jedi, and the sequence where the TIE fighters are chasing the Millennium Falcon through the Death Star tunnels — with both sides banging into the walls and careening all over — reminded me so much of what the Los Angeles Lakers did this offseason.
Let me explain …
LeBron and the Enigmatic Veterans
The Lakers didn't build a superteam by surrounding James with All-Stars, but they didn't stand pat, either. Instead of letting James take a turn with last season's pretty good team of youngsters, or adding smart, crafty, proven guys, they added polarizing games and personalities such as Rajon Rondo, JaVale McGee, Lance Stephenson and Michael Beasley. Every addition brought more questions.
---
>> Follow Matt Moore in The Action Network App to get free alerts on all his bets during the season.
---
Rondo is probably the least objected-to player, but that's mostly a product of timing. The veteran point guard is coming off a successful and productive playoff run with the Pelicans in which they swept the third-seeded Blazers. If this signing was coming on the heels of his disaster in Dallas or his completely nondescript tenure in Sacramento, things might be different, but instead, he's coming to LA fresh off a new round of "Playoff Rondo."
McGee also benefits from timing. He just came off a run with the Warriors. (Two titles! For JaVale McGee!) He started and had stints (against the Spurs and Cavs) where he had a positive impact. You could always feel Bay Area media waiting for the carriage to turn back into a pumpkin with McGee, but the Warriors were so loaded, he was never really exposed. Steve Kerr kept him off the floor against the Rockets and used him when he could get away with it.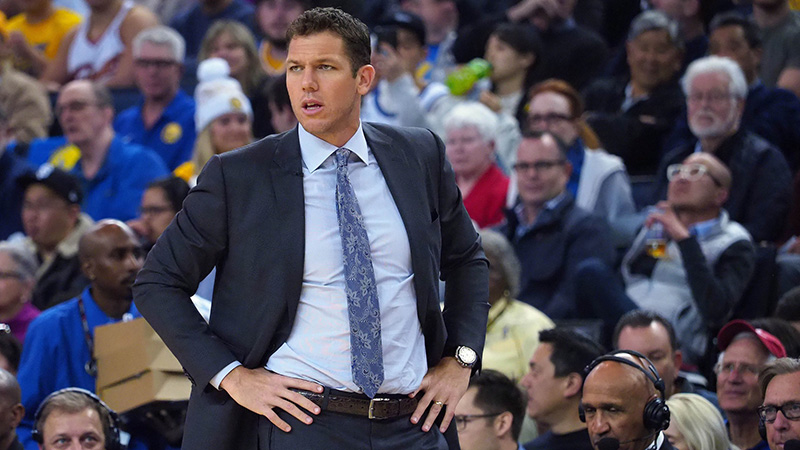 Kelley L. Cox, USA Today Sports. Pictured: Luke Walton
With this Lakers team, though, that's going to be more difficult. The biggest issue with McGee is his endurance. He suffers from asthma, and it's part of the reason he's deployed only in small stints. With Denver in 2013, McGee was used as a counter-measure, to go in and deliver short, intense stints of athleticism and rim-running. As his endurance fades, his weakside defensive awareness deteriorates. For all the impact he had in the playoffs, McGee averaged 12.2 minutes per game.
This is kind of a problem when he's about the only viable starting center for the Lakers. As the roster is currently constructed, either McGee will have to play significant minutes or LeBron and Kyle Kuzma are going to have to play a whole lot of center. James has never wanted to do so, and Kuzma is ill-equipped. That doesn't mean James won't or Kuzma can't, but it's something to keep in mind. McGee's career high in minutes was 27.8 with the Wizards back in 2010-11; he hasn't cracked 20 minutes per game in any season after 2011-12.
McGee's value is pretty good if he's not asked to do much, though. James has never been a great lob passer, but Lonzo Ball is. Tristan Thompson made a career out of cleaning up off the attention James drew to the strong side; McGee can do the same. McGee will block shots, which will lead to Lakers transition opportunities. His level of principled play may be questionable, but it could also get buried under an avalanche of highlights, featuring big-time swats and alley-oop finishes.
Subtraction By Addition
Stephenson has prompted the most concern, and for good reason. He has swung wildly from "impactful do-it-all forward" to "giant clod of debris rolling downhill in a junkyard as it barrels toward the town below."
He can't space the floor (39th percentile on catch-and-shoot last season). His defensive metrics were horrible — he had the worst defensive rating of any player to play more than 1,000 minutes on the Pacers. And he's never been good outside of Indiana.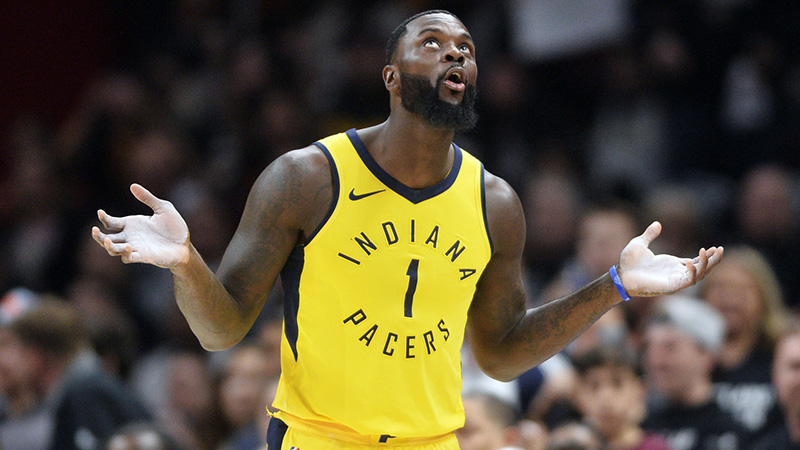 Ken Blaze, USA Today Sports. Pictured: Lance Stephenson
His stint with Charlotte was a disaster. Larry Bird adored Stephenson, and yet he constantly battled with his own loyalty toward him. Stephenson's demeanor is enough to cause tension.
That personality tension is the most evident issue. Rondo is surly and drives coaches insane. Stephenson doesn't just drift off into space; he rockets away from the terrestrial plane at the speed of light. McGee's "Shaqtin' A Fool" profile is somehow used as a gaslighting mechanism by his advocates; somehow these constant moments of boneheaded plays are portrayed as a media "narrative" instead of proof of the fact that McGee constantly suffers from a lack of attention to detail on the floor.
Add in Beasley, a player who has been efficient and effective as a bench scoring option the past three seasons as long as that's all you need from him, and you have a whole lot of questions about the team identity of the 2018-19 Lakers.
Only In Los Angeles
If the Lakers had signed any other star free agent and then surrounded him with this cast of characters, we'd say they had no plan. If any other team signed LeBron and surrounded him with this team, we'd say they had no plan and were wasting an opportunity.
It is specifically this combination — Magic Johnson signing LeBron James to the Los Angeles Lakers — that opens the door for such a positive reception.
---
>> Sign up for The Action Network's daily newsletter to get the smartest conversation delivered into your inbox each morning.
---
One of the fallback conversations is the short-term nature of these deals. The Lakers effectively built a one-year Bizarro Lakers without sacrificing their future cap space, or any of the young core in trade. Even if all the additions bust out or have to be dislodged, they still have franchise cornerstones (per Magic Johnson) Ball, Brandon Ingram and Kuzma. Losing Julius Randle hurts, but that well was poisoned months ago.
In a year's time, the Lakers will have even more available cap space with the rise of the cap, will still have the young core to augment or use in trades and they will still have LeBron. So the scenarios run down like this:
If the Suicide Squad/Bad News Bears/Lovable Misfits team works together, great, the Lakers are contenders.
If the new additions don't work, at least they still have a 35-win young core that should benefit from natural improvement … and James.
Even if the new additions bottom out and the kids regress, the Lakers still have cap space next year.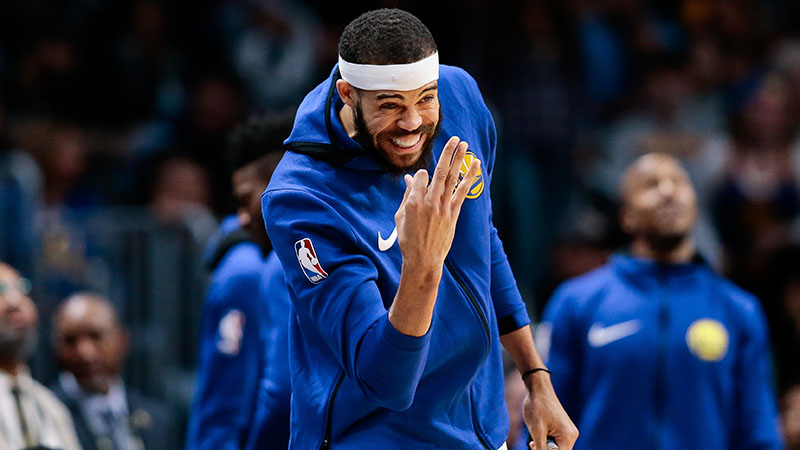 Isaiah J. Downing-USA TODAY Sports. Pictured: JaVale McGee
It's just that they're then effectively spending a year of LeBron's dwindling prime on longshot odds. James was magnificent last season, offensively. In fact, it may have been the best season of his career, offensively.
If you're noticing a trend in my syntax, it's that I have a genuine concern that James' age-related decline is starting to show in his defense. That's atypical; usually, it's the explosiveness and offense that start to decline first. But in Cleveland, it went from "James isn't giving great effort defensively" to "James is not giving great effort defensively, and when he does give effort, the results are more mixed than ever."
If that slides anymore, the Lakers' defensive identity — which is their strength going into the season on a team built around a bunch of sub-24-year-olds, Rondo, Stephenson and McGee, mind you — could suffer. How many more seasons does James have at the absolute highest level?
That's where all this gets complicated when you look at James' decision itself. In proceeding features (none of which feature the man himself who has stayed aloof since signing with the Lakers), a narrative has become prominent: "He's earned the right to do what he wants."
James said his family would come first in this decision. All of this paints a strange pictured. Lakers fans are hoping for a return to championship contention around the greatest player in the NBA, and the greatest player in the NBA basically showed up at the tail end of his prime because his family wanted to go to LA and the Lakers are more marketable. James isn't pushing for immediate contending moves like he did with the Cavs.
We'll see if he puts together those team-bonding, focus-driving offseason workouts in August; he likely will. We'll see if he finds a way to make a ragtag bunch of kiddos and weirdos into a juggernaut; he usually does. We'll see if he finds a way to stave off Father Time for another year; he always has. But if we're going to be honest about this Lakers team, at best we have to acknowledge the questions here.
They are not a sure thing. They are not ready to take a swing at the champs. Their upside is incredible, their floor is alarming. Where they land in between could wind up determining how the narrative of this star-studded marriage takes shape.
How would you rate this article?