6 Team Characteristics That LeBron James Should Seek in Free Agency
Credit:
David Richard-USA TODAY Sports. Pictured: LeBron James
The Highlights
It's clear that LeBron James would benefit from playing for a team whose identity he doesn't have to define.
Ultimately, he needs to play for a team with an elite defense that can counter the league's elite offenses.
James clearly knows he needs to surround himself with smart players, but would he sacrifice control to get them?
---
We have seen LeBron James at his professional best and worst in these 15 years. We've seen him both triumphant and despondent, whether seething in shame in 2011 or weeping with joy in 2016. We also saw him overwhelm the Thunder in 2012 and then get swept away with ease in 2018. We've seen changes in pretty much everything about LeBron: attitude, latitude, star power, offense, defense and uniforms.
Well, it's time, once again, for a change. So let's actually go there.
Whether or not James changes his uniform and ZIP code once again in free agency, one thing is clear: He cannot "run it back." That statement shouldn't surprise anyone. This past Cavaliers team was basically Frankenstein's monster — cobbled together from the decaying leftover pieces of the team that Cleveland intended to build around James. The Cavs were supposed to have Kyrie Irving. Or at least a healthy Isaiah Thomas. They were supposed to have better defenders. Or at least time to practice together. This team wasn't going to come back this way next season — no matter what James decides.
You're going to read a lot about LeBron in the coming weeks. You'll see arguments and ideas for Los Angeles, Houston, Philadelphia, Boston and for him simply staying in Cleveland. There will be reports about unnamed sources and plenty of potential trade ideas. But all of those concepts on the fly will act on specifics. What about the blueprint? What needs to change in and for the career of LeBron's basketball team going forward?
Let's look at the six team characteristics that I think LeBron now needs.
1. CULTURE
James learned a lot about team culture in Miami. There have always been reports it was actually a source of conflict during his time there. James allegedly wanted to take over the team like he did in Cleveland, but Pat Riley and Erik Spoelstra managed to withstand it — at least at times.
When James returned to Cleveland, he thought he could apply the lessons he learned in Miami to build the Cavs into a top-flight organization. Instead, if anything, James made problems worse. The Cavs became more and more built around players James approved of such as JR Smith and Tristan Thompson.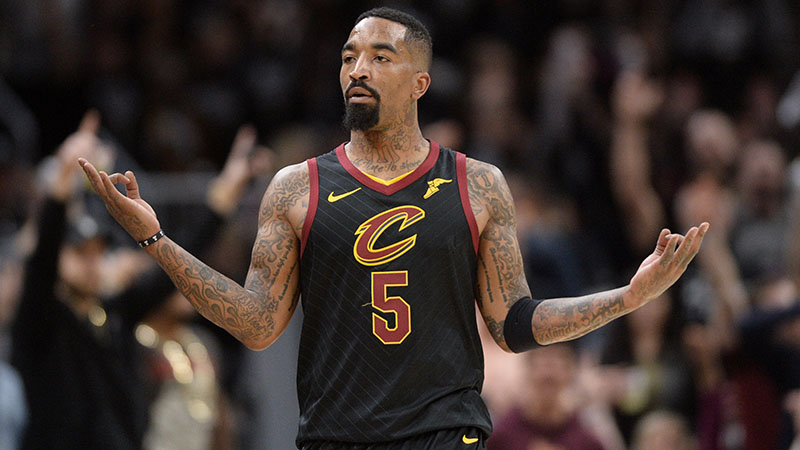 Cavaliers guard JR Smith. Credit: Ken Blaze-USA TODAY Sports
A player such as Iman Shumpert, who never endeared himself to James the way other players did, found his role limited. On the other hand, Smith was embraced and given a long-term contract — which opened the door for the biggest mistake in Finals history. The Cavs also found themselves constantly caught in regular-season spirals of drama and incompetence. Even so, they still always found a way to carry themselves through the playoffs and even won a title.
But it's clear that James would benefit from playing for a team whose identity he doesn't have to define. Some of that certainly falls to ownership, but management and coaching also play a part. This obviously presents the biggest problem for Cleveland, but it's not totally out of reach.
The tension between James and Cavaliers owner Dan Gilbert is well-documented, but if the Cavs brought in a President of Basketball Operations to work with general manager Koby Altman, you could conceivably drive a new era.
The problem, of course, is James himself. He wants to actively participate in building the team. After all, he gets all the blame if it loses — as well as most of the success if it wins. This last Cleveland disaster was an outlier in that it was so transparent how outmatched and vulnerable the Cavs were. Even then, James still took stray criticism. So he obviously wants to be in on the process — without actually having to manage those duties.
If James is really willing to take an "I just play" approach, he would have to play for a team with people in charge whom he can trust. San Antonio and Houston stand out here. The Lakers are more of an unknown; Magic Johnson and Rob Pelinka haven't run things long enough to accurately gauge. The debacle with Bryan Colangelo doesn't help the Sixers' cause — even if they hire David Griffin, who built the championship core in Cleveland.
In the end, it's simply a question of whether James wants to focus on basketball. And if so, if he can trust those in charge. He clearly didn't in Cleveland, which is why he made public comments about the team being "top heavy" and other subtle jabs. He needs to play for a franchise whose system he can fully trust.
2. SWITCHABILITY
The Cavaliers tried to switch everything in the Finals. Because so many teams do this effectively, it was treated as some sort of shortcut. I wrote all season about the problems that the Cavs' off-ball switches created, which the Finals only exacerbated, as they tried layering complex decisions on those switches.
"We'll switch everything unless it's this guy, and then only if he does this" and that just caused mayhem. The Cavaliers just couldn't handle that level of complexity. Their switchable players (such as Smith and Jeff Green) didn't have the acuity to manage those switches, especially while having to work around Kevin Love and Kyle Korver.
Now, look at what Houston could do against Golden State. Don't just focus on the on-ball screens, but notice how the Rockets switch absolutely everything.
We may eventually see this recent trend reverse itself. An influx of great big men into the league could threaten the viability of this strategy if they can just attack one-on-one. However, those players are unlikely to hit their prime before James exits his (however long that may reasonably be). The more pressing issue involves finding a way to get through Golden State, in addition to the other primary challengers in Houston and Boston that employ that same defensive system. They also require it to defend them effectively.
James ideally needs players between 6-4 and 6-10 at every position who can all switch, defend on the perimeter and at the rim. That requires athleticism and lateral mobility throughout the rotation. He needs this more than ever, considering his own defensive ability has dropped off.
Ultimately, LeBron needs to play for a team with an elite defense that can counter the league's elite offenses. Utah, for instance, has a dominant defense that cannot counter those elite offenses when it matters. The Jazz allowed 109 points per 100 possessions to Houston in this year's postseason and 114 to Golden State last year.
James simply can no longer afford to play with one-way players if he wants to seriously compete for more titles.
3. VERSATILITY
We probably need to phase out the "LeBron and four shooters" concept. This is difficult to reckon with, since we've seen it succeed so much through the years. James has consistently been a monster in the past with that exact model. Pop Korver, Love, Smith and a point guard of your choice around him and then watch the threes fall.
However, that model relies on James' ability to relentlessly hammer the defense over and over again. That takes its toll. Plus, teams have scouted those mechanisms to within an inch of their lives. There's a reason Korver struggled at times against both Indiana and Boston, and then got completely shut down vs. the Warriors. (Poor Toronto.)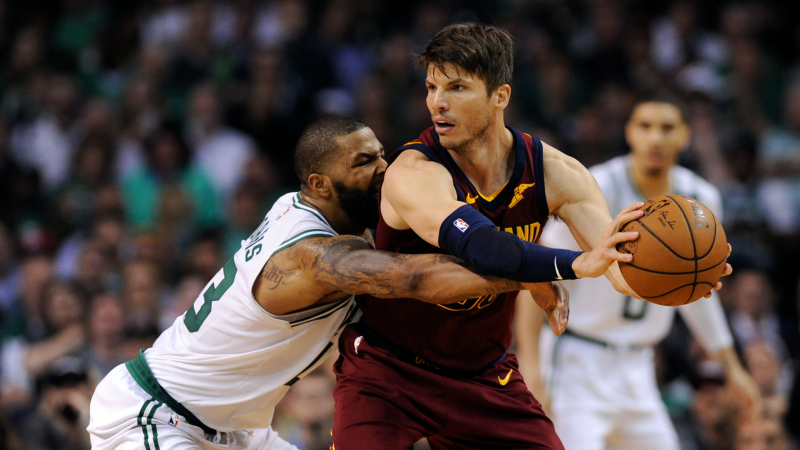 Pictured: Kyle Korver and Marcus Morris. Bob DeChiara-USA TODAY Sports
Every team needs role players and specialists — provided they can switch as described above. However, the 2016 Cavs model of supplementing LeBron with one other guy who can create his own shot simply might not work anymore. James needs multiple teammates who can create their own offense, dribble off the close-out and knock down a mid-range jumper or get to the rim. James can no longer rely on one other player who can also find the open man in the dunk spot or wide-open in the corner.
James doesn't need to play with four other superstars, but he needs teammates with better individual abilities than what he had in Cleveland. Ironically, George Hill was huge for Cleveland, especially against Boston. Someone such as Hill — but a little shorter in the tooth — would really help.
4. ATHLETICISM
For the love of everything Holy, get this man some rim-runners. Opponents had nightmares trying to contain James running the floor with athletic demons in Miami. Yes, he's getting older and he won't burst out like he once did. But he still remains one of the league's singularly most unstoppable forces in transition.
In Miami, I called it the Flying Death Machine, because of how many weapons James had at his disposal at all times. In Cleveland, it was way more artistic, more about fluidity, with shooters constantly spotting up. You still need to spread the floor in transition (hence the versatility described above), but you also need guys who can attack the rim, and just … guys who can run.
The younger teams on James' prospective list lean this way. There's a middle ground between kiddos who lack basketball IQ (which I'll get to next), and an ancient team that featured a 37-year-old in Korver as its third-best player in the playoffs. LeBron simply needs to surround himself with more athleticism as he gets older. He will need other guys to take the primary assignments defensively.
James has transitioned to playing more free safety in recent years, with Green and Smith responsible for the toughest perimeter assignments. That won't change, but he just needs to upgrade those defensive weapons on the edge.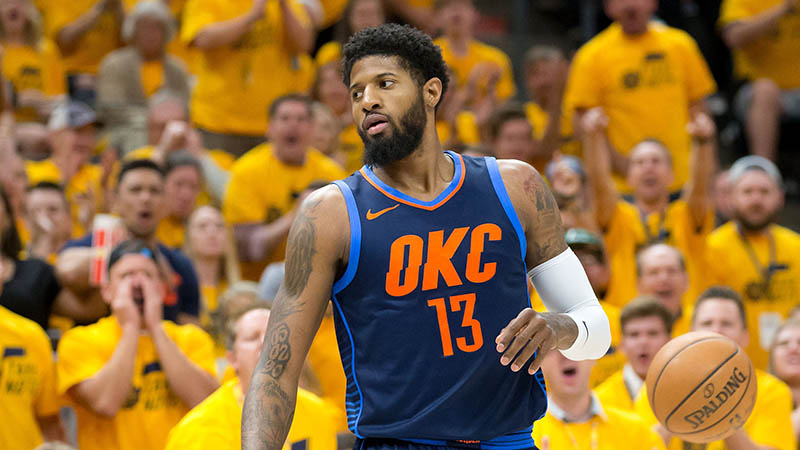 Pictured: Paul George. Credit: Russ Isabella-USA TODAY Sports
5. BASKETBALL IQ
James harped on this over and over again in the Finals. Just take a look at what he said before Game 4:
So not only do you have to have the talent, you have to have the minds as well. I knew that my talent level here in Cleveland couldn't succeed getting past a Boston, getting past the San Antonios of the league or whatever the case may be.

I played with D-Wade, I played with Bosh in the Olympics. I knew D-Wade for years. I knew their minds. I knew how they thought the game, more than just playing the game. Obviously, we all knew their talent, but I knew their minds as well. So I linked up with them. We went to Miami. Got some other great minds in Mike Miller; UD (Udonis Haslem) is a great mind but also a competitor. And guys that were talents. You build that talent. That's what you want to try to do.

Then you come here. I knew Kyrie, having the talent, I wanted to try to build his mind up to fast track his mind because I felt like in order to win you've got to have talent, but you've got to be very cerebral too.

Listen, we're all NBA players. Everybody knows how to put the ball in the hoop. But who can think throughout the course of the game?
Well … knowing the score at the end of a Finals game would be a good starting point.
High-IQ players are somewhat common in the NBA, but also difficult to acquire. It's not about having them, but rather about the number you have. Some of this, though, gets back to the culture concept I previously mentioned. Nick Young is not, nor has ever been, a smart basketball player. (Note: I'm simply referring to on-court IQ and not actual intelligence. Those are vastly different concepts.) But his mistakes never really hurt the Warriors because of their immense talent and dominant system.
So your overall structure has to be smart enough, with enough players locked into a mentality to succeed that even the weakpoints are lifted. Some of that is tactical, such as how often Cavs players would look around confused at each other after a blown switch or rotation. Some of that is focus-driven. A collective team mentality is something to be valued. James clearly thinks that it's the truly great players who instill that. I'm not sure enough credit is given to coaching under his paradigm, but it's worth considering.
6. HE MUST BE UNEXPECTED
This idea was the starting point for this article conceptually. For eight weeks, we watched teams know James would come off the screen and attack the rim. We constantly saw four, sometimes five, defenders primed to stop him. Despite all of the defensive attention, he still succeeded — which speaks directly to his greatness.
It's time for it to end, as well.
The Warriors are so difficult to defend because teams never know what's going to hit them. And Golden State always punishes opponents for lapses in concentration. For whatever reason, nobody face-guards Steph Curry. Instead, they still check the ball as if it's a normal sequence. But the Warriors will also run Curry off one screen, then have him screen for another cutter, slip to the top and run off another screen. Same with Klay Thompson. They're always moving.
The Celtics hit you with little opportune slips, cuts and moves. That's part of the reason how Brad Stevens got such a great season out of Kyrie before his injury — despite the Celtics' mediocre offense.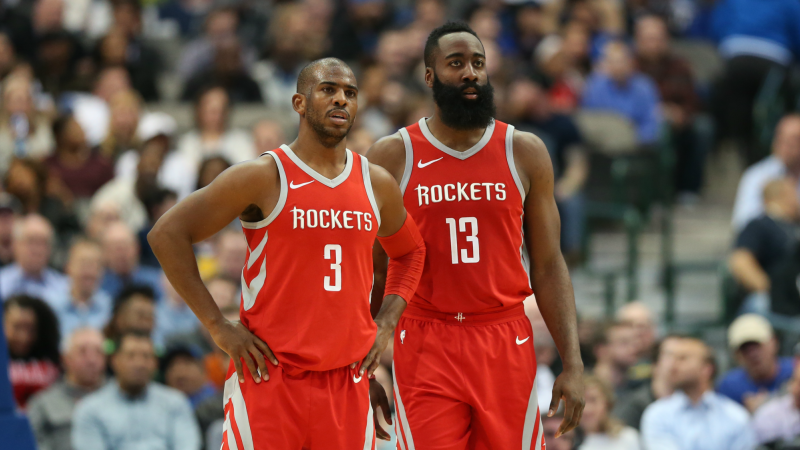 Pictured: Chris Paul and James Harden; Credit: USA TODAY Sports
The counter-argument, of course, is Houston. The Rockets hit you over the head with a sledgehammer and dared you to figure out a way to stop it. And most teams couldn't. Golden State did after Chris Paul went down, but the Rockets averaged a 109 Offensive Rating in their three wins in that series. This model worked because they put teams in an impossible situation with all of their shooters. The Cavs also successfully executed the same premise for years: If teams help on the superstar, he'll find the shooters; and if teams stay home on the shooters, the superstar burns them himself.
Cleveland really did build something historic with that offensive model.
However, the other talking point in the Finals (and WCF) was margin for error. In order to execute a plan when the opponent knows what you're going to do, you need perpetual precision. Small mistakes are devastating. The Warriors have the talent to play a little sloppily, but even before Durant arrived, that was their model.
The Warriors aren't precise. They're neither low-turnover, nor careful. In fact, they can play sloppily, wildly and unpredictably, which ultimately leads to mistakes. However, that unpredictability also punishes defenses by catching them off guard over and over again.
The Spurs had less spontaneity in their "beautiful game" era of the mid 2010s, but they did utilize a system that consistently caught opponents off-guard. LeBron needs this going forward, but it requires a shift in his approach.
Is LeBron willing to shift to more off-ball? He can still run pick-and-roll a dozen times per game, but will he also screen for backcuts, slipping picks and as a decoy? That shift in approach would maximize him in a way that saves his energy down the stretch, when he might need his overpowering abilities. He'll have an even better ability to carry his team in the playoffs.
SO WHO WILL LEBRON JAMES CHOOSE?
The easy answers for the teams that fit the above descriptions are Golden State and Boston. However, mitigating factors such as salary, team structure, culture and impact to LeBron's legacy make those teams long shots.
San Antonio, however, hits on all of these ideas. Now, the Spurs have a lot of issues in-house, starting with the personal tragedy Gregg Popovich just suffered — which takes precedence over any of this silly basketball stuff. They also have to figure out the Kawhi Leonard situation, and better fit the roster to accommodate James. They need more shooters, and LaMarcus Aldridge likely won't get any better as he gets older.
The bigger things to remember here are three-fold, though:
1. There may not be a perfect situation. He may find a team with length, switchability and great culture — but one that's too young mentally. He could also find a team with high versatility and basketball IQ, but one that's unable to effectively switch. The perfect situation doesn't exist … well, besides Golden State.
2. James' decision will have as much to do with family as anything else. The only factor he cited after the sweep to the Warriors? His teenage sons and his young daughter. They get a say in this conversation, as does his wife, and his family's wishes may not align with the basketball side. Selling the family on San Antonio over Cleveland or Los Angeles could prove difficult. James has basketball concerns, but he also has far more important considerations.
3. It's not about any one team filling any of these categories. It's about realizing that James has much different needs at this point in his career. The question becomes whether he realizes that or not. He clearly knows he needs to surround himself with smart players, but would he sacrifice control to get them? He clearly knows the value of switching, but can a team surround him with such?
There's just no way to know what James will decide this summer. All I know is that the bar in the NBA is so high that the best player in the world and of his generation (and maybe ever) has to consider all of these factors before making a decision. And that's what makes the NBA offseason so amazing.
As always, nothing is simple with LeBron James.
How would you rate this article?