Celtics vs. Heat Odds & Picks: How to Bet Wednesday's ECF Rematch
Credit:
Nic Antaya/Getty Images. Pictured: Jayson Tatum.
The Boston Celtics and Miami Heat meet Wednesday for a highly anticipated Eastern Conference Finals rematch.
These teams' stars have stolen the headlines so far this season, but could two role players be the difference in this matchup?
Brandon Anderson explains below and shares his Celtics-Heat betting pick.
Celtics vs. Heat Odds
We've been waiting for this one.
The Celtics and Heat met in last year's Eastern Conference Finals, and by last year, I mean barely three months ago.
The Heat set the tone in Game 1 of that series when Bam Adebayo had that incredible block on a Jayson Tatum dunk attempt in the final seconds to preserve a narrow victory. The Heat won another close one in Game 2 and ended up winning the series in six, but it was a close series all the way, with three of Miami's wins coming by 5 or fewer points.
And now the rematch is here, though neither team has started out the year as strong as they left it. So who will get the upper hand in the heated rematch?
Boston Celtics
The Celtics have had a congested schedule to start the season, and this is already Boston's ninth game. The Celtics are 5-3 and their favorable record is thanks in large part to repeated Tatum heroics down the stretch in close games.
Boston has been very shorthanded thus far. Kemba Walker remains out for the foreseeable future, and don't forget that this team also lost Gordon Hayward this offseason without any real replacement.
Marcus Smart also missed Boston's last game as a late scratch, which would make it look like he'll play here. Jeff Teague was a miss too, pushing Tremont Waters into his second start ever at point guard. Rookie Payton Pritchard has given valuable PG minutes off the bench.
Boston is scrapping. The Celtics have played in five games already that came down to the final minute, winning three of them. They could easily be 2-6 if things had bounced another direction — or 7-1, depending on your level of optimism.
Boston is relying very heavily on Tatum and Jaylen Brown right now, and both are playing at an All-NBA level, with each one averaging more than 26 points a game and both showing more playmaking skills than ever before.
While Boston will miss Kemba and Hayward here, it's important to remember that Hayward was mostly a non-factor in the ECF, while Walker also struggled and wasn't his usual self. Boston hung as close as it did because of its star wings, the same star wings who are even starrier this year.
The rest of the Celtics roster — made up mostly of role players and defenders — is being held together with duct tape right now, but Tatum and Brown have been up to the task.
---
Miami Heat
The Heat have not lived up to expectations yet after their run to the NBA Finals. Miami has yo-yoed back and forth. They've yet to win or lose two games in a row — and they won their last game comfortably, if you believe in patterns.
The bubble Heat were cardiac kids. No matter how the game looked early, Miami's conditioning seemed to pay off late and push the Heat back into the game. That has not been the case so far, with each of Miami's last five games finishing with a double-digit margin.
It's easy to look back at the Heat team that made the Finals and remember Jimmy Butler's LeBron impersonation once he got there, or Adebayo's dominance in the ECF against Boston. And while those things are certainly true, the Heat had much more of a balanced team effort that pushed them so far.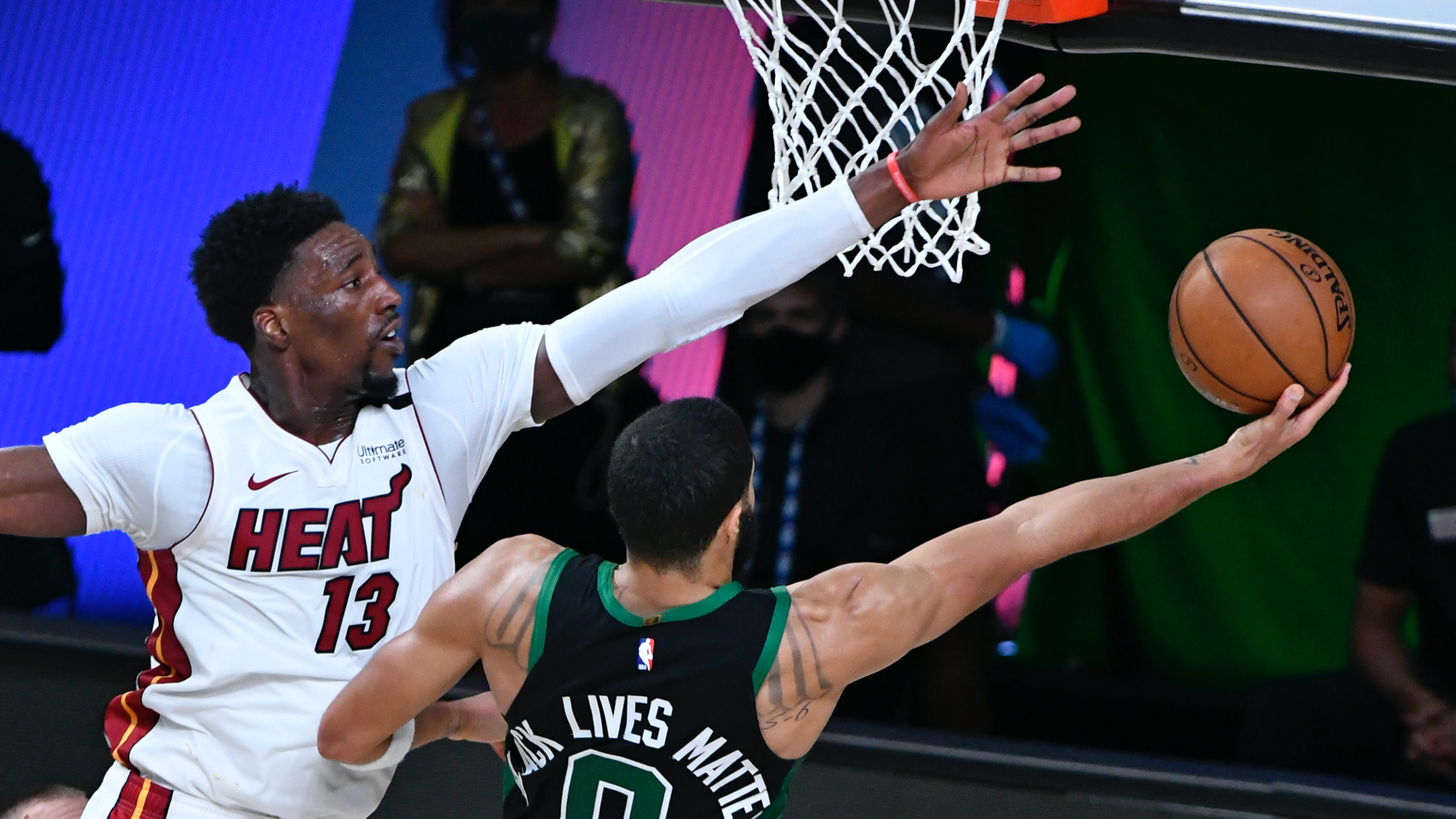 Remember the outstanding Tyler Herro play? Or how Goran Dragic was the best player in Miami's first-round series win? Remember how Jae Crowder couldn't miss for most of the postseason run?
It's that supporting cast that has let Miami down thus far. Herro has been poor out of the gates, despite playing the most minutes on the team. Dragic's play has slipped, and his age is starting to show. Crowder is gone, and Miami has missed his shooting and his spacing.
Miami also hasn't seen consistent play from Butler. Butler has had two good games, two clunkers and two missed entirely, and he's under 47% True Shooting in the new season and hasn't found his offense.
The truth is that the Heat as a whole have not found their offense. Through Monday, the Heat rank in the top seven in the NBA in Defensive Rating but the bottom seven on offense.  That beautiful ball movement and egalitarian offense we saw in the bubble has not carried over.
Celtics-Heat Pick
It feels like this is a rematch of teams we've just watched, but a couple key role player swings have my attention here.
I think the Heat will miss Crowder. His spacing opened up the offense, and replacements like Andre Iguodala and Avery Bradley just haven't been the same. Crowder's absence is one less wing to put on Brown and Tatum, too, and Duncan Robinson has struggled when he's forced to match up with them.
That likely puts more of a strain on Butler defensively, which in turn makes it harder for him to find his offense. It's a domino effect.
The other change is a Boston addition, and that's Tristan Thompson. Remember, Adebayo was the best player on the court in the Eastern Conference Finals. The Celtics just had no matchup for him, with Daniel Theis, Grant Williams and others repeatedly failing in their attempts to match up.
Thompson is a far better match for Adebayo, and muting that Miami advantage even a little would be a big swing in a series that was already so evenly matched just three months ago.
I think this will look and feel like a playoff game. I expect a tough, physical game with a slower pace, and a game in which points are hard to come by. Boston's defense has struggled to find its form this year, but I like how they match up with Miami's struggling offense, especially if Smart plays.
I liked the Celtics during the entire Eastern Conference Finals and got burned a bunch of times. I still like Boston more, just a little, and I think the Crowder and Thompson moves swing this matchup slightly more in the Celtics' favor. If Smart plays, I'd have Boston favored here, not Miami.
With the Celtics a slight dog, I'll play them at +2.5 with a chance to win outright or lose another close game late. If the line rises a bit higher and Boston ends up at +3.5 or longer, I'll sprinkle a portion of my bet on the moneyline too, in case they do win outright.
Hurt me again, Jimmy Butler.
Pick: Celtics +2.5
How would you rate this article?