Wob: Kawhi Leonard and Load Management's Wide-Reaching Impact on NBA Business
Credit:
Richard Mackson-USA TODAY Sports. Pictured: LA Clippers forward Kawhi Leonard (2) resting on the bench at Staples Center.
Load management has become a buzz word around the NBA with stars like Kawhi Leonard (who could rest tonight in Houston) looking to ease the grind of an 82-game schedule.
Rob Perez (@worldwidewob) analyzes the effects of load management on the players, fans and the league's bottom line.
Like many of you, I thoroughly enjoy the seemingly limitless star power of the NBA. On any given day ending in y, viewers are treated to at least one matchup which makes your tail go up, and every so often — a clash of titans, who no matter what roster they're surrounded by, instantly make their franchise a championship contender.
On Nov. 6 in Los Angeles, two of these titans, Giannis Antetokounmpo and Kawhi Leonard, were scheduled to face off in their highly-anticipated rematch from last season's eastern conference finals. As you know by now, Leonard did not play with the reasoning described as injury/illness – load management.
You're not going to believe this in 2019, but people were mad. I searched the LA Clippers' Twitter mentions to find feedback vile enough to be deemed its own South Park episode. I watched people find a way to spin this into world politics. I listened to Doris Burke, the voice of reason in any room, call it 'ridiculous'.
However, like all things, it is essential to provide context to any headline before interpreting the information.
So here we are. Do people have the right to be mad about this? Who is right and who is in the wrong? Why does this happen? Is there a solution so that all parties involved will be happy?
To solve these issues that nobody can vote unanimously on, we must cast a net wide enough to incorporate all those involved.
Let's start with the obvious:
The Players
Of course the players are cool with load management. Do not forget many of them have been playing basketball 24/7 since their AAU days, and now that they've made it to the big leagues, they are asked to live, breathe, and sacrifice their bodies more than ever throughout the NBA's 82-game regular season campaign, into the playoffs, and beyond.
Load management isn't the toll of the NBA schedule, it's the toll of youth travel basketball playing 12-15 games a weekend to keep the monthly fees validated! That hurts the players later in life & rookies are entering the NBA hurting! Youth hoops needs less games&more teaching!

— Earl J Watson (@Earl_Watson) November 6, 2019

Imagine what your body would feel like exerting this type of effort for full a decade. A break from the grind is a gift from the basketball gods that many of them are going to accept no questions asked.
All of this is assuming the player's health is in good standing. Leonard, the man at the forefront of the load management controversy, sat out nearly the entire 2017-2018 campaign recovering from a quad injury.
When he returned to action last season with the Toronto Raptors, he added an injured left knee to the list. He told Rachel Nichols before Game 4 of the 2019 Finals, word-for-word: "I don't think I'd be playing right now if I would've tried to go through the season [without taking nights off]."
Would you look at that.
But it was the dreaded regular season load management that prolonged Leonard's durability so that he was able to perform at his maximum potential when it mattered most.
In today's NBA where all people care about is "how many rings you got?" can you blame Kawhi and the Raptors organization for being extra cautious with his usage?
The answer is no. They won the damn championship.
The Fans
It takes some serious namaste to remember the NBA is first and foremost a business. The rabid consumption of the product by fans is the most prominent reason why Ian Mahinmi is able to file a W-2 tax return every year claiming $16 million in revenue.
It's why Gorgui Dieng does snow angels in $100 bills before he steps onto the court during garbage time to launch 15-foot contested shots off the backboard, and why Chandler Parsons has nine figures in his bank account despite having a higher Player Efficiency Rating in the sheets than on the court.
Fans pay the bills through multiple avenues:
Subscribing to the league's linear rights holders: ESPN, Turner Networks (TNT, NBATV), through a cable provider or cord-cutting service and watching the league's games + live programming. The more people who watch, the more these networks will pay the league for the rights to broadcast their events and original content.
Buying NBA-licensed apparel (Jerseys, shirts, etc.)
Ticket sales (We'll get to this more in a minute).
OTT: Premium content people are willing to pay for in addition to their monthly cable service rate.
There are 100 more examples out there, but the point is to reinforce that the fans' voices matters. The NBA's Board of Governors and commissioner Adam Silver have a boss they all report to, and that boss is you — the consumer. Without you they have nothing.
So when the fans are spending their hard-earned money for entertainment purposes through these various methods, they expect a product that pleases them. The same way you want a burger to be delivered to you medium rare when you order it medium rare. It doesn't matter what the quality of the beef is, anything else is going to disappoint you.
You know what pleases NBA fans? When the best players are on the court competing against each other.
Ticket Buyers 
This is where things start to get complicated. There are three forms of NBA ticket buyers:
Single game purchasers
Season Ticket Holders
Brokers
This is an example of a single game purchaser: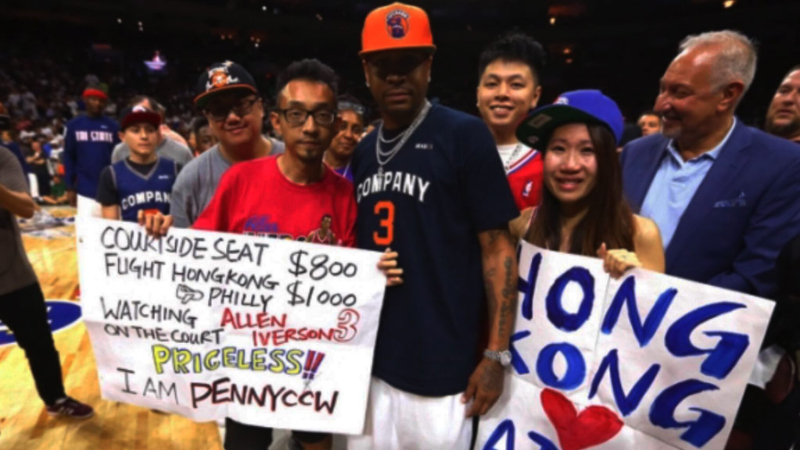 Someone who attends one game, or perhaps a few, usually does so for a specific reason. This could be because they received the ticket as a present, are using the event as a venue for a gathering, or in the case of Leonard's load management, they want to see a marquee matchup.
In the latter case, ticket buyers will pay a premium for this individual game ticket. When a superstar decides to rest on short notice, you can understand why people such as the couple featured above would be thoroughly disappointed if they traveled all that way for Allen Iverson not to be there.
It doesn't end here either, all of-a-sudden the ticket buyer is now in possession of a perishable item that's value has plummeted in the time it takes to tweet 'DNP-CD'.
Scott Kaplan, a corresponding author of The Economic Impact of NBA Superstars: Evidence from Missed Games using Ticket Microdata from a Secondary Marketplace, a wonderfully-written thesis on this topic featured at the 2019 MIT Sports Analytics Conference, published exactly what happens when load management hits:
"Our findings suggest that absences of several superstars, including some of the most popular like Stephen Curry, Kyrie Irving, and Anthony Davis, do have a statistically significant and economically meaningful impact ranging from a 7-25% ($9-$25) reduction in the average ticket price for matchups in which they are absent."
Furthermore, Kaplan goes on during a panel with Counterpoints' Ben Shields and Paul Michelman:
"So our analysis is at the player level, and what we do is we look at all of each player's missed games, and we estimate an aggregate effect for each player across all of their missed games. So for example, if Steph Curry missed five games, we would be able to find an average effect of Steph Curry's absence on ticket prices. But we would be able to break that down into Steph Curry's absence effects for home Warriors' games and Steph Curry's absence effects for away Warriors' games. And what's interesting about Steph is you find much, much larger effects for away games than for home games. And we think that is super-intuitive because of Steph's sort of universal impact on the game, and he only visits away stadiums up to two times a year, and fans pay a lot of money to want to see him play in those two times."
Stars sitting out games on the road, where fans only get to see said stars once or twice per season, has even more of a drastic effect than if load management occurs on the player's home floor.
Not every fan can afford to travel to the player's home city to witness them perform in person, which is why we see so many single game purchasers upset when someone like Kawhi finally comes to their hometown and decides to sit out without any warning.
The single game ticket-buying experience has suddenly become a Wheel of Fortune spin. There are high odds of landing on something that satisfies you, but the bankrupt and lose-a-turn slots are always looming to ruin you forever.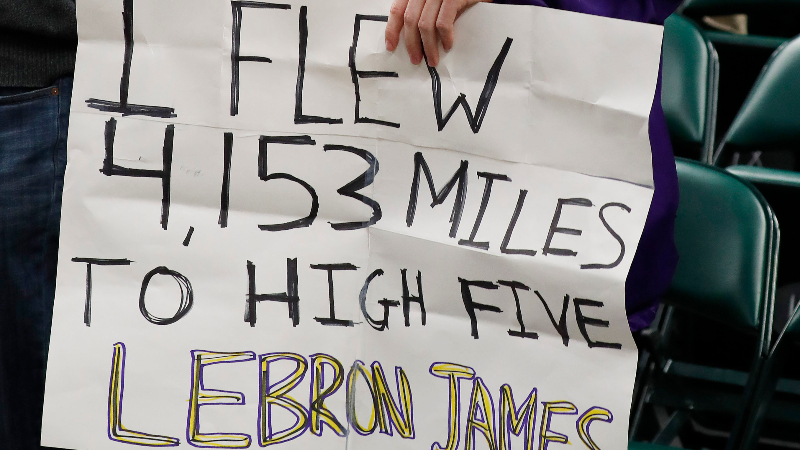 Then, there are the season ticket holders. These are the fans or businesses paying hundreds, thousands, sometimes even hundreds of thousands of dollars in advance to attend/entertain at 41 regular season home games in addition to a few preseason contests. It is a massive income source for every NBA franchise, regardless of the team's market size or record.
People are season ticket holders for a multitude of reasons. Some actually want to go to every game, others split the package cost with other parties, and some want to reap the benefits of being a season ticket holder, and/or they want to resell the tickets for more than they paid and turn a profit.
Let's discuss the benefits for a second. A season ticket holder has the right to purchase their seats, at a discount compared to gate value, for every playoff game.
They have the right to renew their seats every year, and are first in line to switch/upgrade their location if they so choose depending on what's available.
They also get to attend exclusive events featuring front office executives and players. However, the feedback that I, a former season ticket sales account executive for the New Orleans Hornets, many of my former colleagues, and experienced professionals throughout the industry will attest to is playoff priority, playoff pricing, and playoff location is without a doubt the most popular reason for fronting the massive expenditure before the season starts.
Thus, simply due to the sheer quantity of events involved and the long-term play reasoning for the investment, a superstar sitting out one game here and there does not have the same impact on season ticket holders' approval rating of the experience than it would on the screwed-over single game purchaser.
And lastly, there's the brokers. Individuals and/or companies who buy mass amounts of tickets in advance for the sole purpose of re-selling them for a profit.
It goes without saying that marquee matchups are the lifeblood of their success, as they sell these games for huge mark up prices while trying to simply break even every other night of the season. When a highly-anticipated game loses its hype, for any reason, brokers take on serious water.
To further illustrate this sentiment, I spoke with Anthony Beyrouti on the matter, Founder of Vancouver-based VenueKings (VenueKings.com), one of North America's largest and most successful front-facing ticket brokerages, who said:
"The NBA is not like other leagues, people travel from all over the world just to see one player, one star, the league has been greatly harmed by this new trend. To go along with variable pricing where the teams charge extra for people to watch their stars play people are simply opting out of buying the tickets. This will greatly affect the teams and the league but also the players as they are revenue partners with the league. I would imagine you will see at the end of the season a 30% dip on ticket sales revenue this year as there is no marque team to watch. The Clippers have stars but are not a draw because people don't know if they will play in the games, the Lakers should be a massive draw but the market in every city they play in has gone down dramatically leading up to game week because people don't know if their stars will play, the Warriors who have been the biggest draw in the league for years are now a middle tier draw and have torpedoed their own tickets because they held back so many seats to make more money on them. When Michael Jordan used to play he took pride in being on the court and playing so that all the kids who travelled and see him would get to be able to see him play the game. A lot of these guys have forgotten that."
Needless to say, brokers are not going to be writing teams big checks for much longer if load management continues to spread.
Front Office Executives and Coaches  
They have a mandate to win championships. It's as simple as that. Whatever it takes. It's not the general manager's job to fill seats; that's why ticketing, promotion, and marketing departments exist within each organization.
Do you think Masai Ujiri felt an ounce of guilt hoisting that Larry O'Brien trophy in front of millions because he had Kawhi sit out on some random Wednesday night against the Phoenix Suns and the fans in attendance were upset? Please.
While front offices and coaches have their own agendas separate from just about everyone else, they do have an obligation to operate within the NBA's load management law.
In the case of Kawhi Leonard vs. Giannis Antetokounmpo, the league office initially stated that the Clippers properly followed required guidelines and would not face any reparations for their roster transaction.
NBA spokesman Mike Bass on Kawhi Leonard: "Kawhi Leonard is not a healthy player under the league's resting policy, and, as such, is listed as managing a knee injury in the LA Clippers injury report. The league office, in consultation with the NBA's director of sports medicine.."

— Adrian Wojnarowski (@wojespn) November 6, 2019
Bass continued: "…is comfortable with the team medical staff's determination that Leonard is not sufficiently healthy to play in back-to-back games at this time." https://t.co/UfoVeWC513

— Adrian Wojnarowski (@wojespn) November 6, 2019
The league made an about face on that stance on Thursday and fined the Clippers $50,000 for statements that they deemed "inconsistent with Leonard's health status."
The Television Networks 
$24 billion. That's what ESPN and Turner Sports paid in 2014 for the rights to continue to exclusively broadcast NBA games through 2024-2025.
Nobody is going to shed a tear for the millionaire board members of each network, but we cannot forget the NBA's salary cap continues to increase as BRI (basketball related income) pours in hand over fist, and one of if not the biggest source of this essential revenue is the $24 billion check the networks wrote.
When the NBA's salary cap grows, what players can earn per season follows suit. Do you think Timofey Mozgov has enough money to buy a Caribbean island, replace all the fresh water with vodka, and call it Mozgovia by accident?
It is always in the National Basketball Players Association's best financial interest to keep the networks happy … but at what cost on the bodies of the superstars driving the ratings? That is the dilemma.
The NBA
And finally, the NBA corporate offices are caught in the middle of an un-winnable war once again.
On Nov. 30, 2012, then NBA Commissioner David Joel Stern, first of his name, the breaker of chain nets, the unfrozen, King of the Handles and the first men, unearthed an apocalyptic ball of napalm on the San Antonio Spurs in the form of a $250,000 fine. The reasoning?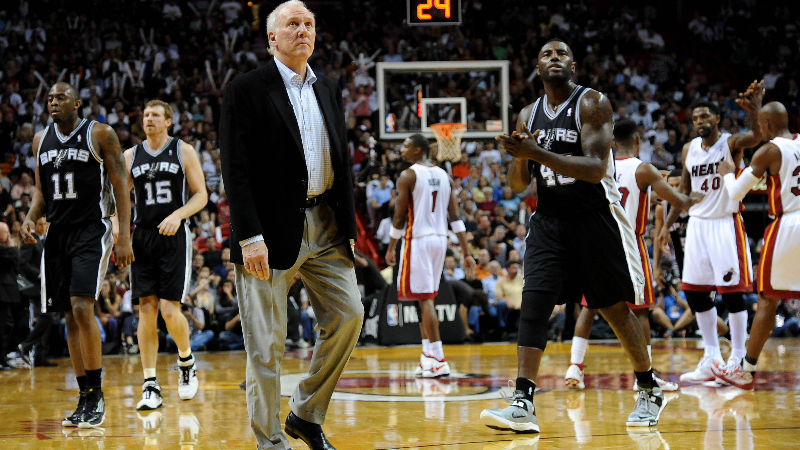 Gregg Popovich benching the team's four best players right before tipoff of the highly-anticipated, nationally-televised bout against the defending champion Miami Heat.
"The result here is dictated by the totality of the facts in this case," Stern said in his statement at the time. "The Spurs decided to make four of their top players unavailable for an early-season game that was the team's only regular-season visit to Miami. The team also did this without informing the Heat, the media, or the league office in a timely way. Under these circumstances, I have concluded that the Spurs did a disservice to the league and our fans … The Spurs' actions were in violation of a league policy, reviewed with the NBA Board of Governors in April 2010, against resting players in a manner contrary to the best interests of the NBA."
And with that, the never-ending war against load management began. Since Stern's departure, Adam Silver has embraced a more progressive stance towards the dilemma and how to deal with it.
"If legitimate resting of players resulted in them being healthier for the playoffs, healthier longer, able to continue their careers longer, I think we'd be in favor of it," he explained to The Economic Club of Washington, D.C., per The New York Times. "We may need to revisit the number of games in the season because maybe in the modern NBA, we've had an 82 game season for roughly 50 years. And maybe that's too many games on the player's bodies."
That right there sounds great! It's the defense's entire case! Yet, it's never going to be that simple. Less games means less advertising opportunities. Less advertising means less dollars in governors' pockets.
Fewer dollars in governors' pockets means recouping that loss through an increased share of BRI at the next collective bargaining negotiation, rapidly approaching. A bigger BRI ask means less BRI for the players. Sound familiar? That would be the main dispute of the 2011 lockout.
That's where we're headed with this. Expanding the schedule so that there are less back-to-backs is a viable solution, but faces challenges of arena occupancy and a shortened offseason. Shortening the regular season will never make financial sense unless everyone agrees to lighten their wallets. And shortening the playoffs isn't happening anytime soon either.
The NBA will do what it's always done best: look out for the best interest of the bottom line. What that entails won't be proposed, resolved, or even negotiated on until the mutual CBA opt-out clause of 2023 is initiated between the league and NBPA.
So I'm here to tell you today: no matter which bucket of NBA consumer you fall into, get used to load management becoming more frequent with each passing day. Not because it's right, but because it works.
How would you rate this article?
This site contains commercial content. We may be compensated for the links provided on this page. The content on this page is for informational purposes only. Action Network makes no representation or warranty as to the accuracy of the information given or the outcome of any game or event.