State of the Pelicans: Trade Talks, a Slight Resurgence & a Good Pairing
Credit:
Barry Gossage/NBAE via Getty Images. Pictured: Lonzo Ball.
Have the Pelicans turned it around?
After a disappoing start to the season, New Orleans has won three of five, with one of those losses coming on a back-to-back. They've beaten the Bucks and Suns in that span, and both were impressive double-digit victories.
The Pelicans' semi-resurgence (they did lose to the Kings on Monday, after all) comes as trade rumors have spread involving Lonzo Ball, J.J. Redick and Eric Bledsoe. It's not great for a team's long-term prospects if the entire backcourt is on the block.
Will the Pelicans make a move, and if so, what are they looking for in return?
Multiple league sources told Action Network that Chicago is (currently) the most likely landing spot for Ball. That's based on multiple factors, including the preference of both Ball and his agent, Rich Paul, Chicago's interest in making a roster move and the Pelicans' openness to discussions.
The question is what Ball's value is. The Pelicans are looking for an upgrade on the wing. Does that mean Otto Porter, who makes $28.5 million and would be difficult to match salaries with? Porter has an expiring contract. If the Pelicans are looking to clear space, that's a feature. If they are looking for contracts to manage long-term, it's a bug.
The Pelicans would have to give up multiple pieces for Porter, not only for his talent but for his contract, so maybe it's more in line with Thaddeus Young. Young is more of a power forward in today's game, and given that the Pelicans have both Zion Williamson and Steven Adams, that doesn't make much sense. Young hasn't played any small forward this season for Chicago.
League sources said Young was being shopped in the offseason, so this makes sense, and Young would give the Pelicans a veteran defender, but that proposal, while it works straight up in terms of salary restrictions, likely isn't enough return for the Pelicans, even with Ball's struggles this season.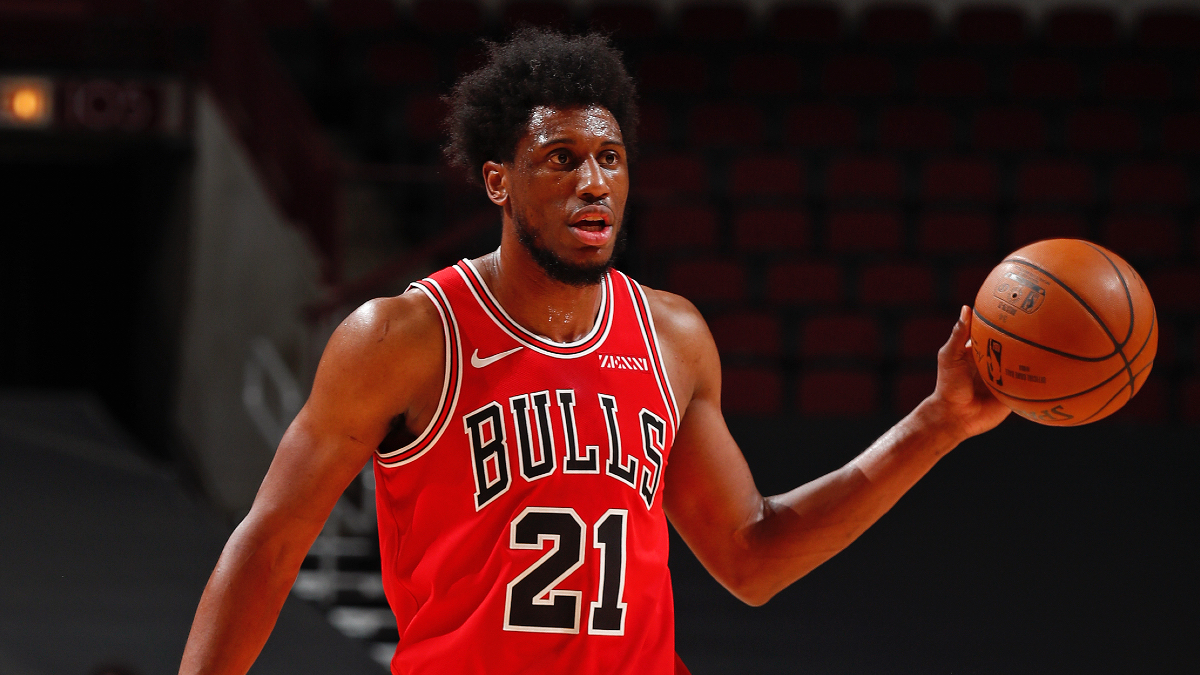 Garrett Temple and Denzel Valentine are better skill-based fits, but both have a wait time until they are available to be dealt, and again, it would seem to be selling low for the Pelicans.
The Pelicans' play with Ball this season has been downright perplexing.
Consider the following, since Ball was traded to the Pelicans before last season:
Pelicans with Ball in the lineup: 33-47 (40.5%) SU, 36-43 (45%) ATS
Pelicans without Ball in the lineup: 5-7 (41.2%) SU, 7-4-1 (64%) ATS
The biggest issues with Ball are his shooting inconsistency and his fit next to Bledsoe. The combination of Bledsoe and Ball have been outscored together on the floor this season. Their offensive numbers are rather good (110 offensive rating) but their defense falls apart.
Without Ball on the floor, Bledsoe lineups have been dreadful, so it's reasonable to think that Bledsoe is the bigger problem, and he may very well be. But his contract is also more difficult to move and he's not considered the asset around the league that Ball is.
It's also clear the impact Ball's good and bad games have on the team. In wins, Ball shoots 46% from the field and 44% from 3 (🔥), with an average +12 in plus-minus. In losses, those numbers go to 36% from the field (🤢), 26% from three (🤮), and -5.7 in plus-minus.
The same is true for Bledsoe, it turns out:
The Pelicans wins correlate with the guards playing well.

In wins Eric Bledsoe is averaging 17.9ppg on 60.5 TS% and Lonzo Ball is averaging 16.2ppg on 57.8 TS%

In losses Eric Bledsoe is averaging 10.8ppg on 49.2 TS% and Lonzo Ball is averaging 10.4ppg on 44.5 TS%

— Shamit Dua (@FearTheBrown) January 30, 2021
Ball remains a polarizing and difficult player to truly assess. He's an off-ball facilitator and help defender whose basketball IQ is helpful but who struggles with specific roles his teams often need him to play.
But there are some signs he's developing in that direction. In previous seasons, he's become a decent-to-good spot-up shooter but couldn't create off the dribble. His pick and roll numbers are actually really good this season, albeit in a limited sample. You're seeing more plays like this:
There are even hints of a step-back:
Unfortunately, those gains have been followed by regression in his spot-up shots, as he's down to 34% this season on catch-and-shoot, per Synergy Sports.
If Ball can't space the floor, the combination with Bledsoe is untenable. Either Ball needs to be moved for a floor-spacer, or Bledsoe does.
Curiously, while the combination of Brandon Ingram, Steven Adams, and Zion Williamson has been better offensively with Ball off the floor than on, the same is true of J.J. Redick. But Redick has only played 22 minutes next to that combination this season.
ADAMS & ZION ARE DOING JUST FINE, THANKS
A strange thing on Pelicans Twitter this season has been skepticism about the fit of Steven Adams and Zion Williamson together. This is nonsense.
With Adams on the floor, Williamson shoots roughly the same, still scores 32 points per 100 team possessions, and the Pelicans are averaging 112 points per 100 possessions when both are on the floor.
That's way better than with Adams off, but that's not really the point. The point is that the 112 per 100 is a really good mark, and Williamson's individual numbers are good, too.
That combination has not been the issue.
Ultimately, the Pelicans still feel very much like a work in progress after trading Jrue Holiday this summer. The team is very high on Kira Lewis according to league sources, and are actively looking to find more opportunities for him.
Even with the recent resurgence, expect the Pelicans to be involved in more — not fewer — trade rumors between now and the deadline.
How would you rate this article?
This site contains commercial content. We may be compensated for the links provided on this page. The content on this page is for informational purposes only. Action Network makes no representation or warranty as to the accuracy of the information given or the outcome of any game or event.