Wob: 1-on-1 with Trae Young on Steph Comparisons, 'Holy Crap' Moments, More
Rob Perez (@WorldWideWob) sits down with Atlanta Hawks rookie Trae Young for an exclusive interview.
The topics include: What it's like dealing with social media criticism, the comparisons to Steph Curry, the "holy crap" moment during his rookie season and more.
CHARLOTTE, NC — All-Star Weekend is signed, sealed, and delivered. Before the final buzzer on Sunday night, I had the opportunity to sit down with Atlanta Hawks rookie guard Trae Young and talk about his first season in the NBA.
From the Tissot Style Lounge in downtown Charlotte's Epicentre plaza, we discuss the Utah Summer League game and what he was thinking after the airballs, the comparisons to Steph Curry, what his "holy crap" moment has been thus far, and his advice for anyone not built like LeBron/Davis/Giannis/KD trying to make the league:
TRAE: Mic check. One, two, one, two. Don't gimme a mic I'ma start singing.
WOB: Do you have bars?
TRAE: I can rap and sing, that's what I'm saying.
WOB: We don't need to do an interview, you can just go bars right now if you want.
TRAE: Nah, I ain't trying to rap, I'm trying to sing. Nah, I'm good, I'm good.
WOB: What's your favorite song to sing?
TRAE: Can You Stand The Rain
WOB: Oh, can we get a little?
TRAE: Nah, nah, nah.
WOB: OK, all right, well I feel like changing the energy in here. We're here at the Tissot style lounge with Tissot, who is the official watch partner of the NBA. I gotta ask you first and foremost the fit. How has it developed from AAU days to college to now. Were you a sweatpants guy back then … elf pajamas? Talk to me.
TRAE: Nah, I've always been a sweats guy, like a jumpsuit. I've only wanted to wear one brand at a time. For me, it's tough. In high school, I couldn't wear Nike shoes with Adidas jumpsuit. I always had to wear the same brand and it probably changed my junior year of high school. I just started wearing the same brand.
WOB: And where does a watch rank on the fit list? Is it the first thing you take care of, do you go pants first, do you go sweatshirt?
TRAE: No, I think the watch is always the last because it's like the cherry on top.
WOB: Save the best for last. You a smart man, we're here with Tissot that's why. So your game has been compared to other flashy players in the league. The one we hear that we're all thinking about is Steph Curry. It's not how tired of you about talking about this, but what you wanna tell people that think you're the next Steph Curry?
TRAE: I mean, for me, Steph has done unbelievable things in the league. He's a multiple MVP [winner], I'm not that yet. I wanna be, and I dreamed, and I believe I can be someday in this league. But right now, I just gotta focus on me and being the best version of Trae Young I can be. And then if I win championships, MVPs, then you can compare me to him. But right now I'm trying to be the best Trae Young.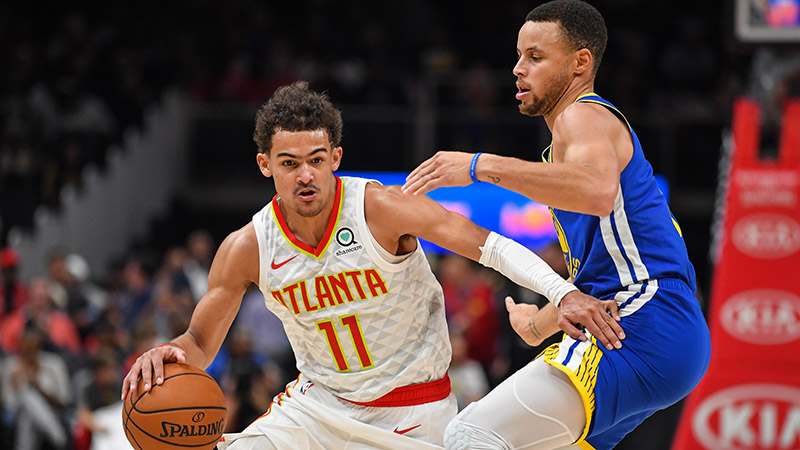 WOB: So there's a lot of people here that have passions and dreams of playing in the league one day possibly. They're not built like LeBron James, or Giannis, we are mortal humans compared physically to some of those guys. So as someone who has made it this far not of that physicality, what would be your advice to anyone that is not at that level?
TRAE: Really just to always believe in yourself. There's always doubt there's always things that can creep into your mind that you can't do something. For me, I always try to believe in myself and the work I put it. My dad always told me the work you put in is what you're gonna get out of it. So I always put in a lot of hard work and the results paid off.
WOB: You've now been in the league for half a season coming into the All-Star break. What has been your holy crap-type moment, like this is real?
TRAE: There's been a lot of crazy moments. I grew up in Oklahoma, so I've been going to Oklahoma City Thunder games since I was seven, eight years old. I've had season tickets the last six years and so going back home, playing in that arena was crazy just because I've always been on the Thunder side. I knew exactly where I was sitting when I was on the court. Things like that was crazy. Then last week we played LeBron again at our place and we ended up winning. I swear me and LeBron were on iso though. It was me and him on a island for a long time. It seemed like every possession we knew he was just guarding me, so it was crazy.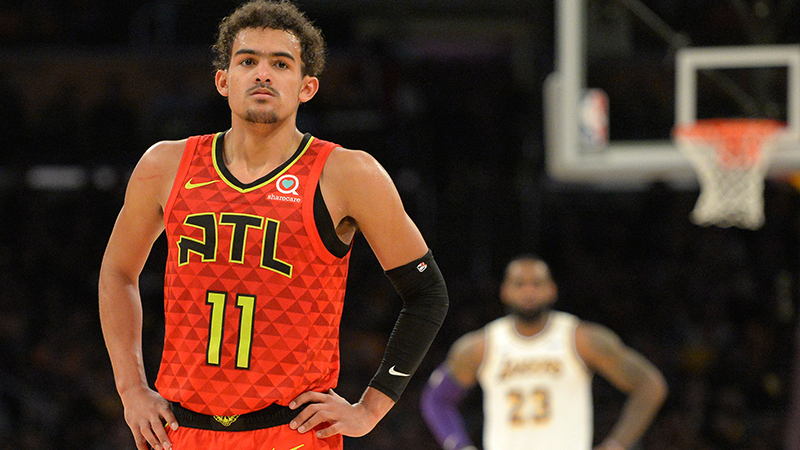 WOB: And as a NBA player, do you hear the noise? Because I'm thinking of your first Summer League game that wasn't even in Vegas, the one in Utah. It was a little bit of a rough start. You have to see your mentions on Twitter and Instagram, do you want the respect that you deserve or is that all just kind of white noise to you?
TRAE: For me I always tell people all the time. Like, a lot of people say they don't pay attention to social media as athletes and things like that, I think they're lying. Everybody gets on social media, I see it. I was on social media, so if I have a bad game and especially in the Summer League, I would get on Twitter or Instagram or things like that and I would see what people had said and things like that, but for me I just don't let it affect my game or the way I perform the next time out. I just see it, sometimes it'd be people that I'm fans of, whether it's a NBA analyst or NBA player, say something negative or positive, I'll screenshot it and I'll just, sometimes I save it for my memories and things like that. But never let it affect me and I've gotten to move past a lot of that stuff.
How would you rate this article?