Enigmail: Wob's Mystery Blog
There's a reason you clicked on this.
You're curious.
Curiosity is a damning passion of the human mind. Humans are flawed: We want what we can't have. We oftentimes willingly accept pain to quench the thirst of the unknown. Closure is a blessing and a curse.
By opening this blog, you're too late. You're going to read it to the end. You are a dog chasing cars, the thrill is in the chase and the worst thing that can happen to you is you actually catch up to it.
Every time you see this blog updated, you are going to get my thoughts. You don't know about what. Sometimes it's going to be stuff you're passionate about, sometimes it's going to be a complete waste of time. That's the risk you take.
There is no structure to this. This is a journey through the mind of a madman. And no, it's not me — it's you. It's that voice in your head reading these very words to yourself. The one that hears everything but listens to nothing.
I encourage you to listen, as the quietest person in the room is the one who's the loudest.
---
I still haven't gotten an answer to my question. Did Toby ever find out that Pam admitted she thought he was cute? If Toby watched the entire "The Office" documentary, it doesn't guarantee that particular scene made the final cut.
So now I'd like to ask: What if he actually fell in love with her in real life in the same exact way?
Where there's smoke….
There's fire…
Was The Office plot his real-life plot this entire time? I'm onto you, Toby.
---
A combination of intuition and well-placed sources tells me these are the four names we will be hearing about a lot at the trade deadline:
Taurean Prince
Kent Bazemore
Jonathon Simmons
Robin Lopez
Two of those are obvious. It wouldn't surprise me to see Robin Lopez waived at some point, but why would you ever buy out someone who could start on any team in the league this very second and is expiring at the end of the season?
He only makes $14ish million, he is the PERFECT dude to trade for right now. The Bulls refusing to buy him out isn't "this is just GarPax being GarPax and refusing to give," it's the right decision.
If you're an NBA front office you don't owe the players any favors the same way they don't owe you any loyalty when they become a free agent.
If anyone ever tells me "this business is like a family," I'm walking straight out the door because I can't trust you as far as I can throw you. The only family a business has is the bottom line.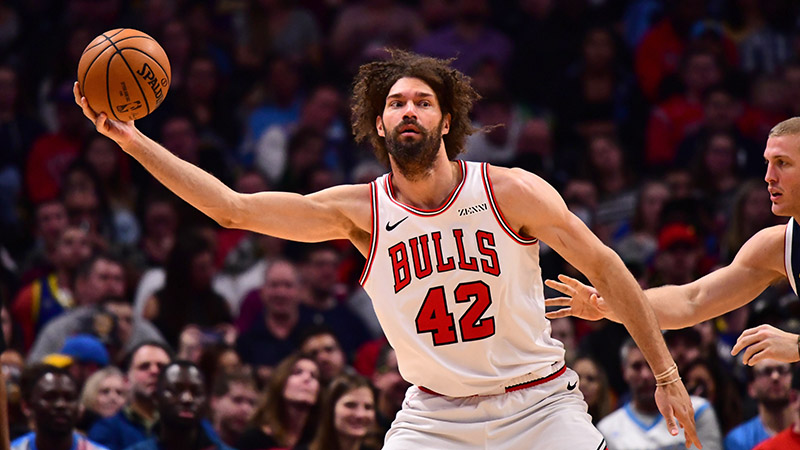 Therefore, someone out there in need of a backup center who doesn't need the ball, has extra second-round picks lying around, and a tradable rookie contract guy not getting any run at the NBA level (EH HEM, GOLDEN STATE) is going to get Robin Lopez.
If he's willing to take at least a $5 million pay cut, which I can't imagine he will, then we can talk buyout. He can make up half of that on a veteran's minimum from whatever team he signs with after the fact, but the Bulls will absolutely squeeze him if they can and I don't blame them one bit.
Same goes for Enes Kanter and the Knicks.
---
I want someone in Los Angeles to file a civil suit against the NFL for the missed facemask calls and the emotional anguish it inflicted on the fanbase just to troll that Saints fan lawyer.
---
Will people ever realize if they engage/interact with someone or something they hate they're just lining OP's pockets and making it worse? Every time you send that tweet, it is another tick on the stat sheet. They'll never learn.
---
We need a nickname for the Warriors' 5 All-Star lineup with Boogie. Hampton's 5 is done, sorry Iggy. If it was "The Death Lineup" two years ago this should be "The Death Star Lineup." Who gonna blow it up, though?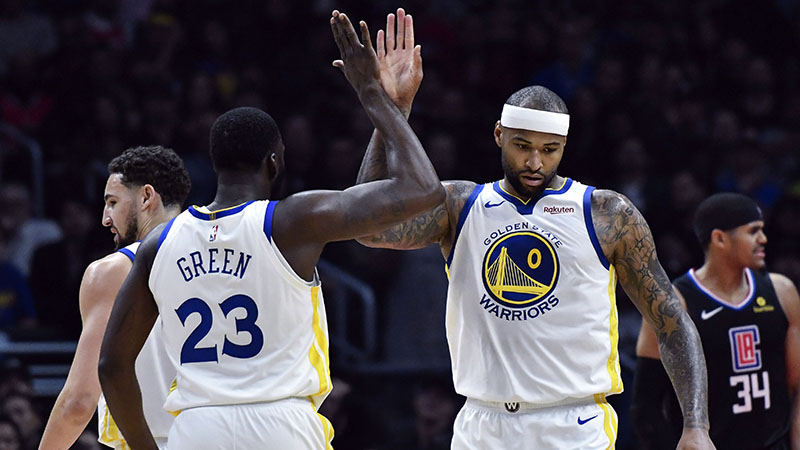 ---
"You" on Netflix is the most riveting television program I have ever seen. I couldn't sleep and I am in love with Guinevere Beck. Joe is a certified weirdo sociopath but honestly if you're not encrypting all of your online credentials, that's on you. If you can't spot the sucker in the room, it's you.
---
Giannis is going to win MVP, and Vegas having the audacity to drop his odds (+300) wayyyy below Harden's (-225) is one of the most insulting moves I have ever seen.
Do you not understand that Giannis Antetokounmpo's physical ability is arguably the most fit of any athlete on this planet? He will run around the court 48 minutes a game for the next decade just like LeBron did.
Harden has to maintain a Wilt Chamberlain pace for three months. If he's attempting this off-the-court as well he'll be on the IR in less than a week.
With all that said, 202 straight points unassisted is absolutely preposterous, however. That means he's not cherrypicking or going for alley oops or running any sort of pick and roll as the screener.
Just give me the ball and go away. And it's actually working. lmao.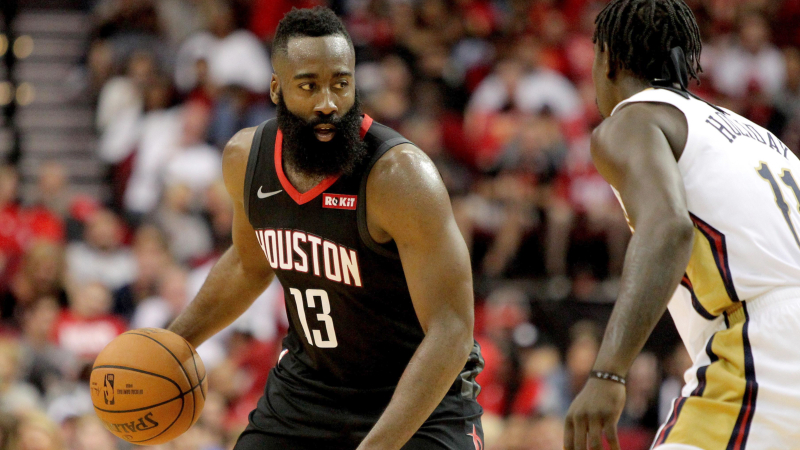 ---
This is your daily reminder that the password to access Jurassic Park's multi-million dollar security system was "Please."
---
I wish more people appreciated Kyle Busch and Brad Keselowski trolling each other with weapons traveling 220 miles per hour every Sunday.
---
The only way the Lakers can sign Melo without trading is if they cut Michael Beasley. Nobody else on that roster is waive-able and all those contracts are guaranteed.
Beasley is balling too, and his mother just passed away. I don't see Melo to the Lakers happening until the summer. The only reason why they do it is if LeBron cashes in a favor.
If Melo pulls off three contracts from five different teams in one season he should have his own shrine at the Hall of Fame.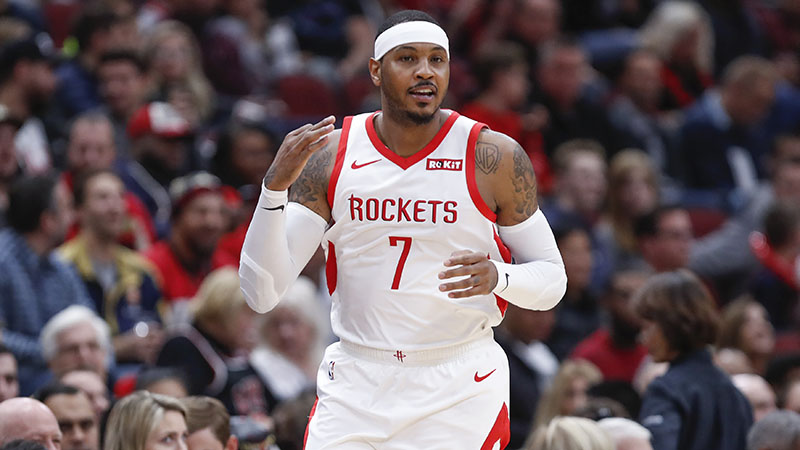 ---
I've been subtweeting the person I've had a crush on for like five years and she finally realized it. Now what the hell do I do? This is scary.
---
Nothing pisses me off more than when I'm waiting for an answer from someone on text, seeing the three grey dots pop up, seeing them disappear, and never getting a reply.
I also know right away when someone I'm dating is done with me. If they ever respond with "ha", "hah", or "that's crazy" — it's over.
---
I am so sick of The Dunk Contest not featuring the four best dunkers. They're off to a great start with Miles Bridges, but this is who they need to fill in around him:
1. Terrance Ferguson (this guy)
this dude Terrance Ferguson might have some of the craziest hops i have ever seen.
His belly button is almost at the damn rim what the hell. pic.twitter.com/u0OidGvJGB

— Rob Perez (@WorldWideWob) January 3, 2019
(and the man who windmill dunked from the foul line)
2. Derrick Jones Jr. (duh)
3. Zach LaVine (that will always be the best dunk contest of all-time I don't wanna hear about anything else not even you Vince Carter).
---
While we're on the topic: Joe Harris or Davis Bertans will win the 3-point contest if they're asked to participate.
They're the best standstill, open-gym, catch-and-shoot shooters in the game and it's not close. That includes the Currys and Klay. I will blind bet them both as much as I can at whatever odds. The only way one of them doesn't win is if the spotlight of the world watching gets to them.
---
I wanted to jump through the TV and Stone Cold Stunner Reggie Miller for complaining that the refs kept falling for Corey Brewer's embellishment antics when he was guarding Harden.
You have some nerve, bro, I will never forgive you for 1994 and never forget the L you took at Market Square Arena in Game 6. John Starks walked across your own court and dapped up Spike Lee right in your face and you did nothing about it.
Thanks for the airball and flagrant foul back at MSG.
---
If you had to choose an animal, any animal, to represent you in a Hunger Games — if it dies you die — what would you choose and why? Give me the Nubian Ibex. Good luck climbing up here.
---
See, aren't you glad you clicked?
There's only one rule of Wob's Mystery Blog: Do not talk about Wob's Mystery Blog. Nobody knows when the next one is coming or what will be in it. This is our little secret. I will be watching. I am always watching.