College Basketball Conference Tournament Seeding Scenarios, Betting Impact
Credit:
James Snook-USA TODAY Sports. Pictured: Geno Crandall
The calendar has flipped to March, and on Monday, conference tournaments begin with the Atlantic Sun.
Saturday, a whole bunch of seeding will be altered. NCAA Tournament dreams dashed and bolstered. And it could have plenty of betting implications since some teams have nothing to play for.
For Saturday, we're just focusing on conferences that could be decided today — the bigger leagues still have at least a week of games left.
Conference Tournament Scenarios, Betting Implications
America East
Vermont clinches the No. 1 seed with a win over Stony Brook, which would mean home-court throughout the tournament.
Stony Brook can get the No. 1 seed with a 2-0 finish, starting with a win over Vermont today.
Maine (-3.5) can clinch the final spot in the tournament with a win over Binghamton.
Big South
The quarterfinals and semifinals are played at the campus of the regular season champ — and the highest remaining seed hosts the final. The No. 1 seed is a highly coveted prize in the Big South.
Radford and Campbell (PK) will battle it out for the No. 1 seed and home-court advantage.
Seeds 3-8 are still not settled as the middle of the conference standings are very tight.
Colonial
Hofstra has already clinched the top seed in the tournament.
Northeastern, already locked into the No. 2 seed, can win a share of the regular season title with a win and a Hofstra loss. It will take on a Drexel team (+5.5) playing for a potential bye.
Charleston is already locked into the No. 3 spot for the CAA tournament, which will be played in Charleston this year (it moves to Washington D.C. next year).
Horizon
Northern Kentucky and Wright State are tied atop the conference standings and split their two meetings during the regular season.
If one wins and the other loses, the winner will claim the regular season title and the No. 1 overall seed in the conference tournament.
If they both win or lose, it will depend on what Oakland (-3.5 vs. IUPUI) does.
It's messy, but the difference between the No. 1 and No. 2 isn't that great in the Horizon since the semifinals and final are played in Detroit.
The eight-team field is already finalized, as Cleveland State and UW-Milwaukee did not qualify.
Missouri Valley
Loyola Chicago (-7 vs. Bradley) will secure the No. 1 seed with a home win.
If Loyola loses, the winner of Drake at Missouri State (-4) will clinch the top seed for Arch Madness.
The top six seeds get a bye. Bradley can secure one with a win, as can Northern Iowa (PK at Indiana State) and the winner of Illinois State at Southern Illinois (-6).
Ohio Valley
An 8-team tournament that takes place in Evansville, Ind., with the top two seeds getting double byes and the next two getting single byes
Belmont (-14 at SEMO) clinches the No. 1 seed with a win.
If Belmont gets upset, Murray State (-9 vs. Austin Peay) will get the top spot with a win.
Jacksonville State is mathematically alive for the No. 1 seed, but it would require a win (-9 at SIUE) and losses by both Belmont and Murray State
Austin Peay will either be the No. 3 or No. 4 seed.
There are six other teams (EKU, SIUE, Morehead, EIU, Tennessee State and UT-Martin) competing for the final four spots. The tiebreaker scenarios will hurt your brain, so I won't go into them all. For example, Eastern Kentucky is in with a win over Morehead unless there is a five-way tie for fifth place.
SEMO and Tennessee Tech can not qualify for the tournament.
Patriot
All 10 teams make the tournament, which is played on campus of the higher seed throughout.
There is currently a 3-way tie for first between Colgate, Lehigh and Bucknell.
Colgate (-7.5 at Lafayette) clinches the top spot with a win.
Bucknell clinches with a win (-10 vs. Army) if Colgate gets upset.
Lehigh can only get the coveted No. 1 seed with a win (-5.5 at Loyola) and losses by both Colgate and Bucknell.
The top six seeds get a bye. Navy will travel to Boston (-6) to play for one of those byes with the loser having to play in the first round.
Summit
South Dakota State (-17.5 vs. Western Illinois) clinches the No. 1 seed with a win.
Omaha can clinch the top spot with a win if South Dakota State gets upset and IPFW beats NDSU.
NDSU is locked into the No. 4 seed, as is its opponent next week, No. 5 seed Oral Roberts. Neither have anything to play for today.
IPFW is also locked into the No. 3 seed, but it does not know its opponent yet. It faces NDSU today at home (IPFW -5) in a game that means nothing to either team.
The winner of South Dakota-North Dakota will determine who gets the No. 6 seed.
Western Illinois can clinch the final spot with an upset over South Dakota State or a loss by Denver (+4.5 at home vs. Omaha).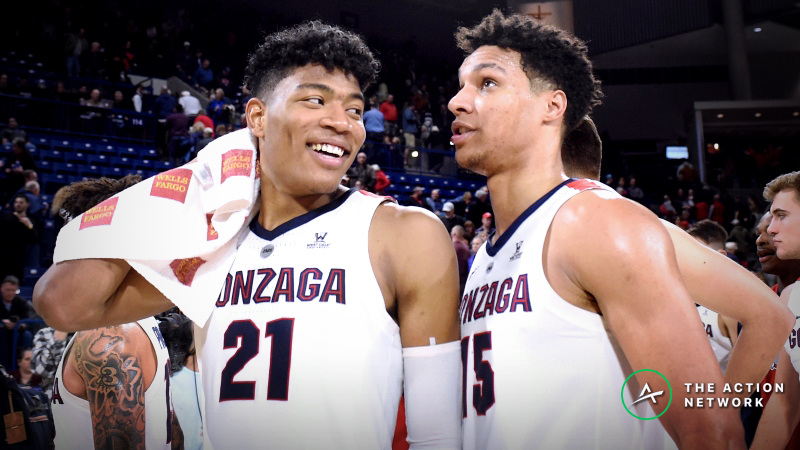 West Coast
Gonzaga has already clinched the No. 1 seed and a triple bye into the semifinals for the WCC tournament in Vegas.
St. Mary's, which will host Gonzaga tonight, has already clinched the No. 2 seed, which also gives them a double bye.
BYU and San Fran are locked in as the 3 and 4 seeds in some order, which gets them a single bye.
Portland is locked in as the No. 10 seed and Pacific at No. 9.
Spots 5-8 are up for grabs between Loyola Marymount, Santa Clara, San Diego and Pepperdine (which needs the most help of the four). That race is important since the No. 5 and No. 6 seeds get a bye.
NEC
The top eight seeds in NEC make the tournament, and those eight seeds are finalized, as CCSU and Mt. St Marys are out.
It's a single elimination, eight-team standard bracket with the higher seed hosting each game with a reseeding after the first round.
Zero seeds are locked in heading into the final day, although St. Francis (PA) has the No. 1 seed all but wrapped. The only way it can't secure home-court throughout is if:
It loses to Sacred Heart
FDU beats CCSU
Wagner beats RMU
SF Brooklyn beats Mount St. Mary's
All eight teams in the field have at least some incentive to win today.