Our Staff's 15 Favorite College Football Bets for the 2018 Season
Credit:
Bob Donnan-USA TODAY Sports. Pictured: Clemson head coach Dabo Swinney
Believe it or not, we are only two days away from being able to bet on live college football.
With the season quickly approaching, we asked our staff for their favorite season-long bets.
We received a wide variety of wagers — including win totals, playoff futures and Heisman odds.
Live college football betting action is two days away. Live college football betting action is two days away. Sorry, it just feels good to say. With the season about to get underway, we wanted to ask our staff for their favorite bet for the 2018 season.
We obviously polled a number of our college football experts, including a few new regional hires whom you will be getting to know better during the season — if you aren't already familiar with them. We also asked a number of other staffers who simply love to watch and bet on college football. I mean, who doesn't bet on college football (besides Jim Harbaugh)? That enabled us to get some alumni perspective, which can be valuable, especially when negative.
Our staff came back with a wide array of bets, from basic win totals and futures to Heisman odds and conference wagers. Oddly enough, six of the 15 favorite bets were on an ACC team, which is where we'll start. Did I mention that live college football betting action is two days away?
---
Collin Wilson — Clemson Makes College Football Playoff (-155)
I'll happily side with a Tigers team that's favored by double digits in every game this year. (The shortest lookahead lines include -13 at Texas A&M and -10 at Florida State.) Forget winning the ACC or the win total, because a one-loss Clemson team will still make the playoff.
Both sides of the ball are chock-full two-deep in NFL talent, and quarterback Trevor Lawrence should resolve the lack of explosiveness the Tigers had in the passing game (124th nationally) last season.
Brad Senkiw — Clemson Over 11 Wins (-115)
I'm also high on Clemson, but went a different direction. When the first win totals trickled out earlier this summer, over 10.5 wins for Clemson seemed like an absolute steal. The number eventually settled at 11, but I still think the over remains attractive. This is a Tigers team that hasn't lost two regular-season games since 2014.
In terms of talent, this year's squad more closely resembles the 2016 national championship team that finished 14-1 than it does last year's team that won 11 regular-season games in a "rebuilding" year. The 2018 schedule is also more favorable. This could push, but I don't see Clemson losing two games.
Ken Barkley — Miami Wins ACC Coastal (+115)
The 'Canes have really upped their recruiting profile over the past two to three years (with a GREAT incoming freshman class this year) — especially relative to the rest of their division.
Their competition for the Coastal should have really been only Virginia Tech, but the Hokies had much more attrition than folks originally thought. Other trendy teams are intriguing (Duke, perhaps), but don't realistically have a shot.
North Carolina has talent, but apparently has more interest in the emerging rare shoe market.
Georgia Tech needs a year for new defensive coordinator Nate Woody to make a significant impact.
Miami also plays a very manageable schedule that does not include Clemson. In fact, the Hurricanes should be favored in all 12 regular-season games. I'll take Mark Richt's uber-talented bunch at plus-money to get back to the ACC championship game for a rematch with Clemson.
Danny Donahue — Virginia Tech Wins ACC (+1500)
I'm taking a more contrarian approach in the ACC. I like this particular future for three primary reasons:
It serves as a de facto bet against Miami, which shouldn't have as much turnover luck as it did in 2017.
Va. Tech gets Miami at home in Week 11 in a major revenge spot, which could decide the Coastal division.
There's always a chance (~25% according to the odds) that Clemson doesn't win the Atlantic Division to get to the ACC Championship Game.
Brandon Justice — Boston College Over 6.5 Wins (-165)
I loved this over at 5.5 and still like it at 6.5. BC has a top-25 defense, led by future NFLer Zach Allen at defensive end. The Eagles also now have an offense, thanks to one of the nation's most exciting backs in sophomore AJ Dillon. They won five of seven to end last season once the offense took off.
The schedule is tough late, but BC starts out with six winnable games, including locks against UMass and Holy Cross. The schedule then gets a little tougher, but I think BC will beat Syracuse in Week 12 and beat one of Florida State, Clemson, Miami and Louisville. With a floor of six wins, I'll happily bet the over 6.5.
Josh Ward — Louisville Over 7 Wins (+100)
It won't be easy to replace quarterback Lamar Jackson, but new starter Jawon Pass will have help from a talented receiving corps and proven offensive coach Bobby Petrino. Louisville has two definite early losses against Alabama and at Clemson, but then has a rather manageable schedule the rest of the way.
In Petrino's 13 seasons as a college head coach, his teams have won fewer than eight games only once — in his first season at Arkansas in 2008. Expect Petrino to keep Louisville moving, even after losing its Heisman Trophy winner.
Stuckey — Baylor Over 5.5 Wins (-180)
After last season, Baylor coach Matt Rhule stated, "Absolutely, we're going to a bowl game next season."
Who am I to question the most profitable ATS coach over the past five years? And it's just not just talk. Baylor returns the fourth-most production in the country and brings in a few high-impact transfers.
The Bears won only one game last season, but they were competitive in many and just didn't get many bounces. Quarterback Charlie Brewer should lead an explosive offense, while Phil Snow's defense should improve significantly in the defensive coordinator's second year running his complex scheme in Waco.
If you listen to our college football podcast, you already know I loved this when the juice was lower, but I still wanted to highlight my heaviest preseason investment. Sic 'em.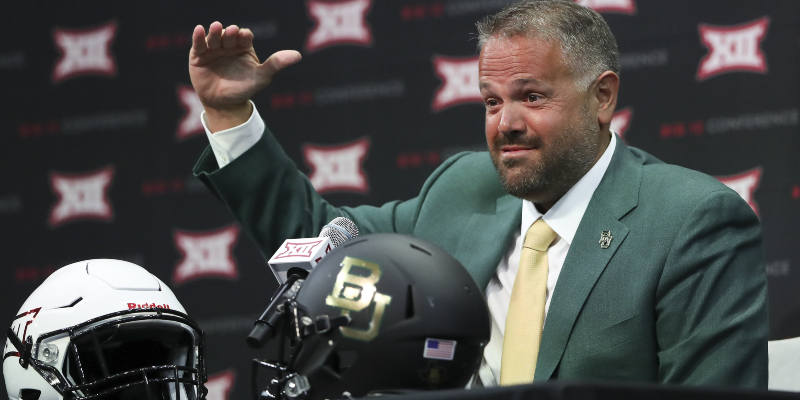 John Ewing — Georgia Wins SEC Championship (+300)
The Dawgs are going to be monsters on offense. They return eight starters on that side of the ball, including Heisman hopeful quarterback Jake Fromm. That's good news for a unit that averaged 435 yards and 35.4 points per game (20th in the nation) a season ago.
The Dawgs also have a very soft schedule, as they match up with one top-10 opponent in Auburn — at home in Week 11. Georgia has a pretty easy path to the SEC title game, which is played in Atlanta.
Per ESPN's FPI rankings, Georgia has a 41.5% chance to win the SEC, but the implied probability at +300 is only 25%. Too much value to pass up on the defending SEC champions.
Washington is in the driver's seat in a down year for the Pac-12. The Huskies return quarterback Jake Browning, running back Myles Gaskin and a dominant secondary, which  should be enough to win the conference.
A year after the SEC got two teams into the College Football Playoff, I don't think the Pac-12 gets left out again — and the only team I see winning the conference is Washington. Take the generous +350 with the Huskies.
Evan Abrams — Pac-12 Team Wins NCAA Championship (+1050)
I agree with BlackJack, but I'm taking a slightly different route. Since the inaugural College Football Playoff in the 2014-15 season, the Power Five conference (SEC, Big Ten, Big 12, Pac-12, ACC) that was left out has made it the following year. If that team is Washington (the most likely), I think the Huskies make noise.
Steve Petrella — UAB Wins Conference USA (+1800)
After terminating its football program in 2014, UAB resurrected its team in 2017 after two years off. And the Blazers got good … quickly.
They rank 10th in overall returning production and first on offense after going 8-5 (6-2 in conference) in 2017. There wasn't anything fluky about that record, either. The offense will need to take a step forward this season to compensate for a few key defensive departures.
UAB misses Florida Atlantic in its cross-division schedule and gets lowly Charlotte. Meanwhile, its two biggest competitors in C-USA West, North Texas and Louisiana Tech, have to play Lane Kiffin's group.
If UAB can split with North Texas and Louisiana Tech, it has a great shot to reach the C-USA title game, where an 18-1 ticket will look fantastic, with ample opportunity to hedge.
Matt Moscona — Florida Over 8 Wins (-130)
During the past decade, coach Dan Mullen consistently did more with less at Mississippi State. We've heard that so often because it's true. Mullen made MSU relevant; he even had the Bulldogs reach No. 1 in the country in 2014 with a group of three-stars and JUCO transfers.
Mullen now has a loaded gun at Florida with a roster that returns 17 starters from 2017. That doesn't even include the four returning players who were suspended last season for their roles in a felony credit-card scheme.
The Gators are unsettled at quarterback, but Mullen once went 9-4 with Chris Relf under center in Starkville. He'll figure out how to get the Gators to nine wins in 2018.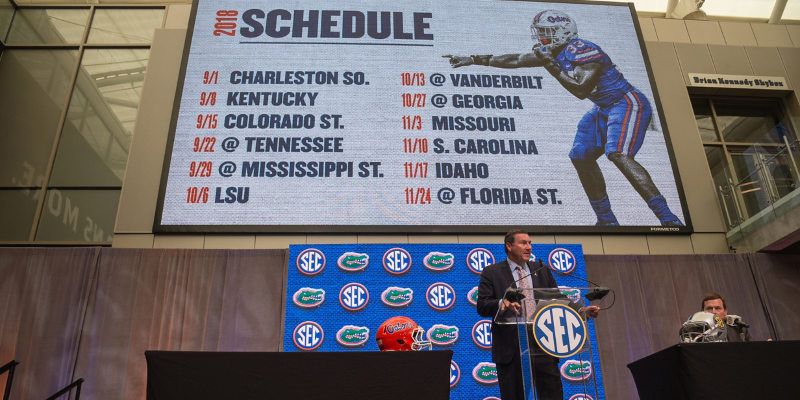 Matt Mitchell — Missouri Under 7 Wins (-105)
As an alum, I'm not excited for jugheads Barry Odom and Derek Dooley to Thelma & Louise this program off a cliff this season … so I may as well profit. Odom will find W's harder to come by this year when the opposing coaches aren't all about to be fired.
Jack Settleman — Oklahoma Wins Big 12 (+140)
Oklahoma is without a doubt the best team in the conference once again. As a recent Texas graduate who just watched the worst four seasons in school history, I can tell you for certain that Texas is NOT back. While my Longhorns should improve, I don't think they can win a Big 12 title this season.
Considering Texas is the second favorite (+300) to win a relatively weak conference, I expect new quarterback Kyler Murray to lead the Sooners to their fourth straight conference title.
Alex Koontz — Dwayne Haskins Wins Heisman Trophy (+1650)
Here is my reasoning:
Authors of this article include The Action Network's own: Ken Barkley, Danny Donahue, Brandon Justice, Josh Ward, Stuckey, John Ewing, BlackJack Fletcher, Evan Abrams, Steve Petrella, Matt Moscona, Matt Mitchell, Jack Settleman and Alex Koontz.
How would you rate this article?