Jim Harbaugh Is Not a Fan of Sports Betting
Credit:
Patrick Gorski-USA TODAY Sports. Pictured: Jim Harbaugh
Michigan coach Jim Harbaugh isn't a huge fan of sports betting expanding outside of Las Vegas.
While speaking at Big Ten Media Days, Harbaugh said he wants his players to "avoid [sports gambling] like the plague."
On Monday, Jim Harbaugh had some choice words about betting on sports and the people who choose to do so.
When asked about sports gambling at Big Ten Media Days, Harbaugh made it quite clear that he was not in favor of legalization and does not want his players involved with it in any way, shape or form.
"Avoid it like the plague," he said.
Jim Harbaugh doesn't want his players to socialize with gamblers. "Avoid it like the plague. Don't walk away from it — run."

— Aaron McMann (@AaronMcMann) July 23, 2018
The head coach of Michigan, who used to buy his khakis at Walmart, may be on to something if he is referring to point-shaving scandals and the like. But the industry consensus is that legalized sports gambling would lead to fewer sports-betting scandals due to the increased monitoring of the industry.
---
>> Download The Action Network App to get real-time odds, track your bets and follow all of our experts' picks.
---
Telling your players not to bet is a smart choice. Telling your players to avoid sports gamblers like the plague seems a wee bit strong.
For what it's worth, Michigan is a 2-point favorite in its Week 1 game against Notre Dame. And just for Harbaugh, we previewed the Wolverines 2018 season from a betting perspective.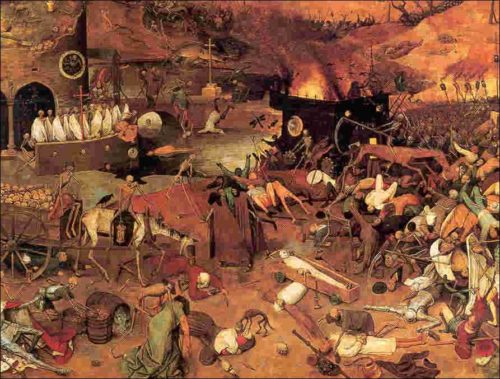 Old, old painting of the Bubonic Plague