NHL Playoffs Betting Mega-Guide: Previewing All 8 First-Round Series
Credit:
Geoff Burke, USA Today Sports. Pictured: Alex Ovechkin
The Stanley Cup Playoffs begin on Wednesday night.
The Tampa Bay Lightning (+200) are the current favorites to win the Stanley Cup. The Golden Knights (+1000) and Flames (+1000) are the two favorites in the Western Conference.
Read Michael Leboff's betting previews for all eight first-round series.
Columbus Blue Jackets vs. Tampa Bay Lightning Series Betting Odds
Blue Jackets: +325
Lightning: -425
Game 1: Wednesday, 7 p.m. ET
The Tampa Bay Lightning played at a record pace all season long, winning 62 games — the most in the salary-cap era.
But none of that matters now as the Bolts will have to win 16 more games to ensure that this record-setting campaign is "successful."
Standing in Tampa's way are the Columbus Blue Jackets. This has been a weird season for Columbus thanks to personnel issues. Its best player, Artemi Panarin, and star goalie, Sergei Bobrovsky, are both unrestricted free agents this summer and it seems more likely than not that both players will end up changing sweaters.
That put the Blue Jackets between a rock and a hard place. Columbus has never won a playoff series and has a great team, but the front office had a decision to make. Should the team cash in on Panarin and Bobrovsky? Or double down and give this thing a real go?
The Jackets chose the latter and made a bevy of acquisitions at the deadline, headlined by the arrival of forwards Matt Duchene and Ryan Dzingel from Ottawa.
Even though Columbus bolstered its ranks, it still took until Game No. 81 for the Jackets to punch their ticket to the dance and a first-round matchup with the best team in a generation now awaits them. So much for doubling down.
There isn't really much that needs to be said for this matchup.
The gap between these two teams is pretty wide. The odds indicate Tampa wins this series more than 80% of the time, but there is hope for Columbus and that hope comes in the form of its soon-to-be-former goalie, Sergei Bobrovsky.
Even though "Bob" hasn't been his best self this season, he's proven to be one of the best goaltenders in the league over the past five seasons. If Columbus has a hope in this series, Bobrovsky will likely need to steal games, like three or four of them.
The problem is that Tampa's offense is so good that stealing a game — let alone four of them — will be a near-impossible task. Things would have to get super weird for Columbus to come out on top in this one.
After opening -330/+260, the Lightning got steamed all the way up to -425 and I can't say there's any argument to be made that the line movement is out of whack.
This series is priced appropriately and I'm expecting Tampa Bay to get out of here in a relatively straightforward manner.
Pittsburgh Penguins vs. New York Islanders Series Betting Odds
Penguins odds: -145
Islanders odds: +125
Game 1: Wednesday, 7:30 p.m. ET
This is an interesting series featuring a clash of styles. The market has been out on the Isles all season, so it's not surprising that Pittsburgh is one of two road teams (St. Louis is the other) to be favored in Round 1.
The New York Islanders were not expected to be in the postseason. Not only did the Islanders have one of the worst defenses in NHL history, but they lost one of the league's best players, John Tavares, in the offseason and didn't replace him.
Expectations were low, but Barry Trotz got this team to buy into his well-structured style and the Islanders allowed the fewest goals against in the NHL in 2018-19.
It was a remarkable achievement and the Islanders, thanks to their dogged style, will not be an easy out in a best-of-7 series.
Neither will the Penguins, who are just two seasons removed from winning back-to-back Stanley Cups and have the one of the greatest players ever. The Pens were a bit helter-skelter this season, but the dips were mostly due to injuries and inconsistent goaltending.
Under the hood, things have looked solid all season for Pittsburgh and the Pens seem to peaking at the right time.
In terms of style, these two teams are very different. The Islanders try and keep games predictable, manageable and succeed in low-event games. The Penguins play at a higher pace and have no issues letting their skill take over in goal-fests.
While the Isles are a defense-first team, they do create scoring chances. Barry Trotz preaches a quality-over-quantity philosophy and the Islanders have made good on that word, ranking in the top 10 in high-danger scoring chances created.
The Penguins generate both quantity and quality in terms of scoring chances, but they give up a good chunk of opportunities at the other end. The Isles are built to absorb and counter, so if the Penguins get caught in the neutral zone they will be punished — especially with their lack of depth on the blueline.
Even though the Islanders don't have many household names on defense, they have a solid group led by Ryan Pulock and Devon Toews. With such a solid defense and a low-risk style, the Islanders may be able to snuff out Pittsburgh's offensive firepower.
The goaltending battle will also be intriguing as the Isles have received fantastic seasons from Robin Lehner and Thomas Greiss while Matt Murray found his game down the stretch after battling injury issues all season.
Lehner will likely get the Game 1 nod, but Trotz will have no issue going to Greiss if the situation calls for it.
One area of concern for the Isles will be on special teams. Their power play ranks near the bottom of the NHL and their penalty kill is mediocre at best. If this turns into a battle of special teams, the Penguins have a big advantage.
Of all the first-round matchups, this will be the closest to a chess match. Both coaches, Trotz and Mike Sullivan, are familiar with one another from the many times they did battle when Trotz was with the Capitals, so expect some gamesmanship between the two familiar foes.
On paper, this series looks like an easy call. The Penguins are much more talented and have the championship pedigree. However, the Islanders have turned expectations on their head all season and the team's success isn't a mirage. Betting markets have had a tough time adjusting to the Islanders' success, and I think this could be another case of that happening.
I must admit, now that you've got this far, that the writer of these NHL previews is an Islander fan, so take the following with a cup of salt:
I think this series is pretty close to a coin flip and believe either team would be worth a wager at +110 or above.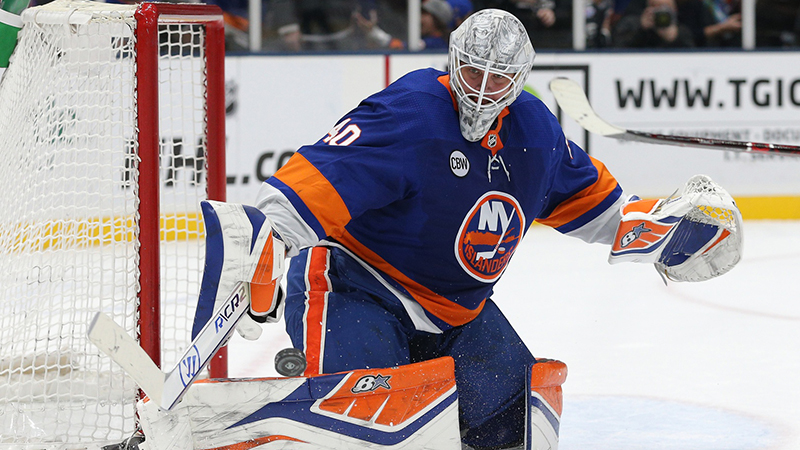 St. Louis Blues vs. Winnipeg Jets Series Betting Odds
Blues odds: -130
Jets odds: +110
Game 1: Wednesday, 8 p.m. ET
A couple of months ago the St. Louis Blues were allegedly sizing up whether or not to blow it all up, trade their best players and rebuild. They didn't do that, and instead fired their head coach and called up rookie goalie Jordan Binnington. Those proved to be good decisions.
Only the Lightning had a better second half than St. Louis, which went 28-8-5 (122-point pace) over its last 41 games. Binnington played a large role in the Blues' resurgence, but the truth is that St. Louis was fantastic, top-to-bottom. They owned the league's best Goal Share and High-Danger Scoring Chance rate at 5v5 in the second half of the season.
The Jets are a different story. Winnipeg is very lucky that it banked a lot of points early in the season thanks to a hot run by backup goaltender Laurent Brossoit because the Jets stumbled in the second half, going 21-17-3 in their last 41 games.
After getting to the Western Conference Final last season, the Jets had high expectations this time around, but they don't look very interested in meeting them.
A big reason for the Jets' dip in form over the second act was that they lost their two best defensemen, Dustin Byfuglien and Josh Morrissey, to injury. With Morrissey and Byfuglien in the lineup, the Jets operate at above 51% in terms of shot share at 5v5. When they are subtracted, things take a big dip to well below average.
Both Byfuglien and Morrissey are expected to be healthy for Game 1 and the Jets will need them, because the Blues have the potential to run through the Western Conference.
According to their statistical profiles, you can make a sound argument that the Blues are the better team — and they likely are — but there are still concerns for St. Louis.
First of all, we don't have a great way to project goaltending in any case and that becomes even more volatile when the goalie in question is a rookie in the middle of a hot streak. Binnington has been stupendous, sure, but he's not going to continue to play at this freakish level forever.
The good news for Binnington is that the Blues have done a fantastic job limiting scoring chances. The Blues rank third in the NHL in expected goals and high-danger scoring chances allowed per 60 minutes. They take care of their rookie netminder.
That defense-first style should serve the Blues well in this matchup as the Jets boast a fantastic top-six up front.
It's hard to count the Jets out with Mark Scheifele, Blake Wheeler, Kyle Connor and Patrik Laine leading the charge, but they'll have a tough time cracking St. Louis' defense.
Even though I don't think that the Jets, with Byfuglien and Morrissey, will be as bad as their statistical profile suggests, and I have concerns about trusting Binnington, I think the market is right to make St. Louis favorites.
Winnipeg has had a lot of trouble at 5v5 this season and their woes, coupled with the Blues ability to suppress scoring chances, does not make me confident that the Jets can replicate their run from last season.
These odds opened at -120/+100, but quickly moved to -130/+110. I think that St. Louis is still the only viable bet at this price, but I'd look around for a better number than -130, which is the cut-off point for me.
Dallas Stars vs. Nashville Predators Series Betting Odds
Stars odds: +150
Predators odds: -180
Game 1: Wednesday, 9:30 p.m. ET
The Nashville Predators were near the top of the Stanley Cup odds again this season. After falling to a great Winnipeg Jets team in Round 2 last season, the Preds came into this season at 10-1 to win the Stanley Cup.
Nashville is still 10-1 to win it all at the start of the postseason, but things have certainly changed since then and now.
The Predators have been up-and-down throughout the season and it took a slump from the Winnipeg Jets and an 8-2-1 run through their last 11 games to win the division. Injuries, inconsistent play and other factors played a part in the stop-start nature to Nashville's season, but it looks like they righted the ship at the perfect time.
Chart courtesy of MoneyPuck.com.
The Preds will face the Dallas Stars in the first round. This is Dallas' first trip to the postseason since 2015-16.
The Stars have a pretty clear identity. They try and win games 3-1 or 2-1, relying on solid structure and great goaltending from Ben Bishop. That organization and commitment to defense got them to the dance, but will it hold up against Nashville?
The Stars are built to play with any team of any level. Dallas won't blow the doors off you, but the Stars are very difficult to figure out and for a team that has trouble generating scoring chances, like Nashville, that could spell trouble.
On paper this series looks pretty tight, and it shouldn't surprise anybody if it comes down to an overtime goal or one of the goaltenders stealing the show to decide who wins this puppy.
Speaking of goaltending, both of these teams will be confident they have the right guy in net in this series.
We all could have guessed that Pekka Rinne would be good again in 2018-19 and he was, but Ben Bishop's re-emergence as a top-tier goalie was a little more unexpected. Thanks to Dallas' ability to suppress scoring chances, Bishop will have an opportunity to take this series over and perhaps steal it from under Nashville's nose.
In terms of firepower, both Dallas and Nashville have high-end talent, but the scoring depth isn't really there.
The Stars will need Tyler Seguin, Jamie Benn and Alex Radulov to bear the brunt of the scoring. The only other Stars forward, outside of those three, to eclipse 30 points this season was Mats Zuccarello, who has played two games for Dallas since coming over from the Rangers at the deadline.
Dallas does have some scoring punch on the blueline thanks to John Klingberg and Miro Heiskanen, but it would be surprising to see the Stars compete in a high-scoring series.
Nashville's best asset is its defense, led by Roman Josi, Ryan Ellis, Mattias Ekholm and P.K. Subban. That is as good as it gets in terms of top-tier defensemen.
Up front it's all about Filip Forsberg, Ryan Johansen and Viktor Arvidsson for Nashville. If those three have trouble getting chances, that will tilt the ice towards the Stars.
The Predators are the best team in this series by a pretty good margin but the Stars have a real penchant for turning games into coin flips. Whether or not they can do that AND also end up on the right side of the flip four times is not something I'd feel comfortable betting on.
Vegas Golden Knights vs. San Jose Sharks Series Betting Odds
Golden Knights odds: -115
Sharks odds: -105
Game 1: Wednesday, 10:30 p.m. ET
The Vegas Golden Knights made it two postseason berths in as many seasons with another impressive campaign in 2018-19. The biggest difference from last season to this one, though, is that fewer people have been paying attention. But make no bones about it, this version of the Knights is just as much of a contender as the Cinderella Knights from a season ago.
After making quick work of the Kings in Round 1 last spring, things presumably won't be as straightforward for Vegas this season, as the San Jose Sharks are a much more formidable opponent than Los Angeles was a year ago.
The odds for this series opened at -110 each way at the Westgate SuperBook, but they have since moved towards Vegas. That could be local sentiment, but I actually think it's the right move. Let's examine why.
Under the hood, things look great for both teams, and the advanced metrics paint a picture of a coin-flip series.
But there is something that separates these two teams — the goaltending.
Martin Jones has made a habit, ever since joining San Jose from Los Angeles, of putting in mediocre regular seasons and then turning into Patrick Roy in April and May. Last season, Jones posted a -5.25 Goals Saved Above Average in the regular season and then in the playoffs he stopped 93% of the shots he faced. That wasn't the first time he's pulled that stunt, either.
In 40 playoff games with the Sharks, Jones has a .926 raw save percentage. In 285 regular season games that number dips to .911. Goalies are already incredibly fickle and hard to project, but Jones' regular season-playoff splits boggle the mind.
On the other end of the ice will be Marc-Andre Fleury, who is getting some Vezina buzz this season. I don't think the numbers suggest Fleury has been that good, but he's been reliable, which is a lot more than we can say about Jones. According to Corsica Hockey, Fleury is the No. 7 ranked goaltender in the NHL. Jones is ranked 42nd.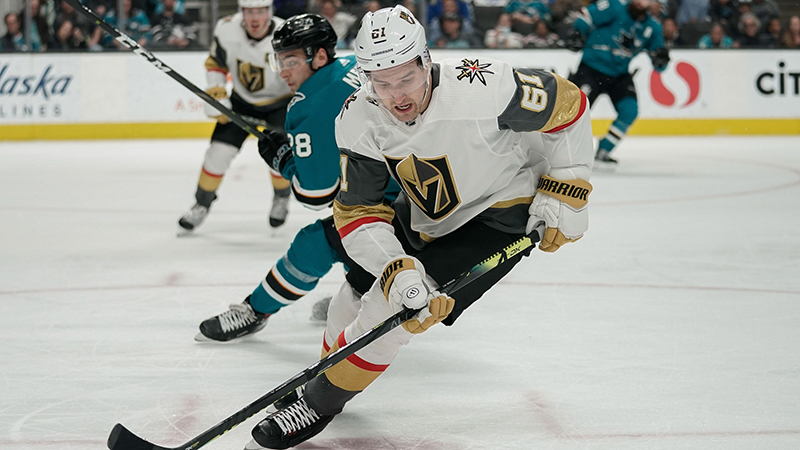 It should be noted that Fleury has been battling a lower-body injury for the better part of a month. "Flower" did start in the Knights' season finale, though, and looked just fine.
In front of the netminders, things are tight. The Sharks have three of the best defensemen in the league. The Knights have one of the most-potent top-sixes. San Jose has the ability to roll four lines. The Knights can match up with any of them.
In terms of star power, the Sharks have three of the best defensemen in the NHL. Erik Karlsson, Brent Burns and Marc-Edouard Vlasic can each play 30 minutes of great hockey a night, which is a huge deal in what figures to be a grind-it-out series.
Things look promising up front for San Jose, too. The Sharks' top nine may not get that much press outside of the Pacific Division, but this is an incredibly deep group with scoring punch thanks to Evander Kane, Tomas Hertl, Logan Couture, Joe Pavelski, Joe Thornton, and so on.
The Knights don't have any players in the realm of Karlsson or Burns on defense, but there aren't many teams who can hold a candle to Vegas' forwards. The addition of Mark Stone at the trade deadline turned the Knights' top-six from great to elite and the battle between Vegas' forwards vs. Burns, Karlsson and Marc-Edouard Vlasic should be sensational.
There's really so little to pick apart between these two teams, which is why I think the disparity between goalies will loom large.
If "Playoff Martin Jones" shows up, so be it. But I'm willing to pay the -115 on that not being the case and the Knights advancing.
Toronto Maple Leafs vs. Boston Bruins Series Betting Odds
Maple Leafs odds: +135
Bruins odds: -155
Game 1: Thursday, 7 p.m. ET
This is the second year in a row that the Leafs and Bruins will meet in Round 1 of the NHL Playoffs. Boston won the 2018 edition of this fixture, 4-3, but not before blowing a 3-1 series lead.
The Bruins also won three out of four games this season, though the last time these two teams played was back on Jan. 12. I wouldn't put too much stock into the head-to-head matchups, nor should you care that Boston won this series last season.
What you should care about is that, even though these are two of the strongest teams in the league, the odds suggest that Boston wins this series 58.8% of the time.
For most of the season, we knew this matchup was coming. The Bruins and Leafs are both fantastic teams, but they had the misfortune of playing in the Atlantic Division with the Tampa Bay Lightning, who ran way with the Atlantic before the holidays.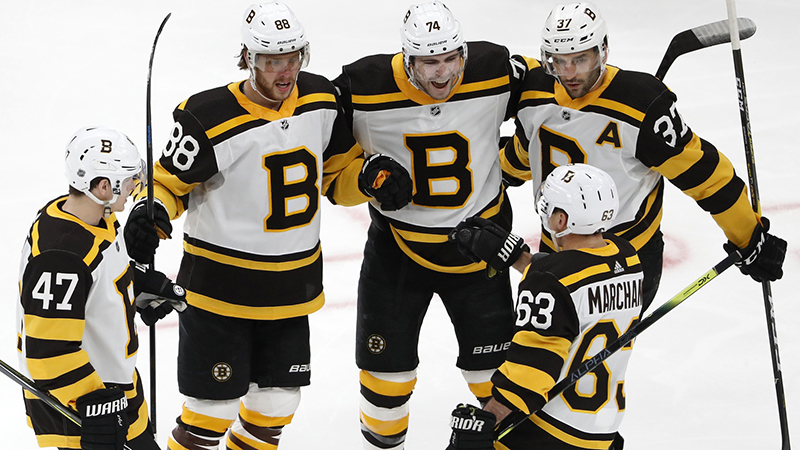 The most impressive thing about the Bruins is how they have handled a litany of injury problems again in 2018-19.
Patrice Bergeron, Torey Krug, Zdeno Chara, Charlie McAvoy, David Pastrnak, David Backes, Matt Grzelcyk and Jake DeBrusk have all missed at least 13 games this season. The fact that this team still put up 107 points despite all of those key injuries is ridiculous.
In terms of 5v5 goal differential, Toronto and Boston are neck and neck. Each team outscores their opponents, on average, by a shade over a half-goal per 60 minutes. How they get those results, though, tells the story of an unstoppable force and an immovable object.
Boston's biggest strength is its defense and structure. The B's rank at — or near — the top of the league in suppressing scoring chances and shot attempts. This is nothing new, of course, as the Bruins have suffocated opponents for years and their top line (Brad Marchand, Patrice Bergeron and David Pastrnak) has been the toughest unit to play against in the entire NHL for a while now.
That trio will have to be great all series, though, as the Maple Leafs boast an elite group of forwards led by Auston Matthews, John Tavares and Mitch Marner. It will be interesting to see which one of Matthews or Tavares gets the unenviable task of dealing with Bergeron.
With all of their high-end talent, the Maple Leafs have no problem challenging their opponents to beat them in a back-and-forth game because they know with their forwards and Frederik Andersen in net, they will win those games more often than not.
That being said, this is not the Bruins' first rodeo and this team is well-drilled to handle high-octane opponents. Boston is able to take games against the most unpredictable and chaotic opponents and turn them into rock fights.
The B's usually make life pretty easy for both of their goalies (it looks like Tuukka Rask will get the Game 1 nod over Jaroslav Halak), but there is no denying that Andersen is the best goalie in this series by a good margin.
Andersen's play has made up for a leaky, high-risk Toronto defense all season and, if he's on, the Leafs will have much more than a puncher's chance.
In terms of special teams, these two squads are pretty close. Boston's power play operated at 26.1% (3rd) while Toronto's clocked in at 21.9 (9th). On the penalty kill, the B's and Buds saw nearly identical, middle-of-the-pack results.
The odds for this series opened at -140/+120 at the Westgate, so it's clear that bettors are backing the B's to come out on top. At the current prices, a bet on the
Carolina Hurricanes vs. Washington Capitals Series Betting Odds
Hurricanes odds: +140
Capitals odds: -160
The defending Stanley Cup Champions will open the 2019 playoffs against the team nobody wanted to see in the first round, the Carolina Hurricanes.
This is Carolina's first appearance in the tournament since 2009, but this has been a long time coming. Big things have been expected of the Canes, as the team is dripping with talent and its underlying numbers have been stellar for the better part of five seasons now.
The Capitals don't boast impressive peripheral numbers, but they didn't last season, either. Washington's talent level is such that it can beat its underlying numbers, but the Hurricanes are a bear to match up against.
Both of these teams were dealt an injury blow toward the end of the season.
The Caps will be without Michal Kempny, who was playing top-pair minutes with John Carlson, for the entire playoffs. While Kempny isn't what you'd call a household name, he's been crucial for the Capitals all season and played a big role in last season's triumph. His loss will have a pretty big impact as the Caps were already pretty thin on the blueline.
The Hurricanes lost Calvin de Haan, a solid No. 4 defenseman, to a shoulder injury. His season is also done, but the Hurricanes have some serious depth on defense and are in a better position to deal with this test than the Capitals.
The general sentiment around this series will be similar to what we saw last spring when the Caps won the division and then played the Columbus Blue Jackets in Round 1. I thought Washington was ripe for the taking in that matchup, and it went down 2-0 after two home losses, but in the end were able to recover and run to the Cup.
The Hurricanes led the league in expected goals for per 60 minutes and expected goal differential per 60 this season. The Canes do give up scoring chances, but they usually create enough on their own to make up for that.
Carolina should create plenty of opportunities against the Caps, who rank near the bottom of the circuit in terms of suppressing scoring chances, but it will come down to whether or not the Hurricanes can make them count. Lack of finishing has plagued Carolina for seasons, but the Hurricanes did something about that problem this season by acquiring top-six forward Nino Niederreiter from the Minnesota Wild on Jan. 17.
Since Niederreiter's arrival the Hurricanes lead the league in Corsi Rating (CF%), rank fifth in Goal Share and have the fourth-best record in terms of points percentage. Niederreiter made an already dynamic top-six into an elite unit and that will spell trouble for the Caps.
The goaltending matchup for this series is certainly peculiar. The Hurricanes, who have been searching for an answer in goal for years, finally seem to have found some stability in the form of a two-man show featuring journeyman Curtis McIlhinney and the enigmatic Petr Mrazek.
Whoever starts for the Canes will be the second best netminder on the ice as Braden Holtby is a reliable option for Washington.
I thought the Hurricanes would get steamed in the early betting, but I was wrong. Given the statistical portfolios, I expect that Carolina will be on the front foot for much of this series.
In fact, I can only see the Capitals winning this contest in one way, grinding things out and winning a tight series in six or seven games. On the other hand, Carolina has the ability to blow the doors off Washington.
Even though the Caps are the favorites and their Cup odds are much shorter than the Canes', I think this is Carolina's series to lose. The Capitals will need to shoot the lights out, something they are capable of doing, but that is not something I expect.
I'm betting the Hurricanes and may look to a series prop, like Hurricanes in five at long odds, as well. Leafs is the only option, but I'm not excited about betting against the Bruins in a best-of-seven.
Colorado Avalanche vs. Calgary Flames Series Betting Odds
Avalanche odds: +170
Flames odds: -200
The Calgary Flames were not expected to be bad this season, but they certainly weren't expected to be this good, either. Bill Peters led the Flames to their first division title since 2005-06 and Calgary finished with the best record in the Western Conference.
The Avalanche exceeded expectations with a worst-to-first season in 2017-18 but were quickly swatted out of the postseason by the Nashville Predators.
This season got off to a rocky start in Colorado, but the Avs turned things around after the All-Star break and were able to beat out Arizona and Minnesota for the final spot in the dismal Western Conference.
Chart provided by MoneyPuck.com
While Colorado did play better down the stretch, a lot of its success came thanks to an uptick in performance from its goaltenders. Over the last 25 games, the Avalanche posted a .939 save percentage at 5v5, the fifth-best mark in the NHL.
Other than that, we have a pretty good idea of who the Avalanche are and what they are capable of accomplishing. They have a couple of stars, Nathan MacKinnon, Mikko Rantanen and Gabriel Landeskog, decent depth and an average defense.
This is a mediocre team and that shows in the numbers.
Calgary is not a mediocre team. The Flames are a legitimate contender but they have a significant flaw.
The Flames do a great job controlling the game. They have rank in the top 10 in high-danger scoring chance rate and in the top five in Goal Share, Shot Share and expected goal percentage. They also have a ton of highly-skilled players who can turn all of that possession and all of those scoring chances into results.
The Flames had five players, Johnny Gaudreau, Sean Monahan, Elias Lindholm, Matthew Tkachuk and Mark Giordano, record at least 74 points. They also had five players, insert Mikael Backlund and subtract Lindholm from that list, notch 200 shots on goal.
Calgary is a 5-on-5 dynamo and its got enough talent on offense and defense to make up for mediocre goaltending. That's a good thing, too, because the Flames have a serious problem in goal.
Mike Smith, 37, has been below average this season. The veteran netminder has had success in the playoffs before — seven years ago — but I wouldn't count on Smith to be the game-stealer he was for the Coyotes during their run to the Western Conference Final in 2012.
The Flames haven't indicated that Smith will be the Game 1 starter, but he is the "safer" choice over 26-year-old David Rittich, who has come back to earth after a brilliant stretch earlier in the season. No matter who starts Game 1, he will have a short leash.
Calgary does not ask much of its goalies. Over its last 25 games, the Flames have allowed just 8.92 High-Danger Scoring Chances per 60 minutes at 5v5. That is the best mark in the NHL in that span.
If the Flames continue to play at that level, they'll just need middling goaltending to get by. If they hiccup, the Avs will be a live underdog.
Calgary should win this series pretty easily, but in no universe am I comfortable laying that kind of juice on a team with such shaky goaltending. In fact, I wouldn't argue taking a shot on the Avalanche — especially if this number lengthens.
---
Odds courtesy of the Westgate SuperBook and current as of Sunday evening.
Data courtesy of Corsica, Evolving Hockey and Natural Stat Trick.
How would you rate this article?