NHL Betting Picks: Our Best Bets for Saturday, Feb. 20, Including Sabres-Devils & Maple Leafs-Canadiens
Credit:
Brian Babineau/NHLI via Getty Images.
Saturday features the most enticing NHL slate we've seen this season. There's an outdoor contest in Lake Tahoe. Sidney Crosby is playing his 1,000th career game. There's another edition of The Battle of Alberta. And the Montreal Canadiens and Toronto Maple Leafs are doing battle at the top of the North Division.
Here are our favorite bets for Saturday's 13-game slate:
Michael Leboff: New York Rangers (+130) vs. Washington Capitals
Nothing like a buy-low, sell-high spot to start off your weekend.
It is no secret what ails the Rangers. Coming into the season the Blueshirts were expected to be an offensive buzzsaw. They have more scoring talent in their top-six than most teams have on their entire roster. Artemi Panarin was a Hart Trophy nominee in 2019/20, Mika Zibanejad broke out as a top-notch No. 1 center and they were supported by dependable 20-goal scorers like Chris Kreider and Pavel Buchnevich. There was no reason to doubt that this team, which finished ninth in 5-on-5 goals per 60 minutes last season, couldn't at least replicate that effort in 2021, especially with No. 1 overall pick Alexis Lafreniere in the fold.
But hockey is weird and somehow the Rangers have gone ice cold on offense. Panarin and Buchnevich are the only two players with double-digit point totals. Zibanejad has one goal and two assists, Kreider has five points and Lafreniere and 2019 No. 2 overall pick Kaapo Kakko have combined for four points.
At some point you'd expect these numbers to tick up, as the Rangers are currently scoring 1.88 goals per 60 minutes despite producing 2.34 expected goals per 60 at 5-on-5. A team with this much talent shouldn't be shooting 6.14% at 5-on-5, but sometimes things like that happen.
Unlike the Rangers, the Capitals have been able to score through their problems. That is nothing new to the Caps, though. With players like Alex Ovechkin, T.J. Oshie, Jakub Vrana, Nicklas Backstrom, Tom Wilson and Evgeny Kuznetsov in its forward ranks, the Capitals are a good bet to be able to beat their expected goals. That said, they are a bit fortunate to be scoring 3.04 goals per 60 minutes as their xGF/60 sits at just 2.06.
For most teams those numbers would scream regression, but Washington's reputation makes it a little more complicated. Further complicating things is that the Capitals are giving up a lot of goals.
Washington ranks sixth in the NHL with an average of 3.47 goals per game, but their 3.4 goals allowed per game is the fifth-worst mark in the NHL. A lot of that can be chalked up to poor goaltending, however, as Washington is actually only surrendering 2.12 xGA/60 at 5-on-5. Vitek Vanecek, who came into the season as Washington's No. 3 goaltender, has struggled to a -4.05 GSAx in 13 starts while starter Ilya Samsonov gets back into game shape after a stint on the COVID protocol list.
The Capitals may come in with a better record and a deeper roster compared to the Rangers, but I think there will be value fading Washington for the foreseeable future. At some point the Caps will see their shooting percentage come down to earth, while the opposite is true of the Blueshirts.
I also give a decent edge to the Rangers in the goaltending department for this matchup. Igor Shesterkin has started to find his form with a +1.88 GSAx in 10 starts, while Vanecek has struggled and we haven't seen Samsonov in an NHL game for a month.
I'll take a shot on New York at +130 or better on Saturday afternoon.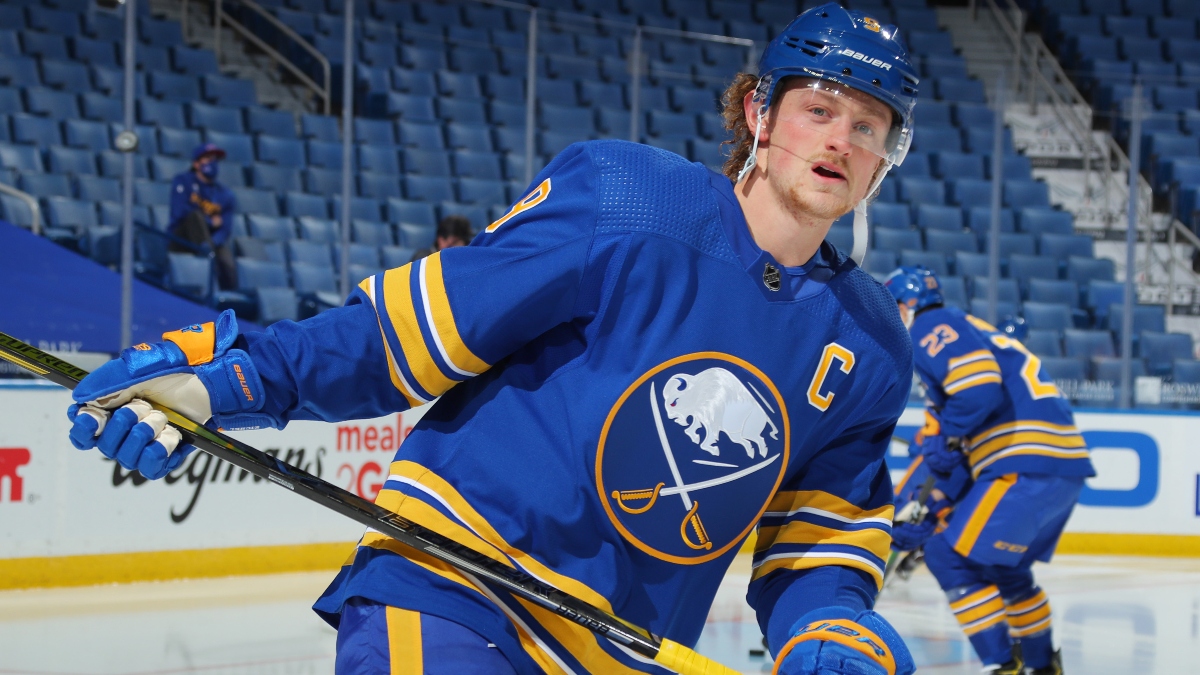 Sam Hitchcock: New Jersey Devils (-125) vs. Buffalo Sabres
Things are grim these days in Buffalo. The Sabres have lost four straight. High first-round draft picks are regressing or seeing their development stall. Buffalo is platooning goaltenders, but neither is especially proficient.
The most breathtaking stat this season is that premier Buffalo forwards Taylor Hall, Jeff Skinner and Jack Eichel combined have the same amount of goals as teammate Curtis Lazar. That is a dismal three. Maybe the Sabres' postseason aspirations were unrealistic, but it was reasonable to think they might avoid finishing last in the East Division.
The Sabres' last victory was against the New Jersey Devils on January 30th. After that, the teams have taken wildly divergent paths. In the four games the Sabres have played since, they have produced the fewest shots on goal per 60 minutes at even strength and have the worst expected goals percentage in the NHL.
Juxtapose that with the Devils, who are generating the most shots per hour and have an outrageous 63.05 expected goals percentage at even strength. Okay, it is over the span of three games, but nevertheless! The Maple Leafs rank second with 57.15.
Adding insult to injury to the Sabres' scoring woes, they will be staring down one of the NHL's premier goaltenders if the Devils start Mackenzie Blackwood, whose Goals Saved Above Expected (GSAx) is 5.11.
On the season, Buffalo is currently dead last in shooting percentage at even strength. For context, Buffalo has a shooting percentage of 5.26 while Boston is staring down at them with a 6.48. At some point, with the amount of skill stockpiled on the Sabres' roster, one would assume that is going to change.
The team looks like they have quit on coach Ralph Krueger. (His calling them psychologically fragile probably didn't curry favor.) I do expect an uptick in scoring after a coaching change. But for now, by snatching the Devils at -125 on DraftKings, bettors can prey on a Sabres team in an evident nosedive.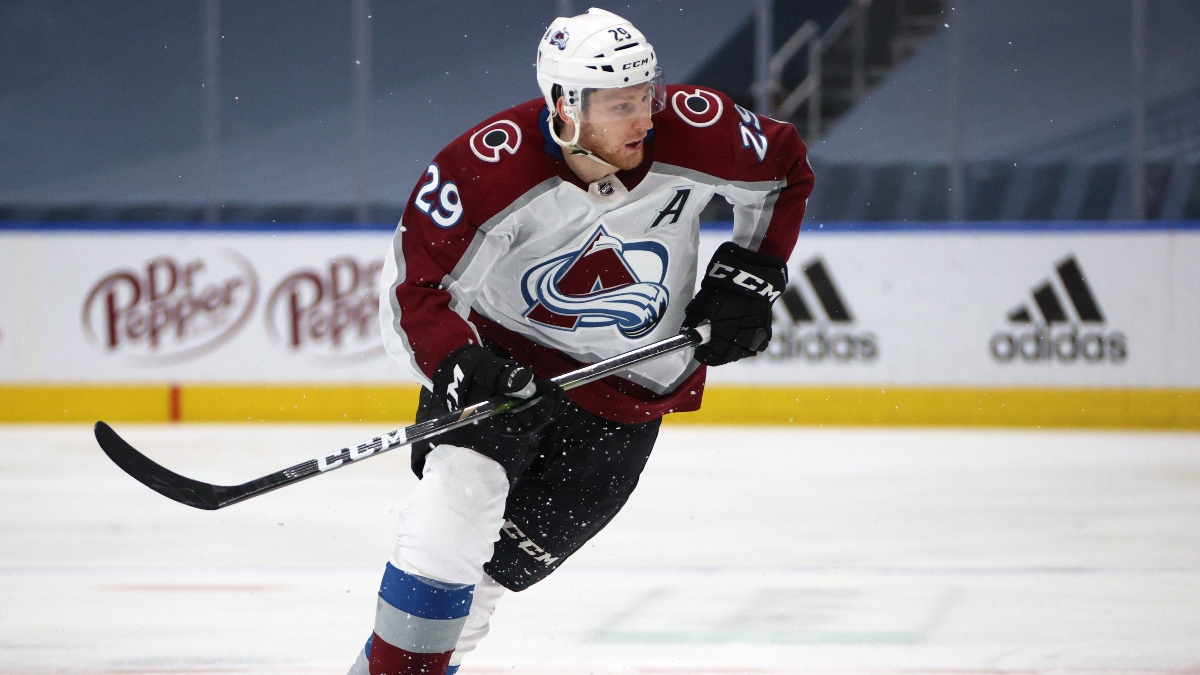 Michael Leboff: Colorado Avalanche (-115) vs. Vegas Golden Knights
The Knights came into the 2021 season as the second-favorite in the West Division, just slightly behind the Avalanche. It was a fair assessment at the time as Vegas, close as it was to being a complete team, did have a couple of question marks, most notably down the middle since the team lost No. 2 center Paul Stastny.
That left the Knights with William Karlsson, Chandler Stephenson, Nicolas Roy and Cody Glass as the four centers and skeptics wondered if Vegas would be able to contend without a true No. 1 pivot. So far, the Knights have answered those critics with quite a few players stepping into big roles.
Stephenson has grabbed the reins as the team's No. 1 center between Mark Stone and Max Pacioretty, giving Vegas one of the league's best trios. Nicolas Hague and Zach Whitecloud have been terrific as the team's third pairing, adding more depth to a defense that currently sits second in goals allowed per game.
---
Expected goals (also known as xG) is a predictive statistic that gives an indication of whether results are based on sustainable factors like a steady creation of scoring chances, or whether it is down to aspects such as shooting luck or outstanding goaltending.
Simply put, an expected goals rate (xGF%) above 50% is considered good because it means a team is creating the majority of the scoring chances. Anything below 50% is usually a sign that a team is struggling to control play.
xG numbers cited from Evolving Hockey.
---
That said, there are still a few minor red flags in Sin City. For one, the Knights are winning a lot of close games thanks to their goaltending, more specifically thanks to Marc-Andre Fleury, who has been sensational in his nine starts this season. Fleury is fourth in the NHL with a +5.58 Goals Saved Above Expectation (GSAx) and a .937 save percentage.
Fleury's bounce-back season has been a key development for the Knights, who are not dominating the puck like they have been over the past few seasons. The Knights still sit in the top-10 in goal share (GF%), expected goals rate (xG%), high-danger chance rate (HDC%) and shot attempt percentage (CF%), but this team is normally near the very top of the list in all of those categories, so it's a minor step back for Vegas, especially since their schedule has been pretty soft, thus far.
In a way, the Colorado Avalanche have failed to live up to the hype bestowed on them during the offseason. The Avs have been quite good, but they are the Stanley Cup favorites so an 8-4-1 start that gives them the ninth-best points percentage in the league is not going to have people falling over themselves.
Injuries have certainly played a part in Colorado's relatively disappointing start. Nathan MacKinnon, Cale Makar, Devon Toews, Gabriel Landeskog, Andre Burakovsky and Samuel Girard have all missed a game or two, but every team has to deal with injuries and the Avs are one of the few teams in the league that have the type of depth to survive injuries to players like MacKinnon and Makar.
The Avs should be pretty close to full strength for Saturday's game, though Makar is a game-time decision. His status is definitely worth monitoring.
---
Goals Saved Above Expectation (GSAx) is an advanced statistic that measures a goaltender's performance against the quality of scoring chances he faced. It is a better catch-all metric compared to save percentage because every SV% counts every saved shot and goal the same, while GSAx weights shots by the quality of the scoring chance.
GSAx numbers cited from Evolving Hockey.
---
A team with this much scoring talent will always be expected to post some crooked numbers, but Colorado's defense and goaltending has been driving the bus so far this season.
The Avs lead the NHL in goals and shot attempts allowed per game and rank sixth in the NHL in both goals and xG allowed per 60 minutes and 5-on-5. A lot of that success can be chalked up to the play of Philipp Grubauer, who paces the NHL with a +7.95 GSAx in 2021.
At some point I'd expect the Avs to start creating more offense than the 2.33 xGF/60 they are currently generating, but they have enough finishing talent to make those numbers stick, especially the way the defense has been playing.
No team allows fewer shot attempts than Colorado, which tells you that this team has the puck a lot. That used to be the case with Vegas, too, but the Knights' possession and chance-creation numbers have taken a bit of a dip this season.
While both teams have played smothering defense to start the season, Colorado's expected goals against lead me to believe its defensive play is more sustainable over time. In a game that figures to be pretty tight, I think the Avs have more paths to success than the Knights, so I don't mind laying a bit of juice on Colorado in this tilt, so long as Makar is good to go.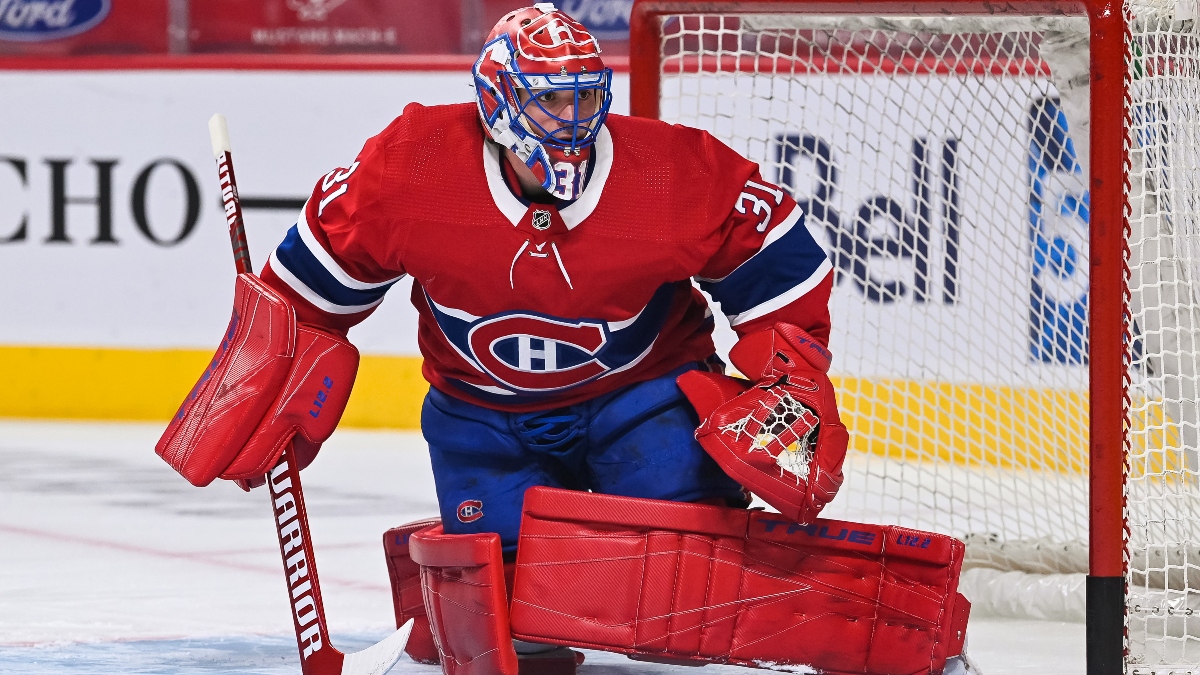 Matt Russell: Montreal Canadiens (-104) vs. Toronto Maple Leafs
The Montreal Canadiens come into this one well-rested as they drew the long straw this week, in the uneven North Division. The Habs haven't played since beating Toronto on Hockey Day In Canada last Saturday, and the rest probably came at a good time for them, having lost three out of four before the late comeback to beat the Leafs.
Even with the slip in the standings, Les Habitants are still a darling of the analytics community, having been sub-.500 on the XG% metric just four times this season. This is despite something of a lacklustre start for veteran star goalie Carey Price, who went into the week-off with a -1.30 GSAA. The Habs defensive system has helped keep the opponents' offence in check, giving up double-digit High-Danger Chances at even-strength just once this season. This has led to a division-best 5-on-5 rating of a ridiculous 23% above average.
Frederik Andersen is banged up after 14 straight starts, to the point where he was given the night off entirely on Thursday, not even suiting up. His best skill so far this season has been his availability and I expect him to be back between the pipes, but with a -0.67 Goals Saved Above Average (GSAA), he's been merely average this season.
While the expected goaltenders have very similar metrics this season, you've got Price after a week of rest, and Andersen who may be white-knuckling it at this point in the season with no significant break coming anytime soon, and their true backup goaltender Jack Campbell still a few more days away from a return.
My "Let's Do That Hockey" model makes the Canadiens win probability 56.3% for a true moneyline price of -129. However, as we know by now, the market will weigh in favour of the Leafs, so we're certain to get a price worth betting, even as bettors line up to bet on Auston Matthews' squad at what they deem to be a short price.
I'll take the Canadiens at anything better than -110.
How would you rate this article?