NHL Betting Picks: Best Bets for Tuesday, Including Sabres-Rangers & Canucks-Jets (March 2)
Credit:
Darcy Finley/NHLI via Getty Images. Pictured: Pierre-Luc Dubois of the Winnipeg Jets.
Our NHL analysts have targeted four games as part of their top plays on Tuesday's card.
Here are there best bets on the eight-game slate.
The 2021 NHL season was always going to be weird. The intra-divisional format, the jam-packed schedule and the one-off roster rules created a lot of unknowns for teams, fans, pundits and bettors.
However, we're now approaching the halfway point of the season, and there are only two months between now and the playoffs. In other words, we have a pretty decent sample size to work with when betting on the NHL these days.
With that in mind, here are our favorite bets for Tuesday's eight-game slate:
Michael Leboff: Buffalo Sabres (+135) vs. New York Rangers
Puck Drop: 7 p.m. ET
As is usually the case with a team that has won just six of is first 19 games, there's very little going right for Buffalo. The defense, which was doing a decent job for the first dozen games, has collapsed and is now inside the bottom-10 leaguewide in expected goals against per 60 minutes at 5-on-5.
The goaltending has been below average and now Linus Ullmark is out for a month. But there's no doubt that the offense, an area where the Sabres invested heavily in over the years, has been the biggest disappointment.
Buffalo currently sits 29th overall with an average of 2.21 goals per game. That is already unimpressive but then when you add in the fact that the Sabres are posting that measly number despite the third-best power play in the NHL, it becomes comical. There's clearly some systemic issues here because Buffalo has plenty of individual talent.
Eichel, Hall, Skinner, Eric Staal and Victor Olofsson would play in the top-six for most NHL teams and Dylan Cozens looks like he's on his way to becoming an impact forward. It's really hard to believe that this group is only scoring 1.35 goals and per 60 minutes at 5-on-5 this season.
---
Expected goals (also known as xG) is a predictive statistic that gives an indication of whether results are based on sustainable factors like a steady creation of scoring chances, or whether it is down to aspects such as shooting luck or outstanding goaltending.
Simply put, an expected goals rate (xGF%) above 50% is considered good because it means a team is creating the majority of the scoring chances. Anything below 50% is usually a sign that a team is struggling to control play.
xG numbers cited from Evolving Hockey.
---
The New York Rangers haven't exactly lit the world on fire in 2021, either. The Rangers were expected to contend for a playoff spot this season but a slow start and some unforeseen personnel issues have put New York behind the 8-ball in the East Division.
The Blueshirts come into this game eight points behind the Flyers for the final playoff spot in the East, so a win over the lowly Sabres is basically a must-have at this point. I don't think it will come that easy, though.
Expected to be one of the league's most watchable offensive teams, the Rangers have been strangely quiet thus far. New York ranks 26th in goals per game, 26th in 5-on-5 goals per 60 minutes and 23rd in goal differential per 60 minutes at 5-on-5 this season.
Some of New York's scoring woes can be chalked up to bad luck — they are scoring 2.03 goals per hour despite generating 2.44 xG — but that glosses over the fact that the Rangers lack depth on both ends of the ice. Their third and fourth lines are not good enough to chip in consistently and the defense is a mess with Jack Johnson, Libor Hajek, Anthony Bitetto and Brendan Smith all getting regular minutes.
Betting on an unmitigated disaster like Buffalo isn't exactly the best way to spend a Tuesday evening, but this is a winnable game against a pedestrian opponent that is struggling to score and is missing its best player.
Buffalo's bad form should keep a lot of bettors away and there's a chance that the Rangers get Filip Chytil back, so don't be surprised if this number rises before puck drop. Even so, I think the current odds still overrate the Rangers a bit. There are holes up and down this lineup and their scoring issues could allow Buffalo to hang around in this game.
At +135 the Sabres have an implied win probability of 42.6%. I think that number is a tad low and would play it, but I am hopeful that something bigger comes along.
Jeremy Pond: Ottawa Senators +1.5 (-114) vs. Montreal Canadiens
Earlier in the season, it would have been a no-brainer as to whom to back in this game between the Montreal Canadiens and Ottawa Senators.
But boy, how things have changed in just a few short weeks.
Montreal is in the midst of a tailspin under interim head coach Dominque Ducharme, who replaced fired ex-leader Claude Julien. The Canadiens have lost five in a row and have gone 2-5-3 in their last 10 outings, falling out of contention for the top spot in the Scotia Division.
In contrast, Ottawa has turned things around after a brutal start to their season. The Senators have won six of their last 10 games, including Monday's convincing 5-1 victory over the Calgary Flames. Drake Batherson scored twice in the win for Ottawa, which has won four of its last five contests.
When it comes to the advanced metrics, Montreal has the edge over Ottawa on paper. However, the numbers are cumulative and don't depict what's been going on as of late.
Looking at the Fenwick statistics, the Canadiens boast a 47.78 FF/60 and 36.55 FA/60, generating a solid +11.23 differential. In contrast, the Senators maintain a solid 43.34 FF/60 and 45.21 FA/60, resulting in a lackluster -1.87 differential.
As for the xGF/xGA comparison through 60 minutes, Montreal holds the clear advantage. The Canadiens sit on 2.59 xGF/60 compared to 1.85 xGA/60, resulting in a +0.74 differential. As for Ottawa, the franchise has on 2.34 xGF/60 and 2.6 xGA/60 for a -0.26 differential.
Bottom line, I find a ton of value on Ottawa at +1.5 goals in this spot. I don't care what the records are entering this affair. There is no way bettors should be getting this kind of price on the road team, let alone oddsmakers tabbing them as +220 moneyline underdogs.
Until Montreal can get it together, fade the home side and back the Senators.
---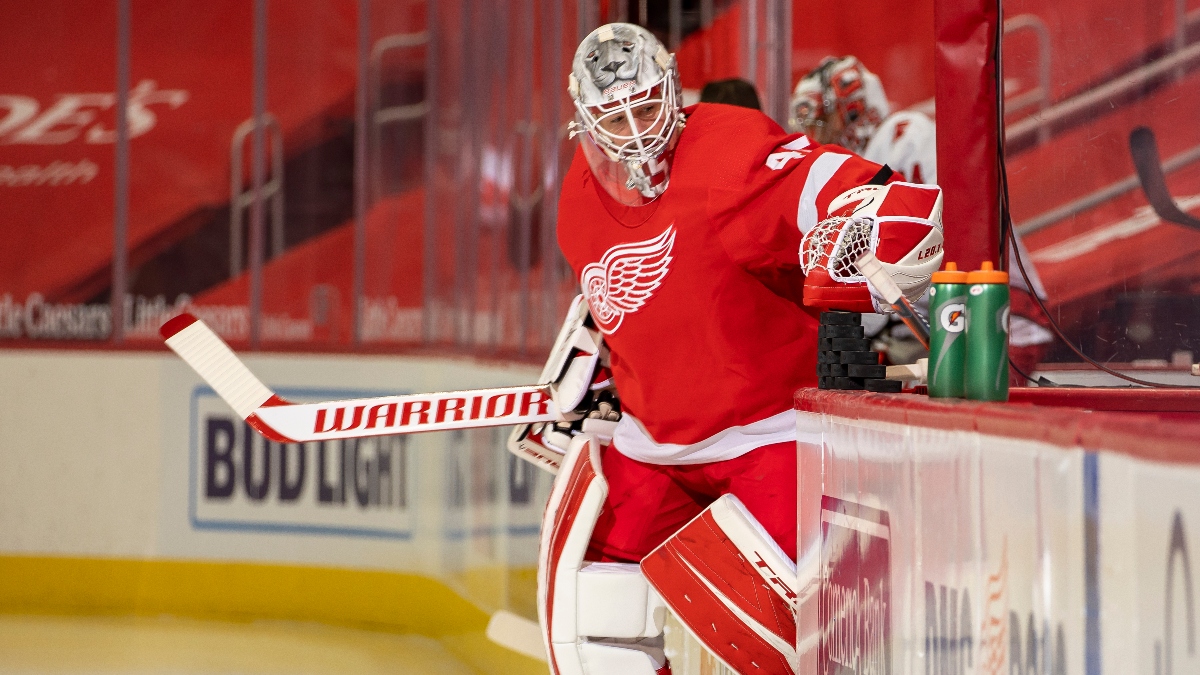 Matt Russell: Detroit Red Wings (+150) vs. Columbus Blue Jackets
Puck Drop: 7 p.m. ET
There's a pretty clear dividing line for the Red Wings season, and it can be only described as "the day they stopped letting Thomas Greiss play goaltender".
Greiss, who the Red Wings signed in the offseason, had started the previous nine games for Detroit, winning just once. Greiss and presumed backup Jonathan Bernier, split the duties for the next two pairs of games. Against Chicago, Greiss gave up 3 goals, in the next game Bernier gave up just one. Against Florida, Greiss gave up 7 goals, in the next game Bernier gave up just one, in a 2-1 win.
That was all the Wings brass needed to see and they handed the reins to Bernier, and watched him win two of his next three, with the only loss coming on a night where he gave up just one goal. This past weekend, the Wings had a Saturday-Sunday back-to-back in Chicago, and after winning the first as a +150 underdog that I recommended in this space, they opted to give a token start to Greiss since he hadn't played since giving up 7 goals to Florida. He gave up seven goals to the Blackhawks.
Given how little offence the Blue Jackets created while they were in Nashville, you'd suspect they spent a little too much time on Broadway, if we didn't know any better. The Jackets scored just once in each game, and neither goal came after the first period. This is following a shutout loss to the Blackhawks who are not the league's most disciplined defensive squad.
A five-game losing streak has John Tortorella feeling a little hot under the collar, but other than the occasional big game out of Patrik Laine, there's not much to get excited about offensively in the Blue Jackets 5-game losing streak.
The Blue Jackets aren't remotely good enough to be anywhere near their -177 moneyline price they're projected to be, even factoring in the Wings' atrocious power play and sub-par penalty kill, there's no way there isn't value on the underdog Red Wings.
Just so long as they get Bernier back in the net, and Greiss doesn't get close to the ice.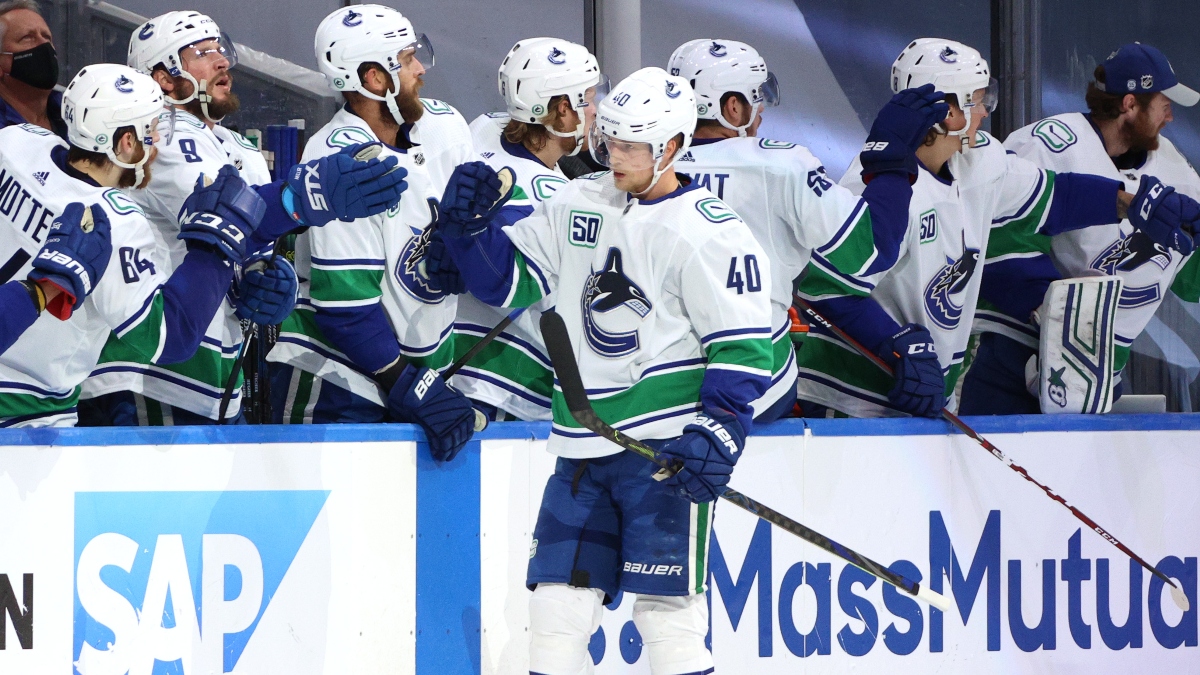 Pete Truszkowski: Vancouver Canucks-Winnipeg Jets Over 6.5 Goals (-106)
Puck Drop: 8 p.m. ET
There was plenty of excitement surrounding the North Division coming into the season. The All-Canadian division seemed wide open, both in terms of the standings and the playing style. Those premonitions have largely held true through the first part of the season.
Five of the league's top six point producers are in the North Division. Of the 20 NHL players who have double-digit goal totals as of Monday night, nine of them play their games north of the border.
With offensively-gifted but defensively-challenged teams like the Edmonton Oilers and Toronto Maple Leafs, this was to be expected. However, the two biggest proponents of the "no defense allowed" mantra are the Vancouver Canucks and Winnipeg Jets.
According to expected goals, the Winnipeg Jets have the worst defense in the NHL. The Jets are allowing 2.68 xG per 60 minutes at 5-on-5, just ahead of the Canucks who sit in 30th with a 2.66 xGA/60.
It doesn't stop there. Winnipeg is also the leakiest defense in terms of high-danger chances. The Jets are allowing 13 high-danger chances (HDC) per hour at 5-on-5 and are one of two teams allowing more 12 HDC/60. The other one is Vancouver, which allows 12.7 HDC per hour.
Over bettors should also be enthused by the projected goaltending matchup. These two teams faced off on Monday night with Connor Hellebuyck getting the nod for the Jets and Thatcher Demko in the other crease for the Canucks. Hellebuyck is the reigning Vezina Trophy winner and arguably the best goalie in the league. Demko has posted a +1.74 Goals Saved Above Expected (GSAx) this season.
We can pretty safely assume that Hellebuyck and Demko will get the night off on Tuesday. This means that the Canucks will call on Braden Holtby. Holtby has been awful to start his tenure in Vancouver and sports a -4.36 GSAx in 10 games. The Jets will likely go with Laurent Brossoit. Brossoit has been great in his first four appearances of the season, but his career track record does not inspire confidence.
These may be two weak defensive teams, but you can't say the same about their offensive talent. Both of these teams have plenty of game-breakers. The Canucks have the luxury of being able to roll out Elias Pettersson, Brock Boeser, JT Miller, Bo Horvat and Quinn Hughes while the Jets might be even better with Mark Scheifele, Nikolaj Ehlers, Pierre-Luc Dubois, Blake Wheeler and Kyle Connor.
This matchup features two explosive offenses taking on two terrible defenses with back-up goaltenders behind them. Pucks should be flying into the back of the net.
How would you rate this article?