NHL Betting: Two Underdogs Provide Upside on Thursday Night
Credit:
Matt Kartozian, USA Today Sports. Pictured: Clayton Keller
Betting odds: Arizona Coyotes at Chicago Blackhawks
Coyotes moneyline: +135
Blackhawks moneyline: -155
Over/Under: 5.5
Puck drop: 8:30 p.m. ET
Editor's Note: A previous version of this story had Cam Ward listed as the probable starting goalie for Chicago. It has been updated to reflect that Corey Crawford will likely start.
Coming into this season I had a feeling I'd be betting on the Arizona Coyotes a lot in the early going.
Arizona comes into Chicago on a two-game losing streak and 1-4 overall. The Coyotes have scored just three times (not including a goal awarded for a shootout win) in their first five games. None of those goals have come at 5v5.
Despite not scoring yet at 5v5, the 'Yotes have generated 9.19 expected goals (xGF adjusted) and are averaging 2.24 xGF per 60 minutes. Arizona also boasts the third-highest Corsi Rating (57.43%) in the NHL and has only allowed 2.06 xGA/60 minutes.
The Coyotes have run cold, but everything else is pointing up.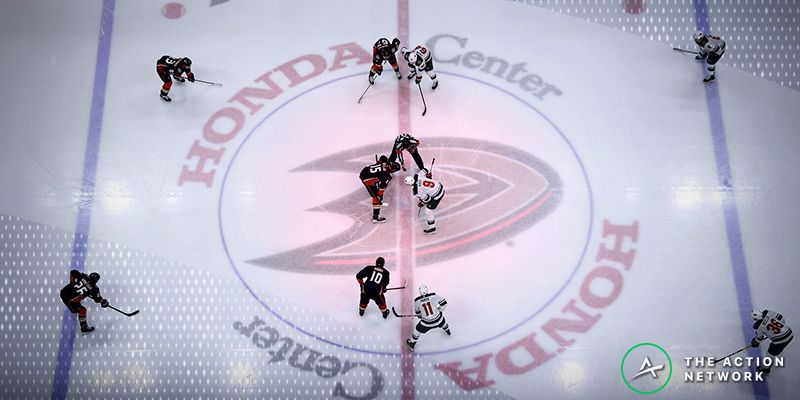 The Chicago Blackhawks weren't expected to contend this season but they have got off the mark with a 3-0-2 record and +5 goal differential at 5v5. Chicago's best players, namely Jonathan Toews, Patrick Kane and Alex DeBrincat, have been terrific.
While the Blackhawks have done a decent job driving play — they have a 52.9 CF% — they have struggled to limit scoring chances against. Through five games Chicago is allowing the third-most expected goals against (2.83) per 60 minutes at 5v5.
This means that Corey Crawford, who is expecting to make his first start since Dec. 23 of last year, will need to be on his game. Crawford is one of the league's best goaltenders but it's hard to suggest he's going to be sharp from the jump.
Antti Raanta will likely (and hopefully) be in goal for the Coyotes. The 29-year-old Finn put up sparkling numbers when he was healthy in 2017-18 and
One of these days the Coyotes are going to start scoring. Let's hope it's Thursday.
I bet this game last night at +123 under the assumption Ward would be playing. With Crawford in net, I'd play the Coyotes above +130.
The Bet: Arizona Coyotes +135
Betting odds: Detroit Red Wings at Tampa Bay Lightning
Red Wings moneyline: +260
Lightning moneyline: -300
Over/Under: 6
Puck drop: 7:30 p.m. ET
The Detroit Red Wings are not very fun to bet on. They are bad and they aren't at the part of their rebuild where they have a couple of game-breaking talents on their roster.
That could change this offseason if the Red Wings win the draft lottery they are destined for, but for now they're just bad.
So let's bet on them.
This is purely a value play as I don't expect the Red Wings to actually beat the Lightning. Do they have better than a 27.8% chance of doing so? Sure.
Detroit's biggest problem this season has been in goal. Neither Jonathan Bernier nor Jimmy Howard have covered themselves in glory to start the season and that hasn't given the Red Wings much of a chance. When you're a bad team you need your goalie to play well to keep you in games.
Going into play tonight, Bernier and Howard rank last and second-to-last in Goals Saved Above Average this season. Bernier also ranks last in 5v5 save percentage while Howard is third from the bottom. These two goalies aren't superstars, but they will — in all likelihood — improve on their dismal starts.
It's completely understandable if you walk away from this wager, but I'm going to roll with the Wings and pray we catch the Lightning on an off night.
The Bet: Detroit Red Wings +260