Back to the NBA Future: 90 Questions We'll Be Asking Next Summer
The 2018-19 NBA season is just around the corner, and Rob Perez (aka @World_Wide_Wob) has some questions for the Association.
Will LeBron still be the best player on the planet? Are the T-Wolves still a mess? Did the Warriors sleepwalk to another title?
OK so here's the deal: below are 90 questions, three for each NBA franchise.
These questions are what we will be asking about each team at the end of the playoffs. If we're able to answer YES to each of them, the team had a good season regardless if it won the championship or not.
If the answer is NO to at least one of them, then, something went wrong.
Back to the NBA Future … I guess. Let's begin.
Atlanta Hawks (1000-1)
Was Trae Young worth trading down for?
Did you get BOTH the Cavs' and Nuggets' protected picks?
Were you able to trade Kent Bazemore?
Boston Celtics (5-1)
Could you have made the Finals without Kyrie?
Does Gordon Hayward look like the All-Star he once was?
Did the Sacramento Kings get a top-five pick that wasn't No. 1?
Brooklyn Nets (500-1)
Do you still have the massive cap space you had at the beginning of the season?
Were you able to trade DeMarre Carroll or Allen Crabbe for draft assets?
Did Denver make the playoffs?
Charlotte Hornets (300-1)
Did you either sign Kemba Walker to an extension or trade him before it was too late?
You paid $81.5 million to Nicolas Batum, Bismack Biyombo, Marvin Williams, Cody Zeller, Michael Kidd-Gilchrist this season — for the love of God, did you make the playoffs?
Did you wear your throwback pinstripe unis at least 15 times?
Chicago Bulls (500-1)
Zach LaVine get his bunnies back?
Were Wendell Carter and Lauri Markkanen so good together that they now have a nickname?
Did Bobby Portis average at least 25 minutes per game?
Cleveland Cavaliers (500-1)
Did you keep that top-10 protected pick?
Did JR Smith provide enough entertainment to make everyone forget LeBron left?
Is Collin Sexton so good now he's able to do this regularly without being made fun of?
I thought i had seen it all and then i watched Collin Sexton try to intimidate his opponent by flexing on DEFENSE thank you so much for this pic.twitter.com/v5NaATVmWR

— Rob Perez (@World_Wide_Wob) July 17, 2018
Dallas Mavericks (300-1)
Did Dennis Smith Jr. make it through the season injury free?
Luka Doncic walks on water, too, doesn't he…?
Did we get at least one Dirk Nowitzki game-winning buzzer-beater?
Denver Nuggets (100-1)
Gary Harris finally proved to everyone outside Denver how good he is, right?
Was Nikola Jokic an All-Star?
Michael Porter Jr.'s back? LOL remember when people were worried about it?
Detroit Pistons (300-1)
We still OK with that Blake Griffin contract being on the books until 2022?
Andre Drummond made the All-Star team, right?
If we didn't make the playoffs, did we at least blow this thing up and hit the reset button?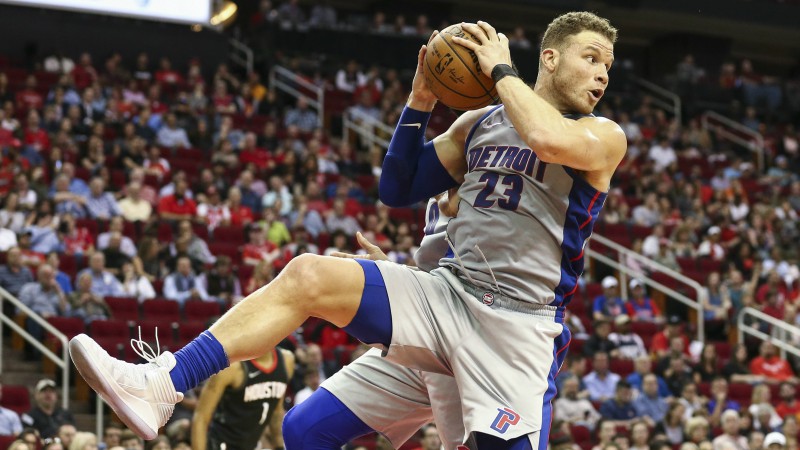 Golden State Warriors (-200)
En route to another Larry O'Brien trophy, did we do it in a way that makes Kevin Durant want to stay?
Klay Thompson: We're running this back, right?
Are we approaching '90s Bulls dynasty territory?
Houston Rockets (+750)
Melo wasn't the problem. MELO WASN'T THE PROBLEM.
Chris Paul being 34 years old and owed another $159.7 million through 2022 doesn't matter.
Was Daryl Morey having Trevor Ariza sign with the Suns and then re-acquiring him at the trade deadline the savviest move in recent front-office history?
Indiana Pacers (80-1)
Myles Turner is actually the best player on our team?
Does the rest of the league know we have the most cap space going into free agency 2019? Because if it doesn't, keep it quiet we might get away with this?
Victor Oladipo, Domantas Sabonis and Turner have gotten so good that we are going to be the best team in the East if things go our way in July?
Los Angeles Clippers (300-1)
All that cap space we've been protecting? Yup, Kawhi Leonard and Jimmy Butler are either on the team already or they're coming.
We found someone to take Danilo Galllinari and all it cost us was a draft pick lol! I know I can't believe it either?
Are Lakers fans mad because Bobi and Tobi Show > Lake Show?
Los Angeles Lakers (12-1)
Did we make it through the entire season without LeBron tweeting an Arthur meme and/or getting in trouble for tampering?
Regardless of what happened at the end, LeBron is still the best basketball player on Earth — right?
We didn't freak out when the Meme Team failed, and Kobe fans rioted in LA Live, and LeBron didn't kill Lance for stealing the ball from him that one time, and JaVale stopped shooting 3s after thinking he could make them the first four months of the season, and Rajon Rondo didn't corrupt Lonzo, and Beasley signing with BBB to launch his ankle watch line turned out to be harmless, and Kentavious Caldwell-Pope realized it wasn't the ankle bracelet that was making him a bad shooter it was just him the entire time, and that cap space is still there. WE GOOD?
Memphis Grizzlies (300-1)
How did three teams pass on this dude? Jaren Jackson Jr. looks so damn perfect holding that Rookie of the Year trophy, doesn't he?
Can you believe Chandler Parsons played in 60 games, averaged 25 minutes per and made 35% of his threes?
Our style of basketball is an endangered species, but IT'S NOT EXTINCT. I actually believed we might pull that off against the Warriors in the first round, you too?
Miami Heat (200-1)
How did we get someone to say yes to trade for Goran Dragic?
Are they going to sell Josh Richardson first-team All-Defense T-shirts soon?
Remember when Hassan Whiteside dunked on Joel Embiid and stood over him? That was awesome.
Milwaukee Bucks (100-1)
Giannis Antetokounmpo and his new reality show where he tours the United States with his MVP trophy trying different foods starts soon, right?
Will we tell our grandchildren about the day Dante DiVincenzo fell all the way to us at pick 17?
Thon Maker is totally going to make the All-Star team next year, isn't he?
Minnesota Timberwolves (100-1)
Wow, Karl-Anthony Towns getting that super max made him start playing defense huh?
I cannot believe we won that Jimmy Butler trade, should we build Steve Ballmer a statue outside the Target Center?
Remember when Jeff Teague was on our team?
New Orleans Pelicans (100-1)
We totally won that Julius Randle/DeMarcus Cousins swap, didn't we?
Can we all agree injury-free Anthony Davis is the scariest thing since LeBron?
Are we getting someone to take Solomon Hill before the end of the year so we have another near-max spot and just might keep Anthony Davis in New Orleans forever?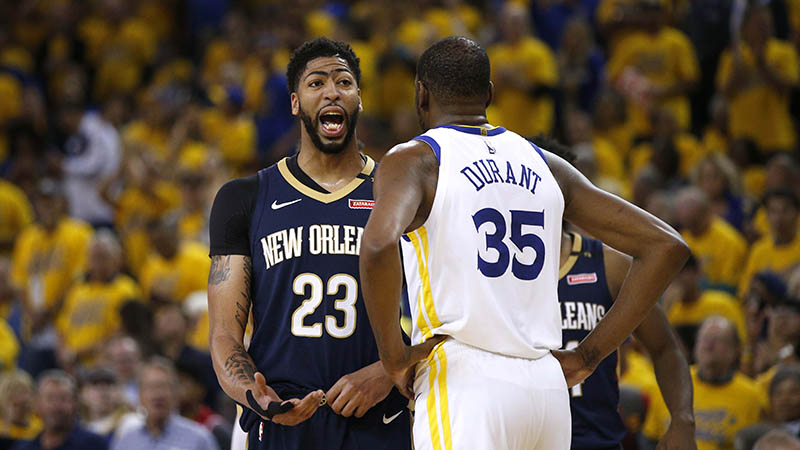 New York Knicks (300-1)
We still throwing the "KNICKS DID IT THEY DIDNT TRADE FOR A WASHED UP VETERAN AND KEPT THEIR DRAFT PICKS" party?
Kevin Knox/Kristaps Porzingis/Zion Williamson is about to be the next Big 3, isn't it?
Porzingis didn't play a single game all season, so nobody is going to present him with a max offer sheet that we have to match to keep him in restricted free agency and we now have two max free agent spots available for Kyrie and Durant DID THIS WORK OUT PERFECTLY OR WHAT?
Oklahoma City Thunder (25-1)
Shall we all hold hands and say another prayer now that Russell Westbrook made it through the entire season without further knee problems?
Do teams actually have to assign a defender to Andre Roberson now?
Are Paul George and Russ still on 'smoke cigars on Instagram to illustrate our happiness together' status?
Orlando Magic (500-1)
Did we get someone to trade us a first-round draft pick for Nikola Vucevic?
Do Mo Bamba and Jonathan Isaac look like the next Greek Freaks while playing together?
Are we relevant yet?
Philadelphia 76ers (14-1)
Now that Ben Simmons is making threes, is he instantly a top-10 player in this league?
We still OK with trading up for Markelle Fultz?
So we're all in agreement that Joel Embiid is Shaquille O'Neal with a three-point jump shot?
Phoenix Suns (500-1)
Let's wish Dragan Bender our best as he changes teams, shall we?
If we re-did the 2018 draft, are we still taking DeAndre Ayton?
Josh Jackson is our John Starks — will you go to war for him?
Portland Trail Blazers (200-1)
We cool with CJ McCollum crossing Durant to the ground being the highlight of our season?
Are we one year closer to ridding ourselves of Evan Turner's contract without him bamboozling another extension?
Is Damian Lillard going nuclear still the coolest thing in the NBA?
Sacramento Kings (1000-1)
Is the liquor store still open?
Marvin Bagley III is totally worth not having our first-round pick next year –wait did you say you were going to the liquor store?
Did the NBA finally give us answers regarding why it screwed us in 2002?
San Antonio Spurs (100-1)
Can LaMarcus Aldridge carry the torch as our next *gulp* Tim Duncan?
DeMar DeRozan no longer playing hero ball and buying into the Spurs culture make you as happy as it does me?
Watching Gregg Popovich hack-a-Kawhi for an entire game out of pure pettiness was worth losing him, yes?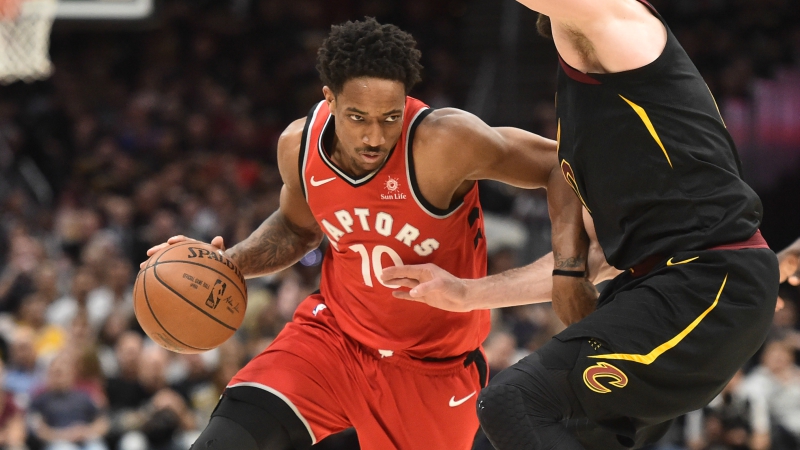 Toronto Raptors (12-1)
We have the best player in the Eastern Conference and it's not even close?
Even if Kawhi leaves, we still have Plan B in place to let all the expiring contracts walk and completely rebuild, right?
Everyone finally forget our city was renamed LeBronto?
Utah Jazz (80-1)
Did Donovan Mitchell run through the NBA sophomore wall like Juggernaut in X-Men?
Are Grayson Allen and Joe Ingles the biggest villain duo in the league?
When Mitchell posterized Ben Simmons, was it so harsh it was almost better than winning a championship?
Washington Wizards (100-1)
Did the presence of Dwight Howard make John Wall and Bradley Beal finally become allies against a common enemy?
Did Ian Mahinmi retire?
Is Otto Porter Jr. still one of if not the best three-point shooter in the NBA? Because he better be.
How would you rate this article?