Moore: Ranking the 15 Most Important Warriors-Raptors Players in the NBA Finals
Credit:
USA Today Sports. Pictured: Steph Curry, Kawhi Leonard
Matt Moore ranks the 15 most important players in the 2019 NBA Finals.
The series between the Golden State Warriors and Toronto Raptors tips with Game 1 on Thursday (9 p.m. ET on ABC).
The NBA Finals have arrived and The North takes on The Bay with the Toronto Raptors hosting the Golden State Warriors in Game 1 on Thursday.
Here's a look at the 15 most important players in this series, ordered by their ability to impact and win (or lose) the series for their teams.
1. Stephen Curry
Curry will always be the top player in any of my series player rankings because he can fundamentally warp basketball reality. His ability to hit from range and go on scoring bursts that put teams collectively on skates is unparalleled.
Curry's gravity as games go on is also huge. You need to attack him in transition with two defenders to get the ball out of his hand, which creates open opportunities for the other Warriors.
Curry can get shots up against Kawhi. Leonard, who is phenomenal defender and will give Curry fits, but there will be opportunities.
That's a miss, but not because of defense. It's just a miss. If Curry gets hot in this series (and if Kevin Durant isn't around to make him a decoy and a role player, then it's going to radically swing in his favor.
Likewise, with Durant out, if Curry struggles to create space or gets anxious with Leonard around, it's going to be tough. Just feeling like you can shoot with Leonard on you can be tough.
If Curry struggles to start this series, the Raptors are going up 2-0 and will, at the very least, force the series to go long, which plays in their favor given Golden State's short rotation. But if Curry goes supernova in Toronto, the Raptors could be down 0-2 or split headed back to Oracle.
Curry's defense also matters in this series. There are not ideal matchups for him.
Danny Green will run Curry off screens constantly, as will Fred VanVleet. Kyle Lowry will bully him with his size. Leonard will annihilate him. Curry can't be hidden on Pascal Siakam because of his athleticism or Serge Ibaka because of his physicality. Marc Gasol is a possibility, but it will be taxing to deal with his brute strength, even if Gasol isn't primed to punish that mismatch like you might think.
There's a lot here on Curry. It's the biggest moment for him since 2016.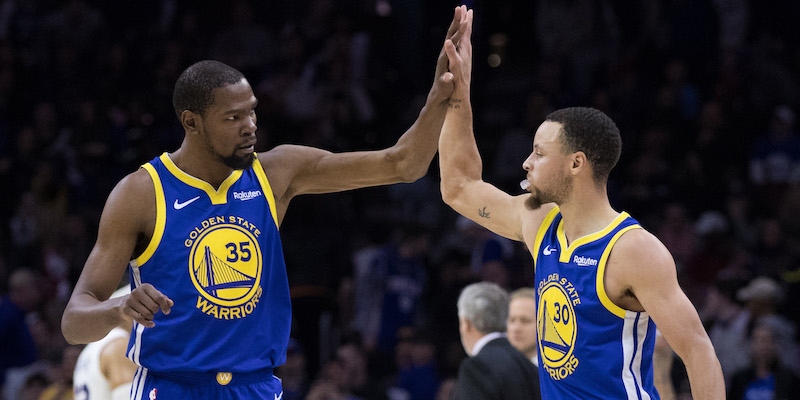 2. Kevin Durant
Durant is the best player in the world. Yes, Kawhi has a stake to the claim. But for as great as Leonard is defensively, Durant is right behind him. For as unstoppable as Leonard is, Durant is more so.
Durant is a better shooter, better at getting to the rim, taller and a better playmaker.
So he kind of matters.
If he returns in this series, everything gets easier for the Warriors. He can combat Siakam's length and athleticism around the rim, guard Leonard (which allows Klay Thompson to defend Lowry), provide scoring bursts on his own that quelch runs, etc.
I've been captain of the "The Warriors don't need KD to win" team, and I still believe that. They can win this series without him. But if he plays, and returns by Game 3, the Warriors' chances of running away with the series increase dramatically. He tilts the playing field to allow them to roll downhill.
3. Kawhi Leonard
A no-brainer. There's no scenario where if Leonard struggles, the Raptors win this series. If he struggles, they likely lose that game. He has to carry the offense, limit Curry and KD (and whoever else), make plays, stem runs, extend leads, spark comebacks, everything.
There isn't more on any one player than there is on Leonard.
The only reason he's not No. 1 or 2 is that he can go supernova and the Raptors can still lose, whereas if Durant and Curry go off big time, the Warriors almost definitely win.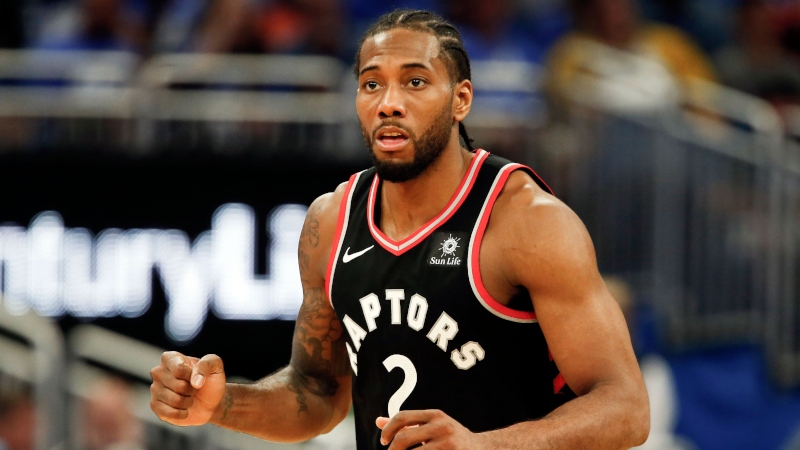 Leonard's "load management" will be an issue in this series as well. The Warriors are going to make him work on defense. Not just one-on-one, but forcing him around screens and navigating movement. He'll have to sprint from one side of the court to the other or risk having to switch off to a lesser defender.
They'll body him offensively, challenge him and make him work. Leonard will succeed despite all this because he might be the best isolation player on the planet, or at least the best not named Durant.
For significant stretches in these playoffs, Leonard has had to carry the Raptors as dead weight on his back. To do so against the Warriors will require something even greater than what we've seen. The bar is always higher, the crown always heavier.
His opportunity to cement himself in NBA history is as great as the challenge he'll have to overcome to reach that position. No Raptor has ever mattered in a playoff series more than Leonard does now.
He will be a free agent one month from now.
4. Klay Thompson
Thompson is important for all the obvious reasons: His defense on Lowry and the other shooters along with likely Kawhi for stretches, his shooting (39% in the postseason) and the ability to punish teams for blitzing Curry and/or Durant when he returns.
But there's actually a more specific stretch that matters: The second quarter.
To start those second quarters, Steve Kerr has been using Thompson with four bench players, and the results basically nuke all of Thompson's advanced stats. The Raptors, meanwhile, play either the starters or VanVleet with four starters, or VanVleet plus one other bench guy (Ibaka or Norman Powell) and three starters. Those lineups feast on bench units.
If Thompson can carry those second units, just to a near-draw, it's a big deal. If he can't, the Raptors will either be cutting into Golden State's lead or extending their own.
Thompson also has to stay out of foul trouble and manage his frustration, something that bothered him in the Rockets series. You know, the last time he had an actual challenge on the floor.
5. Pascal Siakam
You can toss out most of the regular-season matchup due to injuries and, well, it being the regular season. But it's at least interesting that the Raptors had the same defensive rating (105) with Siakam on the floor as off vs. Golden State this season.
But the offense cooked.
If you go back to 2016 and the Thunder, one of the best ways to get the Warriors on their heels was to turn their pace against them. Attacking them in transition worked wonders for OKC before Durant, well, you know.
Siakam has the ability to provide the same burst:
Siakam is still battling an injury, but he does have the ability to create offense on his own, especially against the Warriors' cavalcade of uninspiring centers:
He'll have to help at the rim and if/when Durant returns, Siakam will need to do his time in that hellscape. But Siakam can be a big-play maker on both ends, and the Raptors need as many bursts of momentum as they can create in this series.
6. Draymond Green
Without Durant, Green is the engine of the Warriors. Curry is everything else: Tip of the spear, gravity center, fuel, radiator, everything. But Green has to make all the parts go. They need more ball movement, and Green is their best passer.
Green is also once again in a tough position on defense. The Raptors have length and athleticism with Ibaka and Siakam to combat Green, and Gasol can hit from range and body through Green inside.
The Raptors will do what everyone does: Dare Green to make shots. And he'll do what he always does: Take a few, but for the most part, try and drive to create the lob or kick to the corner. From there, it's about whether Gasol and/or Siakam can contain Kevon Looney/Jordan Bell/Damian Jones on the lob.
Green will help when they switch, however. He can give Lowry nightmares, and he'll do a decent job on Leonard, to the degree anyone can. Green's battle vs. Ibaka and Siakam could be legendary.
7. Kyle Lowry
Raptors fans (and some of their media, oddly enough) will swear to you all the conversation about Lowry struggling in the postseason before this season was a lie. It's a very important conversation for them.
No one actually believes this outside of Toronto. We've seen too many games in which he vanished or was inconsequential with good numbers.
But he's moved past that, and that's a really important part of his story. He's been great. If he has a huge series, if he can give the Raptors two games of 25-plus, that would be monstrous for their chances. They need the scoring.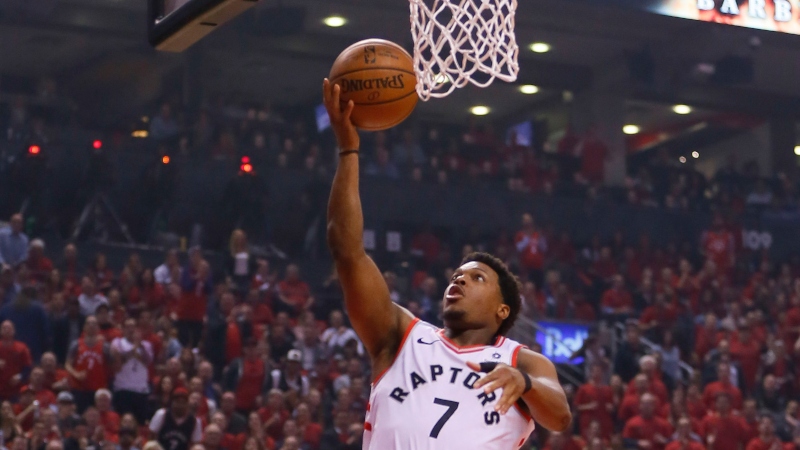 Defensively, Lowry's great. He's physical and doesn't get beat off the dribble. The question will be who he guards. Thompson, who Lowry gives up a huge height advantage to? It's more likely that it'll be Andre Iguodala, who Lowry guarded the most in the regular season. Iguodala has some moves to go to, but he'll never have a high usage with the other weapons on the floor.
It'll be interesting to see if the Warriors try to hunt Lowry down on mismatches, and honestly, if Lowry does the same to Curry. Both teams switch but have the personnel and acumen to vary their coverage.
8. Marc Gasol
From my rundown of initial thoughts on this series:
Like it was with the Bucks, the Warriors will make Gasol prove he can hit those shots. Inside, Kevon Looney will have a hard time, and Gasol's viability will be tested when the Warriors go small with Green at center. Gasol can hedge on Curry on ball screens, but the issue will be either on switches or if he's in help coverage when Curry relocates.

Gasol's mobility was never really tested vs. the Sixers or Bucks because of how they approached covering Antetokounmpo and the difficulty Brook Lopez had with consistent minutes.

It will be more difficult in this series. When Curry passes out of the blitz to Green on the short roll, Gasol has to be able to disrupt the lob to Looney, which could prove difficult.

Gasol and Lowry are the two weaker points in the starting units and may be why the Warriors' first- and third-quarter lines continue to be profitable.
9. Andre Iguodala
You know who's not afraid? Andre Iguodala.
Iguodala will fill in the gaps, but this series? It's honestly not great for him.
The Raptors can counter with three bigs (Siakam-Ibaka-Gasol), and putting him on Lowry means there's more room for Leonard to operate. Still, Iguodala has been shooting great in these playoffs (37% from deep) and always makes his impact felt.
Let me put it this way: Iguodala will wind up being important, and I don't know how, and the fact I have no idea how is part of what makes him so important.
10. Kevon Looney
This might seem crazy given his relative status, but Looney is a big deal here.
He has to battle Gasol inside. He has to help combat the Raptors' length inside. He has to finish the lob over Siakam or Gasol. He has to rebound against a big front line. He'll have to switch onto Kawhi at times. He'll have to switch against Lowry sometimes.
Looney always seems to come out ahead in these situations, more often than you'd expect. Everyone thinks he's the weak point because of the stature of the other Warriors, but there's a reason he continues to get the most center minutes.
A good series for Looney disrupts a lot of what the Raptors need and increases the Warriors' margin for error.
11. Danny Green
Green shot horribly in the Eastern Conference Finals. Not as poorly as VanVleet shot well, but still terribly. This has always been Green; Spurs fans called him IcyHot. But he has to knock down shots in this series.
The Warriors, even on offensive rebounds and broken plays, will find a high number of 3s. They are momentum turners, and momentum killers. The Raptors have to keep engaged and tethered.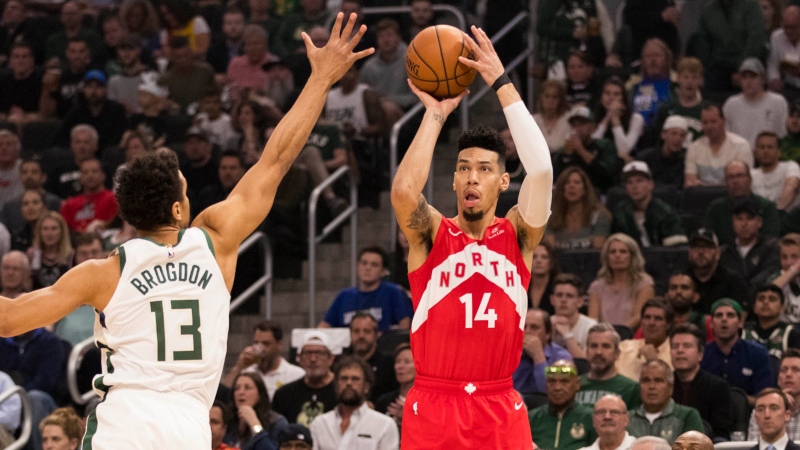 Green is also, in my humble opinion, the best transition defender of all time. That matters a lot early on with the Warriors without Durant, who push in transition far more often. If Green can turn those plays into turnovers going the other way for easy dunks, it throws the Warriors' whole identity of chaos and pace into a mess.
Green is a precise player, a low-mistakes player. The Raptors have to execute at a supremely high level to win this thing.
12. Serge Ibaka
Ibaka had the best net rating of any rotation Raptor in the regular season against the Warriors. He's battled them and nearly beat them in 2016 with the Thunder. He can space the floor with Lowry on the pick and pop, which the Warriors will let him have to try and contain Lowry. Ibaka can also counter a lot of what Draymond Green does.
Every point Ibaka gives them is a big boost, and his rebounding will be key vs. a Warriors team that is vulnerable on that end.
13. DeMarcus Cousins
He's important … because there's more downside than upside.
Cousins doesn't empower or make the Warriors better at what they do. He wasn't on the floor with them long enough to develop continuity or chemistry. He's a beast one-on-one, and his passing certainly helps. But if the Warriors were to try and beat Toronto with Cousins going at Gasol one-on-one, the Raptors will take that all day, every day.
The downside, though … the Warriors want to play him and want to validate his decision to join them. He's a defensive liability that Lowry, Kawhi and even VanVleet and Powell can exploit. Siakam can get behind Cousins on cuts, and he won't close out hard on Siakam's 3-pointer, nor Gasol's.
Cousins' defensive rating in this series could be monstrous. He's important because if Kerr tries to force the issue with him, that could decide a crucial game if the Warriors get annihilated with him on the floor.
This isn't fair, he's injured. This isn't about Cousins. It's just the reality.
14. Fred VanVleet
He had the single greatest shooting run in conference finals history.
No, really:
The @Raptors Fred Vanvleet shot 14-17 (82.4%) from 3-point range in Games 4-6 of the Eastern Conference Finals, the highest such percentage over a three-game span in NBA postseason history by a player with at least 15 attempts.

— Justin Kubatko (@jkubatko) May 26, 2019
He won that series. You can buy into narratives about Giannis, Budenholzer, Kawhi, whatever you want. The Raptors won that series thanks to FVV's impact.
If he continues to do that? The Warriors will be on the losing end of the Splash Effect. The Raptors can out-duel them for 3, and if that happens, the whole series flips on its head.
VanVleet can run some other stuff (but he's not great in pick and roll), and is a dogged, annoying defender. But really it's the shooting. The Raptors need it, and FVV can provide it. Just ask the Bucks.
15. Norman Powell
Powell is another guy who can light it up from deep. He's got some athleticism to help attack in transition, and you can use him to combat Thompson some as well. He's a great counter to Iguodala as a smart player who can hit 3s and close out hard.
Powell was sneaky great in the last two rounds and needs to be the guy Warriors fans never see coming.
How would you rate this article?