Monday Morning Moneyback: NFL Week 3
Excluding the two matchups lined as a PK, underdogs finished 9-3 ATS on Sunday; six of those nine dogs won outright, and the Lions came within a half yard of making it seven of 10. Over bettors also experienced success on Sunday, as 10 of the 14 games went over the listed total.

Overall, it was an electric Sunday, especially compared to Weeks 1 and 2. The 11.3 point average margin of victory was skewed by a few blowouts. We saw two overtimes and seven of the 14 games decided by six points or less.

Since 1990, teams that start 0-3 only make the playoffs 2.3 percent of the time, which is bad news for the Bengals, Browns, Chargers, Giants and 49ers. The Chiefs and Falcons are the only two remaining undefeated teams. Since 1990, teams that start the year 3-0 make the postseason 75.6 percent of the time.

The Bucs had the worst day from an injury perspective, especially considering the injuries they were already dealing with during a season that will not include a bye week.
Key Injuries on Sunday:
Bears RB Jordan Howard – Shoulder (?)
Bears S Quintin Demps – Arm (?)
Bengals S George Iloka – Hamstring (?)
Bucs LB Lavonte David – Ankle (?)
Bucs DE Noah Spence – Quad (?)
Bucs S T.J. Ward – Quad (?)
Bucs DT Gerald McCoy – Ankle (?)
Chargers RB Melvin Gordon – Knee (?)
Chiefs LB Dee Ford – Hip (?)
Colts WR Kamar Aiken – Head (?)
Dolphins S Nate Allen – Hamstring (?)
Eagles RB Darren Sproles – Wrist (IR)
Eagles LB Jordan Hicks – Ankle (?)
Eagles DT Fletcher Cox – Calf (?)
Giants DE Olivier Vernon – Ankle (?)
Jets RB Matt Forte – Toe (?)
Jets LB Josh Martin – Ankle (?)
Lions DE Anthony Zettel – Knee (?)
Raiders WR Michael Crabtree – Chest (?)
Ravens WR Jeremy Maclin – Head (?)
Packers OT Bryan Bulaga – Tackle (?)
Panthers WR Kelvin Benjamin – Knee (?)
Seahawks WR Doug Baldwin – Groin (?)
Steelers G Ramon Foster – Hand (?)
Steelers S Sean Davis – Ankle (?)
---
Ravens at Jaguars (+3)
Jacksonville blew the doors off of Baltimore in a 44-7 rout, the worst loss in Ravens history. The Jaguars improved to 3-0 ATS over the last three seasons in London, winning all three straight up as a slight underdog. Jaguars and over 38 backers never really had to sweat.

Joe Flacco had an abysmal day, finishing 8-of-18 for 28 yards, 0 TD/2 INT and a 0.5 QBR, the lowest ever in a single NFL game, breaking the record that Andy Dalton (0.7 QBR) set against the Ravens earlier this season.

Blake Bortles looked superb, ending the day at 20-of-31 for 244 yards and four touchdowns against zero interceptions. Tight end Mercedes Lewis, who had zero catches during the first two weeks, caught three of those four Bortles touchdown passes.
---
Giants (+5) at Eagles
The Philadelphia Eagles defeated the New York Giants 27-24 in a thriller after Jake Elliott drilled a 61-yard game-winning field goal as time expired. It was the longest made field goal in Eagles franchise history and also the longest ever by a rookie kicker. Elliott will never have to buy his own cheesesteak in Philly again.

Under 42 backers could not have been thrilled with the outcome considering this game only featured 14 total points through three quarters.

The Eagles finally showed some balance on offense, rushing the ball 39 times for 193 yards.

The Giants' offense finally showed signs of life in the fourth quarter, as Eli Manning started to get into a groove against a depleted Eagles secondary. Odell Beckham Jr., who had two circus touchdown catches, reached 300 receptions quicker than any other receiver (45 games) in NFL history.
---
Falcons (-3) at Lions
The Falcons, who barely held on for a cover after a controversial 30-26 win over the Lions, became the first Super Bowl loser to start 3-0 in the last 10 years.

Matt Ryan finished the day with 300 yards and two touchdowns, but uncharacteristically threw three interceptions. Devonta Freeman, who might be the best all-around back in football right now, ran for 100-plus yards and a touchdown.

Much more on this game in my weekly moose column tomorrow.
---
Steelers at Bears (+7)
Bears backers never had to sweat, as Chicago never trailed in a 23-17 walk off victory over the Steelers. Under 43.5 backers, who got to the window despite overtime, had a huge four points taken off the board at the end of the first half after a crazy sequence of events following a blocked field goal.

Mike Glennon, whose only two wins since 2014 have come against the Steelers, didn't need to do much since Jordan Howard and Tarik Cohen combined for 266 total yards of offense on 34 touches. Glennon only threw for 101 yards on 15-of-22 passing.

The Steelers dropped to 7-13 straight up on the road against sub .500 opponents since 2012, a trend that reflects poorly on Mike Tomlin.

Le'Veon Bell still appears to be lacking explosiveness after another subpar performance (15 carries for 61 yards). Antonio Brown, who finished the day with his typical 10 catches for 110 yards and one TD, became the quickest player in NFL history to reach 650 receptions (104 games).
---
Browns at Colts (PK)
The Colts held on for a 31-28 win in a matchup of NFL bottom feeders. Over 42 backers never had to stress, as the Colts led 28-14 at the half.

DeShone Kizer continues to show flashes of potential, but did throw three more interceptions on Sunday on 47 throws, as the Browns played from behind all game.

T.Y. Hilton had himself a day, finishing with seven receptions for 153 yards and a touchdown. The Colts didn't get much on the ground, but they stayed committed with 36 attempts for 92 yards.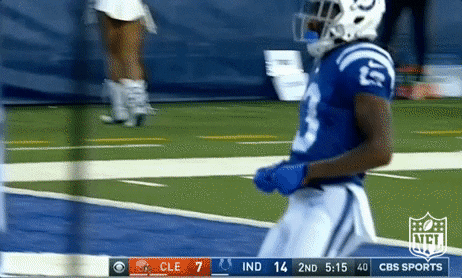 ---
Texans (+13.5) at Patriots
After the Texans decided to kick a field goal on fourth and 1 late in the fourth quarter to take a 33-28 lead, Tom Brady pulled a Tom Brady and carried the Patriots to a 36-33 comeback victory, finishing the day 25-of-35 for 378 yards, 5 TD/0 INT. His favorite target on Sunday, Brandin Cooks, caught five balls for 131 yards and two touchdowns, including the game winner in the final minute.

Texans +13.5 backers had a very easy path to the window, as did over 44.5 backers in a game that had 41 total points by the half.

Deshaun Watson, who finished the day 22-of-33 for 301 yards, 2 TD/2 INT, was a few plays away from becoming the first rookie QB to beat Bill Belichick in Foxboro.
---
Broncos at Bills (+3)
The Bills defeated the Broncos 26-16 despite struggling to move the ball on the ground again (33 rushes for 75 yards). Tyrod Taylor, who finished the day 20-fo-26 for 213 yards, 2 TD/0 INT, severely outperformed Trevor Siemian, who threw two critical interceptions. Taylor made just enough plays with his legs to secure the victory for the home underdog.

Over 40 bettors had to sweat a little toward the end, but ultimately got to the window after a questionable Von Miller personal foul extended a Bills drive that ended in a field goal by Steven Hauschka, who finished 4-4 on the day.
---
Saints (+5) at Panthers
Cam Newton had a dreadful day against a reeling Saints secondary, finishing with a final line of 17-of-26 for 167 yards, 0 TD/3 INT. The Panthers should be a little alarmed about their passing game, especially given the injuries to Greg Olsen and Kelvin Benjamin.

Drew Brees, who has yet to turn the ball over in 2017, finished the day 22-of-29 for 220 yards, 3 TD/0 INT. New Orleans featured a balanced attack on offense, rushing the ball 27 times for 149 yards.
CAN'T. GUARD. MIKE ? pic.twitter.com/V7Zoi9L0Av

— New Orleans Saints (@Saints) September 24, 2017
---
Bucs at Vikings (PK)
Case Keenum became the first quarterback to beat Jameis Winston three times, as the Vikings cruised to a 34-17 victory over the Bucs. Keenum shined all day, finishing with final line of 25-of-33 for 369 yards, 3 TD/0 INT. Stefon Diggs had eight catches for 173 yards, and Dalvin Cook accumulated 169 yards of total offense.

Winston, who finished 28-40 for 328 yards, 2 TD/3 INT, did not get any help from his running game; Jacquizz Rodgers finished as the leading Bucs rusher with 15 yards on five carries. DeSean Jackson, who caught a touchdown pass in the third quarter to put the game over 41, had four catches for 84 yards.
He gone. #TBvsMIN #SKOL pic.twitter.com/OOiABdQKlz

— Minnesota Vikings (@Vikings) September 24, 2017
---
Dolphins at Jets (+6)
The home underdog Jets comfortably beat the Dolphins 20-6 in their home opener. Under 42.5 bettors never broke a sweat, as this game only had 10 total points in the first half. Not much more to say here, as the Jets' pedestrian offense did enough to beat a beat up Dolphins offense that couldn't move the ball. New York ran the ball 34 times for 103 yards, and McCown was efficient, throwing for 249 yards on 18-of-23 passing with zero interceptions.

The Dolphins, who scored their only points on a meaningless touchdown on the final play of the game, couldn't do much of anything on offense all day. Miami ran for 30 total yards on 15 carries, while Jay Cutler checked down all game for 220 yards passing on 44 attempts.
---
Seahawks at Titans (-2)
Russell Wilson, who threw for 473 yards and four touchdowns, finally got going behind a shaky offensive line. Doug Baldwin, despite leaving the game early with a groin injury, finished the day with 10 catches for 105 yards and a touchdown.

The difference in this game came on the ground, as the Titans ran the ball 34 times for 196 yards. Conversely, the Seahawks only ran for a total of 69 yards on 22 attempts.
---
Bengals (+7) at Packers
Aaron Rodgers found a way to get the Packers a 27-24 come-from-behind win over the Bengals, his first overtime victory in eight tries. Leading an offense littered with injuries, Rodgers threw for 282 yards and three touchdowns on 28-of-42 passing. Under 48 backers could not have felt very good when Rodgers got the ball down 24-17 with four minutes remaining. Under bettors tore up their tickets when the Packers inevitably tied it at 24 with 17 seconds remaining.

The Bengals dropped to 0-3 for the first time since 2008, but at least they finally found the end zone. Andy Dalton, who looked better on Sunday, finished with a final line of 21-of-27 for 212 yards, 2 TD/0 INT, connecting with A.J. Green 10 times for 111 yards.
---
Chiefs (-3) at Chargers
Chiefs -3 and under 48 backers were both pleased to watch the Chiefs beat the Chargers by a score of 24-10 on Sunday. Kansas City, who never trailed, took an early 14-0 lead after two Rivers picks and never looked back. San Diego was only one of two home underdogs on Sunday that failed to cover the spread.

Kareem Hunt, who now has six touchdowns through three games, ran for 172 yards on 17 carries, becoming only one of nine players in NFL history to exceed 100-plus yards from scrimmage in his first three career games. Hunt put away the game late with a 69-yard touchdown run, the first points of the second half.

Phillip Rivers, who was dreadfully inaccurate all day, finished 20-of-40 for 237 yards, 0 TD/3 INT. Melvin Gordon ran for 80 yards in the first half, but did not play in the second half after his knee acted up again.
---
Raiders at Redskins (+3)
In one of the most shocking results of the day, the Redskins strangled the Raiders by a score of 27-10, which is not indicative of the comprehensive nature of this victory. Kirk Cousins finished with a pristine line of 25-of-30 for 365 yards, 3 TD/0 INT even without his primary target Jordan Reed. Vernon Davis really stepped up in Reed's place, finishing with five catches for 58 yards and a touchdown.

The Redskins only allowed 129 total yards, their best defensive performance of the last 25 years. Josh Norman opened his mouth – and then backed it up. Carr finished a shocking 19-of-31 for 118 yards, only connecting with Amari Cooper and Michael Crabtree two total times for 13 yards. The Raiders also couldn't get anything going on the ground, running the ball 13 times for 32 yards.

Redskins RB Chris Thompson continues to rack up explosive plays, and now averages 12.9 yards per touch in 2017.
---
Be part of the Action
You can be a part of our growing community and also follow all of my plays for free by simply downloading the SportsAction App through the App Store or Google Play.