NFL Sharp Betting Picks
How to Read NFL Odds
If you're new to NFL betting or sports betting in general and reading betting odds, our NFL odds table might be a bit overwhelming. Here are some tips on interpreting this odds tool, some common NFL betting terms, and additional betting resources on the Action site.
Starting with the basics:
Favorites. A favorite -- the team likely to win -- is designated with a minus sign (-)
Underdogs. An underdog -- the team likely to lose -- has a plus sign next to its odds (+).

In this example, the Eagles are the current Favorite. Want more in-depth coverage of favorites and underdogs? Please refer to our additional resources on favorites and underdogs.
Reading NFL Point Spreads: "Margin of Victory" Bets
Point spreads are among the most common bet types in the U.S., and they're margin-of-victory bets. You'll see two numbers next to a team: the line and the juice. For example, the Tampa Bay might be -6.5 (-110) against the Dallas Cowboys. The first number (6.5) is the spread number, and the second is the juice (-110), which is the "tax" bettors pay on a bet.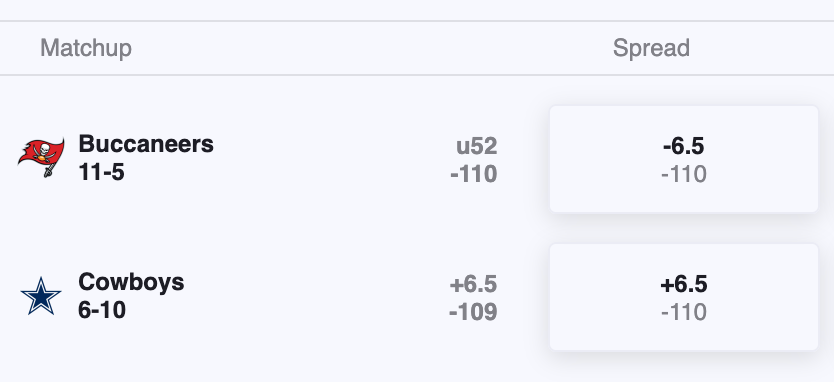 Tampa Bay would need to beat Dallas by seven points or more for the Titans spread bet to win. If Dallas won outright or lost by six or fewer points, the Bucs -6.5 (-110) spread bet would not win.
The juice, seen here in the American odds format, is the payout structure of the bet. Bettors at -110 would have to pay $11 for every $10 they want to profit. Again, this is the tax or "vig" of placing the bet.
If you want full confidence in your calculations, check out our Odds Calculator to calculate any bet amount or conversion.
Reading NFL Moneyline Odds: Bets on the "Outright Winner"
NFL moneyline bets are simply bets on which team will win the game. Unlike spread bets, the margin of victory does not matter for moneyline wagers.
The odds and payout structure is like the juice of spread bets. For example, you might see the Philadelphia Eagles at +160 against the Atlanta Falcons, who might be -185.
A $100 bet on the Eagles moneyline at +160 odds would profit $160. In contrast, a Falcons moneyline bet at -185 odds would win $100 for every $185 invested.
Reading NFL Totals: Bets on "Point Totals" from Both Teams
NFL totals, commonly called over/under bets, are wagers on how many points will be scored in a game by both teams. It doesn't matter which team wins or by how much; it's just about the point total.
If the Pittsburgh Steelers and Buffalo Bills play, the total might get set at 50 points by the oddsmakers. Bettors can wager on either side of that number; over bettors would win if the Steelers and Bills combined for 51 or more points, whereas under bettors would cash at 49 or fewer points. The game could land at exactly 50 points -- say, a 30-20 game -- in which case the bets would push, and money would be refunded like spread bets and totals(-110) attached to the over/under numbers. This is again the juice or the price to make a bet. It's important to find the sportsbook with the best line and best juice, as that makes a big difference over the long run on your NFL betting bankroll.
How to Use the NFL Odds Page
Shopping for lines is a common practice of savvy bettors, and it means they're finding which sportsbook has the best odds and price. We'll do the hard work for you on this page and show you where it's best to bet on any given game.
Here are a few more things to note.
1) You don't have to guess or sort through dozens of sportsbooks to eye which one has the best odds. We pull in up-to-the-minute odds on every U.S. sportsbook, and we'll automatically highlight in green which book is giving the best odds on any spread, moneyline, or over/under bet.

2) This page is customizable so that you can add or subtract sportsbooks under "My Action" on the top right, and we'll reflect that here. If you want to look at odds and prices just on the books, you have accounts with. This makes it easy.

3) You can look at spreads, moneylines, and over/unders all at once for any given game, or you can look at just one market at a time by clicking the check box next to the bet type.

4) Sportsbooks will offer markets on the full game on other timeframes like the first quarter, first half, second half, etc. Use the dropdown menu to find the correct market.

5) If you're in a legal betting state, you'll be able to see odds and prices on the sportsbooks available to you. If you're looking for a book with immediate upside, learn more about the BetMGM Sportsbook Bonus.
More NFL Betting Options
Point spreads, moneylines, and totals are just a few ways to bet NFL games. Here are some other options to get down some action on a Sunday.
Futures Odds
Futures bets are exactly how they sound: They're wagers on outcomes settled at a later date. Some examples include odds for the NFL MVP, Super Bowl odds, which team will win a given division, and more.
Use our NFL futures page to look at any market and find the best price.
NFL Props
While sports betting might be new in the U.S., fantasy football certainly isn't. If speculating on player performance is more your thing, prop bets are a great way to get into the betting market.
Some examples you'll find on an NFL Sunday include player props such as Patrick Mahomes to score over/under 2.5 touchdowns, Christian McCaffrey to rush for over/under 80.5 yards, and many more.
We have a Props Tool at Action Labs that will help you organize and sort through all of the hundreds of props on a slate. You can also sign up for an Action Labs subscription, which will give you access to our industry-leading projections from experts like Sean Koerner. We make it easy for you, too, grading each prop on a scale from 1-10.
DFS
If legal sports betting hasn't reached your state yet, check out NFL DFS (daily fantasy sports). It's like your season-long fantasy football league with friends or at work, except it's just for one day.
At FantasyLabs, we have expert content and slate breakdown and customizable tools and pro projections.
Other NFL Betting Tips
You know how to read NFL odds and are comfortable with the bet types, but maybe you still need some help picking out your wagers. Here are a few tips on what to look for and what The Action Network offers.
Public Betting Percentages
We have a vast amount of betting data available on every NFL game and slate, including the number of bets and how much money is placed on them. This lets you assess what's popular, and where the money is at. Whether you want to fade the public or follow it, you'll be better informed. See our NFL Public Betting page.
PRO Projections
Our NFL in-house experts handicap every single game of the season and look at all factors, including recent performance, player value, injuries, and more. It can be overwhelming to measure the importance of all of those factors as a casual bettor, so feel free to lean on our pros.
PRO Report
If you prefer a data-driven approach over trusting handicappers, check out our NFL PRO Report. It highlights five key signals: big money, sharp action, expert projections, expert picks, and historical betting systems.
NFL Picks

Of course, if you just want to see your favorite NFL picks, make sure to check out The Action Network app or the NFL picks page, where you can follow any bettor completely for free.
NFL Odds FAQ
Frequently Asked Questions
Where Can I Bet on the NFL?
How can I win betting on the NFL?
What is a point spread in NFL betting?
What is a total bet in an NFL game?
How do moneylines work in NFL betting?