Fan-Taxing Vikings vs. Redskins to Prepare for Inevitable Disappointment
Credit:
Brad Mills-USA TODAY Sports. Pictured: Washington Redskins owner Daniel Snyder
The Washington Redskins take on the Minnesota Vikings tonight on Thursday Night Football (8:20 p.m. ET, FOX).
Redskins fan Christi Walsh explains how she's fan-taxing this matchup in order to soften the inevitable disappointment.
Last week, I wrote an article highlighting a best bet for the NC State vs. Boston College football game, as well as two additional "best bets" geared toward the behavior of my children at said football game.
In full disclosure, the family football game went over spectacularly. Both kids loved going to the game, ate their weight in unhealthy ballgame foods and didn't cry ONCE. They were absolute perfect little angels, so much so that a couple people sitting around us made comments regarding their delightful antics and behavior.
Sometimes I feel like they are in a perpetual state of trolling mommy …
With that being said, the weekend was not over just yet. What's that they say about putting the cart before the horse? Yeah, that's me. It was going so well that I just assumed our fall family photo shoot would go similarly.
Turns out that I'm an idiot.
The 4-year-old wet his only pair of khakis just minutes before we walked out the door. I sent the husband back upstairs after he tried to sneak his Jeff Gordon socks by me as part of his outfit.  And the tiny evil one refused her nap and cried, then cried some more, then ripped four bows out of her hair and then cried more. All before we walked out the door.
And after all the preparation, which really feels more like herding cats, we get gems like the one below in which our son looks like he's hiding dead squirrels under our deck, and our daughter is "only dancing to get herself through medical school."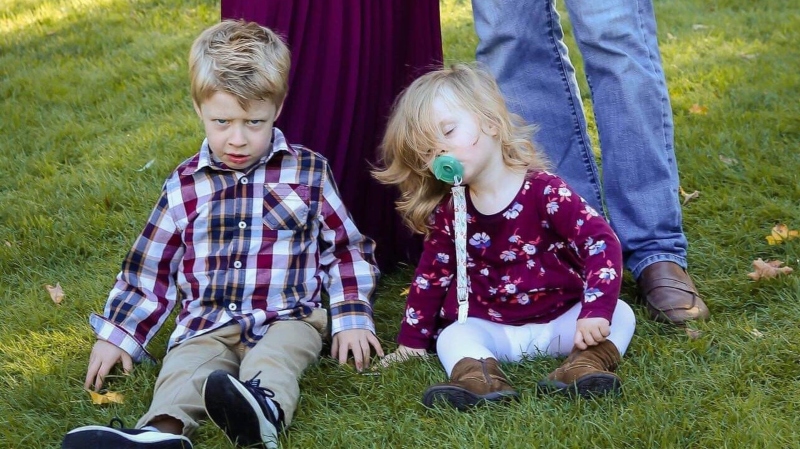 Thank god for patient photographers.
Now that the busy weekend is over, it's time to get back at it. Football and gambling don't wait for dirty diapers and moms who can't get their shit together.
Since I'm a Redskins fan, football comes early this week in the form of Thursday Night Football. And by Thursday at 5 p.m., I've exhausted all of my patience for the week and am considering beer bonging a bottle of Malbec.
Hooray for Thursday night betting instead of "practical parenting," or whatever dumb parenting crap those pretentious movie stars tweet about.
And with that bottle of Malbec, I'll be taking the Redskins to win straight up against the Vikings.
Just kidding!
I'm not that kind of Redskins fan. Self-deprecation is a fine tool to have when your team not only looks like a dumpster fire, but acts like one as well.
Just don't tell my brother I said that. He's one "Kirk Cousins sucks" meme away from being uninvited to Thanksgiving dinner.
According to The Action Network's Redskins vs. Vikings sharp report, professional bettors are taking the over, and I plan to follow right along with them.
This is a no-brainer for the Redskins fan and fantasy football player in me who has Captain Kirk filling in while Dak Prescott is on a bye.
Cousins has been impressive, especially over the last couple of weeks. Evan Silva tweeted that Cousins leads the NFL in yards per pass attempt AND passer rating, and is among the leaders in a handful of other statistical measures.
#Vikings QB Kirk Cousins

* Leads NFL in yards per pass attempt (9.1)
* Leads NFL in passer rating (114.3)
* Ranks 5th in TD passes (13)
* Ranks 4th in completion rate (69.8%)
* Has completed passes at 7% above expectation, 3rd best in NFL (Next Gen Stats)

— Evan Silva (@evansilva) October 21, 2019

Give. Me. All. The. Cousins.
This over bet is multifaceted. First, I get to watch what I am sure will be a mediocre Redskins offensive game, but a great Vikings game.
Let's hope for all the touchdowns, two-point conversions, pick sixes (obviously I'm looking at you, Case Keenum) a girl could ask for, while rooting for my fantasy football QB and not feeling bad when the Redskins ultimately lose because I did a little fan-taxing.
I've learned my lesson on betting the Washington Redskins and this seems like the perfect compromise.
Cousins lights it up? Great for my over and fantasy team. Adrian Peterson averages 1.5 yards per carry while running into eight-man boxes on first and second down, only to be followed by the inevitable interception on third and long? Hell yeah!
And in sports betting and family photos, just like pregnancy, childbirth, the newborn phase and terrible twos, you forget just how bad it was and eventually convince yourself to do it all over again. My gambling, just like my questionable parenting, lives to fight another day.
The photo shoot wasn't all for nothing, we managed to squeak out a win with this picture, which just goes to show that you can, in fact, polish a turd … unless you're Daniel Snyder.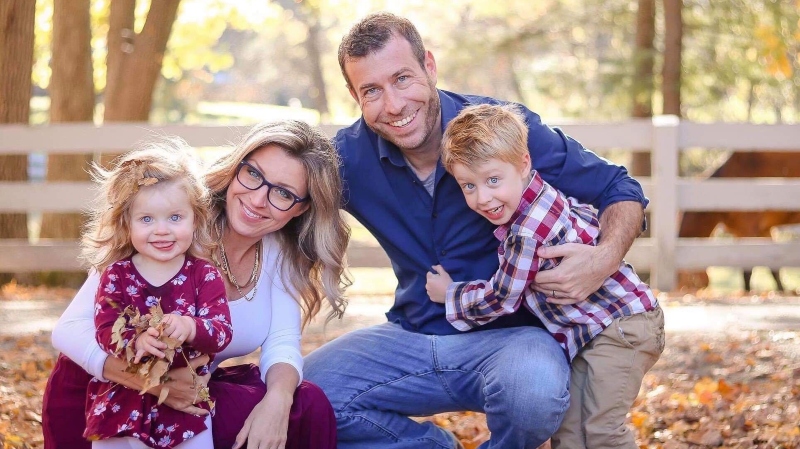 How would you rate this article?