Stuckey: My Over/Under and Live Betting Strategy for Packers vs. 49ers
Credit:
Quinn Harris/Getty Images. Pictured: Davante Adams, Aaron Jones
The Packers vs. 49ers over/under has settled in at 46.5 points across the market heading into the NFC Championship Game
Stuckey details how he plans to play the pre-game total and how he'll be betting the live over/under.
Stuckey analyzes both conference championship matchups and makes his picks for Titans-Chiefs and Packers-49ers.
---
Titans at Chiefs
One key to NFL playoff betting is to fade teams after scoring 40 or more points. Postseason NFL lines tend to be pretty sharp, but public perception can still create a bit of value in certain circumstances — particularly after a team comes off an impressive blowout in the postseason.
Teams are 6-25-1 against the spread the week after scoring 40 or more points in the playoffs since 1980 — that's worse than a 20% cover clip.
But while the Chiefs did score 51 points last week, it's not like they came out and blitzed the Texans from the jump in a 45-0 blowout win, so I don't think the rule of fading teams in this spot is necessarily in-play here. Still, while I don't think that's the primary angle, I do like the Titans for a small investment.  And when in doubt, I'll always side with an underdog catching 7.5 points in the playoffs when they have a glaring advantage on one or both sides of the ball.
I just don't see how Kansas City can slow down Derrick Henry. The Chiefs run defense is poor at every level. Whether you look at their overall stats (29th in Football Outsiders' run defense DVOA) or the individual grades for run defense, it's all bad.
Even if Kansas City stacks the box, I still see Henry having success. After all, he did the lead the league in rushing and faced as many stacked boxes as anybody.
With so much focus on Henry, I think Ryan Tannehill can get going again with his play-action passing — an area he excelled in all season long. I know he didn't do much through the air over the first two playoff games, but that was against two of the NFL's best secondaries. And while the Chiefs pass defense has significantly improved as the season has progressed, it's not on the same level as Baltimore or New England. Plus, the loss of safety Juan Thornhill — who did so much for Kansas City in regards to defending the deep ball — could loom large here.
Look for A.J. Brown to reappear with some deep shots and for Tannehill to have a big day throwing over the middle of the field off play-action.
The other thing to keep in mind is red-zone production. The Titans have been scoring touchdowns at a historic clip since Tannehill took over, and the Chiefs have had some struggles inside the 20 with less room for Patrick Mahomes to work with and a less-than-stellar run game. Now, the Titans have had a poor red-zone defense, but this is an opportunity for them to keep this close.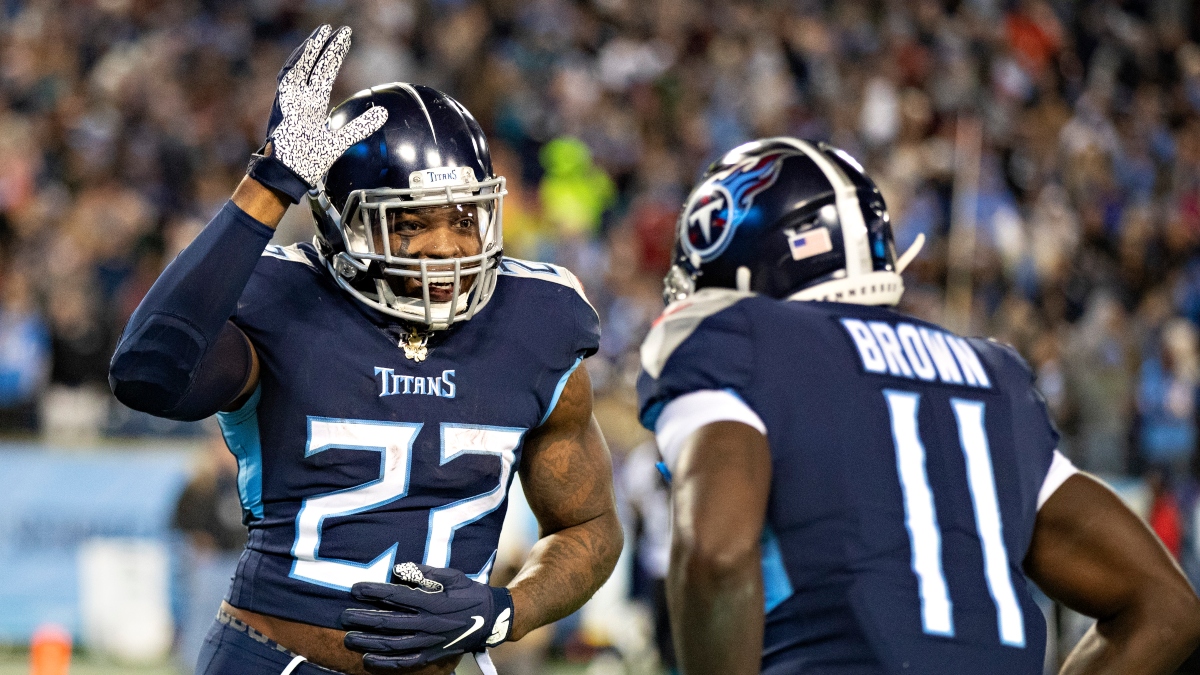 I know this will be Tennessee's fourth straight road game, but the extra day of rest after a Saturday game will help.
The Titans secondary scares me against Mahomes and Co., but I think Henry and the play-action game can keep this within one score. And the Chiefs tend to get conservative with a late lead, so the backdoor could also come into play if the Titans are down 10 to 14 points in the fourth quarter.
And finally, if the Titans jump out to a lead like the Texans did last week, it could lend itself to a live over and live Chiefs bet.
PICK: Titans +7.5
Packers at 49ers
There aren't many advantages for the Packers in this game. There's a reason they lost 37-8 to the 49ers in their Week 12 meeting — the Packers averaged a mere 2.7 yards per play in that comprehensive beat down.
Green Bay's run defense has been better over the second half of the season, partly due to a much healthier Kenny Clark in the middle and partly due to a fairly favorable schedule.
The Packers like to run a lot of heavy nickel with a safety in place of a linebacker, so it's not the bulkiest second level most of the time. However, most of their issues when it comes to stopping the run have stemmed from players being out of position, which has allowed opposing offenses to take advantage of gaping holes.
Given that glaring weakness, it will be interesting to see how the defense holds up against a San Francisco offense that uses a ton of play-action, pre-snap motion and misdirection. The 49ers backs averaged more than 5.5 yards per carry in that first meeting.
Green Bay plays a very aggressive style of defense that tries to generate pressure with the Smiths (Preston and Za'Darius) off of the edge and force takeaways on the backend. But despite significant upgrades to the secondary in the offseason, the Packers ranked in the bottom third of the league in defending explosive passes (49ers ranked second).
And despite Jimmy Garoppolo possessing one of the lowest average depth of targets among NFL quarterbacks, the 49ers ranked first in explosive passes. That has a lot to do with yards after the catch and guys getting wide open as a result of that high frequency of play-action and misdirection.
And on the other side of the ball, the 49ers' defense is arguably the best in the league now that it's at full strength.
So, how can Green Bay keep this game close or even pull off the outright upset?
Well, on the offensive side of the ball, they'll need to get Aaron Jones going. But more importantly, Davante Adams needs to have a huge game — specifically on third downs. You assume Richard Sherman will stick to Adams' side of the field, so the matchup on the other side has to be where the Packers attack on third down when the 49ers have a higher propensity to play man.
That said, I'm sure the 49ers know this and may shade extra attention toward a now-healthy Adams. Aaron Rodgers could also have a magical day as he showed glimpses of his old self last week — and at least the Packers have two rock-solid tackles to deal with the 49ers elite edge rushers.
Green Bay will also have to take advantage of every opportunity in the red zone, where it has excelled all season. The Packers have the second-highest red-zone touchdown scoring rate in the playoffs at 66.04%, trailing only the Titans who sit at a gaudy 78%. Rodgers will have to convert almost every trip inside the 20 into touchdowns by being accurate on underneath routes against a 49ers defense that ranked 20th in red-zone touchdown scoring percentage.
There are two other things that almost have to go right for the Packers on Sunday.
1. Get off to a fast start.
This isn't a spectacular offense after the first quarter, but it is an offense that's excelled early on during the scripted portion of games. We've seen the Packers get off to a hot start and have to hold on for dear life all season (see: last week against Seattle).
Green Bay ranks second with an average of 6.8 points per first quarter. It's paramount that the Pack get off to a fast start, especially considering the 49ers rank fourth with an average of 6.6 points over the first 15 minutes.
2. Win the turnover battle.
They'll have to steal a score or two in order to win this game on the road against a more talented team.
In the Week 12 meeting between these two teams, Rodgers uncharacteristically fumbled on the opening possession, leading to an easy 49ers touchdown on a short field. The 49ers never looked back after the Packers obviously failed to get off to their important quick start.
But this is still an aggressive Packers defense that was one of only three NFL teams with an opponent interception percentage higher than 3% over the regular season. And now they get a 49ers offense that ranked 25th with a 2.82% interception rate, which is right in line with Garoppolo's 2.8% interception rate since arriving in San Fran.
Taking care of the ball has been one of Jimmy G's weaknesses in his early career, and the Packers must take advantage.
On the flip side, Green Bay's offense led the NFL with a minuscule 0.67% interception rate and will get to face a San Francisco defense that ranked just 17th in that same category. That shouldn't surprise since Rodgers has the lowest interception rate (1.4%) in NFL history among all qualified quarterbacks, per Pro Football Reference.
I'll have a pre-game position on this under, but am waiting to see if the total ticks any higher.
A fully-healthy San Fran defense is back to its dominant early-season form and the bye week served that unit very well. Injuries and no bye week took a toll after not having a bye since Week 4. I also think the Packers run defense is a little more disciplined than the unit we saw early in the season.
Add in familiarity between these two coaches from the meeting earlier this season with two teams that don't play fast,  and I think a pre-game under is worth a small investment at anything over 45.
It'll just be a small position as I'll be hunting to add more live. If Green Bay does get off to that fast start, that will be a good chance to add more as we've seen its offense sputter over the final three quarters throughout the season. And if San Fran builds a lead, we know it'll go super conservative as it showed all season (and last week against Minny) when it gets up in the second half, relying on its defense to maintain a cushion.
Both teams actually rank in the bottom-10 in pace with a lead of seven or more points (per Football Outsiders).
I'd love to add to the under much like I did during last week's Vikings-49ers game. The ideal number would be the key number of 51 or better.
How would you rate this article?