NBA Win Total Odds & Pick: Bet a Resurgent Season for the Boston Celtics?
Credit:
Brian Babineau/NBAE via Getty Images. Pictured: Jayson Tatum #0 of the Boston Celtics.
The Boston Celtics are poised for a bounce back season with their over/under set at 45.5 wins.
Matt Moore analyzes the Celtics' win total odds below.
Check out this post for updated season win totals and this post for my other 29 season win total picks.
Boston Celtics Win Total Odds
The Case for the Over
Last year was the absolute year from hell.
Boston was one of the final four teams from the bubble, with less than a two-month recovery time. Then the Celtics had an extended COVID flare-up that sidelined Jayson Tatum, who said he was still affected months later. Think about that: the team's best player had lingering effects from a major illness and still put up a stellar season.
Kemba Walker played in just 43 games. Marcus Smart in just 48. Jaylen Brown, who had a career-best season across the board, played in just 58 before suffering a season-ending wrist injury.
Despite all this, the Celtics were 34-30 — tied for fifth in the East — in late April, just weeks from the start of the playoffs. Despite everything going wrong for them, they could have been a mid-tier seed very easily, with a chance to get the Knicks in the first round.
Tatum has potential for a serious leap into the upper-echelon, the MVP-tier, going into the season. He averaged 26-9-4 on 46-39-87 splits last year. That's a near double-double with 26 per game within striking distance of 40% from 3 and 90% from the line. Plus, he's a top-level defender. He did all this while dealing with COVID after-effects.
While you shouldn't get sucked too much into muscle watch, Tatum looking like the Incredible Hulk in workout videos is an encouraging sign for his durability, finishing, and ability to draw fouls. He's entering his prime.
Brown shot 54% from 2-point range and 40% from 3 last season, raising his scoring average by a full four points.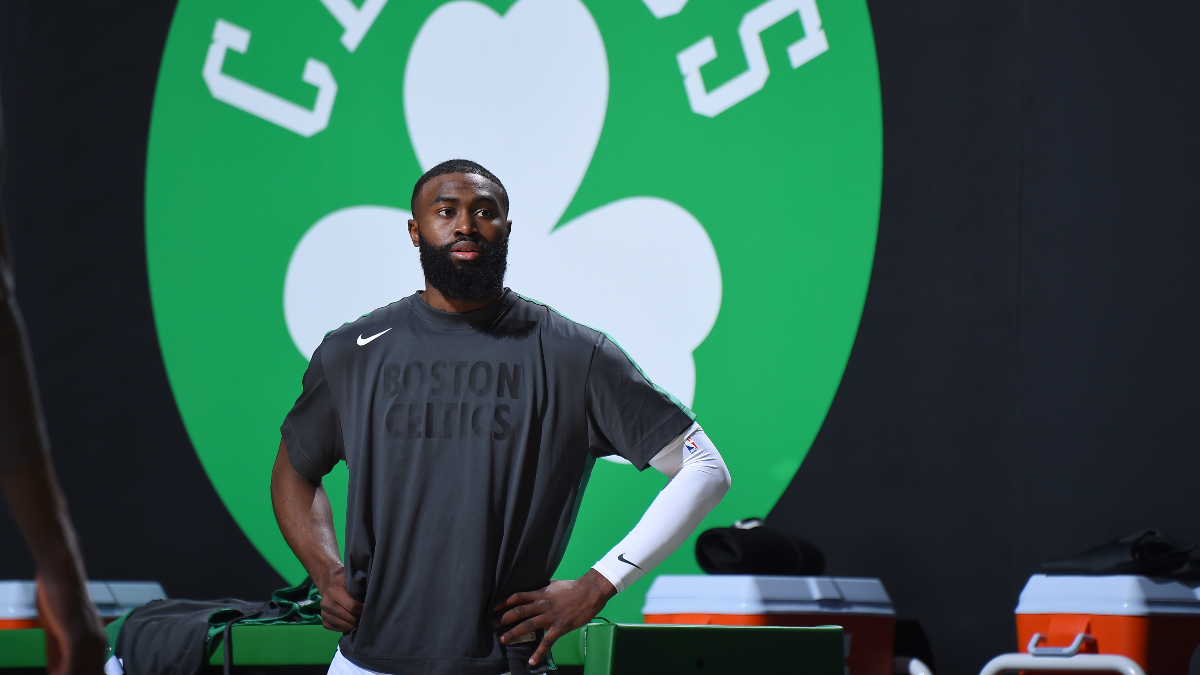 He was a major Most Improved Player candidate before his injury, and by all accounts, he shows no ill effects from wrist surgery, having recovered. The top-end talent is there. (Brown's recent COVID diagnosis may throw a wrinkle into things, but it's too early to tell how that will impact him.)
The Celtics' two significant issues last year beyond health were bench play and frontcourt defense. Tristan Thompson was a good idea that simply worked out horribly, but the upside was that Boston found Robert Williams' development had paid off. Williams looks like a significant contributor defensively and on lobs.
The Celtics traded for old friend Al Horford, and while Horford is certainly long in the tooth and past his prime, the minutes he has played over the last five years anywhere except Philadelphia (which is a hornet's nest of its own) have been excellent.
The frontcourt rotation looks wholly better now. The Celtics' defensive numbers at the rim were good last season; they should be better this season. The Celtics likely move back into the top 10 in defense again next season.
Aaron Nesmith, Payton Pritchard, and Romeo Langford looked good in Summer League; at least a few of those guys will look improved in the bench rotation. Dennis Schröder and Josh Richardson come with concerns from previous stops, but they are experienced veterans.
Boston struggled vs. bad teams last season; their five-win differential from Miami, Atlanta, and New York quite literally pushed them into the play-in. A repeat doesn't seem likely, given both the organizational strength of the team and how the bottom of the conference worsened.
The Brad Stevens-coached Celtics went over in five of the past seven. Even with Stevens moving to the front office, Steven's influence from his time as coach should carry over.
There's a strong case for betting on stabilization.
The Case for the Under
Funny story, Brad Stevens isn't the coach anymore!
We have no idea about the new brain trust. We've never seen Stevens in a team-building role. Are his instincts correct? He committed money to the team as it is, signing Marcus Smart and Williams to extensions. But there's no way to have the same level of trust in their regular-season performance as when Stevens was coach now that he's moved to the top of the chain.
Ime Udoka is a first-time head coach. His accolades are great from all the successful teams and coaches he's learned from, but being the guy is often different. With a new coach, we just don't often have any idea.
Nate Bjorkgren came in with tremendous accolades and the right ideas about modernizing the Indiana Pacers' offense and was a total disaster. Bryan Shaw was considered the next great coach in waiting and wound up rapping a scouting report in a two-year train wreck for the Denver Nuggets. James Borrego was rough his first season, but last year was good.
We just don't know.
Point guard is suddenly a pretty sparse position. Smart is always a mixed bag with his decision-making, and there have been some minor flare-ups between him and other players (notably Brown) the past few years. Smart's overall impact is undeniably positive, but it may be different when he's the full-time point guard. Otherwise, it's Schröder or one of the young guys.
That's concerning.
The schedule is brutal. Boston is tied with three other teams in back-to-backs and has 10 before Feb 1. They have 12 three-in-four night sets, tied for fourth-most in the league. They have the fewest rest advantage games in the league alongside the Timberwolves and Trail Blazers. Boston was always great in back-to-back and short rest sets under Stevens … but again, Stevens is not the coach anymore.
The division is always tough … it's now somehow even tougher. There are four games each vs. the Nets and Sixers, four games against the playoff-team Knicks, plus they have an extra game from the standard conference three against the Hawks and Bucks.
The number's also pretty sharp. The Celtics were a .500 season last year in the season from hell. Five wins more doesn't seem like a lot through that lens, but the range here is narrow. It's hard to see the Celtics as more than a 50-win team.
It's possible, but that's the high end of variance. So our path here is a window of 46-50 wins for the over. A 47-win performance with bad luck in a second straight season, whether with injuries or close games, draws them under. If Tatum misses three weeks, that could be the difference.
Celtics Win Total Bet
This number is too sharp. I lean towards the over if I had to bet it; Tatum really should make the leap this season, and the roster should be good. I have a high level of confidence in Ime Udoka, and if he maxes out immediately, Boston jumps to 51-53 wins and a top-three seed.
But like I said, the window is just too tight for reasonable expectations.
I'll be looking for division finish props with an eye on second, and I'll probably take a look at an alternate win total if one pops up with an eye towards 49 or more. But there's no value in playing this total straight up, especially with it juiced over at most books.
How would you rate this article?
This site contains commercial content. We may be compensated for the links provided on this page. The content on this page is for informational purposes only. Action Network makes no representation or warranty as to the accuracy of the information given or the outcome of any game or event.