2022 NBA Win Totals Betting Guide: Over/Under Picks & Analysis For Every Team
Credit:
Getty Images. Pictured (clockwise from top left): Kevin Durant, Giannis Antetokounmpo, LeBron James, Chris Paul, Stephen Curry, Donovan Mitchell.
Looking for action on 2022 NBA win totals? Our senior writer, Matt Moore, runs through all 30.
Find his regular-season analysis and over/under picks for every team below.
The NBA is back! More importantly NBA win totals are back!
I've written the case for the over and under for every team's win total entering the 2021-22 season, one we expect (hope?) will be a return to normal after back-to-back years of shortened seasons mired in missed games, weird schedules and general uncertainty.
Well, this year we've got a full 82, which means no more win percentages, or annoying math to adjust for 10 fewer games. I evaluated historical data, rosters, performance last season both in actual wins and Pythagorean expected wins based on statistical performance, and all the other factors I could.
Along with my esteemed colleagues Brandon Anderson and Raheem Palmer, I've already gone through some of these win totals on our Buckets Podcast (you can check it out below).
I also wrote up two pieces on win totals I truly love and bet right away and win totals from teams I am definitely avoiding.

But if you want to know how I would approach betting every team, or more specifically your team, you can check out my case for why you could bet the over for all 30 NBA squads below (because who doesn't love a little optimism).
Let's jump right in.
Under the radar, the Hawks were wracked by injuries. According to ManGamesLost.com, the Hawks had the fourth-most games lost due to injuries, and the fourth-most Win Shares lost to injury.
They lost De'Andre Hunter for 49 games, Bogdan Bogdanovic for 28 games, Danilo Gallinari for 21, Cam Reddish for 46 and Tony Snell for 21. Hunter, in particular, had a huge impact on the defense: the Hawks were 7.0 points better per 100 possessions with Hunter on the floor.
The Hawks cleared their over by six games last season, jumping 23 games year over year (per 82 games), then took off in the playoffs, shushing the higher-seed New York Knicks and stunning the Philadelphia 76ers into a meltdown that will inevitably lead to the trade of their second-best player.
So you have a team with the injury deck stacked against them who still outperformed expectations. It wasn't flukey, either. The Hawks' Pythagorean expectation was dead on the mark for their actual 41 (40.9). They didn't over-perform vs. good teams, they were tied with the Knicks and Boston Celtics and one game better than the Miami Heat vs. teams over .500. They built their record on consistency against teams under .500.
Hunter should be ready for the start of the season, but his status is worth monitoring. The same goes for Reddish. They lost Onyeka Okongwu until at least January, but they added Gorgui Dieng for depth behind Capela.
The offense is absolutely loaded. The Hawks had the ninth-best halfcourt offense last season per Synergy Sports, and Hawks players shot 58% eFG on shots off passes from Young. He is a one-man engine and his mastery of manipulating the offense took an even bigger step in the playoffs.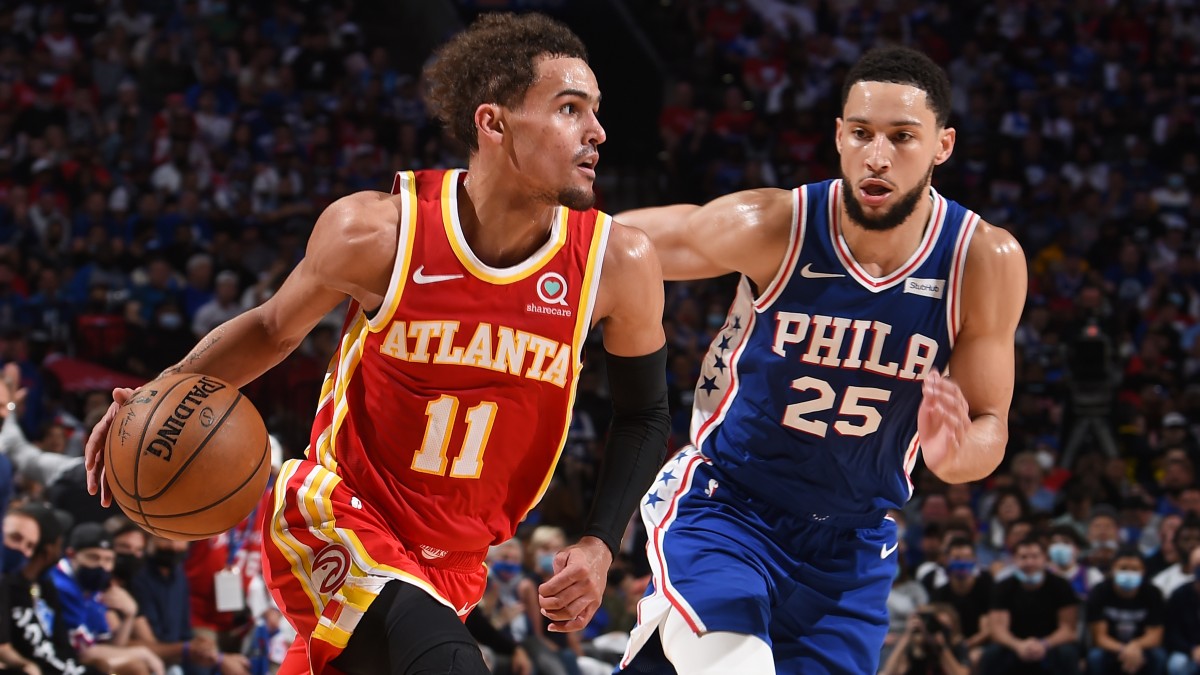 John Collins brings floor spacing and versatility, Capela is an elite rim runner, and Bogdanovic found his way into a more established role offensively under McMillan. Keep an eye on rookie Sharife Cooper who looked ready made for the NBA in summer league and early in the preseason.
The Hawks have the fourth-easiest rest-adjusted strength of schedule per PositiveResidual.com. They have one of the lowest average opponent implied title odds.
There's an intangible element here as well. The Hawks figured out who they were after McMillan took over. They finished with the ninth-best Net Rating league-wide since he became the head coach. Then their playoff run re-defined them.
One of my lingering concerns with this team was chemistry. Collins and Young clashed as recently as early last season and Collins was involved in trade talks through the deadline.
But after the playoff run, Collins re-signed for a huge extension in the offseason. They went through adversity and came out on the other side closer. Young also learned to trust his teammates in a key environment, not only early in the playoff run against the Knicks, but late in the run when he was injured and needed them to help with the scoring.
There is a  trend of a teams' young star making the leap and that team hitting the over the following season, even with some win regression.
In 2003, Dwyane Wade's rookie season, he led the Heat to a second-round appearance. The following season, the Heat hit the over. In 2009, Derrick Rose and the Bulls pushed the defending champion Celtics (without Kevin Garnett) to the very limit in one of the best first-round series ever. The following season, the Bulls still hit the over (by a half-game) at 41-41.
In 2013, Steph Curry made the leap and his team upset the Nuggets in the first round. The next season they pushed on their win total. In 2014, Damian Lillard took his Trail Blazers past the Houston Rockets in his first playoff appearance. The Blazers regressed in their win total the following season, but still hit the over.
In 2019, Luka Doncic took the Dallas Mavericks to the playoffs and a tough first-round series against the Clippers. Last season, the Mavericks took a step back … and still hit the over.
I think you get the point here.
It appears the market tends to under-react to those young stars making a playoff leap.
The Case for the Under:Atlanta was eliminated on July 3. They enter training camp 86 days later. The 2020 Boston Celtics were eliminated on Sept. 27 and entered training camp on Dec. 1. That was 65 days, so the Hawks … Read more here
---
» Return to the table of contents «
---
Last year was the absolute year from hell.
Boston was one of the final four teams from the bubble, with less than a two-month recovery time. Then the Celtics had an extended COVID flare-up that sidelined Jayson Tatum, who said he was still affected months later. Think about that: the team's best player had lingering effects from a major illness and still put up a stellar season.
Kemba Walker played in just 43 games. Marcus Smart in just 48. Jaylen Brown, who had a career-best season across the board, played in just 58 before suffering a season-ending wrist injury.
Despite all this, the Celtics were 34-30 — tied for fifth in the East — in late April, just weeks from the start of the playoffs. Despite everything going wrong for them, they could have been a mid-tier seed very easily, with a chance to get the Knicks in the first round.
Tatum has potential for a serious leap into the upper-echelon, the MVP-tier, going into the season. He averaged 26-9-4 on 46-39-87 splits last year. That's a near double-double with 26 per game within striking distance of 40% from 3 and 90% from the line. Plus, he's a top-level defender. He did all this while dealing with COVID after-effects.
While you shouldn't get sucked too much into muscle watch, Tatum looking like the Incredible Hulk in workout videos is an encouraging sign for his durability, finishing, and ability to draw fouls. He's entering his prime.
Brown shot 54% from 2-point range and 40% from 3 last season, raising his scoring average by a full four points. He was a major Most Improved Player candidate before his injury, and by all accounts, he shows no ill effects from wrist surgery, having recovered.
The top-end talent is there. (Brown's recent COVID diagnosis may throw a wrinkle into things, but it's too early to tell how that will impact him.)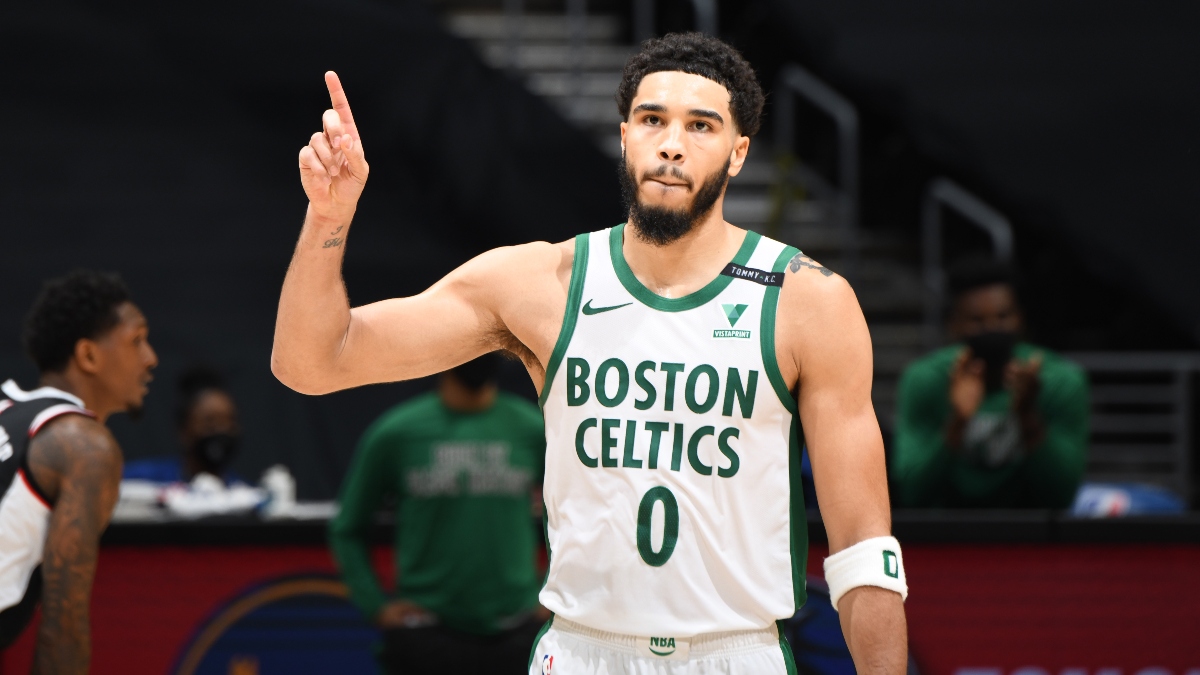 The Celtics' two significant issues last year beyond health were bench play and frontcourt defense. Tristan Thompson was a good idea that simply worked out horribly, but the upside was that Boston found Robert Williams' development had paid off. Williams looks like a significant contributor defensively and on lobs.
The Celtics traded for old friend Al Horford, and while Horford is certainly long in the tooth and past his prime, the minutes he has played over the last five years anywhere except Philadelphia (which is a hornet's nest of its own) have been excellent.
The frontcourt rotation looks wholly better now. The Celtics' defensive numbers at the rim were good last season; they should be better this season. The Celtics likely move back into the top 10 in defense again next season.
Aaron Nesmith, Payton Pritchard, Romeo Langford, and Carsen Edwards looked good in Summer League; at least a few of those guys will look improved in the bench rotation. Dennis Schröder and Josh Richardson come with concerns from previous stops, but they are experienced veterans.
Boston struggled vs. bad teams last season; their five-win differential from Miami, Atlanta, and New York quite literally pushed them into the play-in. A repeat doesn't seem likely, given both the organizational strength of the team and how the bottom of the conference worsened.
The Brad Stevens-coached Celtics went over in five of the past seven. Even with Stevens moving to the front office, Steven's influence from his time as coach should carry over.
There's a strong case for betting on stabilization.
The Case for the Under: The division is always tough … it's now somehow even tougher. There are four games each vs. the Nets and Sixers, four games against the playoff-team Knicks, plus they have an extra game from the standard conference three against the Hawks and Bucks. The number's also pretty sharp. The Celtics were … Read more here
---
» Return to the table of contents «
---
For the sake of this argument, let's keep it simple and assume that the Kyrie Irving vaccine situation resolves itself allowing him to be eligible for the season.
The Nets are the best team, the best offense, they play in the East, and they won 67% of their games last season (55-win pace) despite all the COVID wonkiness and Kevin Durant, James Harden, and Irving only playing eight games together, total.
If they were that good without being anything close to healthy, what happens if just two of the superstars are available for most of the season?
They're the title favorites heading into the season, well above the previous two champions, the Lakers and Bucks. You're betting on the best team, which is the NBA equivalent of getting your money in with the best hand.
The Nets have the fourth-easiest schedule per Positive Residual, factoring rest and travel, with just 12 back-to-backs and 13 rest advantage games to 11 rest disadvantage games.
Thanks to playing in the Eastern Conference, the Nets have the lowest opponent average title chance, per Alex Christenson. The teams they face in an extra game in-conference are the Cavs, Pistons, Bucks, Magic, and Wizards.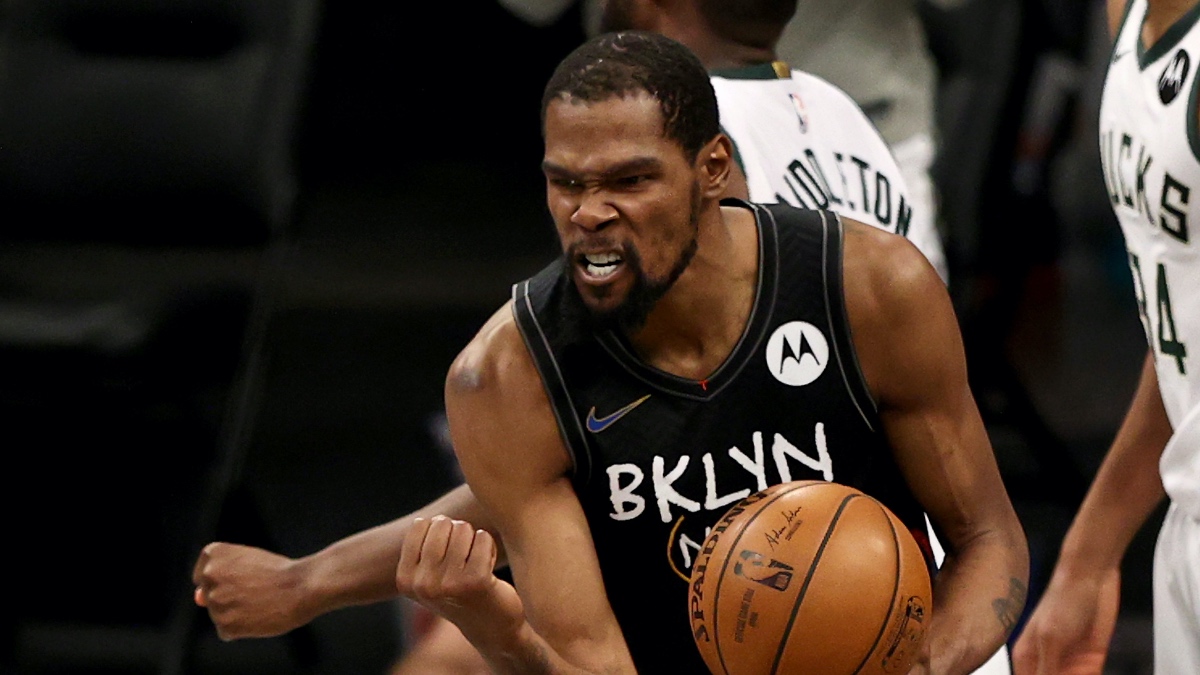 Offensively, last year's Nets team was the best offense of all time, statistically speaking. Now, teams from last year make up the top seven, an absolutely ridiculous figure that speaks to the offensive inflation we're seeing in the modern game (and which the league is attempting to correct with its officiating changes). However, six of those seven teams hit their over on win totals last season.
Simply put, you can skate by on offense in the regular season just fine in the modern NBA.
There are no weaknesses for this team offensively. That, combined with their schedule, means the over is very doable. The Nets had four more wins vs. teams over .500 than any Eastern Conference team last season and the third-most in the league.
They weren't as good vs. teams under .500 (25-11, the most losses of any top-six team in the East), but that number improved as the season went on, going 10-3 from April 1 through the end of the season vs. sub-.500 teams.
You can easily make the argument that the Nets' success against good teams is sustainable (they're an exceptional team) and that their struggles vs. inferior teams were the product of last season's COVID and schedule-related wonkiness and the injuries to the Big 3.
You can bet on the Nets' over and forget about it; you won't be sweating until late in the season. If Brooklyn starts slow, they can turn it on. If they jump out to a hot start, they won't fall off as teams tank later in the year. The schedule is easy, and the team is loaded.
It's a high number, for sure, but if you expect the best team in the league to be near or above 60 wins this season and believe the Nets are the best team, it's exceptionally doable with several games to spare.
Keep it simple. That's the argument for the Nets over.
The Case for the Under: Including teams tied in preseason win total, the teams with the highest win total have hit the under nine out of 13 times. A 4-9 record for the over for the best teams speaks to how hype often exceeds regular-season performance.
The Nets are also the title favorite. So how are title favorites against their win total over the past 20 years? … Read more here
---
» Return to the table of contents «
---
The Hornets won at a 37.5 pace per 82 games last season, despite losing Gordon Hayward for 28 games and LaMelo Ball for 21 games. Few teams outside of Brooklyn lost their two best players for a sustained period and kept a winning pace (and Brooklyn has three top-tier guys).
So even if the team just improves slightly with roster changes and internal development, with a little better injury luck to the two most important players on the roster, that gets them home.
The Hornets were 24-20 when Hayward played last season, which is fantastic for a young team with this talent level.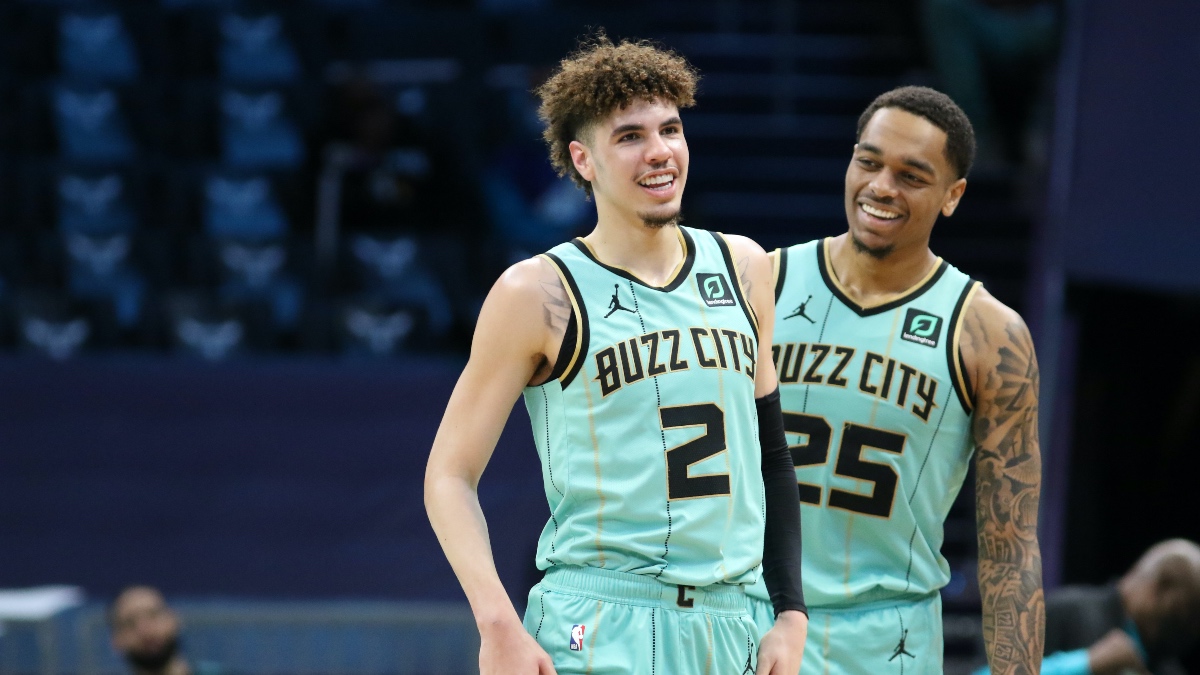 Ball was transcendent last season. The on-off splits don't speak well for him, but here's the significant differential.
Ball and Hayward with Bismack Biyombo: -12.8 Net Rating
Ball and Hayward without Bismack Biyombo: +4.7 Net Rating
This gets a little dicey given that Cody Zeller left in free agency, but the Hornets traded for Mason Plumlee, arguably an upgrade on Zeller. If Plumlee takes the majority of minutes at center, maybe those minutes stabilize a bit more.
Charlotte was 10th in half-court defense last season. While most teams use drop coverage in pick and rolls, the Hornets used a variety of coverages. This is harder, but it's also more effective in countering matchup problems. If your base-level talent isn't as good as your opponent's, switching/blitz/zone helps a lot in evening it up. The Hornets were fifth in points allowed per possession in zone defense last season.
With a little improvement from their young players, and any of their talented picks (James Bouknight, Kai Jones) being ahead of schedule their first year, there's reason to think this team can hang around .500 in the East in the softest division in the league.
The Case for the Under: For starters, this team got worse in the offseason. They lost Cody Zeller and Devonte' Graham in free agency. They added Plumlee, who is probably a marginal upgrade on Zeller but isn't as good at switching.
They added rookies who should contribute down the line but asking them to … Read more here.
---
» Return to the table of contents «
---
Chicago had rotten luck last season.
The Bulls' Pythagorean-expected-win mark per 82 games number was 37.8, about five games worse than the over. But the context of the season was wilder than that. In games inside three-points with two minutes to go, Chicago was 10-16, the worst mark for any team with more than 30 wins last season.
There's an idea that the trade for Nikola Vucevic was a failure. The Bulls struggled after the trade, trying to adjust, but they couldn't turn it around because, at that point, Zach LaVine was out with COVID. After the All-Star break, the Bulls finished eighth in defense; they struggled on offense with LaVine out. Certainly, LaVine being out was part of that issue, and the worst on-court defensive player in that span was to Vucevic.
Instead of trying to argue that those players were good defensively, it's better to realize that Billy Donovan can likely pull the Bulls' Defensive Rating up a level through scheme and coaching.
Defensively, yes, it's a limited lineup. But Frank Vogel and Steve Clifford managed to get the Magic top-10 in defense with Vucevic in drop coverage against pick-and-roll. Patrick Williams projects as a plus defender, especially with another year of experience. He looked like he'd added serious muscle in Summer League. LaVine and DeMar DeRozan are defensive weak points, but Ball is a plus defender, especially in help situations.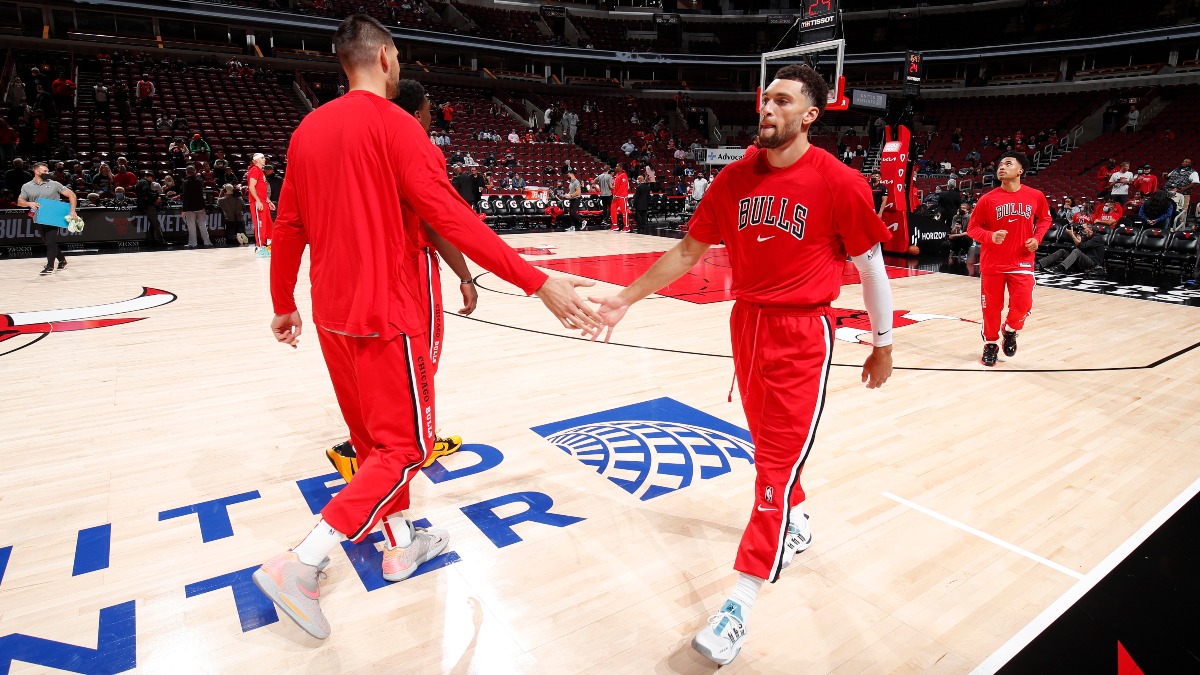 The roster is much better after their offseason upgrades — a starting five of Lonzo Ball, LaVine, DeRozan, Williams, and Vucevic will cook offensively.
LaVine was underrated last year, averaging 27-5-5 on 51-42-85 splits. Ball's shooting stabilized last season; he's now reliable on spot-ups and not awful on pull-ups. More importantly, he operates best when he doesn't have to create as the primary ball handler but as an auxiliary passer. He's now the third playmaker next to LaVine and DeRozan.
Minimum 500 pick-and-rolls last season, DeRozan was second (behind Kawhi Leonard) in points per possession, including passes as the ball handler. That was with a pretty abysmal set of offensive weapons in San Antonio. With Vucevic and LaVine, he'll have All-Star weapons.
The bench is young but talented. Alex Caruso will help the defense, and Tony Bradley gives them a rim protector.
There are no red flags on their schedule — it's not an easy schedule, but not a particularly tough one, either — and none of their key players have significant injury histories.
The Case for the Under: The division is tough with not just the Bucks but the Pacers. This team needs LaVine to be elite to make this combination work. He was elite last season. If you don't think he will be again, that's … Read more here
---
» Return to the table of contents «
---
The essential pieces remain. Collin Sexton and Darius Garland (AKA SexLand) are still the starting backcourt and generated 60 points and 15 assists combined per 100 possessions. That's a great starting point just for generating enough offense to win.
There's a lot of room for internal improvement. Isaac Okoro has the toolset to be a valuable defender and provide something on offense as a slasher. Evan Mobley was considered the best player in the class by a fair amount of scouts and analysts I spoke with before the draft. He'll look much better in an organized environment instead of Summer League's chaos. Their frontcourt with Okoro, Mobley, and Jarrett Allen should be able to protect the rim.
They added Ricky Rubio in trade, and Rubio is a floor-raiser. He will play competent defense, has become a better shooter as he's aged, and knows how to run an offense.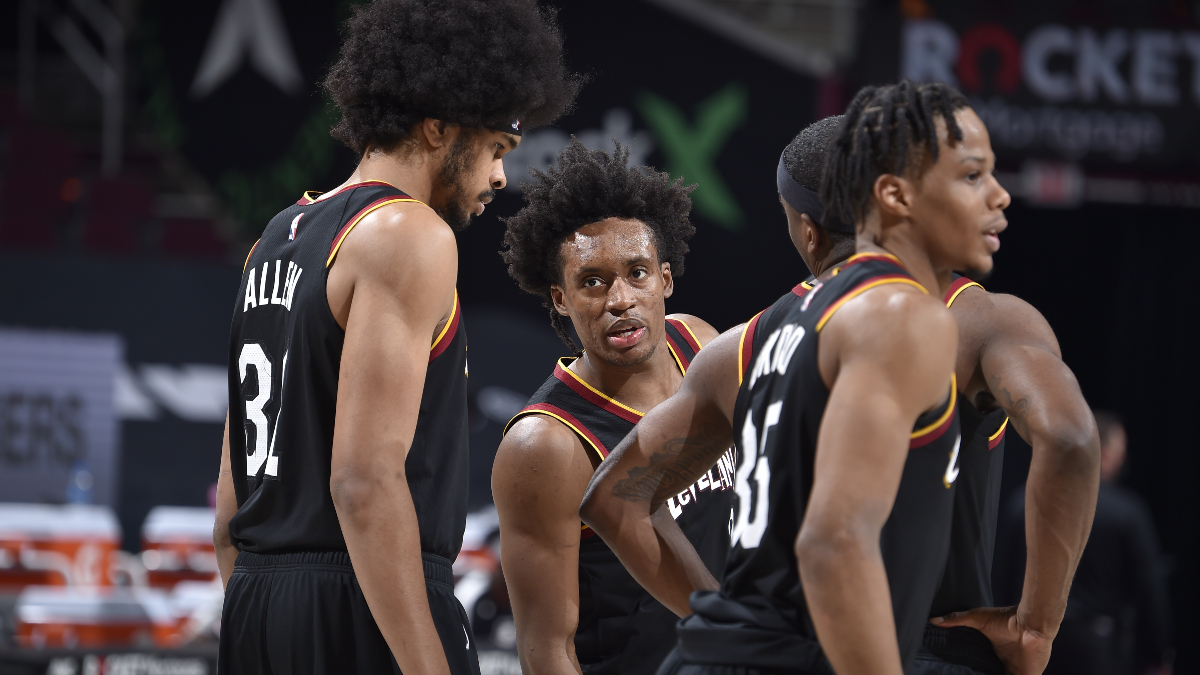 There's also the capacity for trade. The team pretty obviously is looking to deal Collin Sexton, and if they get more pieces in return, their whole could be greater than the sum of their parts.
The number is low, the fourth-lowest of any total on the board. So the bar is rock-bottom.
There's also the simple unknowns. If we think we have all the known factors about the Cavaliers in place and they're all negative, there is likely an outlier positive improvement we won't see coming. Maybe it's Garland taking a significant step forward or Okoro adding to his on-ball skills.
Maybe it's Lauri Markkanen in a new environment next to Rubio, or just that Mobley is simply that impactful right out of the gate. It's unlikely that we know everything we need to know about Cleveland and that it's all negative.
That's it. That's all I've got.
The Case for the Under: The Cavs have gone under their win total in all three seasons since LeBron James left if you include their 19 wins at the suspension of play in 2020 vs. their line of 24.5. (I don't think they were getting six more wins by season's end.) J.B. Bickerstaff's team has never … Read more here
---
» Return to the table of contents «
---
Luka Doncic is a boss.
Last season Doncic looked out of shape coming into the season after a short offseason and abrupt start. He still finished fourth in Value Over Replacement Player and seventh in Box Plus-Minus and averaged 28-8-9. He also improved his 3-point shooting and was 84th percentile shooting off the dribble when shooting had previously been a weakness.
Doncic is the favorite to win MVP for the second season in a row at age 22. Players of this caliber are easy to bet on because they significantly raise the floor for their teams.
The Mavs have more rest advantage games than rest disadvantage games and are tied for the fewest back-to-backs this season. The schedule is manageable.
Their division is weaker; the Rockets are rebuilding, the Pelicans are constantly struggling to find their footing, Memphis is still young and getting younger, and the Spurs are transitioning to a rebuild.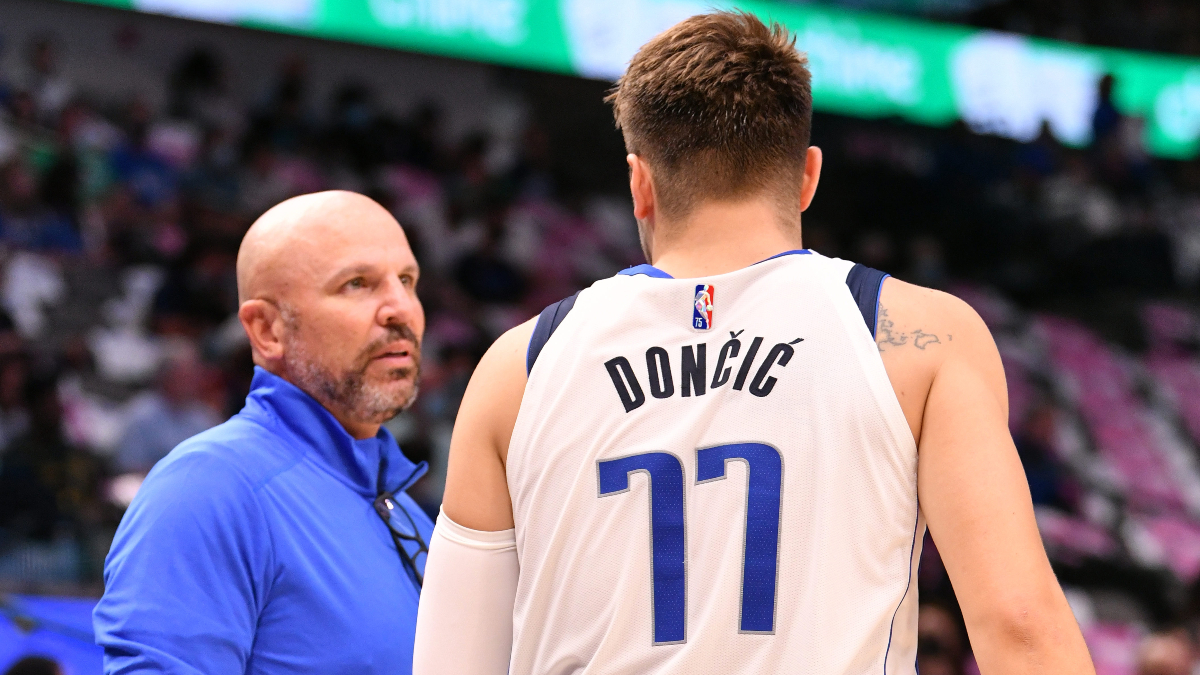 Reggie Bullock is quietly an essential addition. In 2020 the Mavericks made the leap with having shooters everywhere. Then they dealt Seth Curry to balance their defense with Josh Richardson last season, and it backfired.
Bullock is a quality defender and a better shooter than Richardson. He was 83rd percentile on jump shots and 77th percentile catch-and-shoot. So the fit is good there, and it's important because it gives Doncic another high-level wing shooter.
Their bench unit is underrated; Jalen Brunson had a +4.9 net rating, Boban Marjanovic was +5.9.
Their most-played lineup was +12.6 on the season, and their top three most-used lineups were all in the black.
Dallas' offense will cook no matter what; there's shooting and talent there. Doncic is a supernatural phenomenon, and that's enough to build them a solid resume.
The Case for the Under: The drop from good coaching (Rick Carlisle) to bad coaching (Jason Kidd) is sharp. Even if Kidd gets Doncic in his corner … Read more here
---
» Return to the table of contents «
---
Fun fact: Michael Malone's Nuggets have gone over on their win total every full season he's been coached. The lone exception was the Bubble season, where they were on pace, and then half their team was out in the bubble due to COVID.
A young team in 2016 with no discernible talent? Over. Lost Jamal Murray in March last season? Over. They have constantly beaten expectations without any significant regression.
This number is indicative of how broad stroke considerations of teams reflected in the win total fail to incorporate how the regular season works. Yes, Jamal Murray is out until February, and that will hurt them vs. the top teams. Game by game, you lose a floor-setter. If the other Nuggets shooters aren't hitting and the defense can single-cover Jokic, you lose the ability for Murray to just bail them out with a big game.
However, against bad teams, the Nuggets are good enough to sustain pretty easily. Denver was 26-8 against teams under .500 last season, tied for 2nd best record against bad teams in the West. Denver's talent level plus Jokic is just more than your Magics and Pistons can handle on most nights. Denver had the sixth-best record vs. middle-10 point differential teams and the fifth-best vs. bottom-10 teams.
Their losses to bad teams were loud; early in the season, they lost to the Kings three times in the first two months. But ultimately, they evened out and took care of business.
Jokic is among the very best in the league in raising his teammates. No rotation player had a negative net rating on the floor; every combination with Jokic outscored their opponents overall.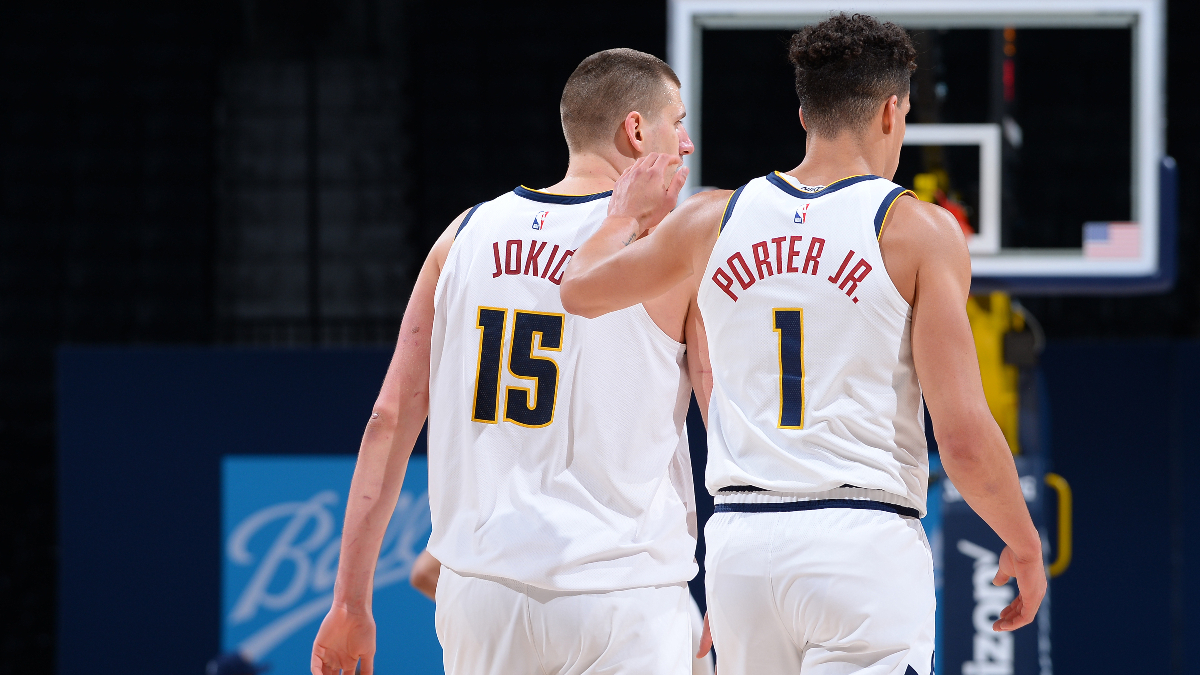 Even without Murray, Denver still has firepower. Michael Porter Jr. is a 6-10 50-40-90 shooter who is the favorite to win Most Improved Player. Aaron Gordon gets an entire training camp to be integrated into the offense, an impossibility without practice time last season.
Will Barton's numbers next to Joker are good; he's primed for a bounce-back season. First-round pick Bones Hyland has generated buzz in the preseason open runs.
Murray doesn't have a firm timetable for his return, but the expectation is sometime in February. That will still give them roughly two months with the entire roster and while there will be some struggles early as Murray gets up to speed and the team gets used to having him back, they also absolutely annihilated teams in the short time between trading for Gordon and Murray's injury. They looked legitimately like the best team in the league.
The schedule's not a problem, either. The Nuggets have the second-easiest rest-adjusted schedule per PositiveResidual.com and are tied for the fewest back-to-backs in the league. They also have just two back-to-backs after the All-Star break and play 14-of-23 at home in that span.
So there's a good chance they start slow and then ramp up but then go on a long winning streak. Having a more manageable schedule later in the season is specifically helpful for when Murray gets back to deal with the shock of his return to the rotation.
Jokic has played a lot, it's true. Two postseason runs in a calendar year, one of only a handful of players to play all 72 last season, then heavy minutes in the playoffs.
However, Jokic returned early to Denver for the birth of his child and has been at the Nuggets' conditioning sessions and open runs looking slim and fast. He seems to have moved past the immaturity that hurt his conditioning early in his career.
Denver's expected-wins-per-82 games mark last season was 54 per CleaningTheGlass.com. So we're looking at a six-win regression with Jokic, MPJ, Gordon, Barton, and a decent bench rotation? Nah.
The Case for the Under: Denver went 13-6 after the injury to Murray. Just six of those 19 games were vs. teams top-10 in point differential. Their schedule is … Read more here
---
» Return to the table of contents «
---
Cade Cunningham.
The Pistons' No. 1 overall pick is the kind of do-it-all player that can instantly raise a team's floor and ceiling. He's a dynamic playmaker who can shoot and finish, a phenomenal passer, and a plus defender.
There was ample debate about who should be the No. 1 pick, but a sizable chunk of draft experts felt very early on last year and maintained throughout the draft process that Cunningham is a transformational player for a franchise.
Teams in their first year with a No.1 pick whom they drafted (in the first year that player played) have hit the under in 11 of the last 18 seasons. Now, that's messy with a lot of qualifiers in it.
But still, it's a promising trend. If you put Cunningham on the level of Zion Williamson, Anthony Davis, and LeBron James as a franchise-transcendent player, the over went 2-1 in those instances.
The roster isn't terrible. Killian Hayes makes a lot more sense as a defensive stopper and off-ball change-of-pace guard next to Cunningham. Saddiq Bey looked great last year. Jerami Grant was the leader for Most Improved Player and likely would have won if Julius Randle had not gone absolutely berserk for the Knicks.
Their bench should be much improved. They retained Cory Joseph and brought in Kelly Olynyk, who will provide great dribble hand-off action as a combo with Joseph and the other guards. Olynyk was an underrated pick-up.
If you exclude the Houston tank job after he was dealt for Victor Oladipo last season, Olynyk's teams have outscored their opponents when he's on the floor in each of the past seven seasons. He helps.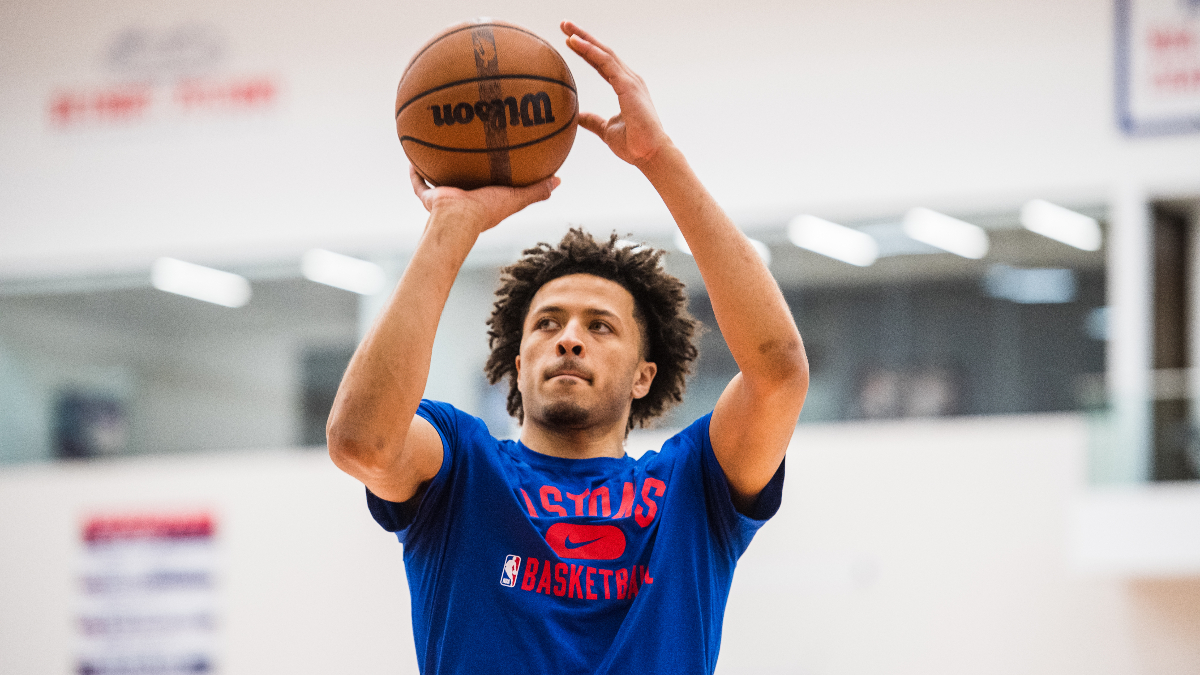 Isaiah Stewart's advanced metrics suggest he's going to be an impact player at center. Luke Garza is fun as hell.
Detroit has the most rest advantage games in the league and the fewest back-to-backs. That might bump their total up above the line if they can just pick off a handful of teams on low rest.
Dwane Casey went eight straight seasons hitting overs until the past two. He's not a coach you can identify as someone who will hold them back.
Detroit's expected eFG% last season was 16th, middle of the pack. Their offense is generating good looks, but they just didn't have the talent to make them. If they get internal development and improvement from Bey and Killian Hayes and Cunningham lifts the percentage, then their offense — the weakest part of the team — moves into the middle range.
Even in the second half of the season when they were tanking, the Pistons' defensive rating was 19th, not all that bad. "Not all that bad" carries you a long way towards 25 wins and within range of the over.
The Case for the Under: Well, there's a reason they finished with a bad enough record to snag the No. 1 pick in the lottery. Then you take that roster, make it worse, and you have this year's.
The Pistons lost three of their top five players in Win Shares from last season and … Read more here
---
» Return to the table of contents «
---
Last season, Golden State won at a 44-win pace, with Stephen Curry and Draymond Green each missing nine games and Klay Thompson out all season. Plus, you have to look at before and after Wiseman.
Pouring all the blame on a rookie who missed almost all of his freshman year of college and was inserted into a high-IQ system is rough. However, after the Warriors shut Wiseman (and Kelly Oubre) down on April 12, they finished 14-5 to make the play-in tournament.
Golden State went 32-25 overall when Curry played and 2-7 when he was out. It's unreasonable to expect Curry to play in all 82 games, nor Green, who is pivotal to Curry's success.
But Thompson's expected return around New Year's and an improved roster will help buttress against the dropoff when he misses time. The Warriors don't have to be extraordinary without Curry, they just have to stay afloat, and the roster is better built to do that this time.
Curry remains the most impactful player in the league, but that impact is dependent on Green. Golden State outscored opponents by 6.9 points per 100 possessions with Curry-Green lineups and lost by 3.2 points per 100 possessions when Curry was on-court without Green. Without Curry, Green lineups were outscored by 6.3, and without either one, they were outscored by 6.0. So to wrap up:
Curry with Green: elite
Curry without Green: not good
Green without Curry: awful
Neither Curry nor Green: also awful
Again, the roster is better built to avoid getting destroyed in those minutes without Curry than it was last season. Thompson will help at midseason even if he's not nearly the player he was before both an Achilles and ACL injury. Otto Porter will bring some defense and versatility when he's available. Jordan Poole and Juan Toscano-Anderson took significant steps forward last season.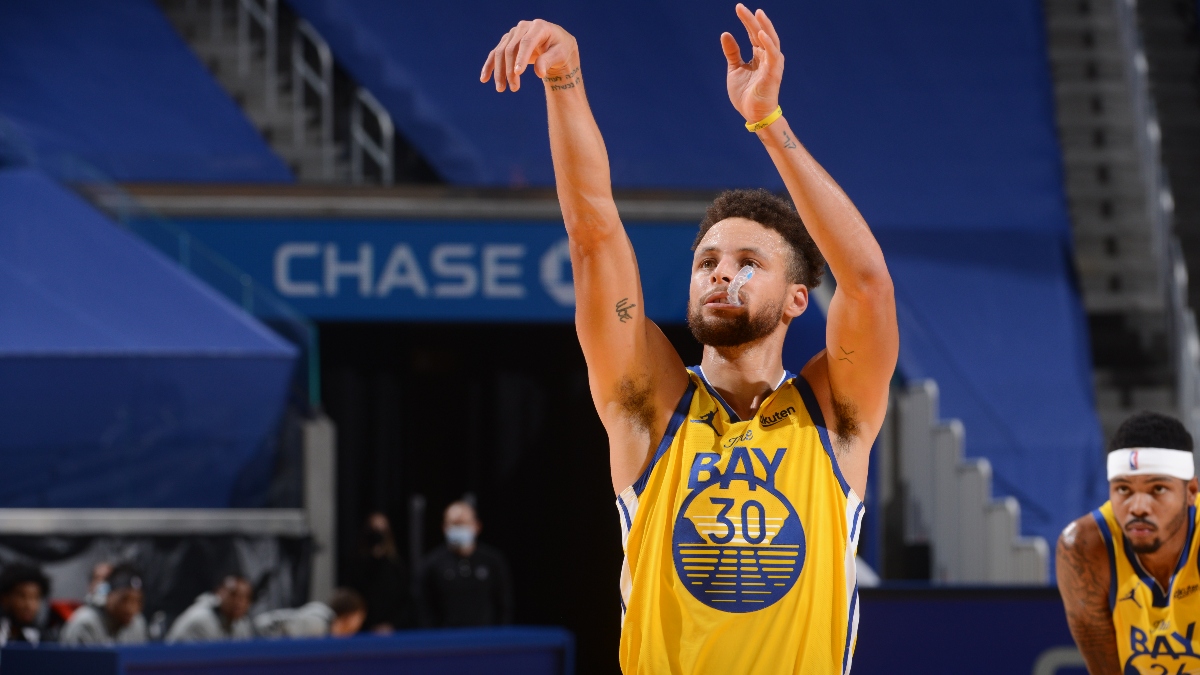 There's an upside with the rookies. Jonathan Kuminga is raw, for sure, but flashed skills in Summer League, which will translate. Moses Moody is a little more ready-made and can contribute immediately.
Eight of the Warriors with the 10-worst VORP ratings have been replaced, including six of the bottom seven players in net rating differential (on vs. off-court). They quite literally got rid of their worst players.
This team won't go back to being a juggernaut like at the apex of their dynasty, but ultimately this is still Curry-Thompson-Green, and that combo has been an absolute beast since 2015 under Steve Kerr.
They won at a 44-win pace last season, with Andre Wiggins playing the most minutes of any player and JTA and Bazemore playing 20 minutes per night. The bar is low for them to cross at this number, and there are already 48's showing up in the market because of the action. You don't even have to bet this team will win 50 to hit the over.
Curry finished third for MVP last season, with more first-place votes than Joel Embiid. He's a force unlike anything the league has ever seen, and he was as good last season as any in his career. The Warriors run a complicated system that requires practice and team cohesion. The pandemic compromised those essential elements.
Bounce-back Warriors season.
The Case for the under: Let's start with Thompson. He is attempting to come back from both a ruptured Achilles and a torn ACL — the two most devastating injuries in the NBA — in back-to-back seasons. Thompson hasn't played an NBA game since … Read more here
---
» Return to the table of contents «
---
Relative to the other sub-25 win total teams (Pistons, Thunder, Magic), the Rockets have the most NBA talent. They have a premium No. 2 overall pick in Jalen Green (my best bet for Rookie of the Year). They return Kevin Porter Jr., Christian Wood, Jae'Sean Tate, Eric Gordon, Dante Exum, Daniel Theis, and D.J. Augustin. Those are all NBA players.
Stephen Silas' early returns in terms of process and connecting to players are excellent. He's a plus and not a minus, at this point, even with a limited sample.
The Rockets had a year from hell last year. Harden bailing on the team set things back, but their replacement option — Victor Oladipo — was hurt and wanted out. They got very little short-term return for Harden (though the picks may prove valuable later).
But on top of that, the pieces they had that might have worked were never together. The Rockets lost Christian Wood for 41 games, John Wall for 18, Eric Gordon for 44, and Dante Exum (who had looked excellent) for 63. They never had a chance.
This team doesn't project as a tank squad. They might be bad, but their direction doesn't indicate they'll be looking to really throttle down. Obviously, that can change, but the same can be said for every team if everything goes wrong and they have their pick, which Houston does.
The number is significant here; there are 27.5's on the market. But at 24.5, the bar is subterranean. On average, in full seasons over the past 10 years, four teams per season have finished with 24 wins or fewer. If we assume OKC, Orlando, and Detroit will finish with fewer than 25, there's likely to be one random team that goes way under.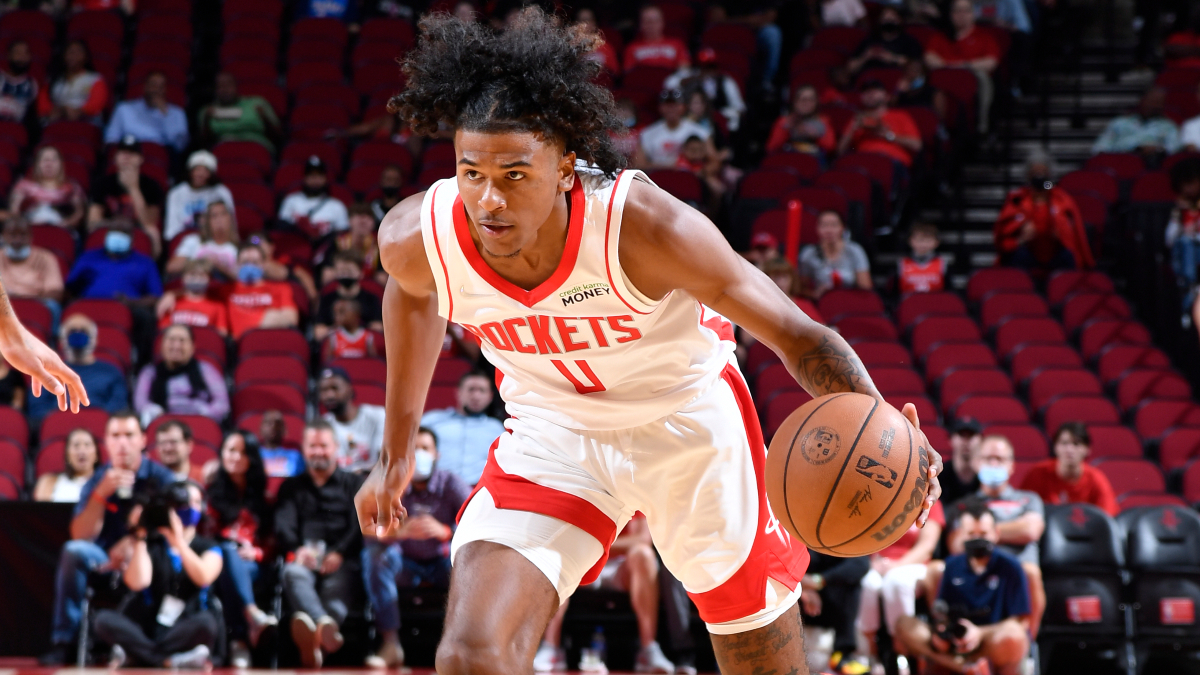 There's a decent chance they get something back for Wall in trade, and anything that helps now could be the difference.
Houston's defense was poor last year, to no surprise; it'll be poor this year as well. But given their talent, the fact that they were 17th in pick and roll defense and 16th defending spot-ups is promising. They might be able to do an OK job defending the basic actions. Just a 20th or better defensive ranking gets this over pretty quickly given the offensive talent on board.
The division's reasonably soft. The Spurs are rebuilding (I think?), the Grizzlies and Pelicans have flaws, and the Mavericks are volatile. Houston was 9-27 at home last season, the worst in the league. Much of that was in the apparent tank-off at the end of the season.
Green could be the best player in this class pretty easily. He looks ready for NBA play right away and has decent talent around him. Alperen Sengun looked like a monster in Summer League; he might be a sleeper.
The Case for the Under: Are we sure they won't tank? What are the long-term pieces on this roster? Kevin Porter Jr. came with a lot of baggage … Read more here
---
» Return to the table of contents «
---
There is a consensus from league analytics personnel and most executives about coaching: it ultimately doesn't impact things as much as you would expect.
Great coaching can help in particular situations. Most coaching is average. Bad coaching, however, really hurts.
I don't even know that Nate Bjorkgren was a bad coach. The X's and O's concepts worked early on. But a crucial component — maybe the most important — in NBA coaching is the ability to earn trust in their players. Professional players hold the weight in the power balance (as opposed to college where coaches hold it), and they need to feel like they can trust their coach.
That did not happen with Bjorkgren.
It will (likely) happen with Rick Carlisle. Carlisle can be abrasive; that's not a secret. But he's a former player and championship coach. He has a proven track record, and his teams win games. So in the worst-case scenario, you're removing a drag on the team's performance even if Carlisle doesn't make them better (which he likely will).
The Pacers lost the eighth-most games to injury last season, according to ManGamesLost.com, and the third most Win Shares. Myles Turner (a serious DPOY contender) missed 25 games, Caris LeVert not only had to deal with cancer surgery but missed 25 games because of it, Malcolm Brogdon missed 15.
The Pacers won 40 games per 82 by Pythagorean expectation, just three games below the over. So bad coaching, bad injury luck, and finished three games below this over.
Indy has the sixth-easiest rest-adjusted schedule per PositiveResidual.com. They have the third-most rest advantage games and are middle of the pack in rest disadvantage and back to back and travel the fewest miles in the league.
The roster's not an issue. The players in their rotation are either good veterans or quality young guys. They're not built for tanking; they're built to go for the best possible record every year under owner Herb Simon.
Every indicator says over here.
The Case for the Under: The injury luck has already started badly. TJ Warren suffered a setback in his recovery and has no timetable for return. He is a key scorer for them and their record with and without Warren is notable.
There are still rumors that the team might … Read more here
---
» Return to the table of contents «
---
This is all about the number.
The Clippers had an expected-wins-per-82-games mark of 57 last season. They openly and willfully tanked their last two games for seeding purposes. So we're talking about going from a 57-win pace to 45 for the under? A twelve-win gap? With a more balanced schedule? Even without Leonard?
The team found something last season in the playoffs. My big reservation with this team for two years was a chemistry issue. It sunk them in 2020 in the Bubble, the players admitted as much. You could tell there were certain players (Lou Williams and Montrezl Harrell) who were leftover from the surprise 2019 playoff team who didn't vibe with the new leadership.
They might have followed Leonard because he is a "proven winner," but Paul George was different. Leonard doesn't lead by direction; he leads by example only. He does what he does. George tried to fill some of that gap, and it went badly.
But last season, not only did the team fill in the roster with more of "George's guys" like Reggie Jackson, but the team seemed to genuinely rally around him, especially with his prolific playoff performances that only got better when Leonard went down until they ran out of steam vs. the Suns.
So there's a better internal dynamic.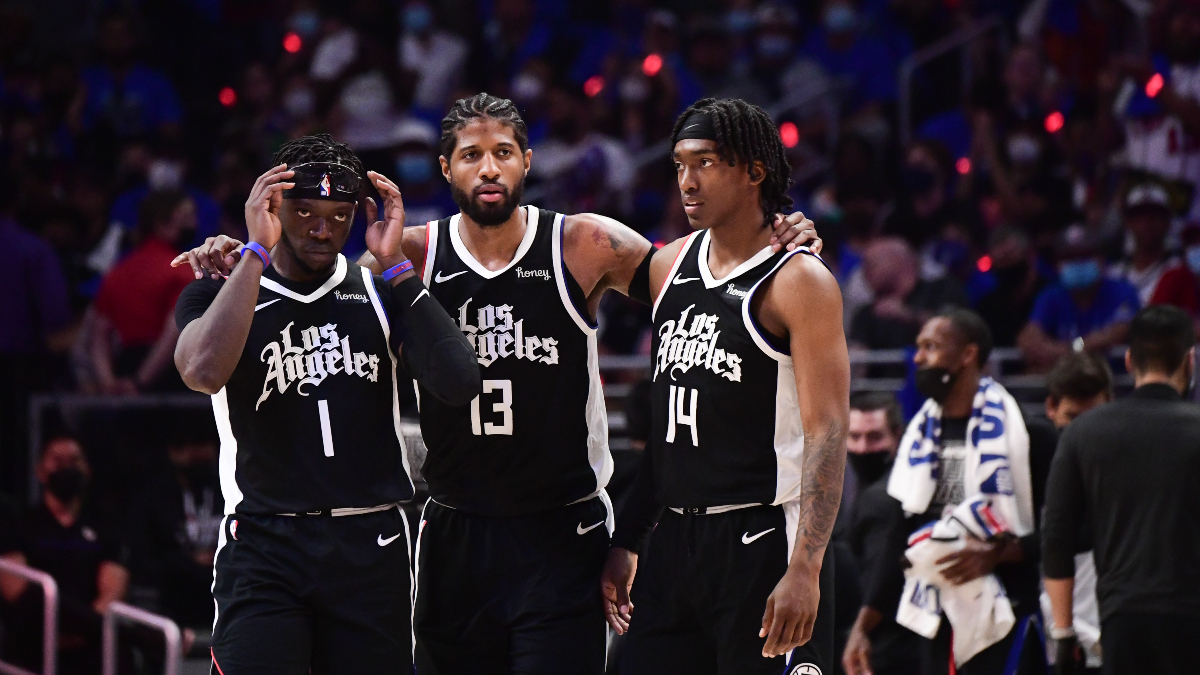 Yes, Leonard had the best on-court net rating of any Clipper. But George was second, and when George was on the floor without Leonard, the Clippers still outscored opponents by 3.5 points per 100 possessions per NBA Advanced Stats.
For perspective, that's better than the Knicks' team-wide season mark of 2.9 for a team that won at a 46-games-per-82 pace last season. Granted, the non-George minutes will be worse because Leonard averaged 14 minutes per game without George. But George will also play more minutes with starters as the rotation adjusts.
This team, with this level of talent, will be just four games over .500? A fringe MVP-list guy with a capable roster is going less than 47-wins? They have rookies who could contribute, Terance Mann has next-level upside.
The Clippers went 26-8 vs. teams under .500 after tanking the final two games, so that looks like 28-6, which would tie the Jazz for the best record vs. sub-.500 in the conference. That sets an incredibly high floor even without Leonard. They went 7-2 in games vs. sub-.500 teams without Leonard. He is not what sets the floor for this team; the overall roster is.
Finally, while their schedule overall is brutal, they do play the most games at home in the NBA before Christmas. They should have a soft landing into the season without Leonard.
The Case for the Under: Leonard being out matters. No one is going to argue otherwise. When a player of Leonard's caliber is out, I try to contextualize it through two prisms. The first is … Read more here
---
» Return to the table of contents «
---
On Feb. 6, the Lakers were 18-6, seventh in offense, first in defense, and had the second-best record in the league, back by a half-game. Anthony Davis missed the next game with Achilles soreness, came back for two games, and then was shut down for two months.
James and Davis lineups outscored opponents by 4.6 points per game in just 27 games last season. In 2020, they outscored opponents by 4.6 points per game in 59 games. A lot of nights, just having LeBron and AD on the floor is going to be enough to pick up the win. It's that simple.
There's a lot to try and decipher with the addition of Russell Westbrook. It's not simple, and it's not even really predictable given the circumstances. But one thing that's easier to anticipate is that having another high-production player like Westbrook is crucial if James or Davis misses time.
It simply reinforces the floor. If James is out, Westbrook can play Westbrook Ball, dominating usage, then dishing repeatedly to Davis for assists when he draws the defense. If Davis is out, he and James can split time, keeping one star on the floor at all times.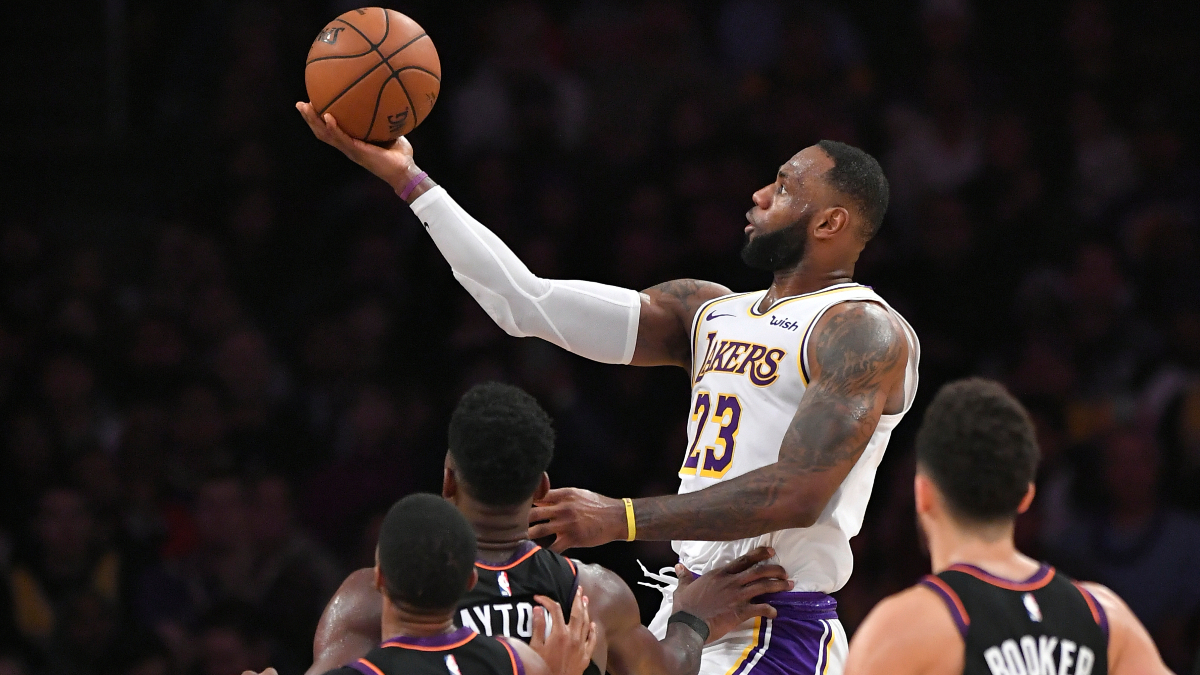 Don't think about how James-Davis-Westbrook matches up vs. Brooklyn or Milwaukee. That's four games out of 82. Think about how two of those three match up with the teams that will finish around or below .500 this season. Two stars and a competent roster of veterans is enough to get a win most nights.
The most impactful element Westbrook will bring to L.A. is helping Anthony Davis get easy buckets. LeBron and Davis don't actually have as many combinations as you'd think, even adjusting for last season's injury issues.
Westbrook has helped Serge Ibaka, Steven Adams, Clint Capela, and Daniel Gafford get easy buckets over the last six years by using his elite athleticism to draw defenders and then dishing to players in short-to-medium range.
Davis won't have to create as much for himself this season, which honestly is for the best. Of the 36th players with at least 500 isolations the past two seasons, Davis ranks 24th in efficiency. It's just not a strength of his. He's better as the tip of the spear, and adding another playmaker will make him such more often.
The Lakers' biggest weakness the past two seasons was the offense. If they ran into a team whose offense their defense couldn't completely wrangle, they struggled to keep up. They added shooters everywhere. Kent Bazemore, Wayne Ellington, Trevor Ariza, Malik Monk, Kendrick Nunn. They upgraded significantly on the perimeter in shot creation and efficiency, which is crucial around Westbrook.
Would it have been better if they'd added Buddy Hield as well (an impossibility after giving up the assets in the Westbrook trade)? Sure. But Monk-Nunn-Bazemore is a good shooter combination. They should take and make more threes, even with Westbrook's negative impact on spacing.
The big drawback supposedly is defense. Westbrook has been a minus defender for the past seven seasons. None of their additions profile as defensive upgrades. However, Frank Vogel is an elite coach. I work from a paradigm that good coaching with a good scheme can establish a baseline that establishes a floor defensively that's pretty high.
Personnel helps tremendously.
The Utah Jazz wouldn't be as good defensively if Rudy Gobert were not Rudy Gobert. But there's a good chance if you distributed some of Gobert's talent more evenly across positions, with Snyder's coaching, the team would still be good defensively.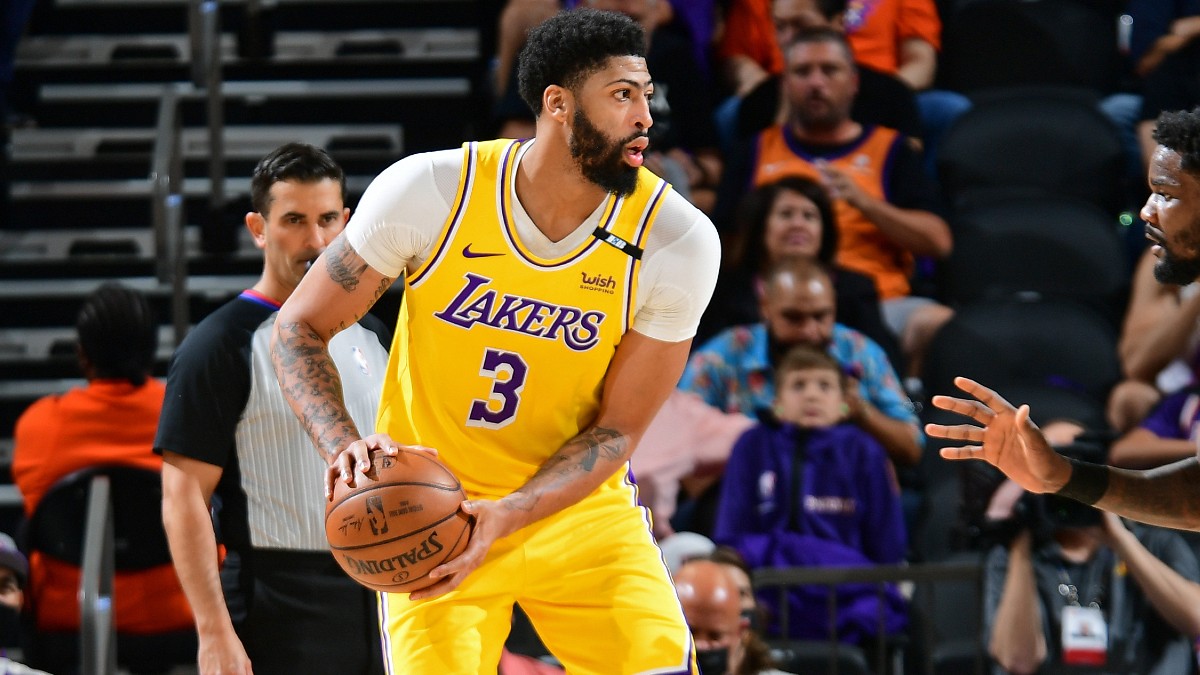 The Lakers still have Davis, an all-world defensive presence (who I believe is slightly overrated), and James. Kent Bazemore is above-average. They have size and athleticism all over. I'm not expecting Westbrook to be good or average, but I also wouldn't rule it out. We've seen other stars recommit to defense when their offensive workload is reduced.
A key element with the Lakers defensively is how they've built the roster to be versatile. If they need to switch, they can put Anthony Davis at center (for the scant minutes he's willing to play center).
To manage workload, they have two players in Anthony Davis and DeAndre Jordan, who they can play at center, allowing Davis to roam. He's especially dangerous there. The center plays drop coverage against pick-and-roll in those minutes, and Davis crashes to protect the rim, wreaking havoc.
It doesn't really matter what your other personnel are in those situations because it maximizes what Davis and James bring to the table. Drop coverage lets the other, weaker perimeter defenders (including Westbrook) stay home on shooters.
I see no real reason why the Lakers shouldn't be top 10in defense again, at worst. I wouldn't be shocked if they were in the top five again.
The schedule is an absolute cupcake for a West team. They have the fourth-easiest rest-adjusted schedule via PositiveResidual.com. The Lakers have the second-fewest rest disadvantage games and are tied for the fewest back-to-backs. This is highly manageable.
The Lakers don't have a high number of rest advantage games, but it also doesn't really matter, as they have a talent advantage when all things are equal.
Despite their massive injury issues last season, the Lakers went 26-8 vs. teams below .500, after going 32-5 against those squads in 2019-20. They will just feast on bad teams, and that's how you build a strong resume. This is the best team in the West. Why overthink it?
The Case for the Under: So yes, the Lakers were 18-6 on Feb. 6 when Davis was first injured. However, that was with a different roster. The Lakers basically tried fixing something that wasn't broken for reasons that raise eyebrows.
They added Andre Drummond, banishing Marc Gasol to the bench for a worse player. There are various reasons for the addition of Drummond, but league insiders would consistently mention … Read more here
---
» Return to the table of contents «
---
The Grizzlies won at a 43-win pace last season: over. Their Pythagorean-expected mark per 82 games was just over 42. Memphis' win total in both of Taylor Jenkins' seasons as head coach: over.
The Grizzlies had a significant shutdown due to COVID last season and had the sixth-most games lost due to injury. They also were forced at midseason to abandon a very successful rotation so that they could try and figure out what they had in Justise Winslow. He submarined their mojo and messed with the playing time of players who were having great seasons. The Grizzlies did not retain Winslow this offseason.
Jaren Jackson Jr. was coming back from injury, and when he did, he looked like a guy coming back from major knee surgery. This season is make-or-break for the former No. 4 overall pick, and Memphis needs him to make a leap. He's top five at many books for Most Improved. A big season for him bumps them up a notch.
Memphis' bench has a ton of talent. De'Anthony Melton, Tyus Jones, Desmond Bane, Brandon Clarke are all two-way players, and Xavier Tillman showed some impressive point center stuff in the summer league.
Memphis' build around Ja Morant is impressive. They'll miss Jonas Valanciunas, but Steven Adams is a fine replacement if the other players take a step forward. Dillon Brooks emerged as a top-end defender and Kyle Anderson re-invented himself as a legitimate floor spacer.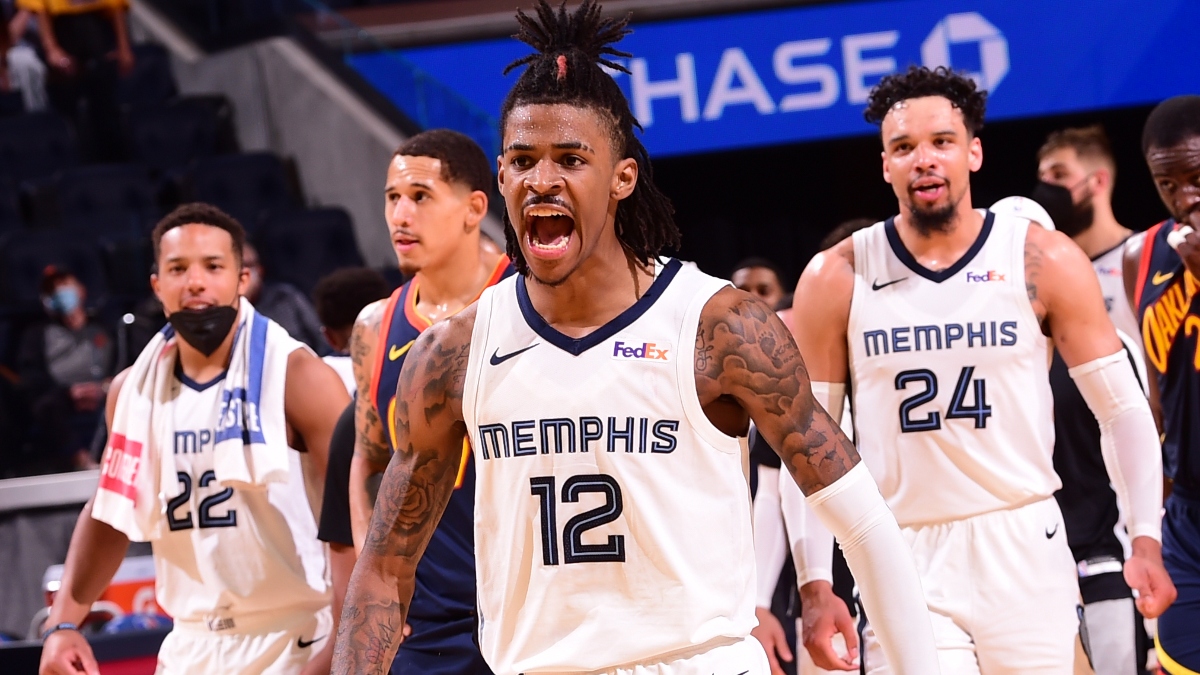 Plus, you know, Ja Morant.
Morant struggled shooting when he returned from injury, shooting 41% from the field and 28% from 3 in February. But by April, he was back to 48% from the field and 41% from 3.
His 3-pointer should take a step forward this season with repetition, and with it, his ability to draw defenders out to open the lane will improve. He's already one of the best and most impactful players in the league. This could be the year he jumps to All-Star.
Their schedule is average; there aren't many red flags on it. They're low in three-in-four-night sets, and their overall rest-adjusted schedule is middling. It's not a soft schedule, but it's not a concerning one, either.
The Case for the Under: The Grizzlies have banked on all their young guys improving, but often development isn't linear. Sporadic stalling in development could lead to regression on a team level pretty quickly without … Read more here
---
» Return to the table of contents «
---
Let's start with organizational precedent. The Heat have gone over in four of the six seasons since LeBron James departed. Erik Spoelstra routinely gets the most out of his rosters, and this one has talent.
Miami has a constant win-now approach. They will never peel off of a season to regroup or tank. As long as Pat Riley is there, they aim to contend and are a calendar year removed from making the Finals. Miami's team mindset plays a role here. The Heat knew they weren't that good last year and still made a late push to avoid the play-in and sneak into the No. 6 seed despite everything that went haywire.
Kyle Lowry is a pretty obvious upgrade. He averaged 17-7-5 with his usual charge-drawing defense and still shot 40% from 3. Putting Lowry as a floor spacer and creator who's not a defensive liability next to Jimmy Butler is a natural fit.
Lowry shot more 3's per 100 possessions than Goran Dragic last season and shot better from 3 as well. He's a clear upgrade over Dragic and Kendrick Nunn and allows Tyler Herro to operate more as a third scorer/playmaker, a more natural fit for him.
Miami fell victim to the same fate that befell all of the final four teams from 2020. The conference finalists from the bubble all had disappointing seasons, with only Denver escaping the first round (and subsequently swept).
In the first half of the season, the Heat couldn't score (25th in offensive efficiency before All-Star) but could defend (seventh in defensive efficiency). The Heat in the second half could score (10th in offense) but couldn't defend (17th).
So the good news is that they showed the ability to do both. They just couldn't figure it out at the same time.
PJ Tucker gives them another solid defender who is comfortable shooting corner 3s and Markieff Morris much of the same. They're a more veteran team now, which will lower the mistakes sustained.
Their schedule is average in terms of back-to-backs and rest advantage vs. disadvantage, and they play in a weak division with only one serious division contender in Atlanta. Orlando is likely the worst team in the league this season, and Charlotte and Washington are likely still play-in teams.
Miami was 26-10 vs. teams under .500 last season, the same record as the Hawks and Knicks, which puts them in that conversation for the No. 4 seed.
The Case for the Under: Their number (48.5) feels dead-set in the middle of their bell curve of outcomes, with a sizable chunk between 47 and 52 wins. Their nightmare scenarios seem … Read more here
---
» Return to the table of contents «
---
The Bucks have cruised past this number in two of Mike Budenholzer's three seasons as coach. Last season they slid backward; if there's one season you can forgive a sliding performance, it has to be last season with all the disruptions (and it still resulted in a title).
Milwaukee was uncharacteristic on multiple levels last season. Their performance vs. teams under .500 slid slightly. Late in the year, after March 15, the Bucks were 6-6 vs. middle-10 teams in point differential.
The Bucks have been a regular-season juggernaut under Budenholzer. The things I look for in building a robust regular-season win profile are performance vs. teams under .500 and performance vs. division teams. Milwaukee has gone a berserk 38-4 vs. division teams and an absolutely guano 98-22 vs. teams under .500 in the Budenholzer era.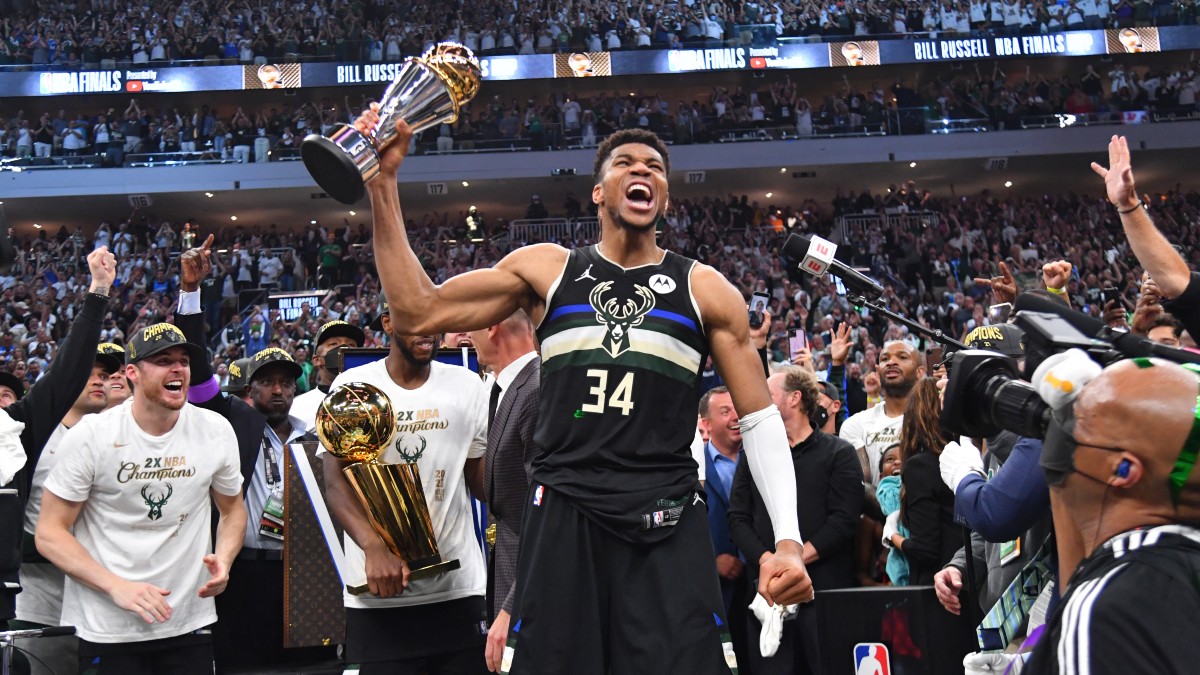 You want consistent teams for your over bets, and there isn't a more consistent team than the Bucks.
Their schedule is middle of the road in terms of rest advantage and disadvantage, and on the weaker side in terms of opponent expected win percentage.
They have a two-time MVP who is the reigning Finals MVP in his absolute prime. They understand more about who they are now with this core and bring that championship experience and pedigree to the regular season.
The reality is that 85% of the teams in the league are simply not in the Bucks' class.
They have proven consistently they don't screw up vs. teams they should beat, and they match up great with every other top team. They went 6-4 vs. the Nets in the regular season and playoffs, even if the Nets were never fully healthy. Milwaukee lost the season series to four teams last year: the Suns, Jazz, Hornets, and Celtics.
Trust Bud in the regular season.
The Case for the Under: It will have been 91 days between the Bucks' Game 6 victory over the Suns and the start of the season; it was just 69 days between their title clinch and the start of training camp. They had less … Read more here
---
» Return to the table of contents «
---
Chris Finch took over in late February as head coach of the Minnesota Timberwolves in a season with a highly compact schedule and no practice time. From March 15 through the end of the season, the Wolves went 14-19, a 42.4% win percentage which over 82 games would put them right at 35 for the season.
Finch unlocked something significant with not only the Wolves' offense but Karl-Anthony Towns in particular. Minnesota went 7-3 vs. bottom-10 teams in point differential in that span, which, "Sure," you say, "it's easy vs. the tanking teams." But that's just the point. This win total doesn't suggest the Wolves have to be good to hit the over. They just have to be not as bad.
After the All-Star Break, Minnesota went 11-12 against Western Conference teams and 4-3 vs. East teams that aren't in the Northeast Division. They went 0-5 vs. the Nets (top-two seed), the Sixers (top-two seed), and the Celtics (playoff team). If we dig in, there are all sorts of signs that their win profile stabilized.
The Timberwolves are changing their defensive scheme this season, going to an at-the-level contain approach. Patrick Beverley's presence will help with that, but more importantly, this change helps Karl-Anthony Towns.
He is fast, athletic, and mobile, and the Wolves handcuffed him to a drop scheme in pick and roll that does nothing to accentuate his strengths and instead exacerbates his weaknesses.
The Wolves last season had the No. 2 (!!!) defense defending pick-and-rolls in coverages that weren't drop or switch, and in preseason, they've talked explicitly about playing less of both.
Minnesota has offensive firepower that should improve with a better roster and Anthony Edwards' improvement, plus better coaching from Finch and a defense moving away from failed strategies towards a better approach. So the on-court performance should be better.
Before Saunders was dismissed, the Wolves were outscored by 1.2 points per 100 possessions with Karl-Anthony Towns, their best player, on the floor. After the All-Star Break, when Finch could install some things, that number went from -1.2 to +1.6. That differential is crucial. You need to win your starters minutes.
There is a non-zero chance they trade for Ben Simmons. The path to such a trade is difficult. KAT and D'Angelo Russell are great friends; they wanted to play together. Both are friends with Simmons.
The most logical trade involves Russell (and many other pieces) for Simmons, but that would mean disrupting those friendships that the team can't afford with Towns' overall depression about the franchise's instability. The alternative would be trading Edwards, which would be a mistake given he's the second-best player on the team.
However, if they found a trade that worked and didn't involve Russell or Edwards — again, I'm skeptical of this — Simmons adds a dynamite defender and playmaker, and this team probably leaps into a playoff contender.
General manager Sachin Gupta (who took over for the fired Gersson Rosas) worked for Daryl Morey in Houston and Sam Hinkie (a member of the Morey tree) in Philly. There are ties.
There's been action on this from the offseason. It opened 33.5, and there are 35.5's on the market now. Follow the money.
The Case for the Under: Before the All-Star Break this upcoming season, Minnesota has the second-toughest rest-adjusted schedule in the league, flying the fifth-most miles of any team in that stretch. If they struggle due to a demanding schedule … Read more here
---
» Return to the table of contents «
---
Zion Williamson is the monster under the bed. He's a tall tale. You could tell me any stat about Williamson scoring in the paint, and I would believe you.
You could tell me Zion scored 50 points without taking a free throw or a shot outside of the paint and I'd go, "Sure, sounds right." The Pelicans outscored opponents by 2.1 points per 100 possessions with Zion on the floor and lost by 3.5 when he was on the bench. Just slightly buffering the bench will improve things.
When Lonzo Ball (now with the Bulls) and Brandon Ingram were on-court without Williamson last season, they were a minus, and same for Lonzo without either of the other two and Ingram without either of the other two. New addition Devonte' Graham should at least bring some offense to help carry those lineups a bit more.
To quote him from several seasons earlier on Twitter, Eric Bledsoe didn't want to be there. Bledsoe was dealt from a contender to the Pelicans and was a massive drag on their lineups all season. Bledsoe, when he's engaged, is a top-level defender with burst. When he's not engaged, he's a space-cramping liability.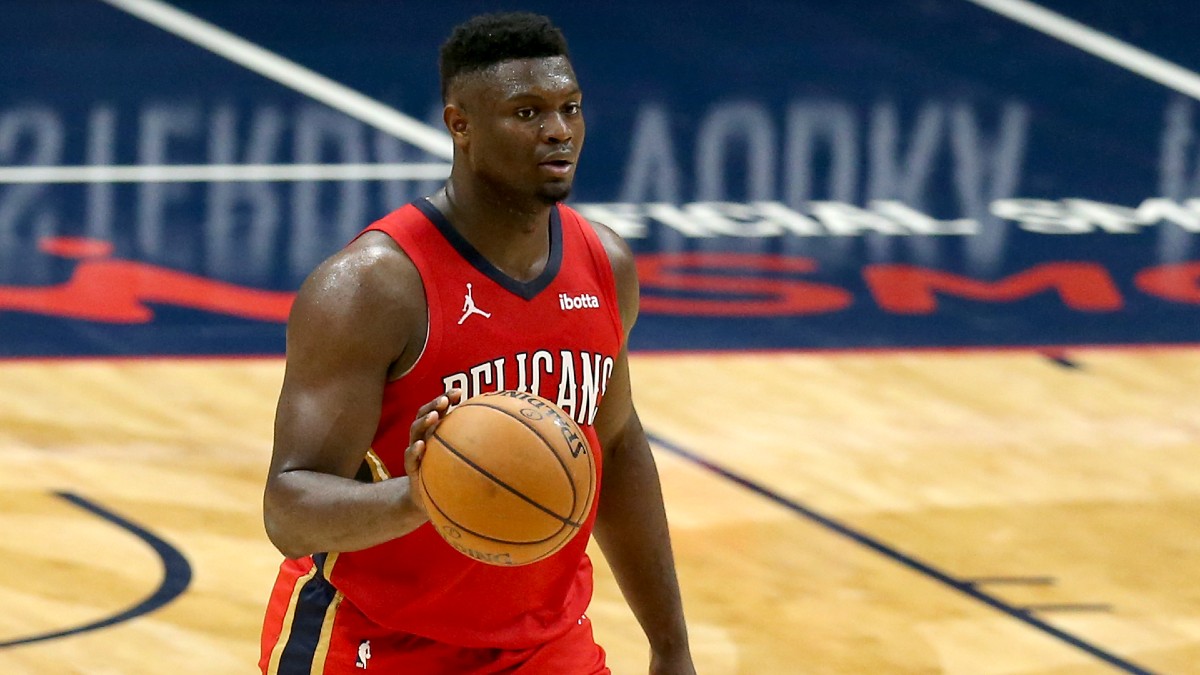 Steven Adams was a poor fit alongside Williamson for any number of reasons. The team was basically transitioning from the Holiday era last season. Now, it has a fresh start with young talent ready for a jump and better veteran additions.
Jonas Valanciunas is a much better fit with Williamson for several reasons. For starters, his short jumper means he won't wholly pack the paint offensively. He has more burst in his step than Adams and a softer touch. Devonte' Graham is a pure shooter who has shot better than 37% on 3s the past two seasons. He can't shoot inside, but that's fine because, again, Zion.
Herb Jones, Nnaji Marshall, and Trey Murphy balled out in Summer League. There's a good chance Nickeil Alexander-Walker becomes a serious rotation player this season, and the team remains high on Kira Lewis. There's talent, untapped, here.
Having more veterans will also simply reduce the number of mistakes. Tomas Satoransky and Garrett Temple have been around the block; their experience will help clean up some of the messiness this team has shown. The Pelicans gave up the third-most points off turnovers per 100 possessions of any team in the league last season. Some slight improvement there and in halfcourt scheme, and they're in a promising spot to be .500 and go over.
Willie Green is a fascinating hire. If the biggest concern for this team is chemistry (and it is), having a coach who comes in with a strong reputation for player relations is a good sign. Green said in his introductory presser that the best coaches are not the best in X's and O's, but the best in connecting with people. He'll focus on that, and that's something they badly need.
If this team can just play like it likes playing together, just a little bit, it could make all the difference in the world with the talent it has.
The Pelicans had some of the worst luck last season, based on Pythagorean expectation. Their Pythagorean expected wins-per-82 mark last season was 39, an over on the line. The Pels were 3-10 (!!!) in games inside three-points last season. That's an outlier mark that should head back towards their direction in coin-flip games.
As long as you don't think the team is worse this season, the bet is the over
New Orleans' schedule is pretty soft. They have four more rest advantage games than disadvantage games. It's easier on the back end, so they can probably recover from a slow start if Williamson misses time.
They have a top-15 player in Zion (at worst). Ingram is talented, JV's an upgrade. This could finally be the year for the Pels.
The Case for the Under: You know how you don't want to start the season? With a detailed report on the struggles of the general manager to get along with the superstar and about general front-office dysfunction, and then with a sudden sneak-in from the the general manager in the preseason press conference that Williamson had foot surgery … Read more here
---
» Return to the table of contents «
---
The market is too far ahead of the regression. That's the best case for the over. The Knicks won at a 47-win pace last season, and as we'll talk about in the under section, many signals point towards regression. If the market had done what I would have expected and put this closer to 45? I'm likely banging the under, expecting the Knicks to be closer to .500 (but probably not below it).
I was wildly wrong about many of the things in my Knicks win total piece last year, but as I bet the over, the one thing that I was on solid ground about was Tom Thibodeau. He gets the most out of his team in terms of regular-season effort.
It's part of why it's such a great move to fade them in the playoffs (and I bet Hawks multiple times in that first-round series). The Knicks will play hard, and I'm not kidding you. Playing hard is half the battle in the NBA regular season.
Last season, Julius Randle was a monster, bursting onto the back end of MVP ballots like the Kool-Aid man. There's reasonable skepticism to be had about a repeat performance, primarily based on his NBA career so far. We shouldn't ignore who a player was before he broke out. He was the guy who drifted from team to team, an undersized 4/5 with questionable defense and short arms.
But I think expecting him to just go back to being who he was before last season is short-sighted as well.
Second Spectrum's Qualified Shot Quality provides an estimated eFG% based on location and opponent contest level. Randle's QSQ last season on jump shots was the lowest of his career since his rookie season, yet his eFG% was highest. The delta between the two was 8.35% points.
However, it's just as reasonable to expect his shot quality to improve as things become easier for him with the improvement of the Knicks roster, especially the younger players, as it is to expect the level to which he outshot expectations to dip.
Randle was 18th percentile in scoring in transition last season, a figure that should improve; those are pretty easy shots most often. He only had 30 cut possessions and shot just 14-of-26 on them. Even with his shorter wingspan relative to his position, that's a number that figures to rise.
There are a host of ways that Randle can improve on last year, even as his outlier shooting dips. And his knack for rebounding and his high-level passing are sustainable.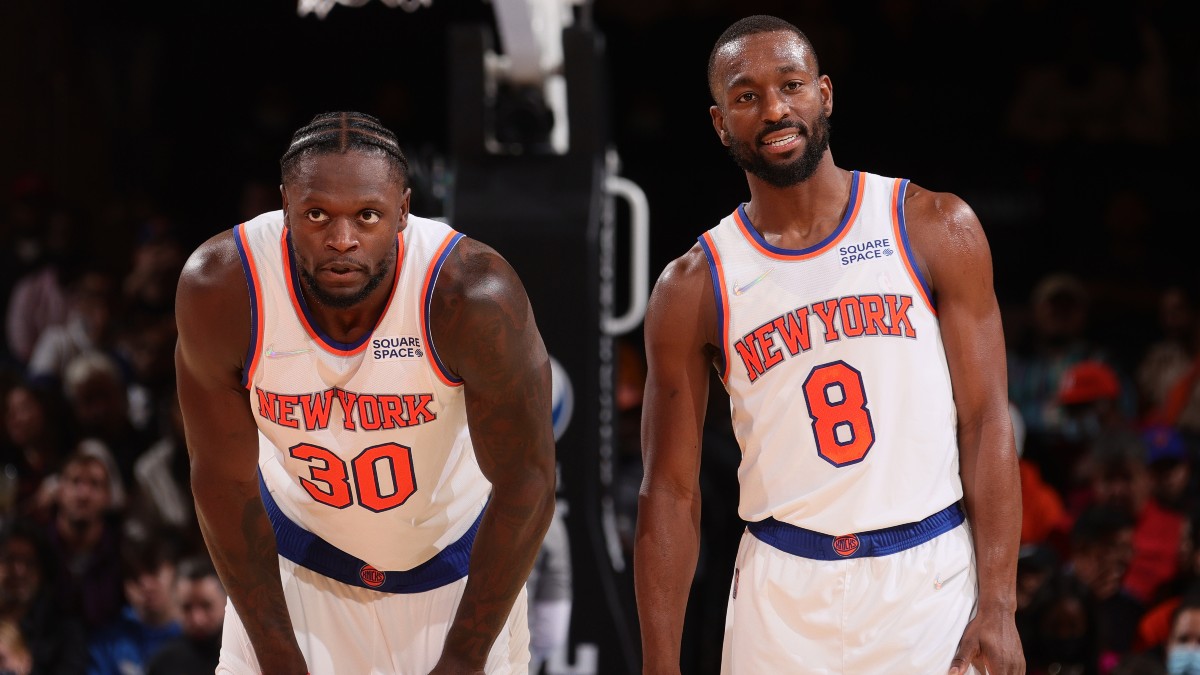 Why would life get harder for Randle with Kemba Walker on board?
The Knicks started Elfrid Payton 63 games last season and were outscored by 2.6 points per 100 possessions with Payton on-floor. The bar for improvement is low, and they added a still outstanding player in Walker, but his availability, not his play, has been the issue.
This would be a problem for the Knicks if they were short on reserve talent, but they're stocked with Derrick Rose (a serious Sixth Man of the Year) candidate and Immanuel Quickley. They can survive if Walker misses 20 or so games there.
At the top level, without getting into individual statistical categories, there aren't as many red flags with the Knicks' resume from last season as you'd expect.
The Knicks' Pythagorean expected record (41.3) was precisely on their record level (41). I thought perhaps this was hiding something given that their offense was pedestrian for most of the season and ranked 11th over the final month of the season per Cleaning the Glass, but their win differential (while positive; they played well) was seventh in that short span, it's not enough to make it seem like they had a fluke finish.
The Knicks shot 3.03% better than expected by QSQ overall, which ranked 13th in the league. A little fortunate? Sure, but nothing super concerning.
Their win profile isn't concerning, either. New York finished 15-21 vs. teams .500 or better, tied with the Hawks and Celtics. They went 26-10 vs. teams under .500, tied with the Hawks and Heat.
There would be some concern if the Knicks had won a bunch of games vs. the top tier, but they finished 7-16 vs. those teams, about where you would expect. Regular-season success vs. bad teams is more sustainable, and the Knicks were solid in that area but not above expectation.
The only area where they really exceeded point-differential-informed expectations was against the middle tier. New York had 15 wins against an expected mark of 13.4 vs. teams with a middle-10 point differential, mostly teams in their range.
So they beat teams worse than themselves as you would expect, lost to teams better than themselves as you would expect, and slightly over-performed vs. the teams in the middle.
That's how you go from being a 42 win team to a 47 win team by winning what are essentially coin flip games.
But that doesn't forecast a steep reduction in wins.
This number is too low. The fact that it's juiced to the over at multiple books backs that up.
You can simplify this: the Knicks may not be the No. 4 seed next season, but they'll win more games than they'll lose.
The Case for the Under: Spoiler alert: the Knicks aren't going to be fourth in Defensive Rating next season if they follow last year's process and model. The sneaky player the Knicks lost, which could hurt them, is … Read more here
---
» Return to the table of contents «
---
This team was 20-27 (a 34-wins-per-82-games pace) at the end of March, with just two months left in the season. Then they finished 2-23.
They went 16-19 in games Shai Gilgeous-Alexander played last season, at a 37-win pace. They will be pretty good if they just simply don't sit out every good player on the roster. There's more talent here than you'd think.
SGA was one of the best point guards, analytically, across several measures last season, including drives and efficiency. He shot 52-41-81. Lu Dort is all-defense and shot 34% from deep last season, a respectable mark.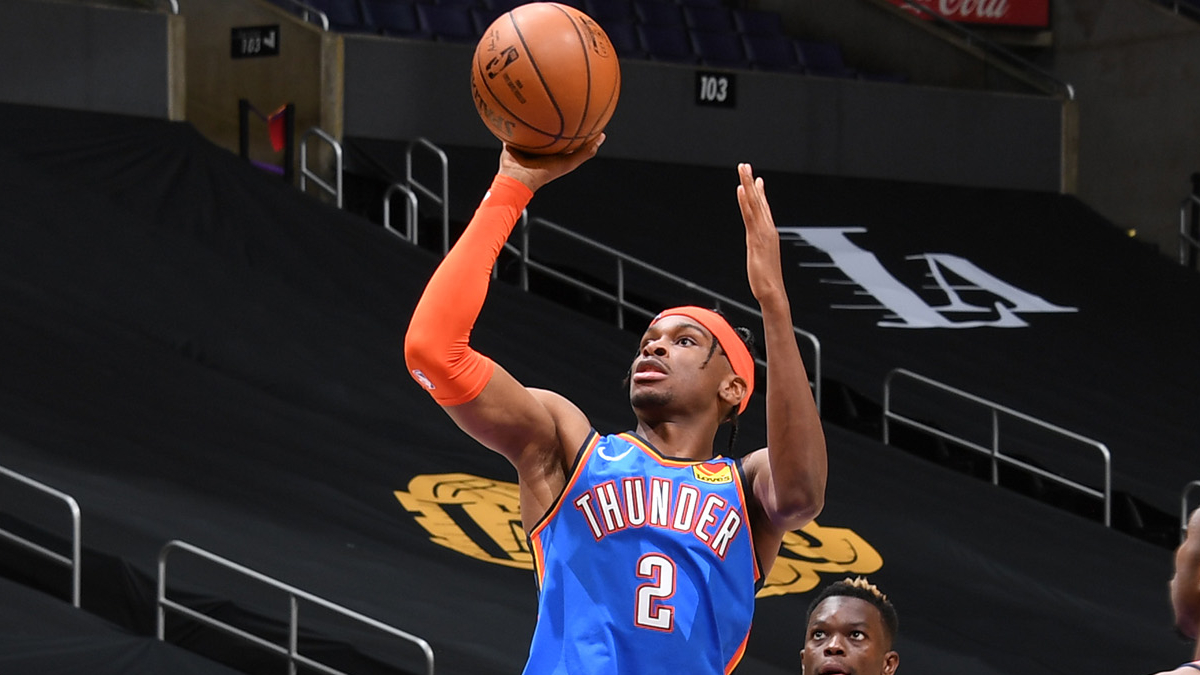 Kenrich Williams brings a lot to the table. Aleksej Pokusevski either looks like a unicorn or nothing like an NBA player, but he's a tough, weird matchup when he plays well.
OKC was 11th in defense on March 15th. For a young team, it's usually the defense that fails you, and that was a legitimate strength. With more talent, including No. 6 overall pick Josh Giddey, if they get the offense to just 20th-25th, that's probably enough for an over. They're well-coached with a lot of organizational stability.
OKC can secure a top-three lottery spot and still hit the over here if the rest of the league distributes wins more evenly. A note from my Magic preview: the team with the lowest win total has hit the over in nine of the past 12 seasons.
The Case for the Under: They have 14 players on roster with less than three years of NBA experience. They have only one player with more than four years of experience (Mike Muscala). There will be G-League teams with more combined years of NBA experience … Read more here
---
» Return to the table of contents «
---
The power of the unknown?
You have a new coach in Jamahl Mosley. Maybe he's the kind of coach who raises the floor for a young rebuilding team.
There's a vast number of players who could make a leap. Markelle Fultz has shown some real potential in between injuries. RJ Hampton has shown flashes and will get minutes.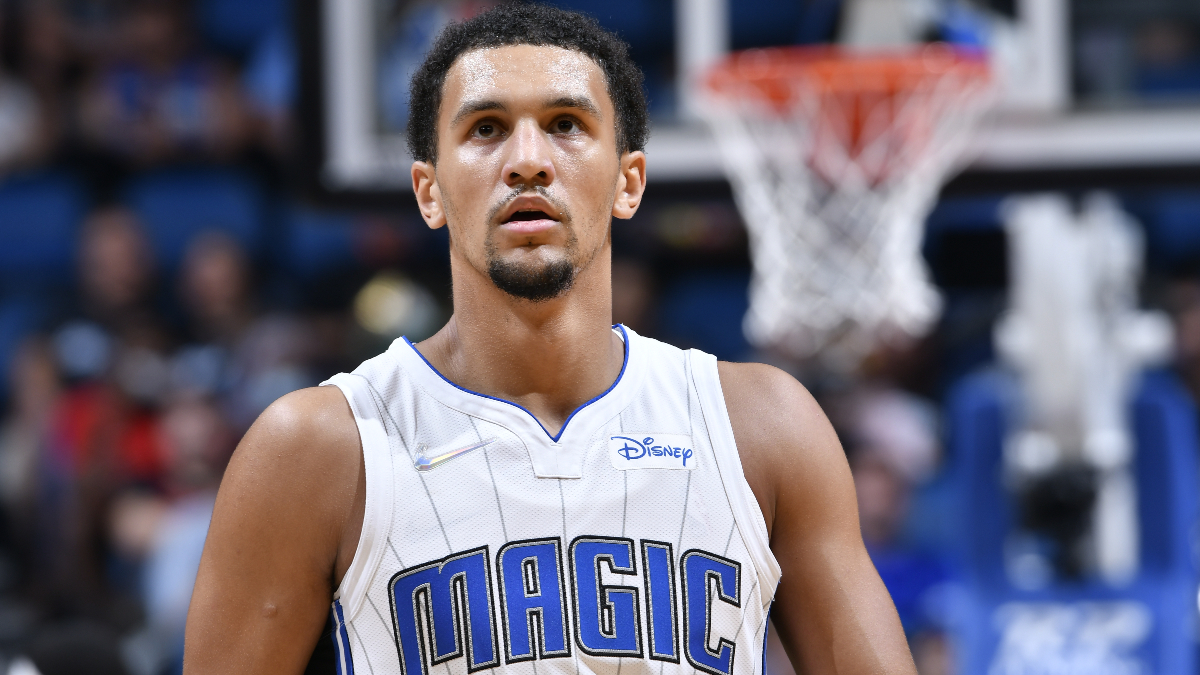 Jalen Suggs has the potential a top-five pick carries. Jonathan Isaac has been derailed by injuries as well, but the potential is incredible. Cole Anthony and Wendell Carter Jr. is a good combination of pick-and-roll playmaker and finisher.
The number is understandably the lowest in the league, so the bar to get above it is also low. The Magic have to win less than a third of their games just to slide over the number.
The Case for the Under: The roster doesn't have a star; Terrence Ross is the best player on the team, and is available for trade. Fultz, Isaac, Mo Bamba, and Cole Anthony all have had injuries in the past year, and … Read more here
---
» Return to the table of contents «
---
Before we talk over or under, we need to set the table here.
You cannot make an absolute determination on the Sixers' win total unless Simmons is traded. If that does not happen before the total is off the board, you're out of luck.
You can't fade them with the under due to the possibility they make some sort of wild blockbuster trade that puts the perfect superstar next to Joel Embiid. You can't bet them at a number above 50 without knowing what return the team's second-best player garners.
There are two paths to game theory this thing out and get to the over.
Path 1: Morey gets what he wants. With Lillard signaling he's content to wait for the Blazers front office to either prove themselves right or implode spectacularly, there aren't any names here, but this is the NBA. Bombshell trades occur all the time.
If Morey gets the All-Star he's been chasing, this number goes up immediately by at least a few wins. Betting on Morey has been profitable. Going back to 2012 when the Rockets added Harden, Morey's teams have gone 5-3 to the over (not counting the COVID-shortened season, or as they call it in Houston, "the Westbrook year").
Path 2: Morey doesn't get a superstar but effectively gets a price high enough to get a top return of win-now pieces. Maybe that's a combination from the Raptors, or upside pieces from the Wolves, or another team decides to pull the trigger on a big deal.
You're betting on Morey coming out well with trading Simmons. The playoff disaster compromised Simmons's trade value, but it's been three months since, and executives I spoke to this summer still felt he was a player who could help you win.
What could go wrong?
The Case for the Under: A lot could go wrong! Embiid tore his meniscus last spring. Given his history of injury, that has to make you nervous … Read more here
---
» Return to the table of contents «
---
Continuity. The Suns retain all the key pieces from the Finals run, and most of them are young. Devin Booker, Mikal Bridges, Deandre Ayton, and Cam Johnson are all age 25 or younger. They can handle the workload of the bubble, then the 72-game season, then the deep playoff run.
They have a proven formula. Up and down the roster, the Suns have not just traditional positions capably filled but roles as well. Floor generalship? Chris Paul. Top-level scorer? Booker. Rim protection? Ayton. Perimeter defense and shooting? Bridges. Veteran defense? Jae Crowder (and some shooting now and again, too). Backup point guard? Cameron Payne.
Speaking of Booker, did you know that in a season where the Suns had the second-best record in the league and made the Finals, he had a down season? His 2-point, 3-point, FT% (and eFG% and TS% by extension) were not only down year over year, but lower than his career averages. You have to imagine Booker will rebound.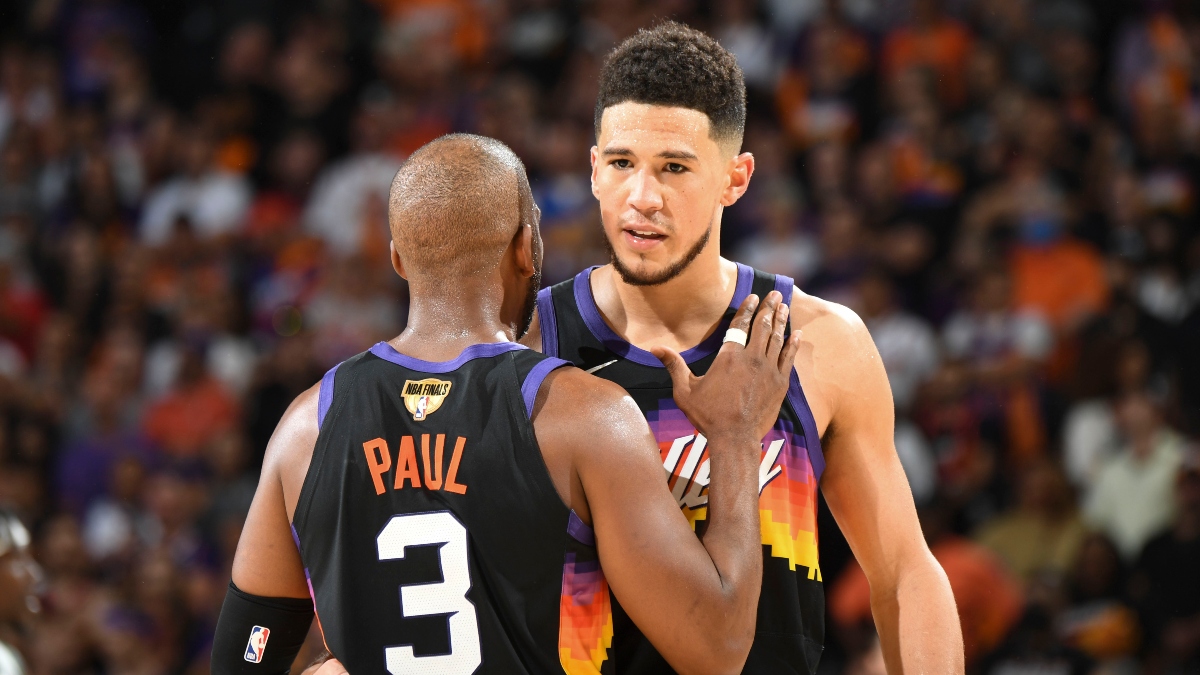 Phoenix was the best team in the league vs. good teams last season. They finished 17-7 vs. teams with a top-10 point differential and 27-11 overall vs. teams .500 and above. They pick up wins in low-probability situations consistently. It's more likely that their middling numbers vs. sub-.Five hundred teams regress to the standard of their overall team.
Their schedule is cake. The Suns have the fifth-easiest rest-adjusted schedule per PositiveResidual.com. Some of that is altitude adjusted, but they have an average amount of back-to-backs and 15 rest advantage games to 14 disadvantage.
The number is juiced to the over, and the books are incentivizing the under. You have an excellent team bringing back all but one of the key pieces, with a favorable schedule. What's not to like?
The Case for the Under: If we're expecting great things again based on the Finals run, some context is needed. And the Suns are at least likely to have closer to average injury luck … Read more here
---
» Return to the table of contents «
---
Portland has won at least a 48-win pace in three of the last four seasons. The lone season they went under that mark, Jusuf Nurkic was out for most of the season. The combination of Damian Lillard, CJ McCollum, and Nurkic has been pretty much a guaranteed top-ten offense every season.
In 370 minutes last season after trading for Norman Powell, the Blazers' starting five of the Big 3, Powell and Robert Covington had an offensive rating of 118 and a net rating of +13.4. They smashed teams. They get more time together with a more regular schedule and a renewed sense of purpose behind a new coach.
Terry Stotts went from "one of the best coaches in this league, you can't fire him" to "he's definitely going to be fired" by The All-Star Break. Stotts was a good coach; the Blazers made the playoffs every season with Portland after his first year.
However, it was clear he'd lost the locker room and, more importantly, had lost the backing of a frustrated Dame. The pressure was mounting, and something had to change to appease Dame. GM Neil Olshey, predictably, blamed coaching, kept the core roster intact, and replaced Stotts with Billups.
Yes, Billups' hire was controversial after his late 90's sexual assault allegations resurfaced. The fanbase is understandably still frustrated about not only the decision to hire Billups in light of those accusations but how his background was researched.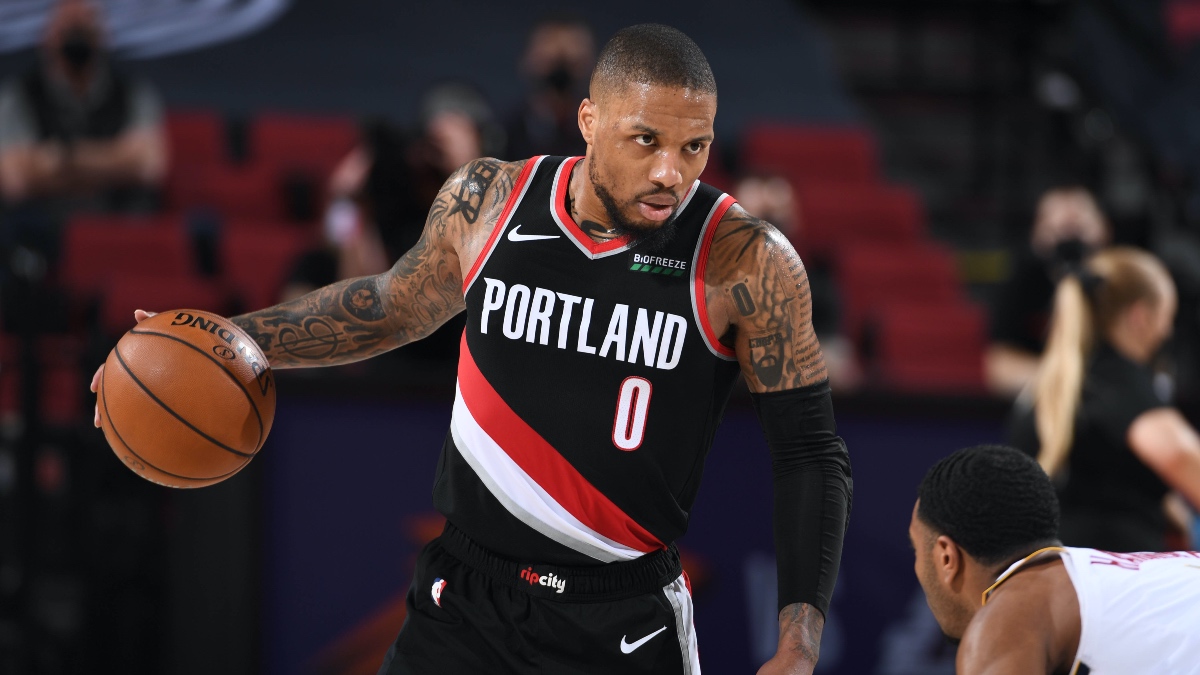 Nonetheless, it's impossible to argue Billups does not have the players' ears coming into training camp. Lillard has a long-standing relationship with Billups; Billups was among the first leaked names of Dame's preferred coaches.
Billups also has a relationship with Nurkic that's strong. He's a former player, so connecting with them is easier, and managing both their respect and trust will come easier to him, given his experience.
Their bench is undeniably improved. Last season's bench was an unmitigated disaster. I literally wound up betting against Portland in the 2nd quarter for the first half of the year because they were forced to play Kanter-Melo minutes and got killed every time.
Cody Zeller is a no-name who doesn't inspire anyone. Zeller had the second-best net rating of any player on Charlotte last year. More importantly — and honestly, shockingly — of the seventeen centers with at least 100 switches last season, Zeller allowed the sixth-fewest points per possession. His switch numbers were terrific.
Alongside the addition of Larry Nance and the development of Nassir Little, the Blazers will actually have capable defensive personnel next season. Nance was among the best last season in terms of deflections, steals, and defensive impact in an injury-riddled season in which the Cavs gave up about a month in. He can operate as the short roller and shot 36% from 3 last season. He's legitimately good.
Tony Snell is another offseason addition. Snell played just 47 games last season. He had 171 shots. Of those 171 shots, 95 were jump shots. So the sample size here is not much to work with. It's a half-season in limited minutes.
However, Snell was the most efficient jump shooter in the league in those minutes and on those shots. That's not a value-based judgment. It's an objective statement. He shot the most efficiently on jump shots in the NBA last season.
The Blazers got better. They were a playoff team last season with a win total higher, and they improved the roster.
Damian Lillard won't be traded this season. There's a near-unanimous agreement on that. Lillard is committed to giving this roster with a new coach a fair shake. So that trade isn't a concern.
Portland always seems to zig when expected to zag. They followed up a disappointing first-round sweep with a Western Conference Finals appearance, then followed that up by having to play-in through the bubble. And still, they've gone over in three of the past four seasons.
The Case for the Under: For starters, things are definitely wobbling. Lillard began making his discomfort known last year … Read more here
---
» Return to the table of contents «
---
Sacramento was top-10 in games lost to injury via ManGamesLost.com last season. De'Aaron Fox and Harrison Barnes, the backbone of the team's Net Rating, each missed 14. Richaun Holmes missed 11, and he had the best Net Rating of any rotation player.
The Kings' two most-used lineups were not only plus in Net Rating, but +7.2 and +7.6, respectively. Those are great numbers. For perspective, the Kings had the 16th-best four-man unit to play at least 750 minutes together last season. That's really promising.
The Kings added the most NBA-ready player in the draft (at least from pre-draft perspectives) in Davion Mitchell, who lit up Summer League. If Mitchell is an impact player, that might bump them up.
They went over last season, a fact that honestly surprised me, and have gone over in two of the past three seasons. Their pace last season was 35 per 82, so they just need a one-game improvement.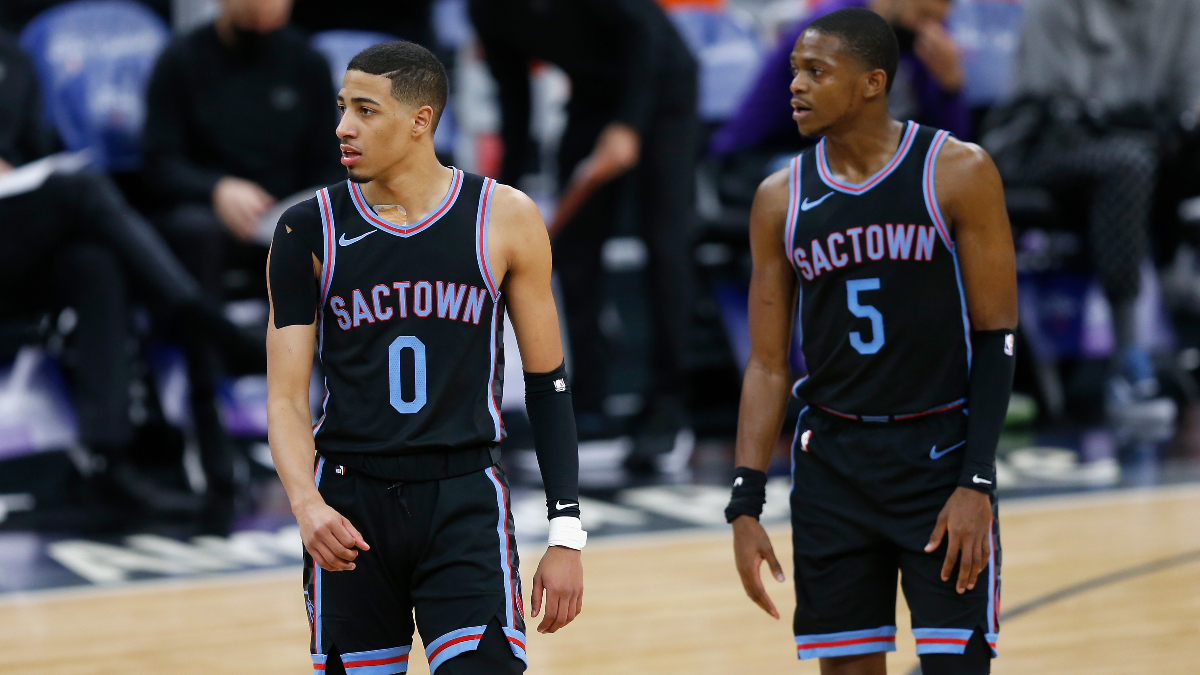 Fox only played in two of their final 15 games as they attempted to improve draft positioning. Fox's on-court numbers were the worst of any rotation player, and you just don't expect that from the team's best player; Fox should have a bounce-back season.
In the 11 games Richaun Holmes missed, the Kings went 2-9. Holmes had the best on-court net rating of any player to play more than 20 games for the Kings last season.
In the games he played in, the Kings' win-pace per 82 games was 39. So if either Holmes can avoid missing significant time, or if the Kings just improve slightly in the games where he's out, there's a path there.
The Case for the Under: Do you want to tie up your money for six months to bet the Kings will be better than market expectations? … Read more here
---
» Return to the table of contents «
---
Death, Taxes, Spurs, right? This has been one of the most consistent over bets in NBA history.
Last season, the team traded LaMarcus Aldridge, lost Derrick White for half the season, lost DeMar DeRozan for 11 games, and still hit the over by five wins.
Aldridge and DeRozan are big-name players, but their overall net impact was poor the last two seasons in San Antonio. Last season, DeMar DeRozan and LaMarcus Aldridge's lineups were outscored by 9.3 points per 100 possessions. That is tanking-squad-level wretched. So missing them is certainly missing talent, but their overall performance together was poor.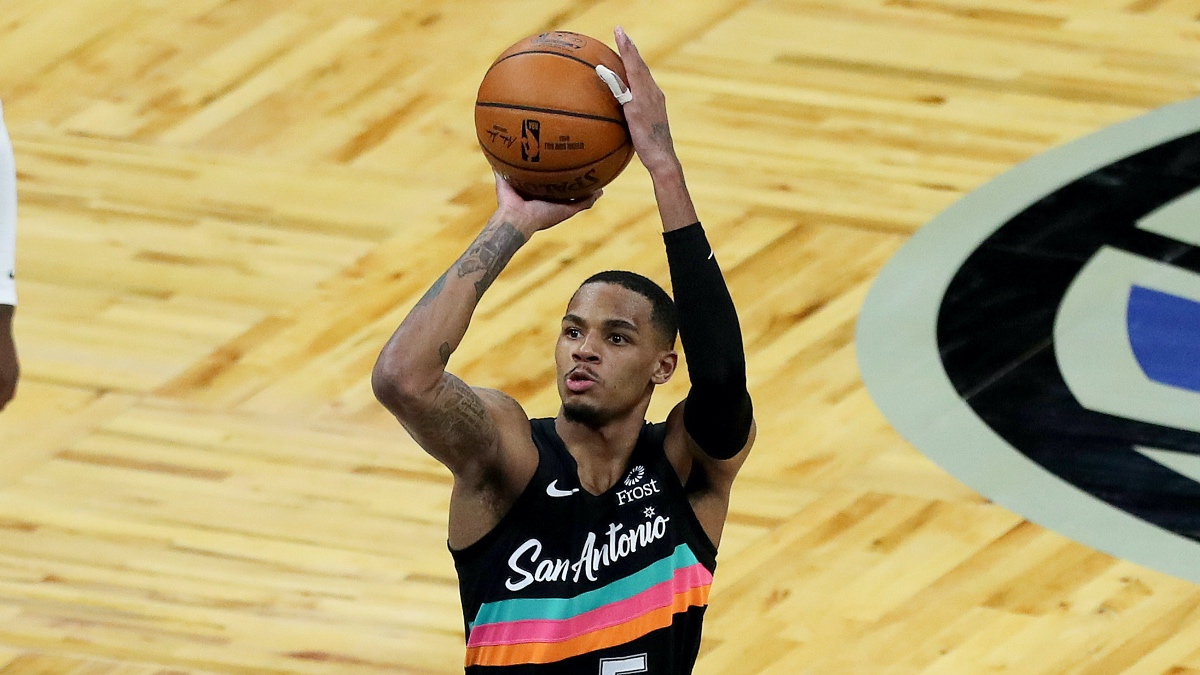 There are so many options for who could step up here. Derrick White has shown the most. Dejounte Murray has arguably the most talent. Keldon Johnson has the most hype. If any one of the youngster Spurs steps up, they're going to be a problem because of their depth and discipline.
They added Doug McDermott, a high-level shooter to complement their creators, and Al-Farouq Aminu and Thaddeus Young are the types of guys who will wind up with surprising advanced metrics for the Spurs.
This is still one of the best-coached teams in the league, with Gregg Popovich at the helm.
San Antonio won at a 38.5-expected-wins-per-82 games mark last season. This projects a full nine-win regression for a team that probably isn't bad enough to really be in range for a full-on tank job. San Antonio was 19th offensively and 17th defensively last season. Not good, but not bottom-five-win-total bad, either.
They have several outs regarding improving the roster, and even last year, they were 21-10 vs. teams under .500 despite going 2-5 in overtime.
The bar is just too low; the Spurs' win total hasn't been this low in the entirety of the SportsOddsHistory.com database.
The Case for the Under: This is a roster almost entirely composed of good supporting players without anything to support. The Spurs know this … Read more here
---
» Return to the table of contents «
---
Institutional memory, an adjustment from last season, and potential trades.
The Raptors retain what many would call "much of the championship core." OG Anunoby, Fred VanVleet, and Pascal Siakam are all still on the roster. Those are all quality players. Scottie Barnes projects well as a rookie.
Gary Trent Jr. is a good rotation piece. Precious Achiuwa and Malachi Flynn both showed real promise last year. The roster isn't bereft of talent.
Most notably, you have to throw out last season. No other team faced what the Raptors did last year. They played in Tampa, Florida, which you may note is, in fact, not Toronto nor Canada.
They had the opposite of homecourt advantage, even as the city embraced them to the degree it could during the global pandemic.
Their schedules were a mess, their home lives were a mess, they had their COVID outbreak (note to the NBA, the next time a global pandemic occurs, maybe providing a haven for a team in FLORIDA is not the move), and in a sport where rhythm and comfort are central to success, they had little to none.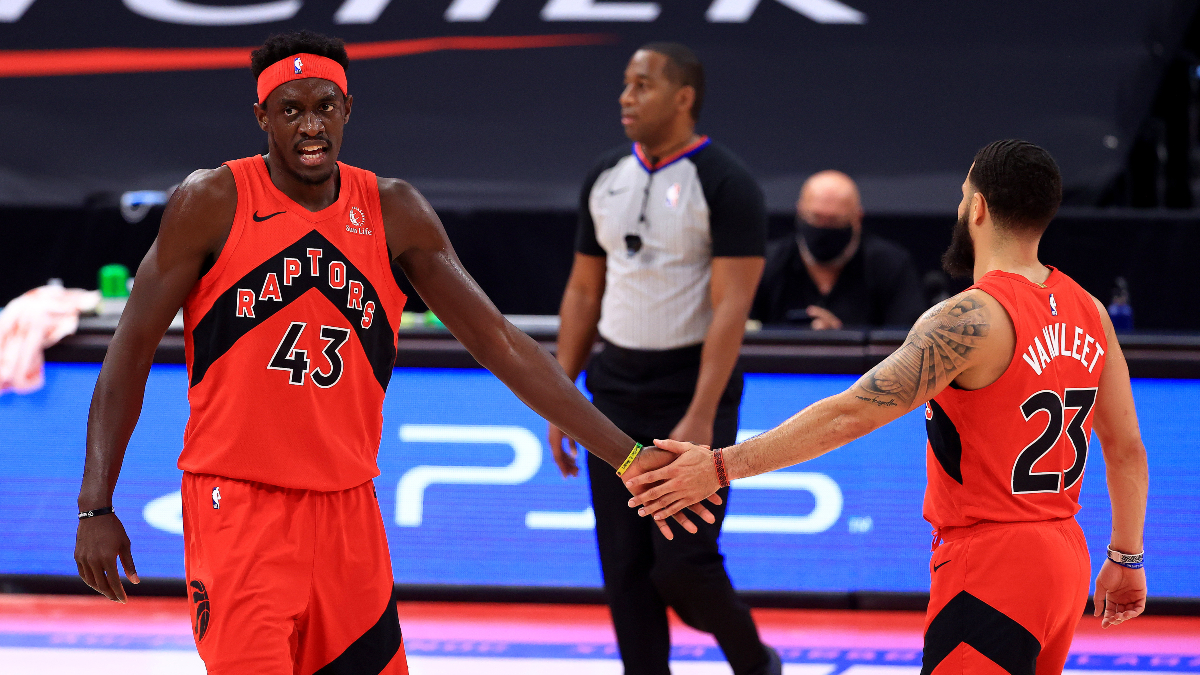 If the Celtics had the year from hell, the Raptors had the year from Lethe, the river of forgetfulness where memory fades. No one will remember last year's Raptors season beyond "oh yeah, they played in Tampa because of COVID."
The Raptors' offseason signals have been confusing. There's talk of looking to the future for a path back to contention but also building now. That part's important, however. There's no sign, right now, from the Raptors that Masai Ujiri intends to embark on an actual rebuilding effort that would entail tanking.
The Raptors may very well go half-measures and be again in contention for a play-in spot late in the season, which would put them over on this total by a few games. Maybe Anunoby and Siakam take a leap with more responsibility, and they're a playoff team.
Toronto is still coached by arguably the best in the business in Nick Nurse. On Feb. 21, the Raptors were 16-15 before the wheels fell off. They didn't face plant out of the gate, a sign that the season's circumstances played a role.
Toronto was 15-18 vs. teams under .500, and that's after a late-season tank job. They went an abysmal 12-27 vs. teams over .500.
Toronto won at a 31-wins-per-82 pace last season, so we're just talking a five-game bump playing at home with less chaos. They finished with a Pythagorean expectation of 33, 6 wins higher than their actual.
Their win total did not reflect the quality of the team last season, and that was after a strategic late-season tank.
The Case for the Under: Let's start with the roster. Kyle Lowry is gone. His on-court production quietly slid last year, but he was so crucial in late-game situations and intangibles. Lowry was the team's leader … Read more here
---
» Return to the table of contents «
---
No team in the NBA has as high of a floor as the Utah Jazz. Their combination of a system best suited for the regular season, talent, coaching, homecourt advantage (fans plus altitude), shooting, and consistency draws a line between them and everyone else in terms of "how bad it can go with a reasonable amount of health."
Donovan Mitchell missed 18 games last season, Mike Conley missed 16, and they won at a 59-win pace. Their total games lost to injury was eighth-best, but they had the 10th-highest VORP lost to injury per ManGamesLost.com. They lost crucial, critical players with huge salaries late in the season and still won at a high rate.
The Jazz went 28-6 against teams under .500 last season, tied for the fewest losses against such teams. That number is essential because beating teams worse than you is sustainable, but beating good and great teams is often closer to a coin flip. They take care of business when they should. That's how you rack up regular-season wins.
Utah won 52 games last year, the most in the league, and yet their Pythagorean expectation was 57.7. Their Pythagorean expectation per 82 games was 65.7. So you'd have to be looking at a drop of a full 15 games here to miss the over.
Some of that is influenced by how they boat-raced the terrible teams, but that's precisely the point. They don't get caught in weird fluctuations or within margins of clutch error because they annihilate those teams. Utah went 19-5 vs. teams with a middle-10 point differential and 19-5 vs. bottom-10 teams.
Utah also added key pieces. Hassan Whiteside is a net negative, but if Rudy Gobert needs to miss a game with an injury, they can duplicate 2/5s of the system with him. Rudy Gay, as a stretch-five option, provides them with the kind of counter they've needed for spacing.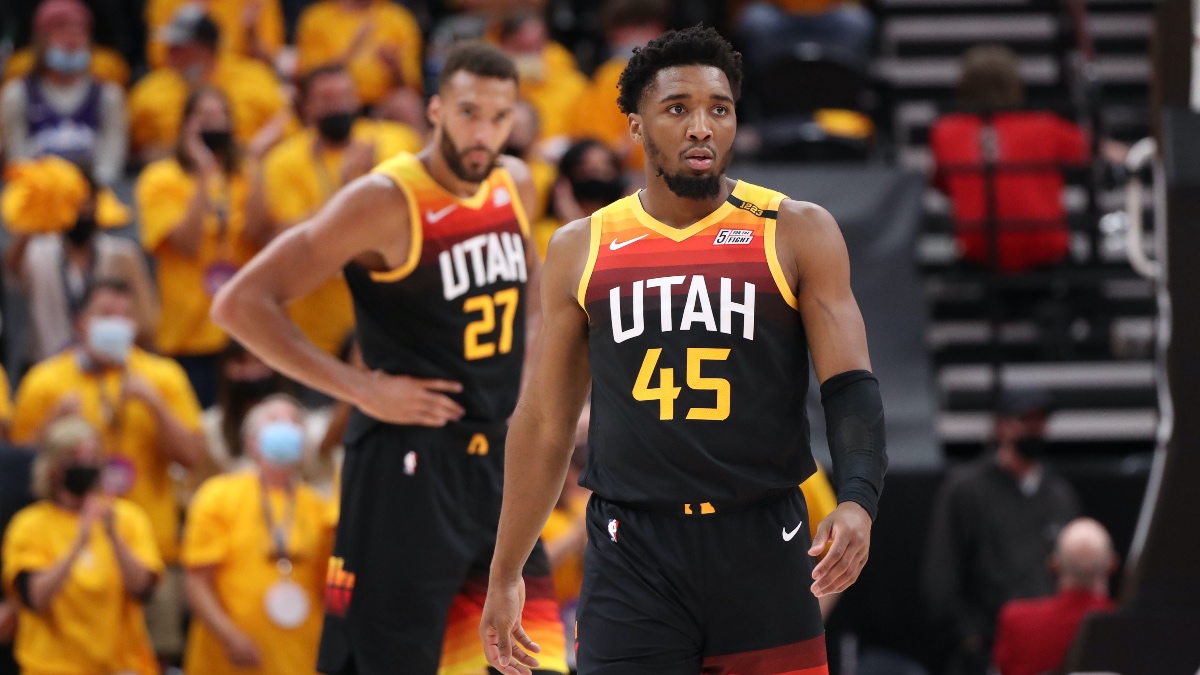 Eric Paschall is a sneaky good addition who can provide skills off the bench. Derrick Favors was the key member moved in the offseason, and Utah's on-court net rating was the worst with him on the floor of any rotation player.
Utah's simply elite at nearly everything. They were fifth in halfcourt offense last season; they don't rely on turnovers and transition buckets. The Jazz had the No. 1 pick-and-roll attack, including passes per possession in the league. They were third in jump shot efficiency and fifth around the rim on non-post-up possessions. They were also the best team defending jump shots and protecting the rim.
The Jazz' berserk shooting wasn't even an outlier last season. Their differential between expected eFG% based on shot location/contest level and actual eFG% was only the fourth-best. They had good shooters in rhythm, but it wasn't some massive outlier. They are consistently, sustainably, excellent offensively.
Quin Snyder's teams have gone over on their win total in five of his seven seasons. Rudy Gobert is why the Jazz's defense is elite, but Snyder's coaching has kept them top-five consistently.
To top it all off, the Jazz' schedule is cake. PositiveResidual.com's rest-adjusted strength of schedule factors in homecourt altitude, which is why the Jazz and Nuggets top the list. However, Utah is tied for the third-fewest rest disadvantage games. Before Christmas, Utah has 18-of-31 games at home, with just two rest disadvantage games. They should jump out to a gaudy record.
The Case for the Under: Since 2001, only twelve teams have gone back-to-back with a winning percentage of .715 or better. It's tough to win nearly 60 games or more in back-to-back seasons … Read more here
---
» Return to the table of contents «
---
God help me.
Somehow, some way, Bradley Beal is still on the Wizards. The NBA's runner-up scoring leader is still on this team.
They upgraded in the offseason … I think?
It's hard to get my mind around an answer to this, but here's the equation:
Wizards – Scott Brooks, Russell Westbrook and Robin Lopez + Kentavious Caldwell Pope, Kyle Kuzma, Aaron Holiday, and Montrezl Harrell + Thomas Bryant (returning from injury) + Wes Unseld Jr.
I'm not sure what the outcome is there. That's a weird equation.
Instead of trying to understand this team through its changes, let's narrow down the question first.
Is this version of the Wizards better than the one with Russell Westbrook? But wait, which version?
So immediately, let's project the defense to improve. They added KCP (good defender), Kyle Kuzma (good defender), and the defense improved considerably after adding Daniel Gafford at the trade deadline last season. They lost Robin Lopez, which hurts.
I want to talk about Thomas Bryant for a minute. The data on Bryant is horrific at the top level. In the month and a half he played, the Wizards held a 115.7 defensive rating when he was on the floor. That's a gushing blood geyser, defensively.
However, through Feb. 15, the Wizards had the worst differential between expected effective field goal percentage allowed and actual allowed. They allowed the third-lowest expected and the seventh-highest actual allowed.
Some of that is the way those numbers are calculated and some noise, and some of that is just simply lousy defense. But there's enough differential there to suggest opponents shot abnormally well before Bryant went down.
This would make more sense if you could point to just the shots against Bryant, but Bryant was actually 60th percentile defensively defending pick and roll as the big and opponent shooting was fairly stable against him.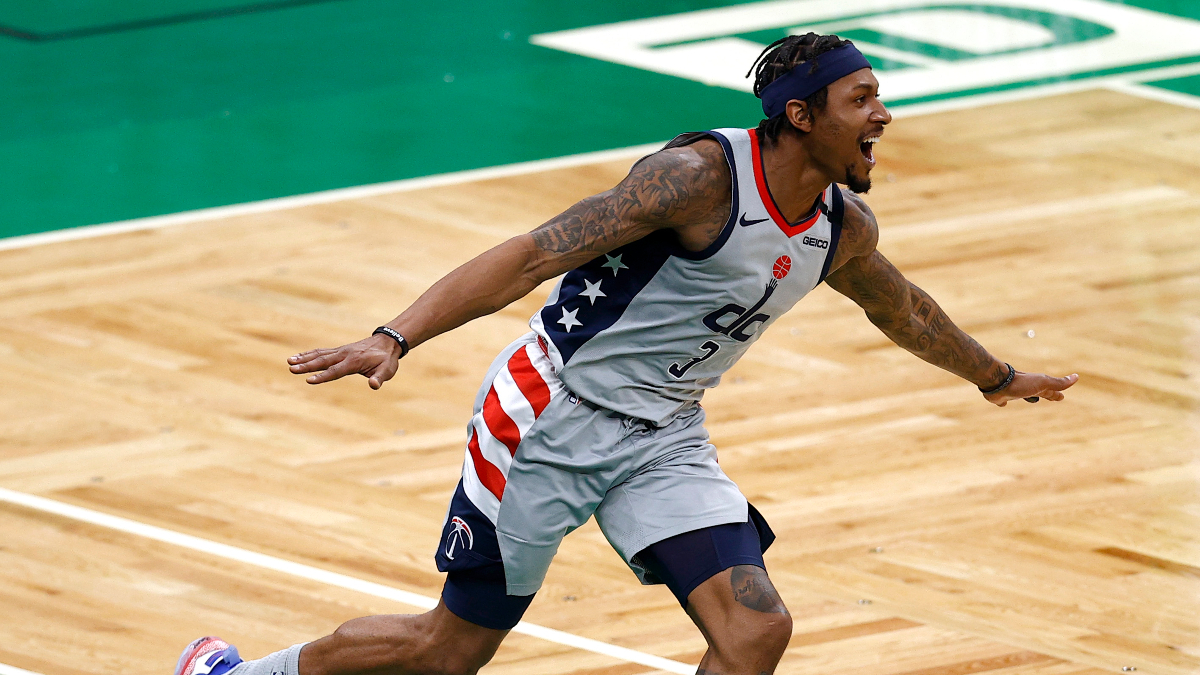 When Bryant returns from his ACL injury — a phrase I always love to start a positive sentiment with — there's reason to think the numbers won't explode defensively, especially if he's coming off the bench if Gafford remains the starter.
So you've got wing defense with the veterans added, internal development with Gafford and Rui Hachimura, and better-than-expected rim protection. Westbrook is a minus defender, so we take him out and put that infrastructure in.
Beal's defensive effort has been horrid the past three years as he took over scoring, but you can at least hope he competes a little more. Let's assume a defensive improvement from 20th overall for the season to somewhere closer to 15th.
Offensively, you're moving from a ball-dominated offense to something that is likely a bit more egalitarian, with Beal's usual usage thrown in. Westbrook averaged 2.1 assists per game to Beal, but Beal shot just 33.8% from 3 on passes from Westbrook.
Rui Hachimura shot just 33.3% on Westbrook passes. The rest of Westbrook's assist production went to the bigs. Spencer Dinwiddie is a capable passer and scorer, and while he's not the production machine Westbrook is, he doesn't come with the spacing limitations and wasted possessions, either.
Basically, as long as the Wizards commit to finding good offense, they should be better than 17th in offensive efficiency. The bar for improvement isn't high.
Their schedule is very middle of the pack; they are in the middle of the league on rest advantage and disadvantage, back to backs, and opponent strength.
I am not a member of the "Westbrook is actually bad" club, but he does require the right players around him, and the Wizards were not that team. It was a stopping point after Houston blew up. Improving with a better team concept is reasonable, and they won at a 38-wins-per-82 clip last year, COVID outbreak and all.
Now the number is 4.5 wins lower?
The Case for the Under: Bradley Beal's situation destabilizes this entire thing. General manager Tommy Shepherd has made strong statements that Beal has … Read more here
---
» Return to the table of contents «
---
How would you rate this article?
This site contains commercial content. We may be compensated for the links provided on this page. The content on this page is for informational purposes only. Action Network makes no representation or warranty as to the accuracy of the information given or the outcome of any game or event.