NBA Win Total Odds & Pick: How Will Jason Kidd Impact the Dallas Mavericks' Over/Under?
Credit:
Glenn James/NBAE via Getty Images. Pictured: Head Coach Jason Kidd of the Dallas Mavericks and Luka Doncic #77.
The Dallas Mavericks have high expectations entering the season with an over/under of 47.5 wins.
Matt Moore analyzes the Mavericks' win total odds below.
Check out this post for updated season win totals and this post for my other 29 season win total picks.
Dallas Mavericks Win Total Odds
The Case for the Over
Luka Doncic is a boss.
Last season Doncic looked out of shape coming into the season after a short offseason and abrupt start. He still finished fourth in Value Over Replacement Player and seventh in Box Plus-Minus and averaged 28-8-9.
He also improved his 3-point shooting and was 84th percentile shooting off the dribble when shooting had previously been a weakness.
Doncic is the favorite to win MVP for the second season in a row at age 22. Players of his caliber are easy to bet on because they significantly raise the floor for their teams.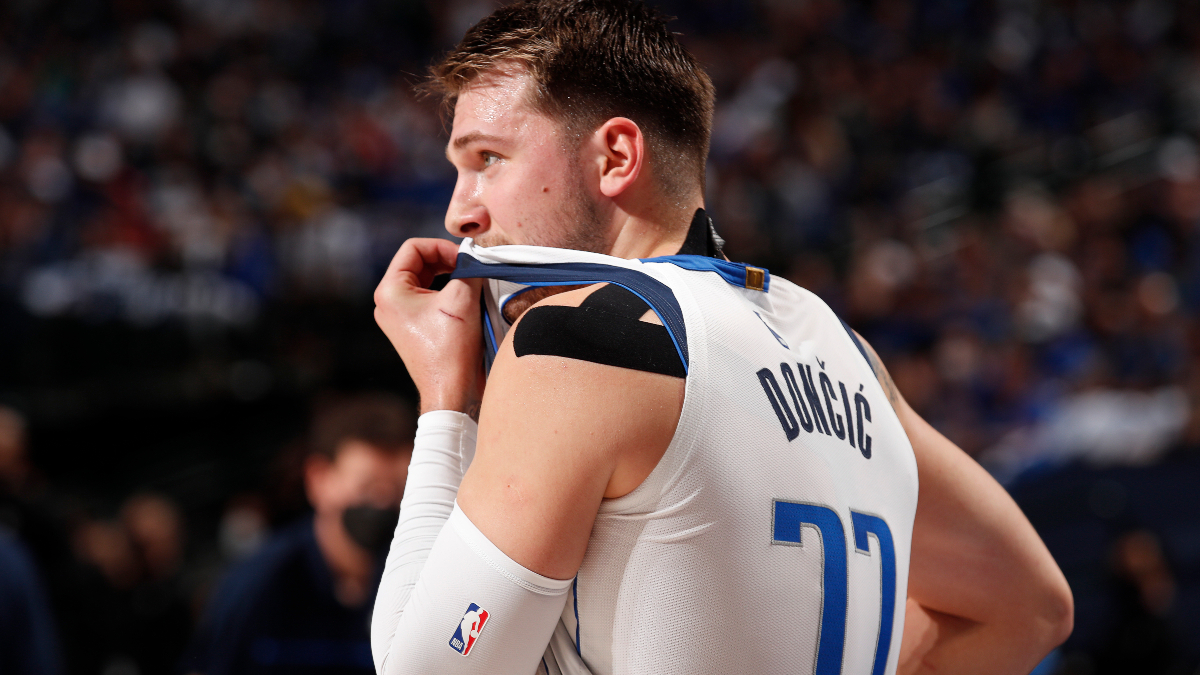 The Mavs have more rest advantage games than rest disadvantage games and are tied for the fewest back-to-backs this season. The schedule is manageable.
Their division is weaker; the Rockets are rebuilding, the Pelicans are constantly struggling to find their footing, Memphis is still young and getting younger, and the Spurs are transitioning to a rebuild.
Reggie Bullock is quietly an essential addition. In 2020 the Mavericks made the leap with having shooters everywhere. Then they dealt Seth Curry to balance their defense with Josh Richardson last season, and it backfired.
Bullock is a quality defender and a better shooter than Richardson. He was 83rd percentile on jump shots and 77th percentile catch-and-shoot. So the fit is good there, and it's important because it gives Doncic another high-level wing shooter.
Their bench unit is underrated; Jalen Brunson had a +4.9 net rating, Boban Marjanovic was +5.9.
Their most-played lineup was +12.6 on the season, and their top three most-used lineups were all in the black.
Dallas' offense will cook no matter what; there's shooting and talent there. Doncic is a supernatural phenomenon, and that's enough to build them a solid resume.
The Case for the Under
Jason F'ing Kidd.
It went under the radar because, at the time, the Bucks were the No. 7 seed and not really on anyone's radar. But in the first training camp, after Jason Kidd was fired and Milwaukee hired Mike Budenholzer, I went to Milwaukee to get a sense of not only the team but Giannis Antetokounmpo's MVP prospects.
Obviously he won the award twice in a row, but the more important story is how players responded when I asked about the coaching change.
No one wanted to bash Kidd; no one ever wants to bash the guy who got fired and made headlines. But it wasn't hard to decipher various comments from players or hear the whispers from people close to the team. The players were deeply unhappy with Kidd's coaching and very glad to have the professionalism of Budenholzer on board.
The Bucks went on to secure the No.1 seed that season.
Now Kidd's back coaching the Mavericks. In his first week, he's mentioned that he believes Kristaps Porzingis needs to play in the post and mid-range more and that Porzingis needs to play power forward next to Dwight Powell.
The latter isn't so bad; Porzingis played next to a big often last season. However, if you've got Luka Doncic on your team, compacting his spacing with two bigs, neither of which is an elite roll man, is kind of a problem. The Mavericks averaged the same point per possession with Powell as Doncic's screener as with Porzingis. But moving Porzingis into the block and cramping the space is not ideal.
Kidd used a blitz scheme in Milwaukee, and it worked early on and then fell apart. He's been on a successful coaching staff since then, so it seems unlikely he'll try that again. But his history is concerning.
Defensive Rating of Kidd's teams:
Nets (2014): 20th
Bucks (2015): 4th
Bucks (2016): 23rd
Bucks (2017): 19th
Bucks (2018): 19th
Maybe Kidd flips this script, but there isn't an established roster to stop the fall if there's a slide.
The gain from average coaching to good coaching isn't as high as we sometimes believe, at least in terms of regular-season results. But the drop from good coaching (Rick Carlisle) to bad coaching (Jason Kidd) is sharp.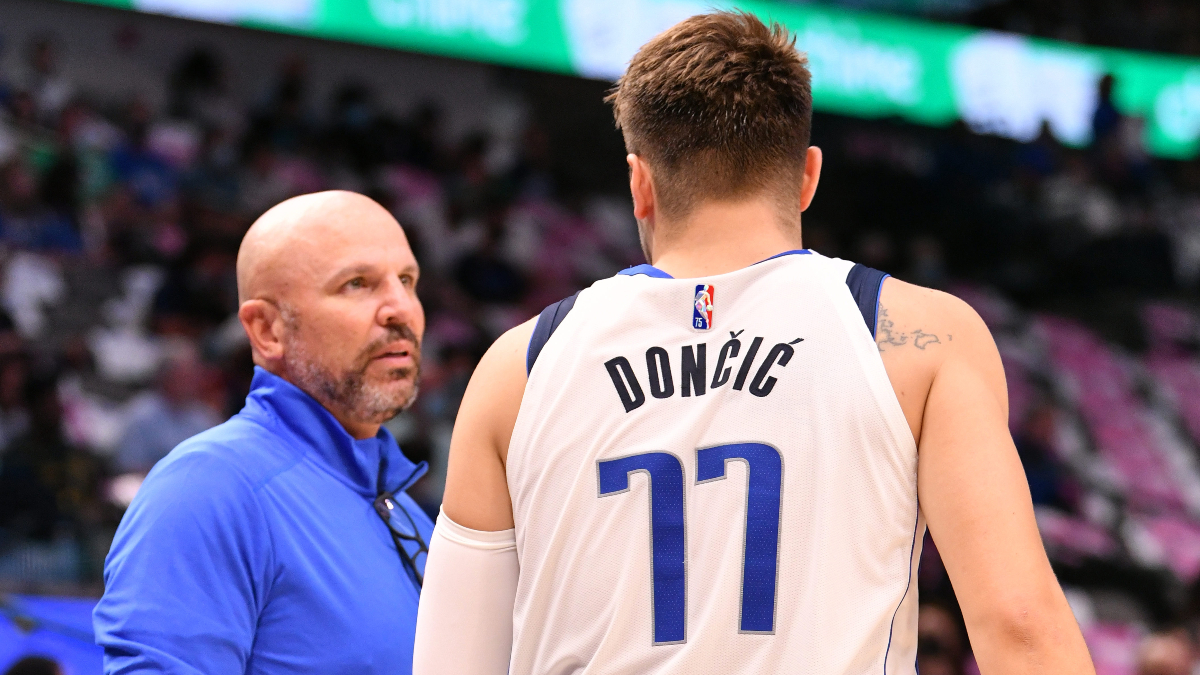 Even if Kidd gets Doncic in his corner, there will be a conflict with someone on the roster; that's just Kidd's personality.
The rest of the roster is flawed. There are very few two-way players. Porzingis has a world of problems staying healthy and will go for entire months where he looks like a drain. He consistently believes he should be a post-up player despite no reason to think so. He's 58th percentile, good, not great, in the post. He was 18th out of 32 players with at least 100 post-ups in points per post-up.
Doncic and Porzingis have had well-documented tension. This has not been a partnership that's flourished and grown. They are not best buds. You do not have to be, as everyone always says, but it helps. Their chemistry is not great.
A shocking figure? The Mavericks were +13.6 in net rating with Doncic on-court next to Willie Cauley-Stein, and +0.6 with Doncic on-court and WCS off. Doncic and KP had a negative net rating with WCS on the bench. That's highly concerning, especially with Powell slated as the starter.
If you ask me the positive news from the offseason? It's Bullock. That's it. Other than that, they ran it back and added Kidd. Yikes.
Mavericks Win Total Bet
I've been chasing this team, and it's frustrating. I didn't think they'd be good in 2020 (because of their defense), and they set the record for Offensive Rating (which was broken by six teams last year, which is nuts) and cruised to the playoffs.
Last season, I thought they would rebalance defensively and Doncic would get them to 50 wins, but they wildly underperformed then Rick Carlisle and Donnie Nelson left.
Look at this roster and look at Kidd. Doncic is superb, but this team can be solidly above .500, and still go under.
There are seeding props at 4.5 over/under that I like the over for the most. But there's value on the under.
Are you OK being wrong about Kidd and a lousy defense? Additionally, if you like the Mavericks over, you need to be betting Doncic at +400 as the MVP favorite because if this is a top-three team, he's in the conversation.
For me, it's an under.
How would you rate this article?
This site contains commercial content. We may be compensated for the links provided on this page. The content on this page is for informational purposes only. Action Network makes no representation or warranty as to the accuracy of the information given or the outcome of any game or event.