NBA Win Total Odds & Pick: How to Play the San Antonio Spurs' Tricky Over/Under
Credit:
Kent Smith/NBAE via Getty Images. Pictured: San Antonio Spurs standout Dejounte Murray.
The San Antonio Spurs are the model of consistency but their over/under is set at just 28.5 wins this season.
Matt Moore analyzes their win total odds below.
Check out this post for updated season win totals and this post for my other 29 season win total picks.
Spurs Win Total Odds
The Case for the Over
Death, Taxes, Spurs, right? This has been one of the most consistent over bets in NBA history.
Last season, the team traded LaMarcus Aldridge, lost Derrick White for half the season, lost DeMar DeRozan for 11 games, and still hit the over by five wins.
Aldridge and DeRozan are big-name players, but their overall net impact was poor the last two seasons in San Antonio. Last season, DeMar DeRozan and LaMarcus Aldridge's lineups were outscored by 9.3 points per 100 possessions. That is tanking-squad-level wretched. So missing them is certainly missing talent, but their overall performance together was poor.
There are so many options for who could step up here. Derrick White has shown the most. Dejounte Murray has arguably the most talent. Keldon Johnson has the most hype. If any one of the youngster Spurs steps up, they're going to be a problem because of their depth and discipline.
They added Doug McDermott, a high-level shooter to complement their creators, and Al-Farouq Aminu and Thaddeus Young are the types of guys who will wind up with surprising advanced metrics for the Spurs.
This is still one of the best-coached teams in the league, with Gregg Popovich at the helm.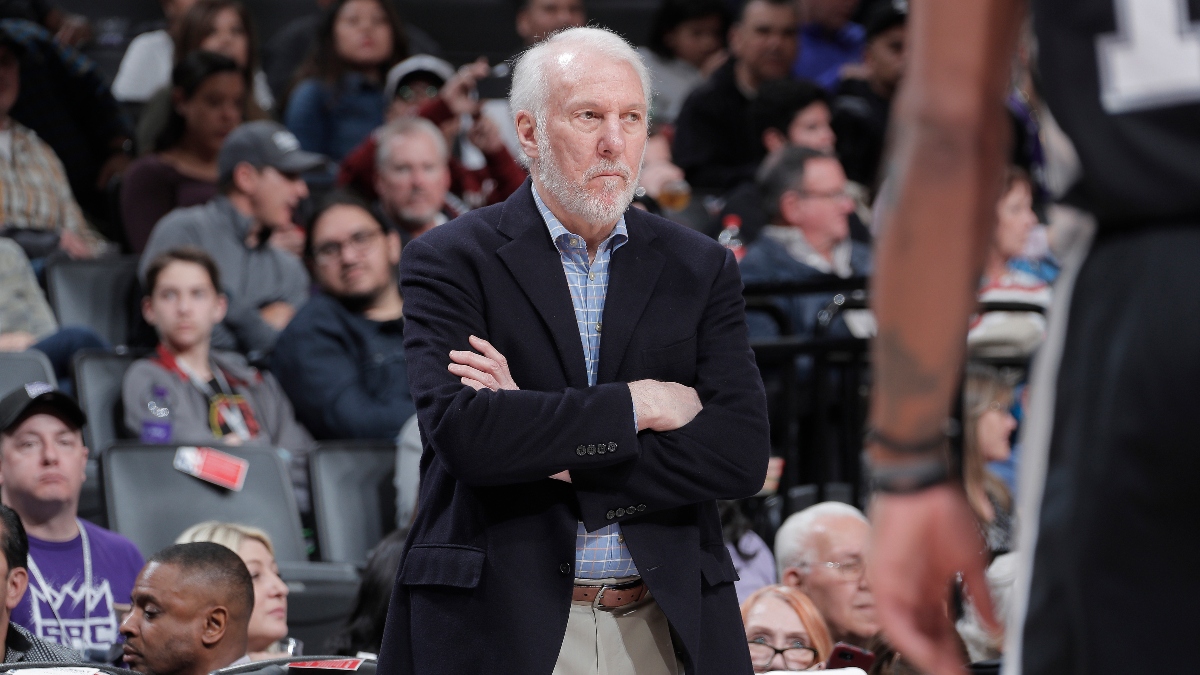 San Antonio won at a 38.5-expected-wins-per-82 games mark last season. This projects a full nine-win regression for a team that probably isn't bad enough to really be in range for a full-on tank job. San Antonio was 19th offensively and 17th defensively last season. Not good, but not bottom-five-win-total bad, either.
They have several outs regarding improving the roster, and even last year, they were 21-10 vs. teams under .500 despite going 2-5 in overtime.
The bar is just too low; the Spurs' win total hasn't been this low in the entirety of the SportsOddsHistory.com database.
The Case for the Under
Their best player (whether it's White or Murray) makes $15 million. That's a huge warning sign in a talent-dominated league. This is a roster almost entirely composed of good supporting players without anything to support.
The Spurs know this. They're not oblivious to it, and while the franchise is still moving out of the slow decline of its Tim Duncan, Big 3 Empire, and the cataclysmic effects of Kawhi Leonard's departure, at some point, they'll reckon with the need for a proper rebuild.
When that happens, they'll pivot to a genuine tanking effort. Would you rather avoid betting them on the off chance that Murray, White, or Johnson become a star? Or simply fade a team without an established star?
A promising sign for the under is if you talk to the team's fans and aren't defiant. Spurs fans are not defiantly claiming they're going to be good. They're defiant that they could be decent.
So there's a possibility that you miss this by seven wins or so. It's a low figure, historically, for this franchise. The Spurs, however, are far more likely to pivot to a proper tank and finish low 20's.
The Spurs had relatively good injury luck last season. They had the 9th-fewest games lost to injuries last season. A 38-wins-per-82-games team with the 9th best injury luck lost their two All-Star caliber players with no significant signings?
Even if the Spurs traded for Ben Simmons, as they've been linked to, they'd be giving up key pieces they need around Simmons and would still be short on shooting.
After the All-Star Break last season, the Spurs were 29th in 3-pointers made per 100 possessions even after LaMarcus Aldridge was dealt. Even if McDermott were not included in such a deal, there would not be nearly enough shooting around a potential Simmons trade.
Their schedule is hellish. Nine rest advantage games to 13 rest disadvantage games, 14 back-to-backs. They have the second-toughest rest-adjusted strength of schedule per PositiveResidual.com.
A best case for the over would involve them sniping teams who didn't see them coming. It's tough to do that with rest disadvantage, especially since San Antonio tends to be cautious about player fatigue.
Spurs Win Total Bet
The tails on this team bend towards the over. There's no plausible scenario where they wind up closer to 50 and several scenarios where they wind up closer to 30. Institutional strength can't make jumpers; excellent coaching can't make players more talented.
If you think the Spurs are making a leap because of (insert Spur here), then you might as well take (insert Spur here) for Most Improved Player. Or you can take them to make the play-in at +550. They're not making a top-six seed. If you think they're a high-30's team, they'll be in that conversation.
I lean towards the under, but I don't love it. The problem is that while the Spurs have a lot of incentive to tank and refocus on the future, their roster isn't so bad as to make that easy. They're likely to get caught in the middle, too good to tank meaningfully, and too bad to easily clear the over.
I think it's a stay away with a lean to the under.
How would you rate this article?
This site contains commercial content. We may be compensated for the links provided on this page. The content on this page is for informational purposes only. Action Network makes no representation or warranty as to the accuracy of the information given or the outcome of any game or event.