Utah Jazz NBA Win Total Odds & Pick: Jazz Ready for Another Dominant Regular Season
Credit:
Ronald Cortes/Getty Images. Pictured: Donovan Mitchell and Jared Butler
The Utah Jazz are expected to be at the top of the West again this season with an over/under of 51.5 wins.
Matt Moore analyzes their win total odds below.
Check out this post for updated season win totals and this post for my other 29 season win total picks.
Jazz Win Total Odds
The Case for the Over
No team in the NBA has as high of a floor as the Utah Jazz. Their combination of a system best suited for the regular season, talent, coaching, homecourt advantage (fans plus altitude), shooting, and consistency draws a line between them and everyone else in terms of "how bad it can go with a reasonable amount of health."
Donovan Mitchell missed 18 games last season, Mike Conley missed 16, and they won at a 59-win pace. Their total games lost to injury was eighth-best, but they had the 10th-highest VORP lost to injury per ManGamesLost.com. They lost crucial, critical players with huge salaries late in the season and still won at a high rate.
The Jazz went 28-6 against teams under .500 last season, tied for the fewest losses against such teams. That number is essential because beating teams worse than you is sustainable, but beating good and great teams is often closer to a coin flip. They take care of business when they should. That's how you rack up regular-season wins.
Utah won 52 games last year, the most in the league, and yet their Pythagorean expectation was 57.7. Their Pythagorean expectation per 82 games was 65.7. So you'd have to be looking at a drop of a full 15 games here to miss the over.
Some of that is influenced by how they boat-raced the terrible teams, but that's precisely the point. They don't get caught in weird fluctuations or within margins of clutch error because they annihilate those teams. Utah went 19-5 vs. teams with a middle-10 point differential and 19-5 vs. bottom-10 teams.
Utah also added key pieces. Hassan Whiteside is a net negative, but if Rudy Gobert needs to miss a game with an injury, they can duplicate 2/5s of the system with him. Rudy Gay, as a stretch-five option, provides them with the kind of counter they've needed for spacing.
Eric Paschall is a sneaky good addition who can provide skills off the bench. Derrick Favors was the key member moved in the offseason, and Utah's on-court net rating was the worst with him on the floor of any rotation player.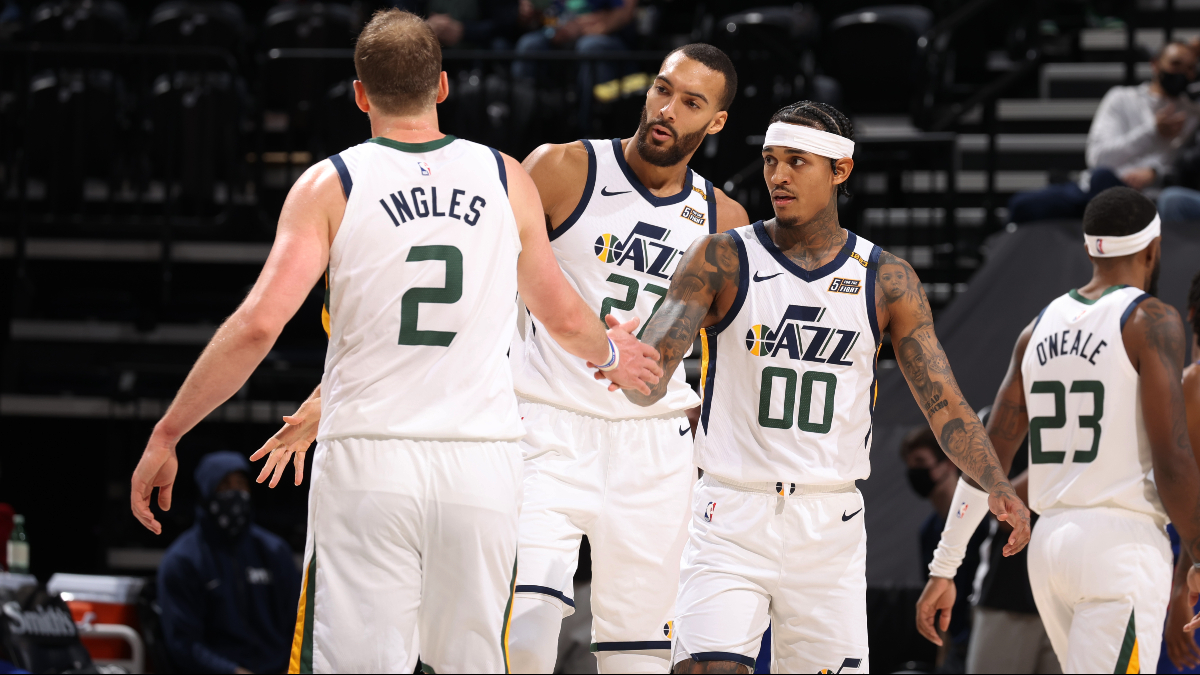 Utah's simply elite at nearly everything. They were fifth in halfcourt offense last season; they don't rely on turnovers and transition buckets. The Jazz had the No. 1 pick and roll attack, including passes per possession in the league. They were third in jump shot efficiency and fifth around the rim on non-post-up possessions. They were also the best team defending jump shots and protecting the rim.
The Jazz' berserk shooting wasn't even an outlier last season. Their differential between expected eFG% based on shot location/contest level and actual eFG% was only the fourth-best. They had good shooters in rhythm, but it wasn't some massive outlier. They are consistently, sustainably, excellent offensively.
Quin Snyder's teams have gone over on their win total in five of his seven seasons. Rudy Gobert is why the Jazz's defense is elite, but Snyder's coaching has kept them top-five consistently.
To top it all off, the Jazz' schedule is cake. PositiveResidual.com's rest-adjusted strength of schedule factors in homecourt altitude, which is why the Jazz and Nuggets top the list. However, Utah is tied for the third-fewest rest disadvantage games. Before Christmas, Utah has 18-of-31 games at home, with just two rest disadvantage games. They should jump out to a gaudy record.
The Case for the Under
Since 2001, only twelve teams have gone back-to-back with a winning percentage of .715 or better. It's tough to win nearly 60 games or more in back-to-back seasons. Too much has to go right.
Utah's performance may be stable, but they are also more fragile than they appear. Sure, all teams are just one major injury away from sliding. The Jazz, though, are even more delicate.
Their defensive system is so dependent on Gobert that their win probability plummets against average teams if he sprains an ankle. Utah hasn't addressed their issues with perimeter containment degradation. I mean that their perimeter defenders used to be top-level, but adding Bojan Bogdanovic hurt them a little,  Joe Ingles is 34 and Mike Conley is 35.
The Jazz defense is suspect on the edge but compensated for by the best interior defensive presence in basketball. If the perimeter defense slides further, or if Gobert misses time, that's going to hurt their chances for a win total above 52.
Last season, an under-the-radar storyline was that the Jazz were the first team to have fans at home games based on Utah's state mandates (or lack thereof). Utah finished with the best home record in the league by a full five games.
Some of the built-in advantages will be present this season (again, the crowd and altitude, plus frequently teams are at the end of West Coast road trips and ready to go home). However, the shock factor of entering into mostly packed arenas after playing in mostly empty ones won't be as stark.
Utah's under enormous pressure. General manager Dennis Lindsay stepped down over the summer to move into an advisory role, and it's clear new ownership is pushing to get past the hump. That can lead to issues. We're less than a year removed from the supposed tension between Mitchell and Gobert.
The Jazz floated both Bogdanovic and Ingles in trade talks (cautiously) in the offseason; a trade to "shake things up" could hurt their continuity. There has to be a slight concern that if things go a little sideways, they could fall apart.
Jazz Win Total Bet
This is a best bet. Utah is perfectly built for the regular season. They have the best drop-scheme defender in the league's history in Gobert, a phalanx of shooters, a player in Mitchell whose big games can carry them in tight spots, a good bench rotation, and high-level coaching.
A regression for this team would be 52 wins, which is an over. Utah has lost 34 games vs. teams under .500 in the past four seasons, among the best records in the league vs. the bottom. That's an easy way to manage your schedule to 50 wins.
Their schedule is among the easiest in the league; they return all their key members, their division is vulnerable, especially with Jamal Murray out for Denver.
There is no reasonable path without serious injury to Gobert or a black swan event that would result in Utah winning fewer than 52.
How would you rate this article?
This site contains commercial content. We may be compensated for the links provided on this page. The content on this page is for informational purposes only. Action Network makes no representation or warranty as to the accuracy of the information given or the outcome of any game or event.