AAC Expected to Add Six Schools from Conference USA in Latest College Football Realignment Move
Credit:
Benjamin Solomon/Getty Images. Pictured: The American Athletic Conference logo.
Since the dawn of time, this is how it's always worked.
Man created fire. Fire was good. And in the first-ever conference realignment, the Caveman Conference raided the Woolly Mammoth Conference — much bigger footprint, I'm told — and, of course, Adam and Eve later entered the transfer portal.
Actually, conference realignment hasn't been going on since BC — Before Corso — but it certainly seems that way.
And Conference USA is the latest league to find out what the WAC and Southwest conferences — two FBS leagues that suffered the same fate as the dinosaurs — discovered. It all flows downhill, and it sucks to be at the bottom.
The American Athletic Conference is expected to add six schools from Conference USA: Charlotte, FAU, North Texas, Rice, UAB and UTSA, sources told the Action Network.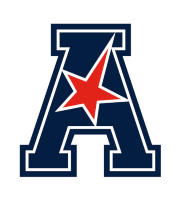 The schools are expected to apply for membership this week and are hoping to begin play in the AAC as early as 2023, sources said. Yahoo Sports first reported the pending invitations for the six schools.
The American — which lost three schools to the Big 12, which lost two schools to the SEC — will expand to 14 schools. C-USA is now left with eight members: Old Dominion, FIU, Louisiana Tech, Marshall, Middle Tennessee, Southern Miss, UTEP and Western Kentucky.


When the Big 12 added UCF, Cincinnati, Houston and BYU, the AAC did the smart thing: It went on the offensive.
It tried — albeit unsuccessfully — to get the four best teams from the Mountain West (Air Force, Boise State, Colorado State and San Diego State).
The AAC also has had multiple discussions with Army through the years, but Army wants to remain an FBS independent.
When those options didn't work, it gutted C-USA.
---
Conference USA Couldn't Fend Off Other Leagues
Since Texas and Oklahoma announced they were leaving for the SEC, it has created a domino effect on an epic scale throughout college athletics.
The ACC, Big Ten and Pac-12 realized there were no Power Five schools available that would add more value to the conference's media rights, so they stayed put and announced their mighty "Alliance."
The Big 12 added four schools, the AAC is adding six schools, and C-USA will have to add at least two. That's 14 schools changing conferences in the past few months — and it's not even Halloween.
Conference USA had no chance to ward off the other leagues because they earn the lowest media rights revenue. C-USA was going to lose schools. The question was just how many.
Before the AAC news broke, sources told the Action Network that officials at North Texas, Rice, UTSA and UTEP had contacted the Mountain West about joining the conference. North Texas and Rice had the most serious discussions, but ultimately, the Mountain West decided to remain at 12 schools, sources said.
AAC Rebuffs Merger with C-USA
Here's the reality that fans don't want to hear: The commissioners are powerless to stop realignment.
A commissioner — whether its former Big East commissioners Mike Tranghese and John Marinatto, Big 12 commish Bob Bowlsby, AAC commish Mike Aresco or C-USA commish Judy MacLeod — can't keep a school from leaving its league for another league where they will make more money.
Realizing several of its schools would be targets of the AAC or Mountain West, Conference USA recently contacted the American about combining the schools in both leagues and then dividing them into two new leagues geographically.
However, there was "absolutely no interest" from the AAC, sources said.
Ironically, several times (the latest in 2018), the Sun Belt approached Conference USA wanting to do the same thing. The Sun Belt wanted to restructure the schools and divide the schools into two leagues based on geography, but C-USA had no interest, sources said.
C-USA rebuffed the Sun Belt's offer in part because Louisiana Tech did not want to be aligned with UL Monroe, and some C-USA members that had just left the Sun Belt to join C-USA didn't want to be associated with Sun Belt teams again, sources said.
"Egos get in the way," an industry source said. "Institutional arrogance drives conference membership, but when they're desperate, that arrogance is put aside. Whoever thought the American would ever be interested in UT San Antonio? When they're desperate, they come to different decisions."
Conference USA even hired former Big Ten commish Jim Delany and former Big 12 commish Kevin Weiberg in a consulting role regarding realignment options for the league. They worked with C-USA officials and schools. Let's just say, their audience was underwhelmed.
Multiple sources said the information provided by Delany and Weiberg was basically common knowledge: You know, Oklahoma and Texas are going to the SEC and the Big 12 added UCF, Houston, Cincinnati and BYU.
"It was so basic, it was something a fourth-grader could have put together," a source said. "A lot of us were thinking, 'we're actually paying for this?' "
Conference USA could have had Greg Sankey as commissioner, and nothing would have changed. Since the dawn of time, the conferences that made more money have always been able to take teams from conferences that make less money.
Liberty Flames: Biggest Winners from AAC Realignment?
The biggest winner in the latest round of conference realignment musical chairs is independent Liberty. The Flames will be a top target of C-USA and/or the Sun Belt.
The Sun Belt, once intrigued about the possibility of expanding beyond 10 schools, appears as if it may not explore new members now, sources said.
With eight remaining members, Conference USA had to add at least two schools. One source suggested that the Sun Belt now could try to poach schools from Conference USA, such as Marshall or Southern Miss. Despite the losses, the conference remains optimistic.
"We will be much better without those six schools," a C-USA source said. "The AAC will see their College Football Playoff rankings drop in the Group of Five. We have a chance to leapfrog them. This is a good day for C-USA."
To stay informed, refer to our college football odds, futures, and daily NCAAF picks from our experts at Action.
---
More from Brett McMurphy
How would you rate this article?
This site contains commercial content. We may be compensated for the links provided on this page. The content on this page is for informational purposes only. Action Network makes no representation or warranty as to the accuracy of the information given or the outcome of any game or event.