Koerner's AAF Power Ratings: Use My Projections to Find the Best Week 6 Bets
Credit:
Courtesy of @TheAAF/Twitter. Pictured: Atlanta QB Aaron Murray, Orlando WR Charles Johnson
Use Sean Koerner's projected spreads and totals from his AAF Power Ratings to bet Week 6 games, including San Antonio-Atlanta and Arizona-Orlando.
We started to switch things up for our AAF Power Ratings last week.
Rather than using my ratings to make picks based on opening lines, we're now using my projected spreads and totals to identify what lines we should be looking to bet in all four games. Ideally, you can reference these ratings as soon as the market opens for Week 6 and until lines close.
I also created a spreadsheet that you can plug whatever line and juice is available at your sportsbook to get an estimate of your perceived edge using my power ratings. I felt it would help to have a recommended bet amount based on the size of your bankroll, which you can customize in the sheet.
You can download the Excel file at the end of this story, but for now, here's a pre-filled example:
Now let's get into Week 6.
Here are my power ratings as of writing, which I've used to estimate lines for each matchup. We'll dig into all four below:
Memphis Express (1-4) at Salt Lake Stallions (1-4)
Projected spread: Salt Lake -5.5
Projected total: 38.5
Time: 4 p.m. ET on Saturday
TV: B/R Live
While both teams are tied for the worst record in the AAF, the Stallions are much better than their record indicates. They've had the toughest schedule to date and suffered close losses in Weeks 2 and 5 (both on the road).
We need to think of Salt Lake as a .500 team.
The Stallions finally get an easier matchup at home this week. And while the Express have been trending up since benching quarterback Christian Hackenberg for Zach Mettenberger, they're still what I would consider a bottom-two team.
A lot of the opening spreads over the past couple weeks have been surprising, but I really do think this will open right around Salt Lake -4.
But, if oddsmakers treat this as a dead even matchup and make Salt Lake a 2.5-point favorite with home field advantage, I'll be looking to bet heavily on it until it moves up to the key number of -3.
Arizona Hotshots (2-3) at Orlando Apollos (5-0)
Projected spread: Orlando -10.5
Projected total: 44
Time: 8 p.m. ET on Saturday
TV: NFL Network
Just a few weeks ago, this matchup looked like it would be when we'd find out which of these two is the No. 1 team in the AAF.  But Orlando has already answered that.
The Apollos are the only remaining undefeated team in the league — not to mention that three of their past four games have been on the road — while the Hotshots have completely fallen apart since their convincing Week 1 victory.
Arizona barely beat a Hackenberg-led Memphis team in Week 2 and has lost three straight since, including twice at home. John Wolford has thrown for six touchdowns and six interceptions (including three last week) over that span.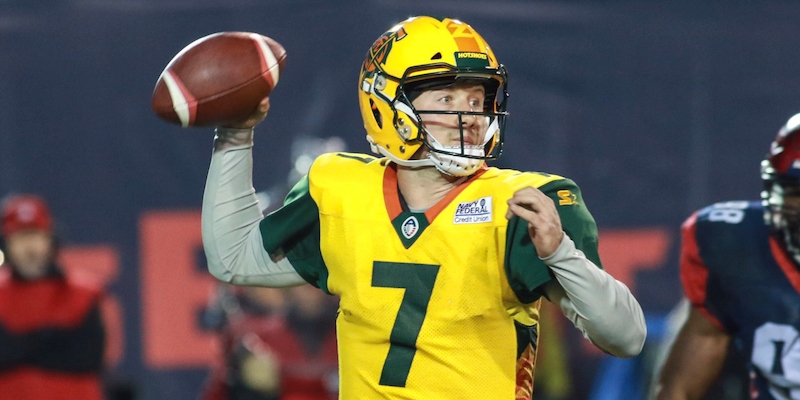 In a league in which benching quarterbacks has become quite common, we have to wonder whether Wolford's job security could be at risk and if we'll see Trevor Knight under center at some point if this week's game gets out of hand.
This is the toughest matchup to gauge where the line will open up at. The market seemed to overreact to Arizona's Week 1 win by providing a ton of value betting against the Hotshots in Weeks 2 and 3.
However, oddsmakers seemed to correctly peg them as a very average team by only favoring them by 2.5 points at home against San Antonio last week. It was the first time I had backed Arizona all season and I got burned.
Now that everyone has likely soured on them, I'm guessing the line for Orlando will be around -10.5 — but I could see it being even higher. Either way, I'll be ready to pounce if the opening number is 2.5 points above or below -10.5.
San Antonio Commanders (3-2) at Atlanta Legends (2-3)
Projected spread: San Antonio -1
Projected total: 39.5
Time: 4 p.m. ET on Sunday
TV: CBS Sports Network
Aside from their Week 3 loss to San Diego, the Commanders have looked like one of the league's better teams. This matchup does appear to be a bit of a trap, though.
One factor I think most people will overlook is that this is San Antonio's fourth straight road game. That is certainly going to take its toll, and we need to factor that in.
Atlanta is now 2-0 after deciding to go with Aaron Murray at quarterback over Matt Simms. The Legends should be able to hang with San Antonio at home this week and I suspect the line will open up closer to San Antonio -3 or -3.5.
I'll be looking for the market to overlook the insanity of a football team playing its fourth straight road game and take Atlanta +3.5 (if it opens there). There's no telling what these opening numbers will be, so be sure to use my custom spreadsheet (download below) to see what numbers will trigger a bet from me.
Birmingham Iron (3-2) at San Diego Fleet (3-2)
Projected spread: San Diego -3
Projected total: 34.5
Time: 8 p.m. ET on Sunday
TV: NFL Network
It's not often that you see a 3-1 team bench its starting quarterback mid-game, but this is the AAF, and the Iron did just that in Week 5.
Luis Perez had done a fine job moving the ball down the field and handing it off to Trent Richardson for the team's first four games, but had a 0-to-4 touchdown-to-interception ratio. The Iron decided to bench him in favor of Keith Price, who filled in quite well and now appears to be their starting QB.
I'm pretty confident this line will open around San Diego -3. I'm not anticipating there to be much value on the spread as a result, but I'll be keeping my eye on the total for this one.
This should be a run-heavy, defensive battle. My total rating for this game is 34.7 despite the league showing signs of life with the average final being 48.5 in Week 5. We'll certainly see higher totals offered this week as a result, and I'll be hoping they inflate this game a bit and offer something at 37.5 or higher.
If that happens, I will be all over the under.
Koerner's Week 6 AAF Power Ratings Spreadsheet
Download the Excel file to input lines and juice from your sportsbook, as well as customize recommended bets based on your bankroll.