Why the Steelers Perfect Record Doesn't Mean They're Super Bowl Bound
Credit:
Getty Images. Pictured: James Conner, Ben Roethlisberger, Mike Tomlin
It wasn't pretty, but Pittsburgh came back to knock off Dallas las week and improve to 8-0.
On the surface, the Steelers have all the looks of a Super Bowl-bound team. But what does history tell us about their chances of parlaying the hot start into a championship? Well, since the NFL moved to a 16-game schedule in 1978, six of the 22 teams (27.2%) that have started 8-0 have gone on to win the Super Bowl.
If quarterback Ben Roethlisberger (reserve-COVID-19/knee) is as fine as he says he is and can return in time to face Cincinnati this Sunday, the Steelers have a chance to improve their prospects even more — if they beat the Bengals at home, it's likely to that the only thing standing between the Steelers and a 12-0 start is Round 2 of the season series against Baltimore in Week 12, because bookending that Thursday Night Football showdown are matchups against a 1-7 Jacksonville team and a 2-6 Washington team.
Here's how many of the 47 NFL teams that have started a season with nine to 12 straight wins have gone on to win it all since 1978:
| Start | Teams That Won Super Bowl |
| --- | --- |
| 9-0 | 6-of-17 |
| 10-0 | 5-of-14 |
| 11-0 | 4-of-10 |
| 12-0 | 3-of-6 |
The first Super Bowl future I bet this offseason was Steelers +2500.
That's not a humble brag — it's a segue into me explaining that despite the 8-0 record and an elite defense, I'm less confident in them now than I was the spring.
Why?
Because for a team that ranks fifth in points per game (29.4), the Steelers sure know how to put the "off" in offense.
Aside from a few big plays — mostly from second-round steal Chase Claypool — and some gutsy Roethlisberger comebacks, the offense has been in a perpetual state of struggle.
The Steelers are 25th in yards per play, 24th in net yards per pass attempt and 24th in yards per carry. And according to Sharp Football Stats, they also rank 26th in early-down pass success rate (47%), 27th in early-down rush success rate (45%) and 27th in early-down success rate overall (46%). Football Outsiders' DVOA metric is slightly more optimistic, grading the Steelers offense 15th overall (16th in passing and 22nd in rushing).
But as far as winning (or even making) the Super Bowl goes, history has not been kind to these types of middling offensive teams — at least not in the modern-day NFL.
Since the Steelers last won a Super Bowl in the 2008 season, just one team — the 2015 Denver Broncos — won it all with an offense ranked below 15th in DVOA. In fact, 20 of the 22 teams to even make the Super Bowl over that span were seventh or better in offensive DVOA:
Average DVOA Rank

Super Bowl Teams

Super Bowl Winners

Offensive

5.7

7.5

Defensive

12.3

11.1

For Super Bowl teams and winners between 2009-2019
Remember those eye-popping stats about the 22 teams that have started 8-0 since 1978? It turns out that the six to go on to win the Super Bowl all did so before 2010, with the 2009 Saints being the last team to seal the deal after running half of the table to start the season.
Of the nine teams to start 8-0 since 2010, only three even made a Super Bowl appearance compared to nine of 13 before 2010.
If the Steelers end up being the 10th team to come up empty over the past decade, it will almost surely be due to an offense that has too often made opposing defenses look like their own elite defense — except the average rank in DVOA of the defenses the Steelers have faced is 16.8, so the schedule doesn't explain it.
There's something to be said for winning ugly, for making timely plays on third down (where the Steelers rank sixth at 48.0%), and in the red zone (where the Steelers rank ninth at 66.7%), but the sustainable success is built by avoiding third downs altogether.
If the Steelers want to get their offense into Super Bowl form, coordinator Randy Fichtner needs to figure out a way to manufacture explosive plays (a defense won't always put a linebacker on Claypool). Despite all of their talent on offense, the Steelers are 23rd in explosive pass rate (7%) and 29th in explosive rush rate (9%), per Sharp Football Stats.
The issues in the run game are fairly straightforward: The offensive line has to been able to get push in the run game but the unit ranks 31st in Pro Football Focus' run-blocking grade (54.5), 27th in Football Outsiders' Adjusted Line Yards (3.90), and 20th in percentage of run plays stuffed for no gain or a loss (19%).
Perhaps the organization has deprioritized the run — each Steelers offensive lineman has earned markedly higher grades in pass blocking than run blocking from PFF — in favor of the quick passing game, but many of the pass plays Fichtner dials up have been even more inefficient than runs. Case in point: Excluding touchdowns, the Steelers have 29 pass completions that have gained two or fewer yards, second-most in the NFL.
Watching the Steelers offense, I can't help but wonder if Fichtner is simply trying to protect Roethlisberger at all costs — he has Roethlisberger leading the league in quickest time to throw (2.13 seconds per PFF) — or if there are lingering effects from Roethlisberger's offseason not-Tommy John elbow surgery coming into play.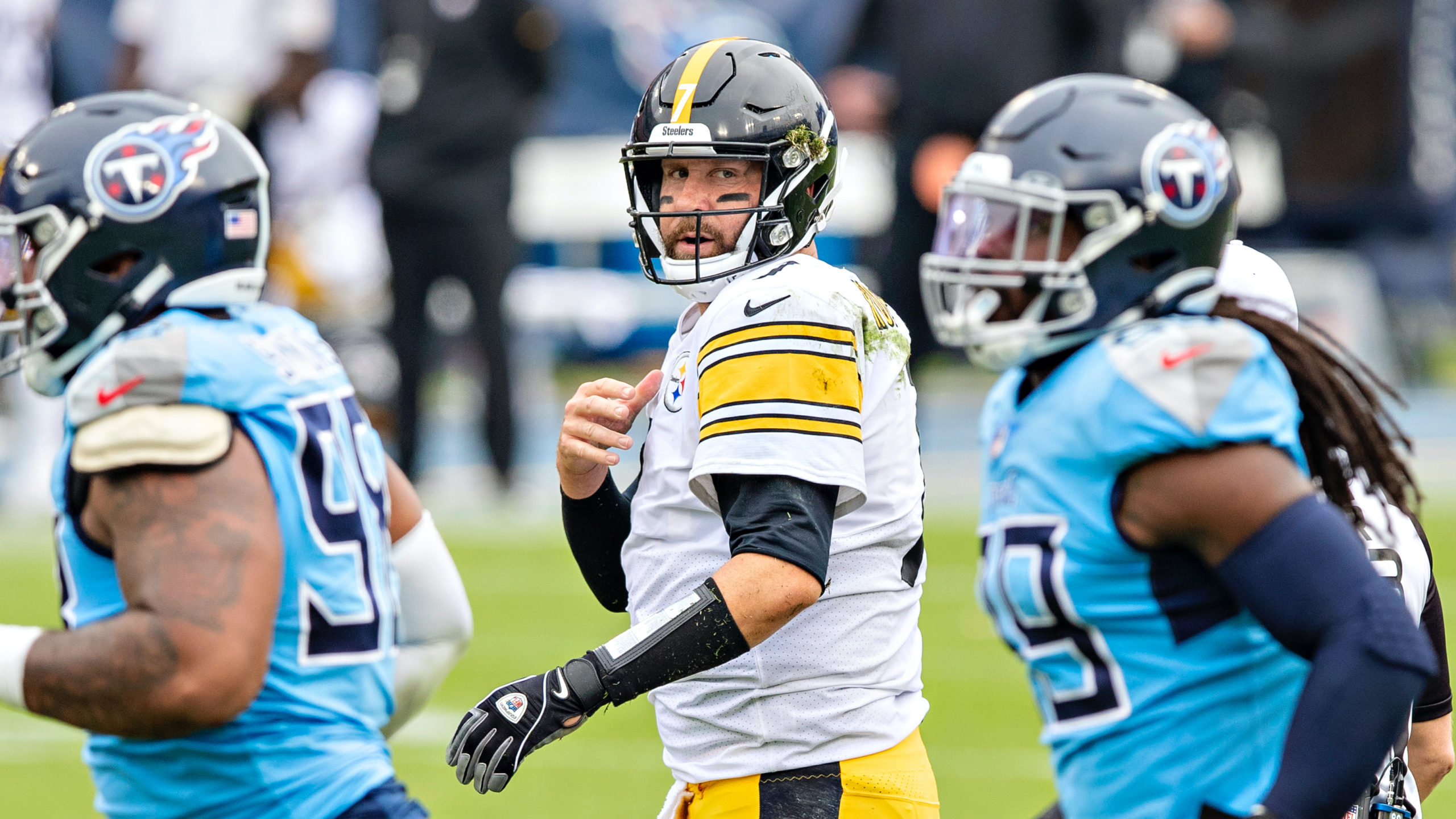 On throws of 20 or more yards downfield, Roethlisberger has been far from inept, throwing six touchdowns (fourth most). But there's been no semblance of consistency, as he also tossed three interceptions (third most) while ranking 26th with a 34.0% adjusted completion rate (which accounts for drops).
What really caught my attention was that an offense in dire need of big plays down the field recently demoted James Washington, the team's best deep threat, to fifth on the depth chart. Being the fourth option behind JuJu Smith-Schuster, Chase Claypool and Diontae Johnson was inevitable and understandable, but over the past two games, Washington has also been out-snapped 50 to 23 by Ray-Ray McCloud, a career special teamer who had six catches in two seasons coming into 2020.
In fact, there may be nothing that better illustrates the state of the Steelers offense than a comparison of Washington and McCloud: Washington is the definition of a situational deep threat — he averages 14.8 yards per reception for his career and had an average depth of target (aDOT) north of 15 yards in each of the past two seasons. But despite having three talented short-to-intermediate receivers just begging for a field-stretcher like Washington, Washington has instead seen his aDOT nearly cut in half to 9.5.
Instead, the Steelers are looking to get their explosiveness from a special teams gadget player like McCloud, who leads the NFL in punt return average (15.0) and has a 63-yard run. McCloud's aDOT? Minus-1.1 yards behind the line of scrimmage.
The Steelers are currently +600 to win the Super Bowl at BetMGM, but unless we see their offense get out of neutral, odds are it will be a losing ticket.
How would you rate this article?