2021-22 NHL Best Bets: Hart Trophy Odds, Picks and Sleepers for MVP
Credit:
Elsa/Getty Images. Pictured: Jack Hughes
The 2021-22 NHL season is set to get underway on Tuesday, Oct. 12 when the Tampa Bay Lightning take on the Pittsburgh Penguins at 7:30 p.m. ET.
Before the puck drops, our hockey staff will highlight their favorite bets for a variety of markets ahead of the season. Today, we took a look at the odds for the Hart Trophy, which is handed out to the league's Most Valuable Player. Perhaps this is an exercise in futility since Connor McDavid is so damn good, but we'll give it a shot anyways.
Michael Leboff
Jack Hughes, New Jersey Devils (+11000 @ FanDuel)
On the surface, Hughes' 18 goals and 34 assists may not suggest he is off to the type of spellbinding start you expect out of a No. 1 overall pick, but his underlying numbers are terrific, and he's not really had all that much to work with in his first two seasons at Prudential Center. That will change this season as Hamilton gives the Devils one of the league's best offensive defensemen, while Tatar and a healthy Hischier should provide some scoring support for Hughes' line.
On paper, New Jersey's power play also projects out really well. Hamilton and Hughes are the focal points, but their supporting cast is not too shabby at all. Smith, Damon Severson and P.K. Subban can move and shoot the puck, while Bratt, Hischier and Tatar are all gifted offensive players with PP1 skillsets. Hughes has already shown he can be a nifty maestro on the power play, and now he gets to do it with a much, much improved supporting cast.
Hughes skated out of the gates hot in 2021 but, like the Devils, faltered after a COVID-19 hiatus. Still, Hughes' surface-level stats undersold the work he was doing on the ice. As a team, the Devils posted a 48.97% expected goals rate in 2021, but when Hughes was on the ice that number ballooned to 55.3%. And it's not like Hughes was playing with stars, either. Hughes showed he's capable of carrying a No. 1 line on a bad team, so if he can do the same with better players around him, logic would suggest his numbers will tick up big time and that he has a chance for a true breakout in 2021/22.
Hughes currently sits at 110/1 to win the Hart Trophy at FanDuel and is not even listed on the MVP board at a lot of sportsbooks right now.
If you believe that the Devils are going to make a gigantic leap this season and want to bet them to win the Stanley Cup, go right ahead, I'm not here to judge a fun bet like that. But if you are walking down that road, I'd also suggest you consider investing in Hughes since it's pretty hard to imagine that the Devils make the playoffs without Hughes posting some eye-popping numbers.
It is very unlikely that Hughes has a strong enough season to beat out Connor McDavid, Leon Draisaitl, Auston Matthews, Nathan MacKinnon and Nikita Kucherov to win MVP, but I am a sucker for a bet like this.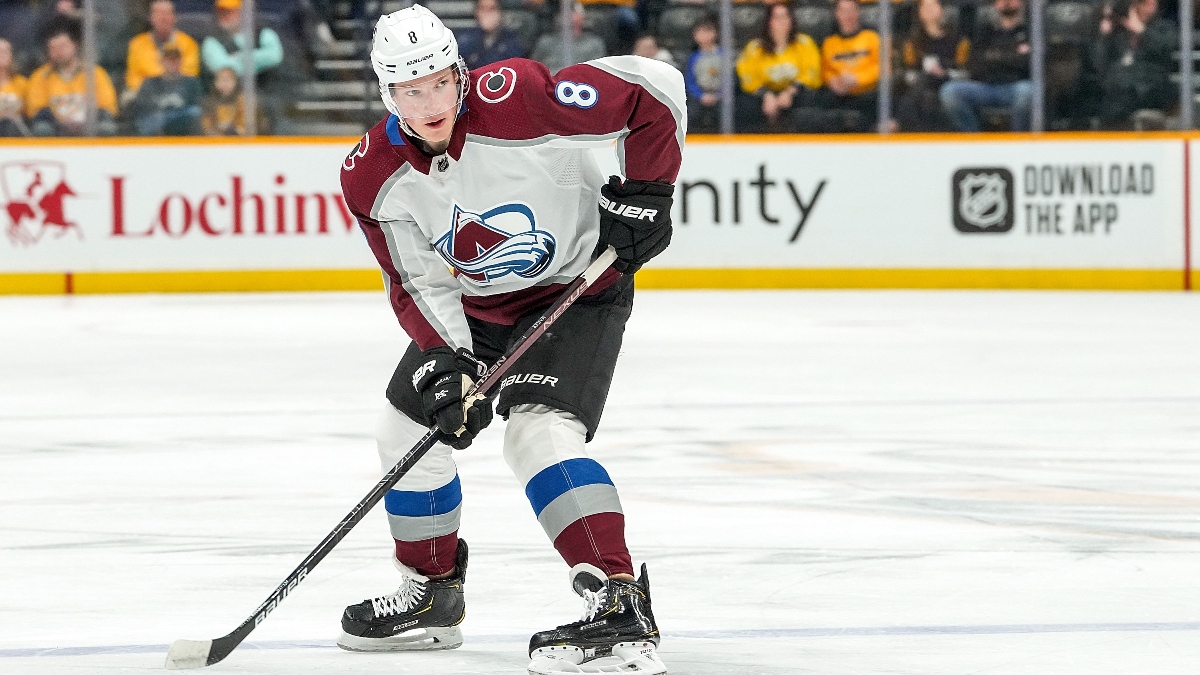 Grant White
Cale Makar (+6000 @ FanDuel)
For decades, the NHL has adjusted rules and gameplay to increase scoring in the league. After years of tinkering, offense finally reigns supreme in the NHL. For a league that emphasizes scoring as much as it does, there's no surprise that the Hart Trophy, awarded to the league's most valuable player, has gone to a forward in 17 of the past 18 seasons.
Defensemen have been all but shut out of the Hart Trophy, with Chris Pronger being the only defenseman to win the award since 1973. However, there is a defenseman who straddles elite offensive contributions without compromising defensive responsibility in his own end, and 2021-22 will be the season that Cale Makar is included in the Hart Trophy conversation.
No defenseman was better than Makar at five-on-five last season. Among d-men with more than 48 minutes on-ice at five-on-five, Makar led the NHL in Corsi rating, with a dazzling 60.9%. The former Brooks Bandit drove the Colorado Avalanche's offense from the back end, creating 429 scoring chances and 170 high-danger opportunities at five-on-five while giving up only 266 and 110, respectively. Makar's positive relative metrics resulted in an expected goals-for percentage of 61.8%, over 5% higher than defending MVP Connor McDavid's mark of 56.6%.
Where things get even more impressive is when we consider Makar's advanced metrics across all strengths. The soon-to-be 23-year-old had a 65.5% Corsi rating and 68.5% expected goals-for percentage across all strengths last season while being deployed under any circumstance. What's reflected in those metrics is Makar's superb powerplay ability. Makar recorded four goals and 18 assists with the man-advantage last season, placing him in the top ten in powerplay assists. We can also infer that Makar is just as dangerous with the man-advantage as he is at five-on-five, with his points being distributed evenly across powerplay and even strength play.
Makar's metrics place him not only among the best defensemen but the best players in the NHL, and he achieved these lofty heights in just his second season in the league. Another year of experience and one of the best supporting casts in the league will help Makar be even better in the upcoming season. FanDuel Sportsbook has Makar priced as a +6000 longshot to take home the MVP hardware, but there's better than a 1.6% chance that he walks away with the Hart Trophy.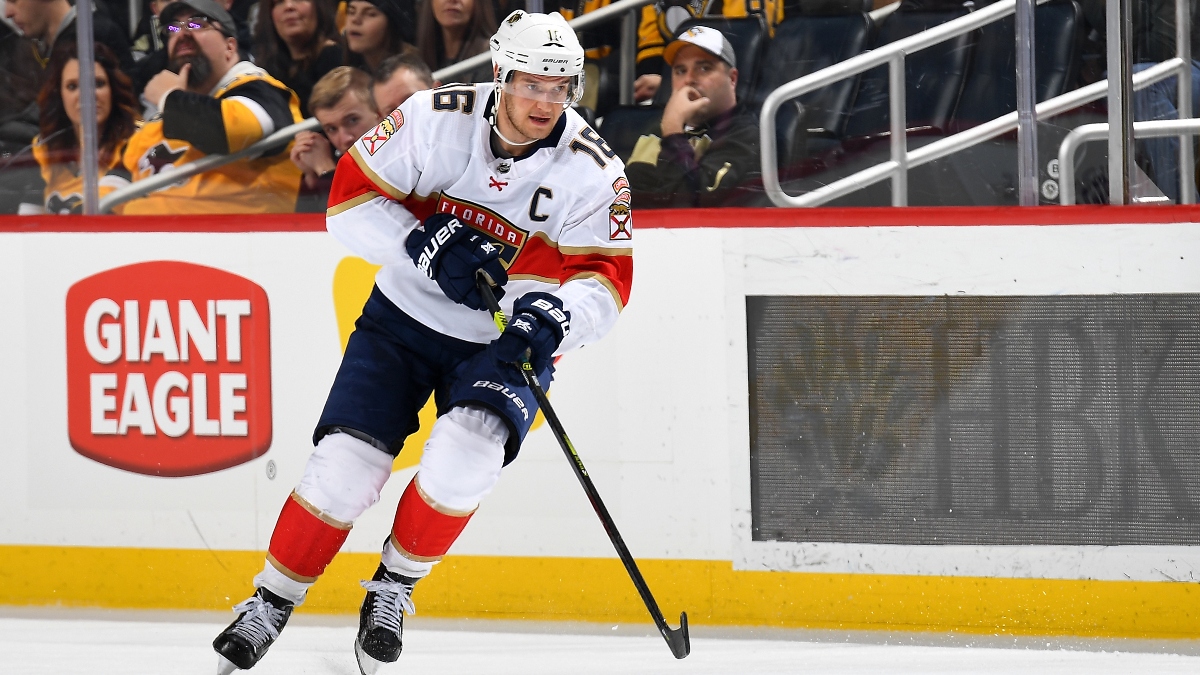 Carol Schram
Aleksander Barkov, Florida Panthers (+4800 @ FanDuel)
The Florida Panthers are a team on the rise. If they're able to build on the foundation they laid last season, captain Aleksander Barkov is going to get plenty of attention as the straw that stirs the drink.
The Hart Trophy often goes to the NHL's scoring leader. Barkov's 58 points ranked him 13th overall last season — miles behind leaders Connor McDavid (105) and Leon Draisaitl (84). But the Panthers' top-line center does have a nose for the net, now with six straight seasons of 20 goals or more and a 96-point year in the NHL's last full season, 2018-19. And he does much more. Barkov's calling card is his full 200-foot game. He's strong on both sides of the puck, with speed to burn and a big 6'3" frame.
At 26, Barkov is now in his prime. With one year left on a contract that carries a cap hit of $5.9 million and unrestricted free agency looming at the end of this season, he'll be motivated to put up big numbers which will get him paid, whether that's in South Florida or elsewhere.
Flying under the radar for years, Barkov's name has often been mentioned in those 'most underrated' polls. But awards voters have been aware of his body of work. His impressive two-way play has earned him four top-10 finishes in Selke Award voting, and he got his first win last season. In 2019, he picked up the Lady Byng Trophy as the NHL's most gentlemanly player.
Barkov finished an impressive sixth in Hart Trophy voting last season, tallying 125 points compared to Connor McDavid's perfect 1,000 (all 100 first-place votes). At +4,800, he's a top star offering great betting value, with a legitimate opportunity to contend for the title of NHL MVP in the 2021-22 season.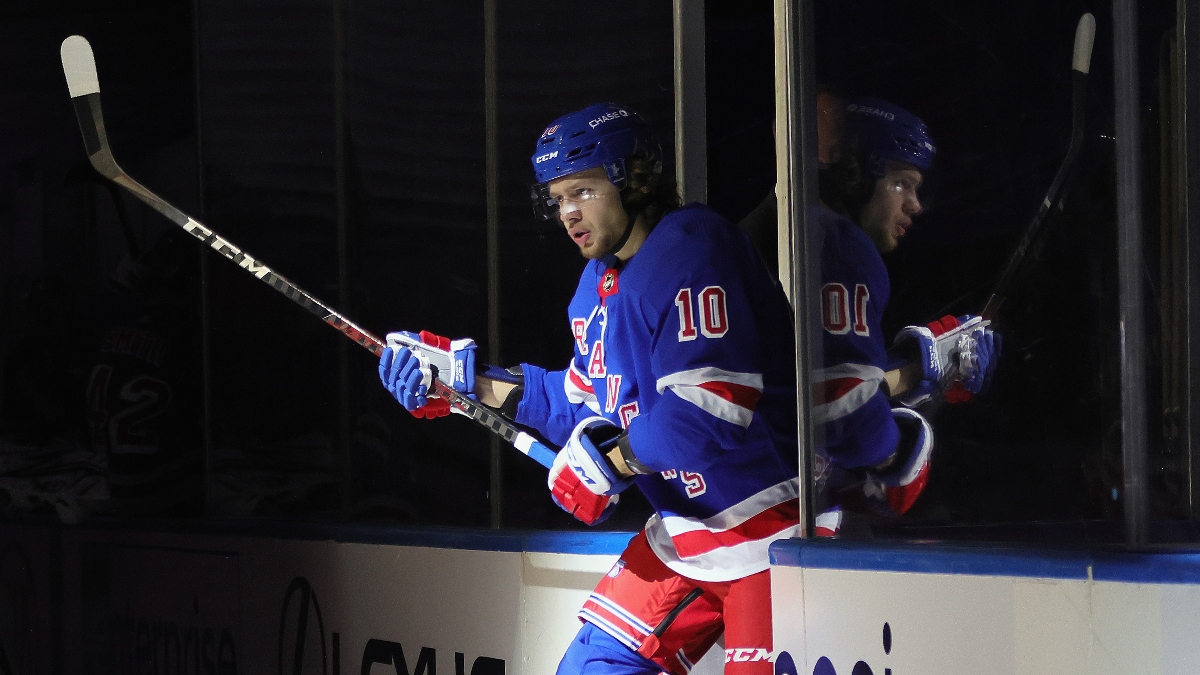 Patrick Pickens
Artemi Panarin (+2300 @ FanDuel)
Panarin has dragged the Rangers kicking and screaming into playoff contention each of the past two seasons — they reached the 24-team postseason in 2020, which earned him a third-place finish for the Hart Trophy that year.
Panarin has lugged center Ryan Strome to consecutive standout seasons — a 0.55 points per game player for his career, Strome is averaging 0.75 points per game since joining the Rangers, largely due to playing alongside Panarin since October 2019.
Panarin will start the year on a line with Strome and Kaapo Kakko, who scored all of nine goals a year ago. If Panarin can boost Kakko, the second pick of the 2019 draft, to a breakout-type season that would bolster his Hart chances exponentially since voters believe he's the engine that drives New York's offense — even if Kakko is due to put up better offensive numbers in his third full season in the NHL.
There are other candidates on the Rangers — 2021 Norris winner Adam Fox, goalie Igor Shesterkin and top-line center Mika Zibanejad are all betting candidates. But voters will undoubtedly give Panarin the credit if the Rangers can hang around the playoff chase while playing an uptempo style under new coach Gerard Gallant.
New York should be able to stay close to the postseason given the wide-open Metropolitan Division. Plus he should get a boost from playing in New York.
Take him at +2300 on FanDuel. If he stays healthy, he should at least be a finalist.
How would you rate this article?
This site contains commercial content. We may be compensated for the links provided on this page. The content on this page is for informational purposes only. Action Network makes no representation or warranty as to the accuracy of the information given or the outcome of any game or event.