Lo Duca: Ranking Every MLB Season Win Total Bet for 2019
Credit:
Patrick Gorski, USA Today Sports. Pictured: Joey Votto
The 2019 MLB season starts in the wee hours of the morning on Wednesday, March 21 as the Seattle Mariners play the Oakland A's in the Japan Opening Series.
The season always feels like it crept up on us, but this year it's felt even more like that since big-ticket free agents like Bryce Harper and Manny Machado took forever to sign.
The past few days, I've taken a hard look at all 30 win totals and I've ranked them from last to first, in terms of how confident I am betting them.
For example, as you will read below, I have no idea what to make of the San Francisco Giants this season, so they are No. 30 on my list.
Without further ado, let's jump in.
30. San Francisco Giants, Over/Under: 74 wins
What can I say about the San Francisco Giants?
This will likely be Bruce Bochy's final season and it doesn't seem like it will be a pleasant one. They came up short in the Bryce Harper sweepstakes, their best players are on the wrong side of the mountain and they have very little pitching behind Madison Bumgarner, who has struggled to stay healthy the past few seasons.
This is a team that should blow things up but it's hard to imagine them doing that with Bochy at the helm. I really have no idea how this team will do, so I'm going to pass.
29. Philadelphia Phillies, Over/Under: 89 wins
Now that Bryce Harper is in the fold we need to start with the lineup.
Even before Harper, this offense was transformed thanks to the additions of Jean Segura, Andrew McCutchen and J.T. Realmuto. Philadelphia was below average at getting on base in 2018 with a .314 OBP.
Those new faces should help Rhys Hoskins further establish himself as one of the league's best power hitters. Long story short, this team has the potential to put up crooked numbers. But there are still question marks.
The Phillies ranked last in the MLB in terms of defensive runs save (-146) last season. Segura, McCutchen and Realmuto should help on defense but that's still alarming.
Philadelphia's rotation is anchored by Cy Young candidate Aaron Nola, but behind him are a bunch of question marks. Jake Arrieta is past his prime and it's hard to imagine him being an impact pitcher consistently in 2018. Behind him are promising young arms like Nick Pivetta and Zach Eflin, but they have yet to establish themselves at the Major League level.
The bullpen does look better with David Robertson leading a solid group, but it's not a dominant unit by any means. I think the Phillies will be right on the 89-win pace all season, but this is still too close to call in such a tough division.
28. Baltimore Orioles, Over/Under: 59 wins
I can't remember if I've ever seen Vegas project a team to lose 100 games. That's really hard to do, though the O's accomplished the feat with flying colors in 2018.
You have to expect a team to improve after a 47-win season, but I don't know how anybody can feel good about projecting this team to get to 60 wins.
27. Toronto Blue Jays, Over/Under: 74 wins
The Blue Jays rebuild is in full swing in 2019, but the future isn't too far off…the buzz of Vladimir Guerrero Jr., Bo Bichette and company should get louder as they get closer to the call.
There is such thing as an interesting bad team and the Jays will fit that bill in 2019 with all of their young talent.
There are too many variables north of the border to get a good feel on this team. They play in a good division that features the league's worst team, they have a veteran staff that may pitch well enough to keep them afloat and who knows when their young stars will come up.
I'd lean towards Under 74 wins, but this isn't a total I want to invest in.
26. Miami Marlins, Over/Under: 63.5 wins
The Marlins have the same win total as they did in 2018 despite the fact that they let go of everyone, including Billy the Marlin himself, before last season.
That tells you that the Fish, despite having a more positive outlook in 2019, are playing in a tougher division than they were in '18.
Things still look bleak in South Beach, but hey — maybe Billy the Marlin can come to your birthday party? That's the only way to cheer up a Marlin fan this year.
25. Detroit Tigers, Over/Under: 68 Wins
Miguel Cabrera could have a bounce-back season, but that wouldn't be nearly enough to get this team to contend. Detroit has very little starting pitcher, the lineup won't strike fear into any team and the Tigers will look to unload anything they can at the deadline to overhaul the farm system.
The only thing that is keeping me from being confident in the under is that the AL Central is the weakest division in baseball.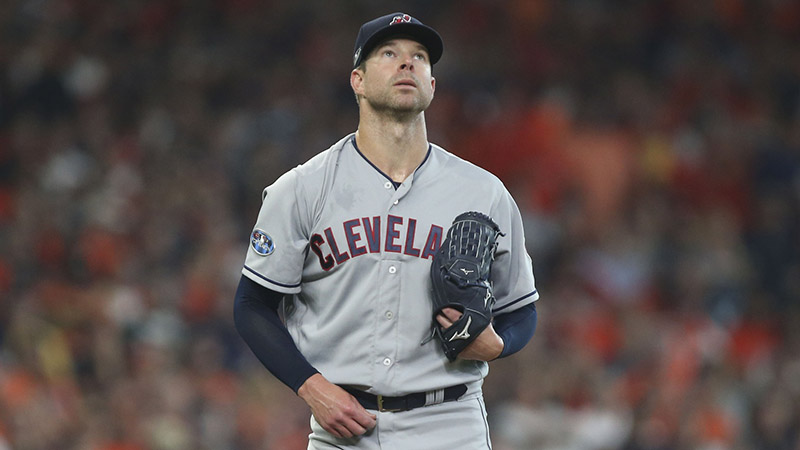 24. Cleveland Indians, Over/Under: 91
Cleveland had one of the most interesting offseasons in the Major Leagues. The Indians traded away Edwin Encarnacion and Yan Gomes, let Andrew Miller, Michael Brantley and Josh Donaldson walk in free agency and entertained the idea of trading Corey Kluber.
So why is a Cleveland projected for over 90 wins if it got worse over the winter? The division is just so bad.
The Indians still have a terrific rotation with Kluber, Trevor Bauer, Carlos Carrasco, Shane Bieber and Mike Clevinger and there is dynamite at the top of the lineup with Francisco Lindor and Jose Ramirez, but there's a lot of question marks for Terry Francona this season.
I can see Cleveland rolling to a division title, but does that mean the Tribe will get to 92 wins? No clue. Pass.
23. Texas Rangers, Over/Under: 71 wins
There are a ton of American League teams in rebuild mode, including the Rangers. They won just 67 games last season with one of the worst pitching staffs in the league.
There's not much to like about the rotation this season as the Rangers brought in some uninspiring veteran arms and will look to be trading away anybody of value at the deadline.
I'm confident that first-year manager Chris Woodward will be good, and there is pop in this lineup, but I'd lean slightly towards the Under 71 wins if you made me choose.
22. San Diego Padres, Over/Under: 78.5
The Padres really made a statement this offseason by signing Manny Machado. Whether that move will pay dividends in 2019 is another question, but its still a great sign for Padres fans.
San Diego already had the best farm system in baseball, so adding a superstar like Machado should accelerate their path to contention.
Fernando Tatis Jr., Luis Urias and Francisco Mejia will be up at some point this summer and that should help boost an already talented lineup, but the pitching staff is a weak link.
If Chris Paddack bursts onto the scene things will get interesting in the NL West, but for now a staff that is headlined by Joey Lucchesi doesn't leave me begging to back the over.
PECOTA has San Diego down for 79 wins and I think the margin for error is too thin either way to make a play.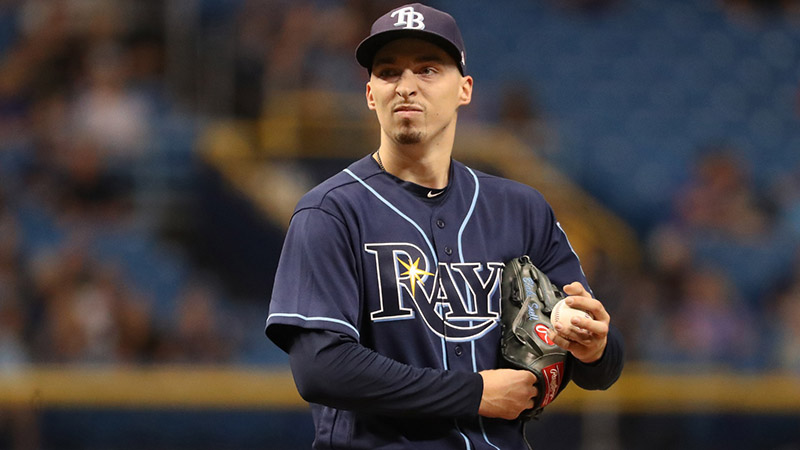 21. Tampa Bay Rays, Over/Under: 84.5
The Rays were one of the biggest surprises of the 2018 season, winning 90 games behind Cy Young winner Blake Snell and manager Kevin Cash's revolutionary "Opener" strategy. Can Cash work his magic again? Or are teams going to adjust?
This is a really hard team to peg heading into 2019. Charlie Morton was a nice signing, but they also traded away some good young pieces in the winter.
This team will be boom or bust, and that is scaring me off.
20. Atlanta Braves, Over/Under: 86 wins
The NL East could be an all-out war this season.
The Braves are loaded with talent on offense, headlined by Freddie Freeman, Ronald Acuna Jr., Ozzie Albies and Josh Donaldson. I have no doubts that Atlanta will be a dynamic team on offense, but their pitching could be a little Jekyll and Hyde.
The staff is just so young, but there's a chance players like Touki Toussaint, Sean Newcomb and Mike Soroka make good on their promise. Of course that is far from a sure thing and if Atlanta's young arms struggle it could put them in a bind in a competitive division.
Pitching is already tough to project over a full season and this staff takes that to a whole new level.
19. Minnesota Twins, Over/Under: 84
Is this the most interesting team in the AL Central? I think so. Minnesota had a down year in 2018 after a surprising run to the Wild Card in 2017, but things look positive for 2019.
I love the hiring of Rocco Baldelli. I know Rocco as someone who will roll the dice and take chances, and I think that bodes well for this team as the division is not out of reach.
The Twins added professional hitters like Nelson Cruz, Marwin Gonzalez, C.J. Cron and Jonathan Schoop to a lineup that already had some high upside thanks to Byron Buxton, Max Kepler, Eddie Rosario and Miguel Sano.
As with most teams, the Twinkies will go as far as their pitching staff can take them. There are a lot of question marks but if Michael Pineda, Jose Berrios and Kyle Gibson can put it together — look out.
I'm leaning towards the over thanks to a weak division.
18. Chicago Cubs, Over/Under: 88 wins
Has the Cubs window closed?
The South Siders will need a lot to go right for them in 2019, starting with Kris Bryant staying healthy and finding his form.
Bryant, Anthony Rizzo, Willson Contreras, Javier Baez and Kyle Schwarber will all need to carry this team because it's hard to trust Joe Maddon's aging rotation. Jon Lester, Cole Hamels, Kyle Hendricks, Yu Darvish and Jose Quintana are all on the wrong side of their prime and it's hard to imagine them staying healthy for 162 games.
PECOTA projected the Cubs to finish in last place at 79-83 and I've got to say I have them closer to that number than to 90 wins.
17. Milwaukee Brewers, Over/Under: 86.5 wins
Predictions are an interesting thing, because a baseball season is so unpredictable. Even the boldest predictions didn't have Christian Yelich running away with the NL MVP award nor did they have the Brewers within one game away from the World Series last year.
The Brewers should score a lot of runs and their bullpen figures to be a strength, so why does Vegas project them to finish third in the Central?
Milwaukee's pitching staff still won't strike fear into anybody. As of right now, Jhoulys Chacin is the Brew Crew's No. 1 starter. That likely won't cut it, so Craig Counsell better hope Jimmy Nelson stays healthy or one of his young arms, most likely Corbin Burnes, turns into a front-line starter.
Counsell was able to get creative with the staff last season, but Milwaukee won't catch anybody by surprise this season and there are no bad teams in this division.
I can still see the Brewers contending, but they'll be in a season-long battle with the Cubs and Cardinals.
16. Arizona Diamondbacks, Over/Under: 75.5 wins
The Diamondbacks are certainly re-tooling, but are they 6.5 wins worse than they were in 2018?
I don't think they are as the roster currently stands, but the fact that they dealt away Paul Goldschmidt tells me this front office is going to blow it all up at the deadline.
With that being the case, I'm not ready to invest in a team that could sell off its best players like Zack Greinke and Robbie Ray.
15. New York Mets, Over/Under: 85.5 wins
There was a strong case that the Mets were the winners of the offseason before the Phillies added Bryce Harper a couple weeks ago. New general manager Brodie Van Wagenen has put together a very good team on paper.
The Mets may lack some pop offensively, but youngsters Peter Alonso and J.D. Davis could provide the power when they get called up. Until then, Michael Conforto, Brandon Nimmo and Cano will have to lead the way offensively.
The Mets have a great staff, anchored by Jacob deGrom, but the success of the team will come down to the healthy of Noah Syndergaard, Steven Matz and Zack Wheeler.
I don't trust this team to stay on course over a 162-game marathon and I think Mickey Callaway leaves a lot to be desired as a manager. I know a lot of projections have the Mets getting to 86 or 87 wins, but I am thinking they go under.
14. Los Angeles Dodgers, Over/Under: 93 wins
The Dodgers have won the NL West the last six seasons and I don't see anything changing in 2019.
Even though it may have been hard for fans to swallow, the trade that sent Alex Wood, Yasiel Puig and Matt Kemp to Cincinnati was the right thing to do.
The offense shouldn't suffer too much as long as Corey Seager and Justin Turner stay healthy. The lineup will also have more balance this year thanks to A.J. Pollock's arrival.
This may not show up on the statsheet, but I think that the addition of Russell Martin will prove to be huge. He's been with this team before and can help keep the ship on course when Dave Roberts is struggling. I don't have a lot of faith in him as a manager, so having Martin in the clubhouse will be a plus.
The Dodgers seem set on running a six-man rotation, which should keep Clayton Kershaw, Hyun-Jin Ryu and Walker Buehler fresh.
Los Angeles got to 92 wins in an up-and-down season in 2018 and I think the Dodgers are set up better in 2019 than they were in '18. I have no problem backing them to get above 93 victories in a division with a few bad teams.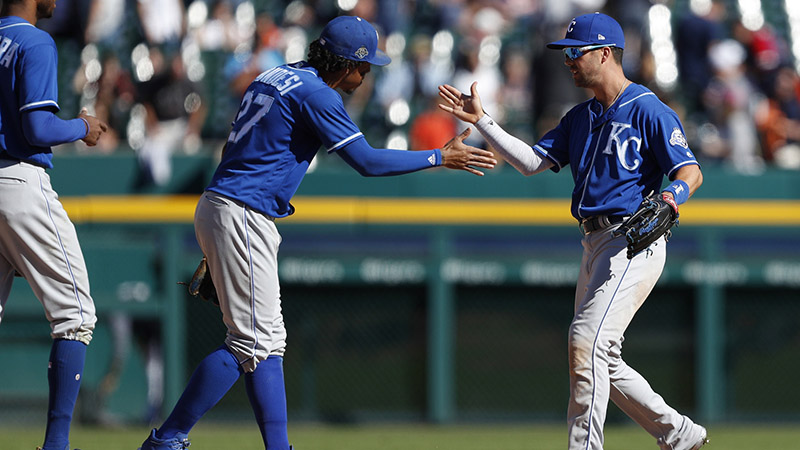 13. Kansas City Royals, Over/Under: 69 wins
I'm not going to beat around the bush here, I think the Royals are going to be brutal.
Losing Salvador Perez for an entire season is a huge deal for this win total. Perez may not be a dynamite hitter, but he was the backbone for this team and is one of the best catchers in the MLB at handling a staff.
The Royals won't be trying to win, so I expect to see them selling off assets at the deadline.
Backing a team to lose 95 games is never fun, but I think the Royals will be close to 100 losses in 2019.
12. Chicago White Sox, Over/Under: 74 wins
The White Sox gave it the ol' college try this offseason but couldn't land Manny Machado or Bryce Harper.
Landing one of those players would have accelerated Chicago's rebuild but now the White Sox are left with a bad rotation and one of the league's worst lineups.
Michael Kopech won't be around this season after undergoing Tommy John surgery, but at least fans on the North Side will be excited to see Eloy Jimenez work.
Until then, take the under as the White Sox continue to build towards 2020 and beyond.
11. Cincinnati Reds, Over/Under: 78.5 wins
This will be the 150th season of professional baseball in Cincinnati and Vegas doesn't expect it to be a memorable one, even though the Reds made some improvements in the offseason by acquiring Alex Wood, Yasiel Puig and Matt Kemp from the Dodgers.
With Joey Votto and Eugenio Suarez already anchoring the lineup and Nick Senzel lurking, the Reds could be an interesting squad this season. It will just depend on if the rotation can hold things down.
Sonny Gray should find his form now that he's out of New York and Wood can be dominant for stretches, but the real question will be if Luis Castillo can become a No. 1 starter.
If this team played in a different division they'd be a trendy sleeper pick, but the Central could prove too much for them. I still think they can finish above .500, though, and think the over is worth a play.
10. Houston Astros, Over/Under: 96.5 wins
The Astros are a juggernaut on both sides of the ball.
Alex Bregman, Jose Altuve and Carlos Correa are MVP candidates while Gerrit Cole and Justin Verlander are as good a 1-2 punch in the league.
The Astros were actually a little unlucky to win "just" 103 games last year and they are probably going to crack 100 wins again if Brad Peacock, Collin McHugh and electric rookie Forrest Whitley can shore up the back-end of the rotation.
It's a steep number, but this team is so far ahead of any team in their division.
9. St. Louis Cardinals, Over/Under: 88 wins
I think of the Cardinals in the same way as the Patriots — they just find ways to win.
Even though Yadier Molina ruined my dreams of going to a World Series in 2006 he's still my favorite player in baseball. When he's on the field, the pitching staff excels and the guy can hit.
St. Louis comes into the season with high expectations thanks to the arrival of Paul Goldschmidt, one of the best hitters in the MLB. If the Cardinals can keep Dexter Fowler healthy and receive contributions from youngsters Harrison Bader and Tyler O'Neill the lineup should be deep enough to keep them near the top of the division.
The pitching staff may not jump off the page at first glance, but Miles Mikolas and Jack Flaherty could end up being one of the best 1-2 punches in the National League by the season's end. That doesn't even mention Carlos Martinez, who is battling some injury issues this spring.
I think the Cards will win the Central and like a bet on the over 88 wins.
8. Boston Red Sox, Over/Under: 94 wins
The defending champs may run into some issues in the coming years, but 2019 should be no problem.
Aside from the bullpen, which lost Joe Kelly and Craig Kimbrel, this is almost the same team from 2018.
This offense should score enough to make up for a lackluster bullpen and if Nathan Eovaldi stays healthy the rotation is in fine shape.
Boston is flying under the radar a little bit — which is weird — and I think the Sox will go touch 95-plus wins.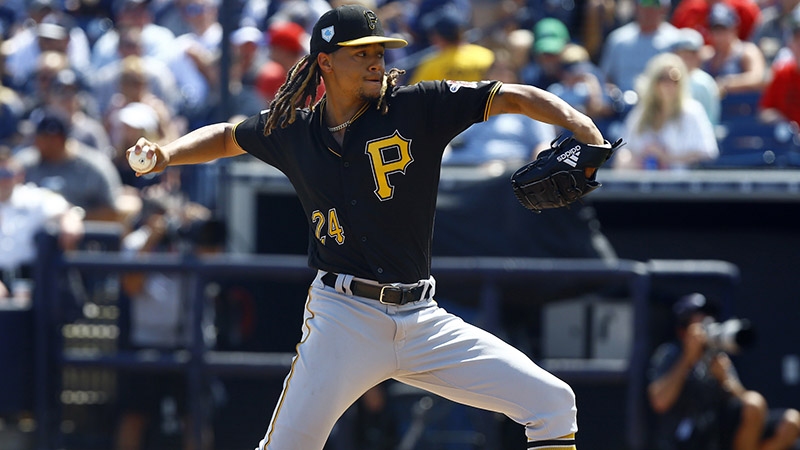 7. Pittsburgh Pirates, Over/Under: 78 wins
The Bucs quietly beat their over/under in 2018 by eight games. They were never really a threat to contend, but a decent start helped Pittsburgh to 82 wins.
The Pirates boast a decent starting rotation, anchored by Chris Archer and Jameson Taillon, and if Joe Musgrove can make good on his promise this season (which basically is all about staying healthy) this staff should keep the Bucs in the conversation for the Wild Card.
The Pirates do have some sleeper potential and I like them to go over 78 wins.
6. Colorado Rockies, Over/Under: 84.5
The Rockies gave the Dodgers a scare in 2018 and I think they can hang with Los Angeles again in 2019.
We all know that the Rockies' offense, led by the newly-extended Nolan Arenado, will rake but the question with Colorado is always whether or not it will get enough pitching.
Kyle Freeland has emerged as a terrific left-handed starter and German Marquez is on his way to being special, so if the back-end of the rotation can hang this team should be good enough to hang in the race with the Dodgers.
With down years expected out of San Francisco and Arizona, I think the Rockies are a good bet to touch 90 wins. Back the over.
5. Los Angeles Angels, Over/Under: 81.5 wins
This number seems a little low to me.
The Angels always feel like they are on the cusp of breaking out but fall short every season, but — and stop me if you've heard this before — this is the season they will take a step forward.
The Halos have the best player of this generation in Mike Trout and the lineup around him should be decent. Justin Bour could be a savvy addition as he should see a lot of pitches to hit with Trout in that lineup.
With Trout, Andrelton Simmons and Zack Cozart, you can expect the Angels to be great defensively again and if the pitching staff — which could be boom-or-bust — holds up the Angels should stay in the hunt for a wild card.
Depth has been a huge issue for the Angels for the past few seasons but they have some talent in the pipeline so there's not much to worry about here.
I think the floor for Los Angeles is a better-than-average team so I am taking the over 81.5 wins.
4. Washington Nationals, Over/Under: 89 wins
Despite the loss of Bryce Harper, the Nationals are actually going to be better in 2019.
The Harper subtraction overshadowed the fact that the Nationals added Patrick Corbin to a rotation that already boasts Max Scherzer and Stephen Strasburg.
The Nats have plenty in the way of young talent to replace Harper as Juan Soto seems like a legitimate MVP candidate already and Victor Robles should excel over the course of a full season.
Don't look past this team. The lineup, which also features Trea Turner, Anthony Rendon, Brian Dozier, Adam Eaton and Ryan Zimmerman, is as good as any in the division.
I think the Nationals will win the NL East and easily go over 89 wins.
3. Seattle Mariners, Over/Under: 89 wins
The Mariners couldn't quite end their playoff drought in 2018. The M's put up 89 wins but were as lucky as any team in the MLB to get that high.
It was fool's gold and the front office knew it, so Seattle dealt away Robinson Cano, James Paxton, Edwin Diaz and Jean Segura to begin rebuilding.
The rotation is unspectacular, the offense is lacking and the Mariners have no intention of winning in 2019.
Don't overthink it, bet the under.
2. New York Yankees, Over/Under: 97 wins
Like the Astros, this is a high win total that I still think has value.
The Bombers put up 100 wins last season and still didn't really hit their full potential. I can go on about this lineup for days, but you know the drill.
I actually think the Yankees will do more damage offensively this season than they did in 2018. Why? Not only because of the additions of D.J. LeMahieu and Troy Tulowitzki, but because Gary Sanchez should have a bounce-back season and Giancarlo Stanton should be more settled in his second season in the Bronx.
The Yankees have a legitimate ace in James Paxton and he's backed up by proven veterans Masahiro Tanaka, J.A. Happ and C.C. Sabathia as well as one of the best bullpens in baseball.
I think the Yanks will run away with the division and eclipse 100 wins.
1. Oakland A's, Over/Under: 83 wins
The Athletics were the biggest surprise in the American League in 2018. Oakland managed to win 97 games thanks to a homer-happy offense and a good bullpen.
The A's were also very lucky and excelled in one-run games. I think this team is an easy pick to regress and, with this rotation, will struggle to get to .500.
This is my favorite bet of all 30 win totals. Back the under and pray for regression.
How would you rate this article?