MLB NL MVP Winner Odds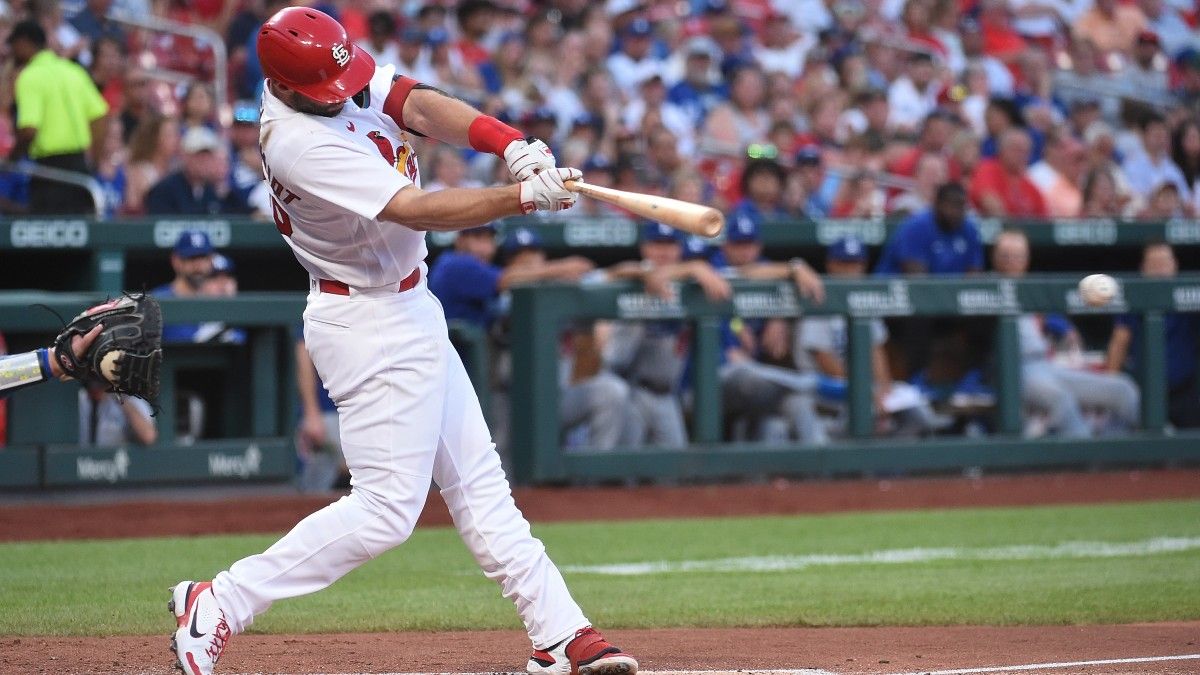 | Player | Odds |
| --- | --- |
| Paul Goldschmidt - St. Louis Cardinals | -20000 |
| Freddie Freeman - Los Angeles Dodgers | +5000 |
| Nolan Arenado - St. Louis Cardinals | +7500 |
| Manny Machado - San Diego Padres | +8000 |
| Trea Turner - Los Angeles Dodgers | +9000 |
| Austin Riley - Atlanta Braves | +10000 |
| Mookie Betts - Los Angeles Dodgers | +10000 |
| Francisco Lindor - New York Mets | +10000 |
| Pete Alonso - New York Mets | +10000 |
| Juan Soto - San Diego Padres | +10000 |
| Kyle Schwarber - Philadelphia Phillies | +10000 |
| Dansby Swanson - Atlanta Braves | +10000 |
| Ronald Acuna - Atlanta Braves | +10000 |
| C.J. Cron - Colorado Rockies | +10000 |
| Bryce Harper - Philadelphia Phillies | +10000 |
| Matt Olson - Atlanta Braves | +10000 |
| Christian Yelich - Milwaukee Brewers | +10000 |
| Nick Castellanos - Philadelphia Phillies | +10000 |
| Willy Adames - Milwaukee Brewers | +10000 |
| Jazz Chisholm - Miami Marlins | +10000 |
| Fernando Tatis - San Diego Padres | +10000 |
| Starling Marte - New York Mets | +10000 |
| Ozzie Albies - Atlanta Braves | +10000 |
| Seiya Suzuki - Chicago Cubs | +10000 |
| Max Muncy - Los Angeles Dodgers | +10000 |
| Tyler O'Neill - St. Louis Cardinals | +10000 |
| Marcell Ozuna - Atlanta Braves | +10000 |
| Kris Bryant - Colorado Rockies | +10000 |
| Cody Bellinger - Los Angeles Dodgers | +10000 |
| J.T. Realmuto - Philadelphia Phillies | +10000 |
| Eric Hosmer - Boston Red Sox | +10000 |
| Max Scherzer - New York Mets | +10000 |
| Rhys Hoskins - Philadelphia Phillies | +10000 |
| Corbin Burnes - Milwaukee Brewers | +10000 |
| Jacob deGrom - New York Mets | +10000 |
| Josh Bell - San Diego Padres | +10000 |
| Bryan Reynolds - Pittsburgh Pirates | +10000 |
| Brandon Crawford - San Francisco Giants | +10000 |
| Jonathan India - Cincinnati Reds | +10000 |
| Justin Turner - Los Angeles Dodgers | +10000 |
| Ian Happ - Chicago Cubs | +10000 |
| Jake Cronenworth - San Diego Padres | +10000 |
| Joey Votto - Cincinnati Reds | +10000 |
| Brandon Belt - San Francisco Giants | +10000 |
| Mike Moustakas - Cincinnati Reds | +10000 |
| Joc Pederson - San Francisco Giants | +10000 |
| Jean Segura - Philadelphia Phillies | +10000 |
| Jeff McNeil - New York Mets | +10000 |
| Paul DeJong - St. Louis Cardinals | +10000 |
| Charlie Blackmon - Colorado Rockies | +10000 |
MVP awards are hard to come by in any league, but you could argue that baseball is the hardest of them all. There are so many stats to consider for hitters, from batting average, on base percentage, slugging percentage, home runs and more ... and that's just on offense.
As we know, the baseball season is a grind. There are plenty of ebbs and flows over the course of a 162-game season, so these odds are constantly changing. While there are certainly some stars at the top of the odds list, there are also some big names further down the board who are more than capable of getting hot and claiming this award.
Who are the favorites to win NL MVP?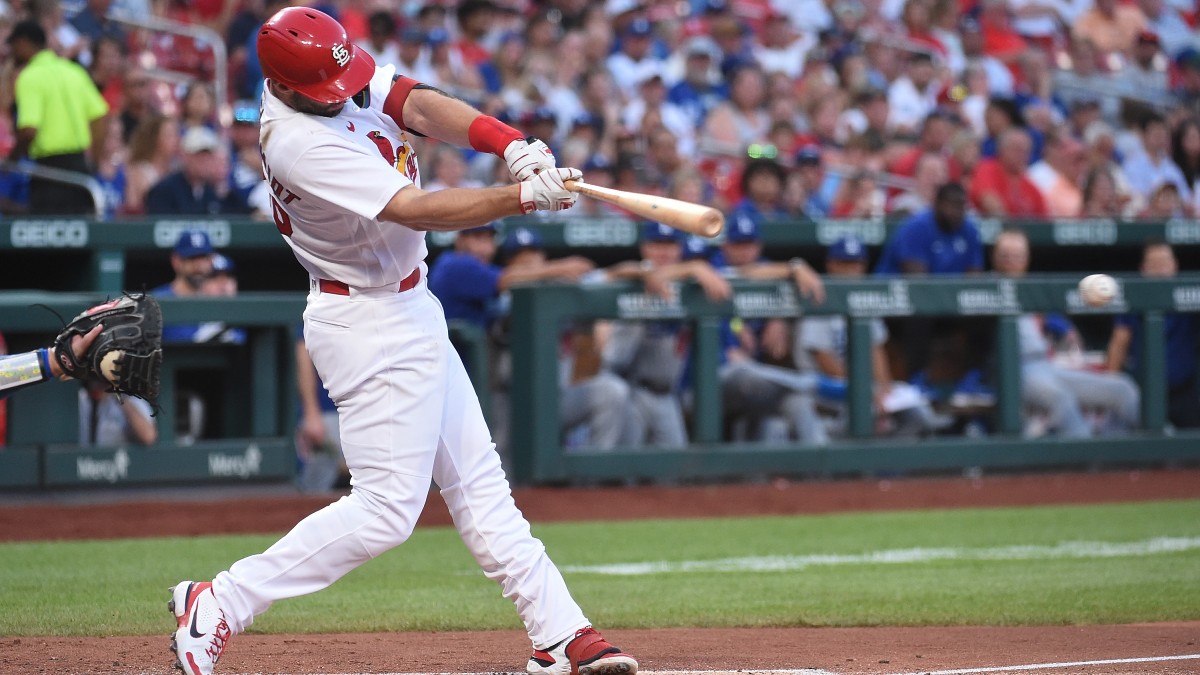 1. Paul Goldschmidt (-140)
Goldschmidt, despite being an All-Star for most of his career, hasn't come close to winning an MVP award since the 2013 season when he finished second in voting. He has been raking to start the 2022 season with an OPS over 1.000 at the start of June. He's now the favorite to take home the MVP, and If he keeps up this pace, there won't be a doubt about who will win the award.
2. Austin Riley (+425)
The Braves third baseman is having a stunning season, with 29 home runs and a .301/.360/.604 slash line. Riley is currently the second-favorite to take home the award, only behind Goldschmidt. Atlanta is a few games behind the Mets at the moment, and a push towards the division would offer some help towards Riley's case. Nonetheless, he's still at the mercy of Goldschmidt when push comes to shove.
3. Freddie Freeman (+700)
A notable former Braves player slots in behind Riley, as Freddie Freeman has gotten better ad better as the season has moved on. It would be pretty surprising to see him make a real push for the award at this point, but he's in the first group of players chasing behind Goldschmidt. Of course, it doesn't help the former MVP's case that he plays with such a stacked lineup around him.
4. Pete Alonso (+1500)
There's perhaps no one in the MLB who hits the ball as hard as Pete Alonso and the Mets slugger is making a real case to be one of the premier players in the sport. He has sustained success as a power hitter, but this may turn about to be his best campaign to date. Nonetheless, making a strong run for the award is unlikely this year.
---
With the four stars claiming the top spots on the NL MVP odds board, here's a look at the next group of players who could be of value in the market.
Mookie Betts (+2000)

Manny Machado (+2500)

Trea Turner (+2500)
FUTURES
Consensus
Cons.

Eugenio Suarez

E.Suarez

Jesse Winker

J. Winker

Paul Goldschmidt

P.Goldschmidt

Bryce Harper

B.Harper

Nolan Arenado

N.Arenado

Freddie Freeman

F.Freeman

Jazz Chisholm

J.Chisholm

Manny Machado

M.Machado

Austin Riley

A.Riley

Trea Turner

T.Turner

Mookie Betts

M.Betts

Pete Alonso

P.Alonso

Willy Adames

W.Adames

Christian Yelich

C.Yelich

Ozzie Albies

O.Albies

Eric Hosmer

E. Hosmer

Corbin Burnes

C.Burnes

Rhys Hoskins

R. Hoskins

Nick Castellanos

N.Castellanos

Marcell Ozuna

M.Ozuna

Starling Marte

S.Marte

Justin Turner

J. Turner

Joc Pederson

J. Pederson

Fernando Tatis

F.Tatis

Josh Bell

J.Bell

Francisco Lindor

F.Lindor

Brandon Crawford

B. Crawford

Brandon Belt

B. Belt

J.T. Realmuto

J.Realmuto

Bryan Reynolds

B.Reynolds

Ian Happ

I.Happ

Jeff McNeil

J.McNeil

Joey Votto

J. Votto

Cody Bellinger

C. Bellinger

Max Scherzer

M.Scherzer

Kris Bryant

K.Bryant

Jake Cronenworth

J.Cronenworth

Seiya Suzuki

S.Suzuki

Jorge Soler

J. Soler

Walker Buehler

W.Buehler

Brandon Nimmo

B.Nimmo

Jean Segura

J. Segura

Tyler O'Neill

T.O'Neill

Jonathan India

J.India

Max Muncy

M.Muncy

Mike Moustakas

M. Moustakas

C.J. Cron

C. Cron

Ronald Acuna

R.Acuna

Jacob deGrom

J.deGrom

Charlie Blackmon

C.Blackmon

Paul DeJong

P.DeJong

Willson Contreras

W.Contreras

Will Smith

W. Smith

Mark Canha

M.Canha

Tommy Edman

T.Edman

Mike Yastrzemski

M.Yastrzemski

Ketel Marte

K.Marte

Dylan Carlson

D.Carlson

Kolten Wong

K. Wong

Harrison Bader

H. Bader

Dansby Swanson

D.Swanson

Matt Olson

M.Olson

Juan Soto

J.Soto

Nick Madrigal

N.Madrigal

Tommy La Stella

T. La Stella

Ke'Bryan Hayes

K.Hayes

Trent Grisham

T.Grisham

Ryan McMahon

R.McMahon

Aaron Nola

A.Nola

Zack Wheeler

Z.Wheeler

Brandon Woodruff

B. Woodruff

Luis Urias

L.Urias

Chris Taylor

C.Taylor

Travis d'Arnaud

T.d'Arnaud

Sandy Alcantara

S.Alcantara

Kyle Schwarber

K.Schwarber

Brendan Rodgers

B.Rodgers

Jacob Stallings

J. Stallings

Keibert Ruiz

K.Ruiz

Miguel Rojas

M.Rojas

Tyler Stephenson

T.Stephenson

Avisail Garcia

A.Garcia

Gavin Lux

G.Lux

Oneil Cruz

O.Cruz
MLB NL MVP Odds FAQs
Can I bet on who will win AL MVP?
What is the NL MVP award?
How can you bet on the NL MVP Award?
When will the NL MVP Award be announced?
Who won the NL MVP in 2021?
Who has won the most NL MVP awards?
Who is the NL MVP award presented by?