MLB Betting Rules for Scratched Pitchers: What Happens When the Pitcher Changes After I Bet?
Credit:
Julio Aguilar/Getty Images. Pictured: Gerrit Cole #45 of the New York Yankees walks off the field after the sixth inning against the Toronto Blue Jays at TD Ballpark on April 12, 2021 in Dunedin, Florida.
MLB pitchers are scratched before games more and more these days, but what happens if you already bet on that game and the starting pitcher changes?
It ultimately depends on what option you choose -- Action or Listed Pitcher -- when you placed the wager.
Most books now default to Action, meaning your bet will stand even if there's a pitching change and the odds change as a result before the game.
An MLB pitcher is scratched just before game time — so what happens to your existing wagers? It's probably happened to you if you bet baseball regularly.
Whether or not your bet is canceled depends on the option you choose when placing it — Listed Pitcher or Action. The odds will be exactly the same for both; it's just a matter of having more control of your bets should something change.
If you choose to bet with "Listed Pitcher" your bet will only be valid if the pitchers listed at the time you placed the wager actually start. So if you bet the Yankees at -200 with "Listed Pitcher" selected and Gerrit Cole is scratched an hour before the game, your bet will be voided automatically.
If you bet "Action" — often the default option at sportsbooks — all moneyline wagers will be valid. That means that even if there is a pitching change, you would be locked into your original bet, even though the new moneyline might be wildly different.
Most books will actually give you four options — all bets are Action, both pitchers need to start for the bet to count, Pitcher 1 needs to start, or Pitcher 2 needs to start.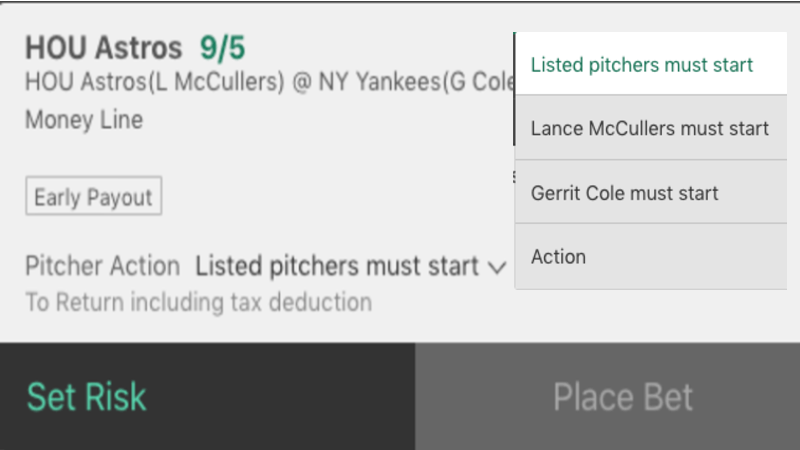 Should You Choose Action or Listed Pitcher?
So which is better? It can go both ways. If you bet the Astros with "Action" at +170 against the Yankees and Cole is scratched, you likely have the Astros at a much better price because New York's replacement pitcher will be far worse. But if you bet the Yankees, you'll be disappointed that you bet them at -200, since you're stuck at that price and they may re-open as a smaller favorite or even an underdog.
If you prefer to have more control over your wagers, go with Listed Pitcher. Most sharp bettors confident they have an edge prefer to bet Listed Pitcher, because variance in that sense is worse for them.
How Do I Choose Action vs. Listed?
Different sportsbooks display your options differently. DraftKings' default option in its regular MLB betting section is Action. You have to scroll to the Listed Pitchers tab to get that option.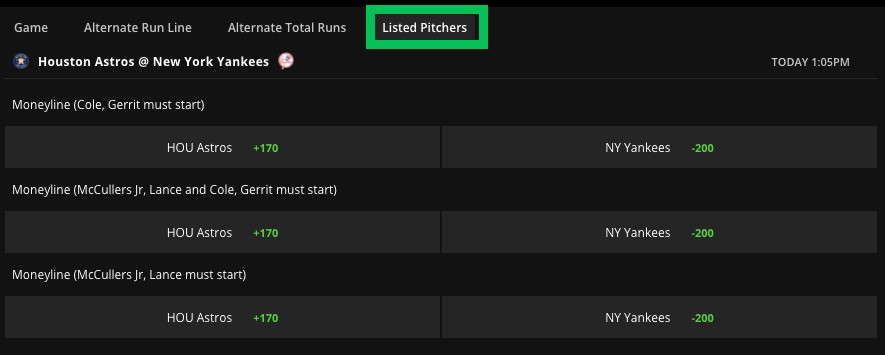 FanDuel will give you a dropdown option in your bet slip after you've selected the game — it's much more in your face, while DraftKings is in a completely different menu.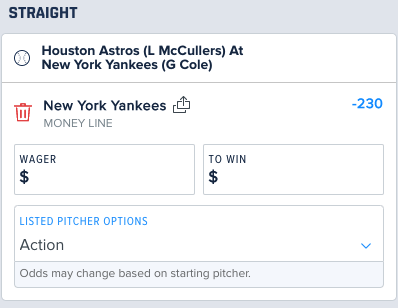 At most sportsbooks, Action vs. Listed Pitcher only applies to moneyline wagers. If you bet totals, run lines, props or anything else, bets will be locked and you won't have an option to choose Listed Pitcher.
How would you rate this article?