Contrarian Betting Systems to Know for the 2018 MLB Season
In the first part of the 2018 Betting Against the Public Report, I broke down the basics. How does a sportsbook function? What is a contrarian betting philosophy? Why does it work?
Today, I'll be going over some situations and systems in which betting against the public has done particularly well.
Thanks to Bet Labs Sports' historical database, we can quickly analyze and filter historical data (dating back to 2005) to build multiple profitable contrarian betting systems for the 2018 season.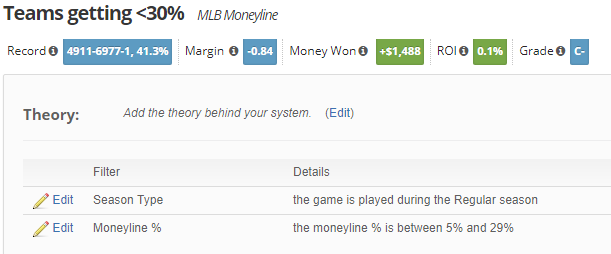 Like I said in part one, betting against the public is a great approach as a whole, but picking your spots allows you to limit bets and increase your return on investment (ROI). As we see in the picture above, blindly taking every team with less than 30% of bets does produce a profit, but just barely. While teams getting more than 70% of bets have won nearly 59% of the time, they've yielded a -3% ROI.
With that in mind, there are numerous ways to improve winning percentage and ROI. Without getting too crazy, here are some simple situational systems, all based on contrarian betting strategy: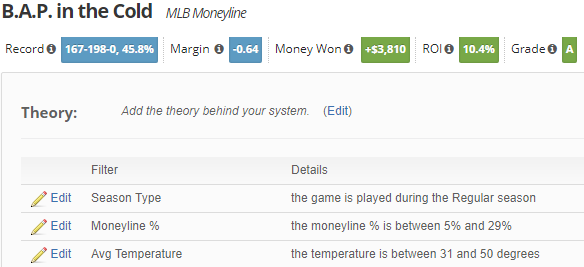 Nobody likes playing sports in the cold and I believe this is especially true for baseball, in which most players are relatively still for large chunks of the game. Also, pitchers with cold hands can lose feel for the ball, which I believe is a large reason why this trend works. According to Fantasy Labs, pitchers have averaged about 0.32 Draftkings points worse in 50 degree games or below, compared to just -0.07 in games of 51 degrees or higher. With temperature opening the door for unexpected results, unpopular teams, which are often underdogs, have a chance to thrive.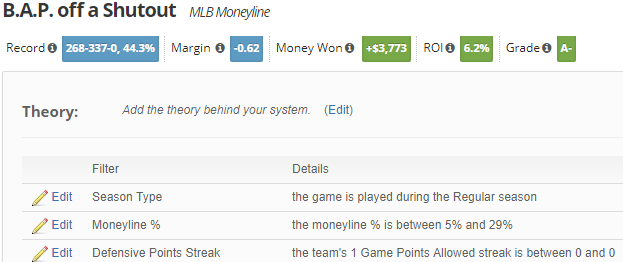 This is one of a few systems that capitalizes on a specific type of mindset. If an unpopular team is coming off a great performance, bettors do not expect them to be able to do it again. This provides value on the overlooked team coming off a strong performance and has held true when a team is coming off a shutout win.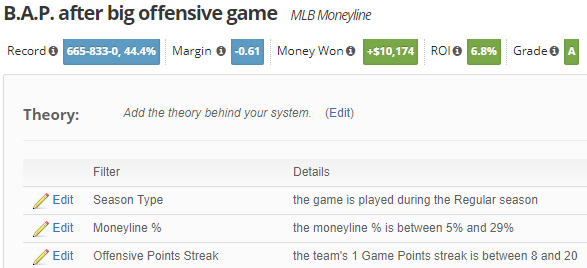 Much like the previous system, taking a team off a big offensive game has been profitable over the long haul. This system is actually superior to the shutout version due to the large sample size. While both have won about 44.4% of the time, this system has about 900 more matches since 2005. Some of the worst teams in the league will average about four runs per game, so when they at least double that output, bettors assume they can't follow it up.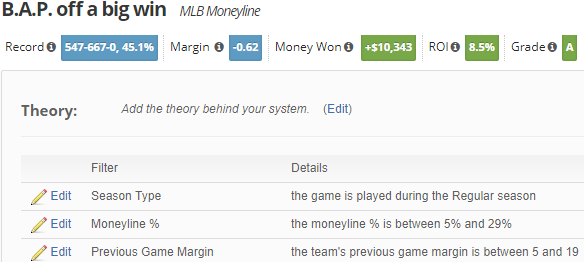 Add the previous two systems together (kind of) and you get this. Teams that won their previous game by at least five runs, whether it was 5-0, 8-3 or 20-5, have yielded a very strong ROI of 8.5% in more than a 1,200-game sample.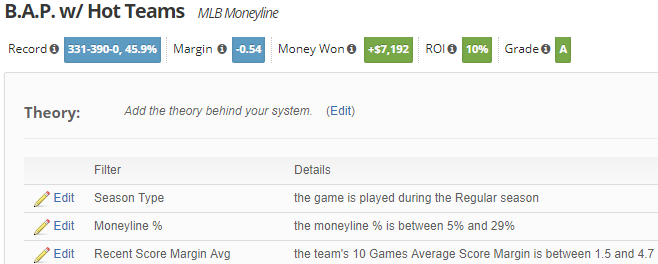 This mindset of taking teams off one good performance carries over to long stretches of solid play, too. Say what you want about run differential or momentum, but the numbers don't lie. Teams that have outscored their opponents by at least 15 runs over their past 10 games have been strong bets when the public is doubting them.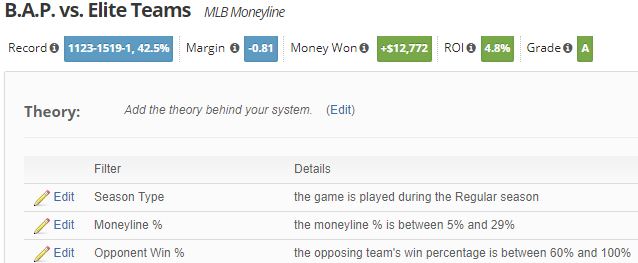 A great example of this system took place in August of last season when the lowly White Sox hosted the mighty Astros, who had a winning percentage of about .630 at the time. In game one of the series, the White Sox received just 15% of bets as a +228 dog vs. Dallas Keuchel. They won 8-5.
In game 2, the public gained a ton of faith in the Sox…as they received a whopping 16% of bets! They won, 7-1, as a +189 dog. Surely the public would stop doubting Chicago in game 3, right?
The White Sox once again received just 16% of bets and won, this time in a tight 3-2 fashion. Public bettors have trouble fading elite teams like that, especially when they're betting on a crappy team. And especially after that crappy team just won.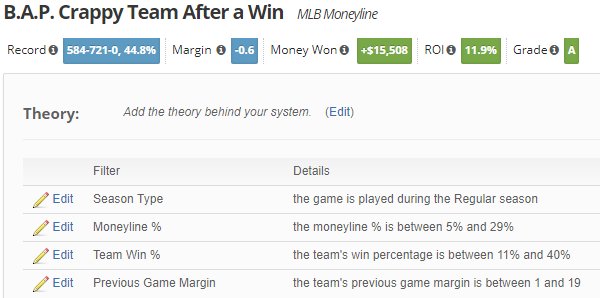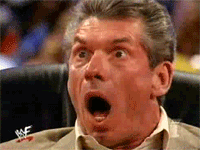 Dear lord! A 1,300+ game sample, 150+ units, and nearly a 12% ROI.
All of these have been very simple approaches that, with the exception of the bad team after a win system, only involve one additional filter added to the betting percentage baseline. Here's one more that I'm especially psyched out of my mind about for the 2018 season.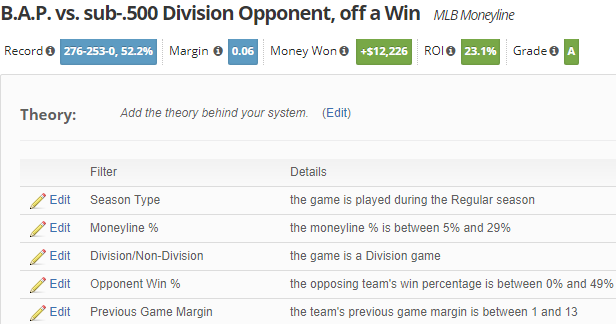 I think we've found it. The system of all systems. Forget all of those systems I just talked about, this is The Golden Goose. If you follow it, you'll be able to afford your own golden egg laying geese, as the infamous Veruca Salt so mightily desired. (3.25 million views for the "I want it now" song, not bad.)
Games played within a division have historically been better bets for dogs than favorites, as the familiarity between the two teams levels the playing field more than oddsmakers expect. In the relatively rare event that the public is on a losing team in a division game and fading a team that just won in the process…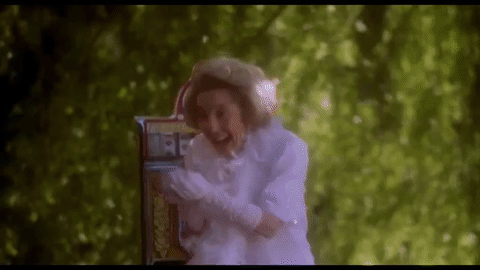 No words that I could think of could better describe the situation than the GIF above. You know what the old saying is: "A GIF is worth a thousand words."
"It's a beautiful day for a ballgame, let's cripple some sportsbooks." – Mark Gallant
How would you rate this article?