The Thursday Forecast With Mark the Meteorologist
We have 10 baseball games today, nine of which will be played in the great outdoors. Let's take a look at the ballparks featuring some noteworthy weather.
The early-April doldrums seem to be coming to an end, with high pressure systems enveloping much of the mid-Atlantic and Midwest. No delays or rainouts are expected, so no need to factor that in when building DFS lineups.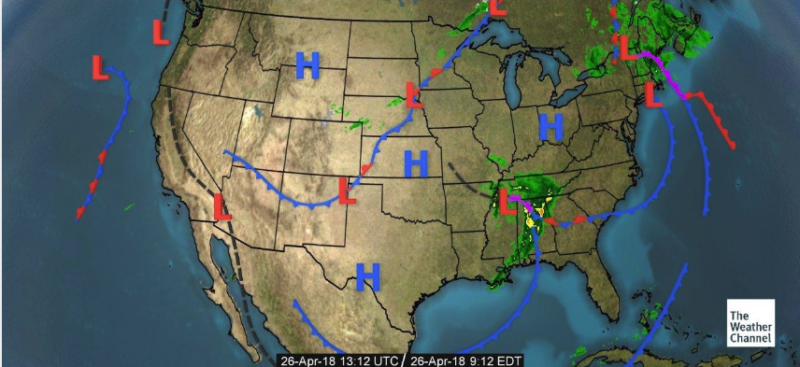 You know what Mr. Cub said, "It's a beautiful day for a ballgame, let's play two." The late, great Ernie Banks would be rolling over in his grave if he knew today was one of the seemingly seldom days without a doubleheader this year.
There are some day games, two of which have elements conducive for offense. That's right, per FantasyLabs' weather rating, both the Twins-Yankees and Diamondbacks-Phillies games have weather ratings over 50, which has been a rarity this year. Excluding games at Coors Field, there have been just 21 games this year with a weather rating above 50 for batters.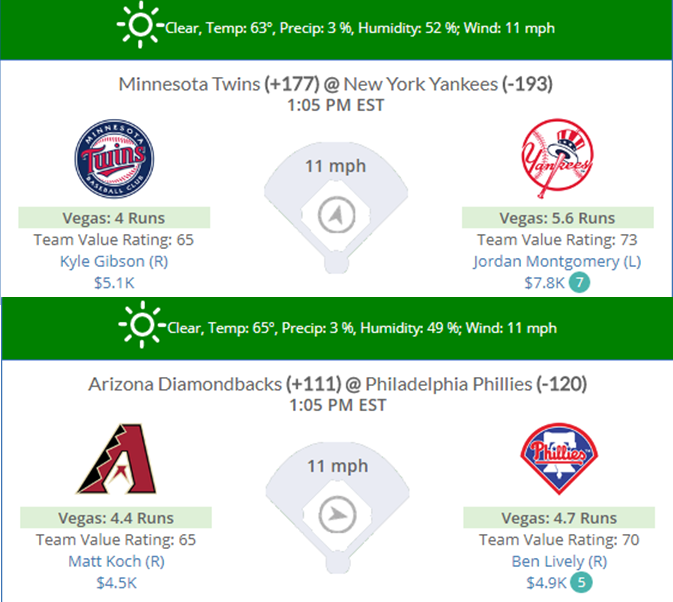 If we look at the odds, the totals in both games have gone up. What do you know?! In New York, the total has gone from 9 to 9.5 (o-115) since opening, and in Philly, the total has gone from 8.5 to 9 (o-115.) Both overs are receiving more than 70% of bets.
The best pitching weather of the day comes in Pittsburgh, where temps are expected to be in the low-to-mid 50s with a slight breeze blowing out to left. This environment registers as a 64 weather rating for the two pitchers, Ivan Nova and Michael Fulmer.
Though the game is not on a DFS slate, the 6:10 p.m. ET game in Cleveland should also be pitcher-friendly, as temps are expected to be around 50 degrees with a soft breeze blowing in. That total of 7.5 (u-115) is the second lowest of the day.
What are you waiting for? Enter your bets, leave your office and/or classroom without saying anything and get outside. Perhaps even have a catch if you have a friend or dad at your disposal.