Baltimore Orioles 2019 Betting Odds, Preview: From Terrible to Slightly-Less-Terrible By Default
Credit:
Evan Habeeb-USA TODAY Sports. Pictured: Chris Davis.
The Baltimore Orioles had the worst season for bettors we've ever tracked last year at -51.9 units on the moneyline.
2019 isn't supposed to be much better, as their World Series odds and win total are the worst in the MLB.
The Orioles have made hardly any additions to their roster via trade or free agency, and their farm system is one of the worst in the league.
They could eclipse their win total of 59.5 if two of their veterans can bounce back from terrible seasons - Chris Davis and Dylan Bundy.
Original analysis published on February 18th.
The 2018 Baltimore Orioles were a disgrace to the game of baseball. Tommy Lasorda once said, "No matter how bad you are, you're going to win a third of your games." The Orioles did not apply.
In the baseball betting world, they were what one would refer to as an outlier. If someone risked a unit on the Orioles for every one of their games, they should seek mental help. They would have also lost 51.9 units — the worst single-season mark for a team in our database dating back to 2005 by a 17.2 unit margin.
The bar has been set low for the 2019 Birds, as they haven't done very much to get better. Prepare for a long, painful rebuild, Baltimore fans.
2018 Results
Record: 47-115 (-51.9 units), 68-94 ATS (-27.6 units)
Over/Under Record: 73-83-6
Preseason World Series Odds: +150000
Win Total: 72.5 (under by 25.5, worst margin in MLB)
Most Profitable Starter: Jimmy Yacabonis (4-3, +5.0 units)
Yeah, not a team you wanted to bet on last year. They couldn't even reach 70 wins on the runline and trust me, they were getting the extra 1.5 runs the large majority of the time.
They were favorites just 31 times all season and six times from July 1st through the end of the season. How about that Jimmy Yacabonis, though? He threw bettors a bone in his seven starts…
2019 Odds
World Series Odds: +200000
Division Odds: +30000
Win Total O/U: 59.5
Playoff odds: Make +4000, Miss -20000
Get ready for another year of misery, Orioles fans. It's fairly impossible to be as bad as they were last year, which is why their win total is more than a dozen games higher than the 47 wins they put up.
However, Baltimore has not really done anything to improve their roster this offseason and have little help coming their way in terms of high quality prospects.
Their 2019 odds in all four of these departments are all either the worst or tied for the worst in the league. Shocker.
---
>> Sign up for The Action Network's daily newsletter to get the smartest conversation delivered into your inbox each morning.
---
Roster Notes
Additions: Nate Karns, Rio Ruiz, Hanser Alberto, Pedro Severino, Dwight Smith Jr., Alcides Escobar (minors), Eric Young Jr. (minors), Carlos Perez (minors), Jesus Sucre (minors)
Subtractions: Adam Jones, Tim Beckham, Colby Rasmus, Caleb Joseph, Breyvic Valera, Ryan Meisinger
Potential Lineup

Cedric Mullins – CF
Jonathan Villar – 2B
Trey Mancini – LF
Chris Davis – 1B
Renato Nunez – 3B
Rio Ruiz – DH
Joey Rickard – RF
Jesus Sucre/Pedro Severino – C
Richie Martin/ Drew Jackson – SS

Projected Rotation

Alex Cobb (Injured)

Dylan Bundy

Andrew Cashner
Dylan Hess
Mike Wright

Prospect Watch: Yusniel Diaz (No. 64, OF), Ryan Mountcastle (No. 71, 3B), Austin Hays (Unranked, OF), Keegan Akin (Unranked, LHP), Dean Kremer (Unranked, RHP)
Key Injuries: Mark Trumbo (Knee, late May/early June 2019), Alex Cobb (Groin, early April)
MVP Candidates: Trey Mancini (+8000)
Cy Young Candidates: Dylan Bundy (+10000), Alex Cobb (+10000)
Analysis
Player to Watch: Chris Davis
There are over 13,000 instances of players with at least 500 plate appearances in a season logged in Fangraphs dating back to 1873. Before last year, the worst batting average of the bunch was .179. Chris Davis decided to smash a record, re-setting the low, low bar at .168.
The highly-paid slugger was known for low averages and loads of strikeouts, but had previously made up for it by hitting home runs and walking. Last year, he hit just 16 homers (lowest full-season total of his career) with a 7.9% walk rate (lowest since 2012.)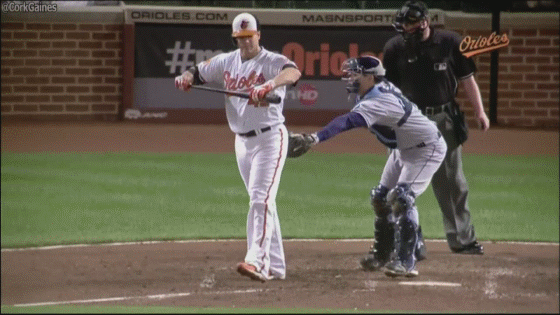 Add all of his crappy feats up and you get a -3.1 fWAR. This ranks 15,143rd out of 15,147 qualified seasons in history. And you wonder why the Orioles won 47 games…
Baltimore won't be playing for much in 2019 given their current roster, but I'm sure they would like Davis to get on the right track considering they'll be paying him $23 million a year for the next four years.
Pitcher to Watch: Dylan Bundy
Earlier in the decade, the Orioles had two young stud pitching prospects in their system: Kevin Gausman and Dylan Bundy — both No. 4 overall picks in their respective drafts. The latter was drafted 2011, became the No. 2 prospect in baseball in 2012 and made his big league debut that same season at age 19.
Everything has essentially gone downhill from there.
He had Tommy John in 2013 and didn't return to the majors until 2016. Each of his three seasons in the bigs have been mediocre at best, but last year was easily the worst.
When your ace has a 5.45 ERA, you're gonna' have a bad time.
When your ace has a 2.15 HR/9 (0.48 higher than any other qualified starter in the league), you're gonna' have a bad time.
When your ace has a WHIP above 1.4, one of just four starters to do so, you're gonna' have a bad time.
The Orioles had a really, really bad time last year.
There is some hope, though. Still just 26-years-old, Bundy has time to improve. The HR/FB rate that led to that league-leading HR/9 rate is unsustainably unlucky.
His SIERA, a dorky ERA replacement stat that does a better job of predicting future stats than ERA does, was league average. He struck out a career best (and pretty darn good) 9.65 batters per nine.
Serving up meatballs like Chef Boyardee is a slight problem of his, but there are some promising peripheral stats that suggest improvement in his future.
He was a top prospect for a reason. Now, he has an opportunity to get back on the right track in a pressure-less season.
Final Thoughts
The 2019 Baltimore Orioles will suck. I highly doubt they'll fail to reach 50 wins again and can't even promise that they go below their abysmally low win total, but it would be a minor miracle for them just to reach 70 wins.
Their major league talent has been absolutely gutted over the past year. If you look back to their roster from just a couple years ago, the number of names remaining is staggeringly low.
The O's are not really bringing in any new veteran help, either. Not sure if that's because the Orioles did not try to sign anyone or if nobody wanted to sign with them. Probably a bit of both.
Their new general manager, Yale grad Mike Elias, was head of amateur scouting for the terrible Astros teams earlier in the decade. You know, the same team that went on to win the World Series and is loaded with young talent.
He'll need to lead the Orioles on the same path because they will be getting some very high draft picks for at least the next few seasons.
Rookie skipper Brandon Hyde will also be able to get the hang of things without having any pressure to actually win, which is not a commodity most new managers have.
There's not much more I can say about a team with no lineup, rotation or bullpen. If you're a fan of the Orioles…good luck.
---
All odds via Westgate SuperBook as of Feb. 17
Transactions accurate as of Mar. 24. Free agents deemed subtractions until they re-sign
Advanced data via Fangraphs.com, prospect ratings via MLB.com, prospects in prospect watch expected to be MLB-ready in 2019
How would you rate this article?