Chicago White Sox 2019 Betting Odds, Preview: Oddsmakers Expect Improvement
Credit:
Charles LeClaire-USA TODAY Sports. Pictured: Yoan Moncada.
The Chicago White Sox are an up-and-coming team, but have a lot to improve on following their 62-win season.
Despite not signing Bryce Harper or Manny Machado, oddsmakers still have their win total 12.5 games higher than last year.
They could potentially break out if Yoan Moncada becomes the star he was touted as when he was a prospect.
Similarly, they have multiple pitchers who are former top prospects that have struggled in the majors, including Lucas Giolito.
Original analysis published on Feb. 20.
The Chicago White Sox — a 62-win team trying to woo superstars to come play for them. Need at least 66 wins to do that, apparently.
Chicago has been rebuilding for a few years, but is on the right path to becoming a competitive ballclub. The White Sox have several valuable, high-ceiling prospects and young players that will hopefully be entering their prime within the next few years. Where they lack is veteran presence, which is where Bryce Harper or Manny Machado would've helped.
Since they play in the AL Central, there will be plenty of wins up for grabs. Other than against Cleveland, these young, up-and-coming hitters will get to ease into the majors against some terrible starting pitching squads in their division.
On the flip side, Chicago has a terrible pitching staff of its own, which is why jumping from 62 wins to ~75 wins will be tough.
2018 Results
Record: 62-100 (-14.8 units), 84-78 ATS (+1.3 units)
Over/Under Record: 75-77-10
Preseason World Series Odds: 175-1
Win Total: 72.5
Most Profitable Starter: Lucas Giolito (14-18, +2.9 units)
The ChiSox weren't supposed to be good last year and they certainly weren't. Luckily, the Orioles and Royals took the spotlight off of them, but most other years they'd be the laughing stock of the league.
Hilariously enough, their most profitable starting pitcher had an ERA that was more than a half run higher than any other qualified pitcher in the MLB.
Also an oddity is the fact that they were actually profitable on the runline.
2019 Odds
World Series Odds: +6000
Division Odds: +2500
Win Total O/U: 74.5
Playoff Odds: Make +800, -1400
Every terrible team from last year is expected to improve, but that has more to do with the fact that it's hard to be consistently terrible in a lucky sport like baseball. The Orioles, Royals, White Sox, Marlins and Tigers all have win totals higher than the number of wins they had last year, but Chicago's difference of +12.5 is among the highest in the league along with the Padres.
The Sox' offseason transactions perhaps add up to a handful of wins above replacement at the most, while Eloy Jimenez's presence in the lineup should also add a couple.
After the Padres signed Machado, Chicago's win total fell first fell from 76.5 to 75.5, and then another game to 74.5. I took under 75.5. Fangraphs and PECOTA project them to win 69 and 71 games, respectively, and I agree that eclipsing 75 wins would be a stretch this season.
---
>> Sign up for The Action Network's daily newsletter to get the smartest conversation delivered into your inbox each morning.
---
Roster Notes
Key Additions: Alex Colome, Kelvin Herrera, Ivan Nova, Yonder Alonso, James McCann, Jon Jay, Ervin Santana (minors), Preston Tucker (minors)
Key Subtractions: Matt Davidson, Avisail Garcia, James Shields, Miguel Gonzalez, Omar Narvaez
Potential Lineup:

Tim Anderson – SS
Yoan Moncada – 3B
Jose Abreu – 1B
Yonder Alonso – DH
Eloy Jimenez – RF
Welington Castilo – C
Daniel Palka/Jon Jay – LF
Yolmer Sanchez – 2B
Adam Engel – CF
Projected Rotation

Carlos Rodon
Reynaldo Lopez
Ivan Nova
Lucas Giolito
Dylan Covey/Ervin Santana

Prospect Watch: Eloy Jimenez (No. 3, OF), Dylan Cease (No. 21, RHP)
Key Injuries: Michael Kopech (Tommy John, out for season), Dane Dunning (Tommy John, out for season)
MVP Candidates: Jose Abreu (+4000), Eloy Jimenez (+8000), Yoan Moncada (+20000)
Cy Young Candidates: Carlos Rodon (+10000), Reynaldo Lopez (+10000), Ivan Nova (+20000), Lucas Giolito (+20000)
Analysis
Player(s) to Watch: Yoan Moncada & Eloy Jimenez
Yoan Moncada's first full season was … interesting. The former No. 1 prospect posted a 2.0 fWAR, which is fine and then some for a 23-year-old. He has to take the next step, though.
That begins with not striking out so freaking much. He struck out 217 times last season –the fourth most IN HISTORY. The three guys with more than him in a season — Mark Reynolds, Chris Davis and Adam Dunn — each had at least 38 home runs. Moncada had 17. With his elite speed, he can't be selling out so much. He needs to put the ball in play. Given his strength, the homers will come naturally if he gets the bat on the ball.
He was a hair below a league average hitter per wRC+, but he needs to start living up to the hype for the ChiSox to have a solid offense.
Meanwhile, Chicago has another stud prospect coming up: Eloy Jimenez. The No. 3 overall prospect heading into the season, Jimenez is a big-bodied outfielder who can flat out mash. He's not going to provide much value in the field or on the basepaths, but he does project to be a heart-of-the-order bat for years to come.
Thanks to a contract extension before the start of the season, the White Sox don't need to keep him down in the minors to start the season to "work on defense" or some other rubbish, as there's now no service time benefits Chicago can gain.
Pitcher to Watch: Lucas Giolito
Much like Moncada and Jimenez, Giolito used to be a very highly rated prospect. In 2015, he was the No. 3 prospect overall and best pitching prospect in the entire league. Fast forward a few years, and he's coming off a season in which he led the majors in earned runs and walks…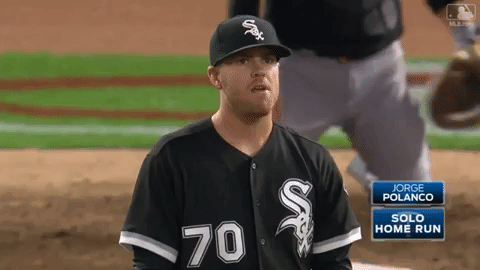 This is the guy who is listed No. 1 on the White Sox starting pitching depth chart. And you wonder why Machado didn't jump at the opportunity to play here.
Seriously, though, Giolito was absolutely horrendous last season. His 6.13 ERA, 5.56 FIP and 5.46 xFIP were all MLB worsts. Basically, he deserved to suck and he did. By the way, second worst xFIP? Reynaldo Lopez.
Giolito managed to do this with his league-worst 4.67 BB/9 and very underwhelming 6.49 K/9 — 3rd worst in the league.
How does he improve? Getting some first-pitch strikes, which he was third-worst in the league at doing last year, would help. Chicago pitching coach Don Cooper echoed that thought, while Giolito himself listed several things he's been working on this offseason in a recent interview.
Knowing he was terrible last year is half the battle. Now he has to make the adjustments, which is the tougher part. If he continues to be one of, if not the worst starter in the majors again, the White Sox need to test his luck out in the bullpen.
Summary
The White Sox are in for another rough season. They'll be better than they were last year, but that's not saying much.
Their starting pitching could once again be horrendous, especially if Giolito can't make a big improvement. Then again, there's an outside chance it's actually decent.
Giolito, Lopez and Carlos Rodon are all young arms that were once very highly rated prospects. They're obviously talented, but haven't clicked yet. Dylan Cease and Dane Dunning (out for the year with Tommy John)  won't begin the year on the big squad, but are two more solid pitching prospects that should contribute this season. Unfortunately, Michael Kopech is out for the year with Tommy John. He's the best arm of the bunch and should be an impact player down the road.
It's unlikely that all of those guys flip the switch this year, but the White Sox need at least a couple of them to if they want to begin improving. Their division is so bad that they'll want to go at least .500 against K.C., Detroit and Minnesota as a whole, while hoping they don't get eviscerated against all of their other opponents.
Of the three AL Central cellar-dwellers, this squad has the highest ceiling this year and over the next few. That's not saying much, though, and as I said before, I bet under 75.5 wins.
All odds via Westgate SuperBook as of Feb. 20
Transactions accurate as of Mar. 24. Free agents deemed subtractions until they re-sign
Advanced data via Fangraphs.com, prospect ratings via MLB.com, prospects in prospect watch expected to be MLB-ready in 2019
How would you rate this article?