Thursday Sharp Report: Wiseguys Hitting Two Moneyline Dogs
Credit:
Shanna Lockwood-USA TODAY Sports Pictured: Gerrit Cole.
Wiseguys had a rough Wednesday. They were able to cash Big Sexy and the Rangers (28% bets, 39% dollars, +120 to +102), but struck out on their other three plays. The killer was the Jays (+128). Toronto battled the Yankees to a scoreless tie deep into extra innings before falling, 3-0, in 13 innings. On to the next.
After analyzing Thursday's 10-game slate using Sports Insights' Sportsbook Insider Pro betting tools, I've pinpointed two MLB bets that professionals are focusing on, including games that start at 7:10 p.m. and 8:05 p.m. ET
Data as of 3:30 p.m. ET
Seattle Mariners at Tampa Bay Rays +101
7:10 p.m. ET
The Mariners lead the AL West with a 38-23 record. Meanwhile, the Rays are 28-32 and have lost six in a row. The public sees a Seattle layup, but sharps are buying low on Tampa. The Rays are getting only 28% of bets, yet they've moved from +109 to +101 since opening.
Why would the books move the number toward Tampa if the vast majority of bets are on Seattle? Because sharps at the Greek and SIA got down hard on TB +108 and +105, respectively, creating liability and triggering market-wide reverse line movement toward the home dog.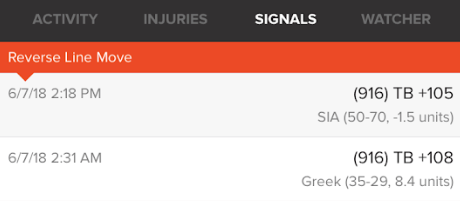 Houston Astros at Texas Rangers +152
8:05 p.m. ET
The Rangers cashed for contrarian wiseguys last night, and sharps are going back to the well tonight. With Gerrit Cole (6-1, 2.20 ERA) on the mound, nearly 80% of bets are laying the big minus number with Houston. However, despite this heavily lopsided betting, the Astros have fallen from -185 to -165.
This reverse line movement toward Texas (+170 to +152) was caused by sharps at GTBets and SIA getting down hard on Rangers +158 and +165. Since 2005, divisional dogs receiving 40% or less of bets with reverse line movement have produced +107.21 units.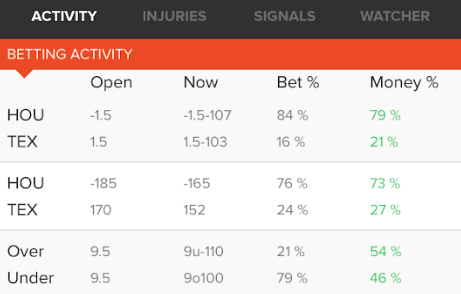 Remember: the betting market is fluid. Data changes as more action comes in. For updated odds and percentages, be sure to check out the Action Network MLB betting trends page. 
Looking for more in-depth betting analysis? Sign up for a Sports Insights Pro trial and join our Live Betting Hangouts where we break down the board every weeknight from 6:30-7 p.m. ET.
For more betting info and customer support, you can find me on twitter @Josh_Insights.