Friday Sharp Report: Pros Getting Down On Three Home Teams
Credit:
Noah K. Murray-USA TODAY Sports Pictured: Jacob deGrom.
The Highlights
Due to increased attention from recreational bettors, Friday represents one of the best days for contrarian betting in Major League Baseball.
The combination of fading popular teams and tailing sharp action points to three teams offering value.
---
It's Friday, which is arguably the best day of the week for sharp bettors. Public players are finishing their work weeks and more apt to get down on games (specifically favorites and home teams), which leads to increased ticket counts and more contrarian value. This doesn't mean sharps double down and risk multiple units, it just means that they're operating with an increased edge. As always, Goodfellas stay the course and stick to flat betting.
After analyzing Friday's 15-game slate using Sports Insights' Sportsbook Insider Pro betting tools, I've pinpointed three MLB bets that professionals are focusing on, all starting at 7:10 p.m. ET.
Data as of 3:15 p.m. ET
Seattle Mariners at Tampa Bay Rays (+105)
7:10 p.m. ET
Wiseguys took a shot on the Rays last night and they almost pulled off an epic ninth-inning comeback, but inevitably fell short, 5-4. Pros are back on the TB train tonight. The Rays are getting only 30% of bets but have fallen from +125 to +105, signaling sharp reverse line movement in their favor.
Goodfellas hit TB three separate times across the market, first at GTBets, then Pinnacle and BetOnline. David Rackley is behind the plate, a profitable
home ump (+17.65 units) since 2005.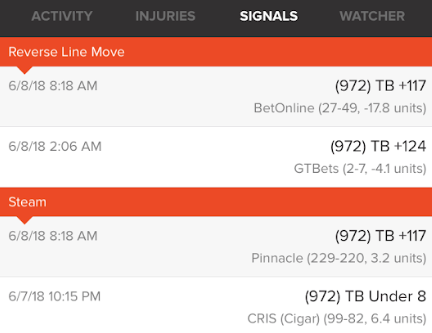 St. Louis Cardinals at Cincinnati Reds (+123)
7:10 p.m. ET
It wouldn't be a Fade the Public Friday without wiseguys getting down on the Redlegs. Cincy cashed in extras for the sharps yesterday (34%, -100 to -106) and Goodfellas like the Reds to steal the series opener vs. St. Louis tonight. The Reds are getting only 28% bets (but 32% dollars) and have fallen from +132 to +123, two signs of sharp action in their favor.
This article usually requires a subscription, but today it's FREE. Enjoy! Click here to be kept in the loop on future promos.
Pro players at Pinnacle and BetOnline hammered Reds +134 and +125, respectively, causing market-wide reverse line movement. Cincy is also a divisional dog with a high total (+9.5) and a Bad Team off a Win, two profitable spots since 2005.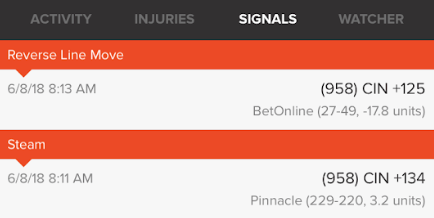 New York Yankees at New York Mets (-105)
7:10 p.m. ET
Game 1 of the Subway Series. The Yankees are 40-18 and the Mets (27-32) have lost six in a row. Easy win for the Bronx Bombers, right? Not so fast. The Mets are getting only 31% of bets but 37% of dollars and have fallen from +105 to -105 across the market. This reverse line movement was caused by a trio of bet signals on the Mets, triggered by wiseguys at BetOnline, 5Dimes and CRIS.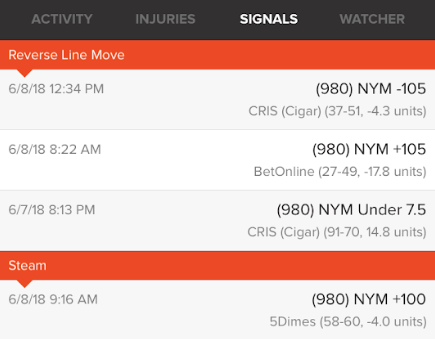 Remember: the betting market is fluid. Data changes as more action comes in. For updated odds and percentages, be sure to check out the Action Network MLB betting trends page. 
Looking for more in-depth betting analysis? Sign up for a Sports Insights Pro trial and join our Live Betting Hangouts where we break down the board every weeknight from 6:30-7 p.m. ET.
For more betting info and customer support, you can find me on twitter @Josh_Insights.