Tuesday Sharp Report: Pro Players Hammering Three Dogs
Credit:
Bob DeChiara-USA TODAY Sports Pictured: Chicago White Sox players Omar Narvaez and Reynaldo Lopez.
Wiseguys had a profitable Monday. They went 1-1 with their plays, but thanks to the Marlins' (21% bets, +144) upset win over the Giants, they were able to earn close to a half unit. This is why sharps love dogs. You can win at a sub 50% clip but still turn a profit based on the plus money.
After analyzing Tuesday's 15-game slate using Sports Insights' Sportsbook Insider Pro betting tools, I've pinpointed three MLB bets that professionals are focusing on, starting at 7:05 p.m., 7:10 p.m. and 8:10 p.m.ET.
Data as of 2 p.m. ET
Colorado Rockies (+131) at Philadelphia Phillies
7:05 p.m. ET
The Rockies are struggling. They've lost eight of their last 10 and now must travel to Philly to face ace Aaron Nola (7-2, 2.35 ERA). The public sees an easy Phils win. However, despite receiving 63% of bets, Philadelphia has fallen from -160 to -142.
Sharps at Pinnacle and CRIS (two of the sharpest offshore books) steamed Colorado +147 and +140, causing Nolan Arenado and company to fall from +147 to +131. The Rockies also enjoy a profitable smart money discrepancy: they're getting only 37% of bets but it accounts for 52% of dollars, an indication that the bigger, sharper wagers are siding with the road dog.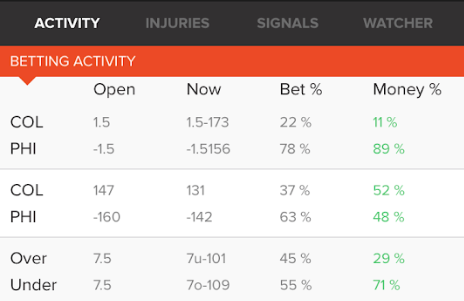 San Francisco Giants at Miami Marlins (+104) 
7:10 p.m. ET
The Marlins came up huge for the sharps last night. Gambler's Fallacy says there's no way they can win two in a row. But wiseguys aren't afraid. Miami is once again the most lopsided play in the most heavily bet game of the night (only 14% of bets), but they're getting more money (20% of dollars) and enjoying sharp reverse line movement (+106 to +104). Goodfellas at the Greek got down hard on Miami +110. The Fish also match the profitable Bad Team After Win Bet Labs system (+172.04 units since 2005).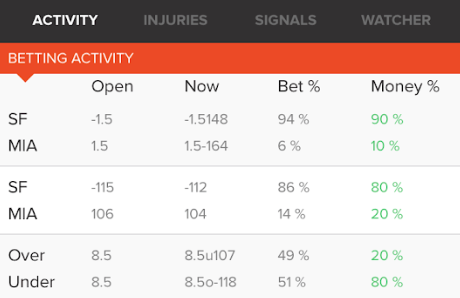 Cleveland Indians at Chicago White Sox (+125)
8:10 p.m. ET
Recreational bettors want nothing to do with the White Sox (22-42), especially with James Shields (1-7, 4.92 ERA) on the mound. However, despite receiving 71% of bets, the Tribe have fallen from +152 to +125. Why would the White Sox payout get smaller if the public is fading them?
Because sharps at Pinnacle steamed CHW +138, creating South Side liability. Chicago is also a divisional dog with a high total (9.5), a profitable spot since 2005, receiving more money (30%) than bets (24%), and fits the valuable Betting Against the Public Bet Labs system (+168.13 units since 2005).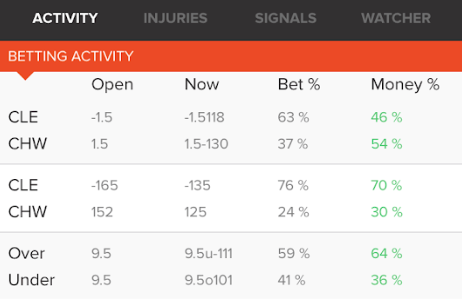 Remember: the betting market is fluid. Data changes as more action comes in. For updated odds and percentages, be sure to check out the Action Network MLB betting trends page. 
Looking for more in-depth betting analysis? Sign up for a Sports Insights Pro trial and join our Live Betting Hangouts where we break down the board every weeknight from 6:30-7 p.m. ET.
For more betting info and customer support, you can find me on twitter @Josh_Insights.