Monday MLB Forecast: Improving Conditions as We Inch Closer to Summer
Credit:
John Geliebter-USA TODAY Sports. Pictured: Bryce Harper.
Baseball at Coors Field continues, but the near-perfect conditions from last Friday won't be present for tonight's Braves-Rockies game.
Baltimore and Philadelphia will both have good hitting conditions, far improved from last week, but also have chances of rain.
San Francisco has by far the worst hitting weather of the night, which is common, but also has a chance of rain, which is uncommon.
Our first full week of baseball is in the books and surprisingly enough, the weather is actually getting significantly better already. Last week, numerous games had Weather Ratings in the single digits and teens, with ratings over 50 seldom seen. I can't promise it'll stay this way, but today has no Weather Ratings below 20 and a handful higher than 50.
We don't have the largest slate on tap, but even a light slate of baseball is heavy for any other sport, so here we go …
---
Highest Weather Ratings 
Braves at Rockies: 67
Nationals at Phillies: 62
Athletics at Orioles: 61
Weather Ratings are a proprietary number created by FantasyLabs which are on a 0-100 scale, with 100 being the best hitting atmosphere and 0 being the best pitching atmosphere. It takes into account temperature, wind speed, wind direction, stadium elevation, humidity and atmospheric pressure. 
One weekend of Coors Field play is down, with 43 runs scored over the three-game series between the Dodgers and Rockies. That first game last Friday had a Weather Rating over 90, but Monday isn't quite prime Coors conditions. Sharp betting activity has still driven the over/under from 10 to 11 since opening despite these "bad" hitting conditions, which include winds blowing in from left field.
The mid-Atlantic region has solid weather, too. Just last week this area had Weather Ratings in the teens and 20s, but we're inching closer to summer. With that said, there could also be some April showers and even some thunder in both Philadelphia and Baltimore, though the games aren't too much at risk.
The total in Baltimore has gone from 9 to 10 since opening, while the total in Philly has gone from 9 to 9.5.
Lowest Weather Ratings
Padres at Giants: 24
Brewers at Angels: 38
Rays at White Sox: 40
San Francisco has already found its home at the bottom of the Weather Ratings, which is where it often sits throughout the summer months. I guess we are indeed entering the dog days of summer despite the calendar reading April 8th.
Surprisingly enough, San Fran has some rain risks, which is a rarity. The California ballparks generally don't see rain delays or rainouts, but the former could be in play tonight.
Both Chicago teams are playing at home this afternoon, with the South Side posting a slightly worse Weather Rating than the home opener at Wrigley. Last night, I saw that the wind was supposed to be blowing straight in at Wrigley, which made me giddy with joy. However, when I woke up this morn, I saw that wind isn't expected to be a huge factor at either Chicago park.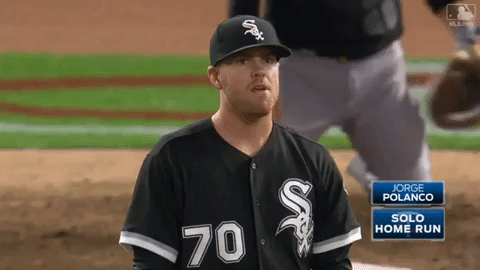 Inclement Weather
Athletics at Orioles
Nationals at Phillies
Padres at Giants
All three of these games will have scattered showers in the area, with Baltimore and Philadelphia sporting chances of thunder, too. Obviously any lightning would delay a game for a bit, but none of these games should have sustained, heavy rain that would lead to a postponement.
How would you rate this article?