Best Rockies-Cubs Player Props: Nolan Arenado vs. Anthony Rizzo
Credit:
Patrick Gorski-USA TODAY Sports. Pictured: Anthony Rizzo
There are two props offering value in Tuesday's NL wild-card game between the Colorado Rockies and Chicago Cubs (8:05 p.m. ET, ESPN) .
This piece will focus on props for Ian Desmond, Nolan Arenado and Anthony Rizzo.
Prop bets can be a great way to get action on a game. Bookmakers don't have to worry about taking a lot of action on them, so there isn't as great an incentive to post a competitive line.
As a result, props can be some of the most exploitable bets on the board.
These props can become downright unfair when you combine them with the FantasyLabs Player Prop tool.
We leverage props from five of the most popular sportsbooks against our projections and award each prop a grade. The most exploitable props earn a Bet Quality of 10 out of 10, and those props have historically crushed during NBA and NFL season.
Tonight's props focus on MLB, specifically the NL wild-card game between the Rockies and Cubs at 8:05 p.m. ET.
Let's dive in to two props that I feel are offering significant value.
Rockies OF Ian Desmond
The Pick: Will hit a home run (+425)
The Cubs will turn to left-hander Jon Lester in this must-win contest because of his experience pitching in big games, but it seems like experience is all he has left.
He's really struggled since the All-Star break, pitching to a 4.50 ERA and allowing batters to compile a .357 wOBA. He's also allowed 11 HRs over 70 innings pitched, seven of which came against right-handed batters.
The Rockies have displayed a lot of power against left-handers this season, but Desmond is one batter who seems undervalued in the prop market.
His splits-adjusted ISO of .229 over the past 12 months is the third-best mark on the team, but his HR odds rank just fifth among Rockies batters.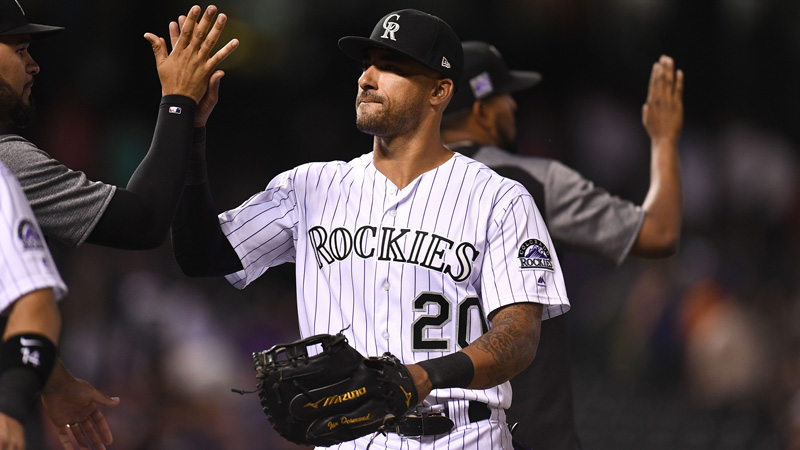 Rockies 3B Nolan Arenado vs. Cubs 1B Anthony Rizzo
The Pick: Arenado more total bases (-135)
This is my favorite bet on the board tonight.
Arenado has been virtually the best hitter in the league against left-handed pitchers this season, posting a wRC+ of 199.
He obviously benefits from playing at Coors Field, but his wRC+ does factor ballpark into the equation. He's still managed to post a .421 wOBA and .279 ISO when facing southpaws on the road, so he has a ton of upside vs. a mediocre left-hander such as Lester.
Rizzo, on the other hand, is in a pretty tough spot against Rockies left-hander Kyle Freeland.
Rizzo has struggled in lefty-lefty matchups this season, posting a meager .302 wOBA and .121 ISO, and Freeland has been among the best pitchers in baseball over the second half of the season.
Freeland also leans heavily on his cut fastball, and Rizzo has managed a batting average of just .167 against cutters in 2018. These odds for Arenado (-135) seem like a bargain.