Zylbert: Can You Trust Clayton Kershaw in World Series Game 1?
Credit:
Jon Durr-USA TODAY Sports. Pictured: Clayton Kershaw
Betting odds: Los Angeles Dodgers at Boston Red Sox
Over/Under: 7.5
First pitch: 8:09 p.m. ET
Probable pitchers: Clayton Kershaw (9-5, 2.73 ERA) vs. Chris Sale (12-4, 2.11 ERA)
TV channel: FOX
---
Zylbert's 2018 MLB Over/Under Betting Record
Regular Season: 102-73-4, +21.45 units
Postseason: 7-9-1, -3.75 units
Last Result: Dodgers-Brewers Under 8, Buehler vs. Chacin (WIN)
*Each bet graded as if it were to win 1 unit
---
For years, Sale has been considered basically the "Kershaw of the American League."
They're both tall, lanky left-handers with a penchant for racking up strikeouts, and tonight they'll meet for just the second time in their careers.
As everyone knows, there is a narrative out there about Kershaw being less effective in the playoffs.
But as he's proven again this postseason, that nonsense needs to stop.
The former NL MVP and Cy Young Award winner will be making his fourth start of this postseason. In two of the previous three, he threw seven or more shutout innings while scattering a combined five hits.
In the other start, Kershaw did not finish with a pretty stat line but was forced to work through three errors (and two passed balls!) that undoubtedly affected him. He also closed out the NLCS with a spotless ninth inning.
So, it's safe to say Kershaw is feeling pretty good going into his start in Game 1 of the Fall Classic, which is important considering his past inconsistencies at this point of the season.
There's also a trend worth leaning on regarding the 30-year-old's outlook tonight: Whenever Kershaw is facing a team for the first time in October, he's generally produced desirable results.
Since 2013 (when LA began its current streak of six straight division titles), Kershaw has started in 11 playoff series, and in the first meeting, he's collectively pitched to a 3.46 ERA and 0.93 WHIP.
More impressively, he's recorded an extraordinary 78/16 K/BB ratio in those starts, spanning 67.2 innings.
In other words, you're not going to get comfortable versus Kershaw until you see him deeper in a series.
That should especially be true for Boston in this instance, as the Red Sox figure to be limited in the power department. They walloped the ninth-fewest homers off lefties this year, and have cranked just two long balls in the postseason in 74 at-bats against southpaws.
Sale, for his part, started his postseason career with a pair of inconsistent starts in his debut last year, but he has mostly thrived thus far in this October.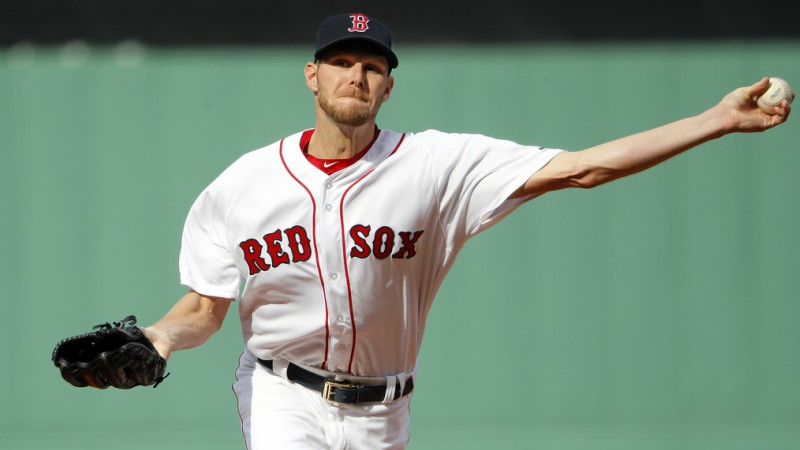 While he hasn't yet gone deep into a game like he typically does, the perennial All-Star still held the opposition to just a couple of runs in each of his two starts.
That's also not including the impressive job he did locking down the eighth inning in the deciding Game 4 of the AL Division Series against the Yankees.
Sale, like Kershaw, is in a positive place mentally right now because of his success the last few weeks entering the World Series.
The Dodgers proved to be far less impactful against left-handed pitching this season, ranking 20th in team batting average (.240). Additionally, only one other team (Giants) struck out more than Los Angeles with a portsider on the hill.
That's certainly something that can play into the strengths of a strikeout artist such as Sale. LA's shortcomings vs. lefties have spilled into the postseason, too, where the Dodgers have managed just a .207/.292/.293 line in 116 at-bats.
Of course, there is the still-mysterious stomach illness that sidelined Sale recently, but I don't think that will factor in here. He's well-rested, and as the left-hander himself said, "If I'm standing on the mound, I'm a hundred percent."
With two of the best this decade going at it, each with the potential for a complete shutdown showing, what I'm betting tonight shouldn't come as any surprise.
Play: UNDER 7.5 (-120)